Which Wrangler Is the Best? YJ, TJ, LJ, JK, JL (Jeep Expert Weighs In)
Owning a Jeep Wrangler is an experience in itself. You can do things and go places with your Jeep that are not possible with other SUV brands. Of course, there is nothing better than owning and driving the newest Jeep on the market, but it may not be the best choice for your lifestyle. Each model focuses on different aspects, including off-road driving, towing capacity, in-city use, or a combination of several elements.
The question then is if you need all the bells and whistles that come with the various Jeep models. Naturally, the more options you have with your vehicle, the more money you will pay upfront. Finding the perfect balance between necessity and budget is ideal when choosing between the different Wrangler options.
So let's dive into the specs of each model to help you determine which Wrangler is most suited to your needs.
The Wrangler YJ
This is the Jeep that started my lifetime passion for Jeeps and offroad vehicles. I owned a hunter green 1993 YJ Sahara when they were new and loved that Jeep. I sold it to help buy my wife's wedding ring. A few years back, I tracked my Jeep down by the VIN, but unfortunately, it had been wrecked and I assume it was parted out.
This being said, after much searching I found a nearly all stock 1993 Sahara and I have been putting it back near factory condition.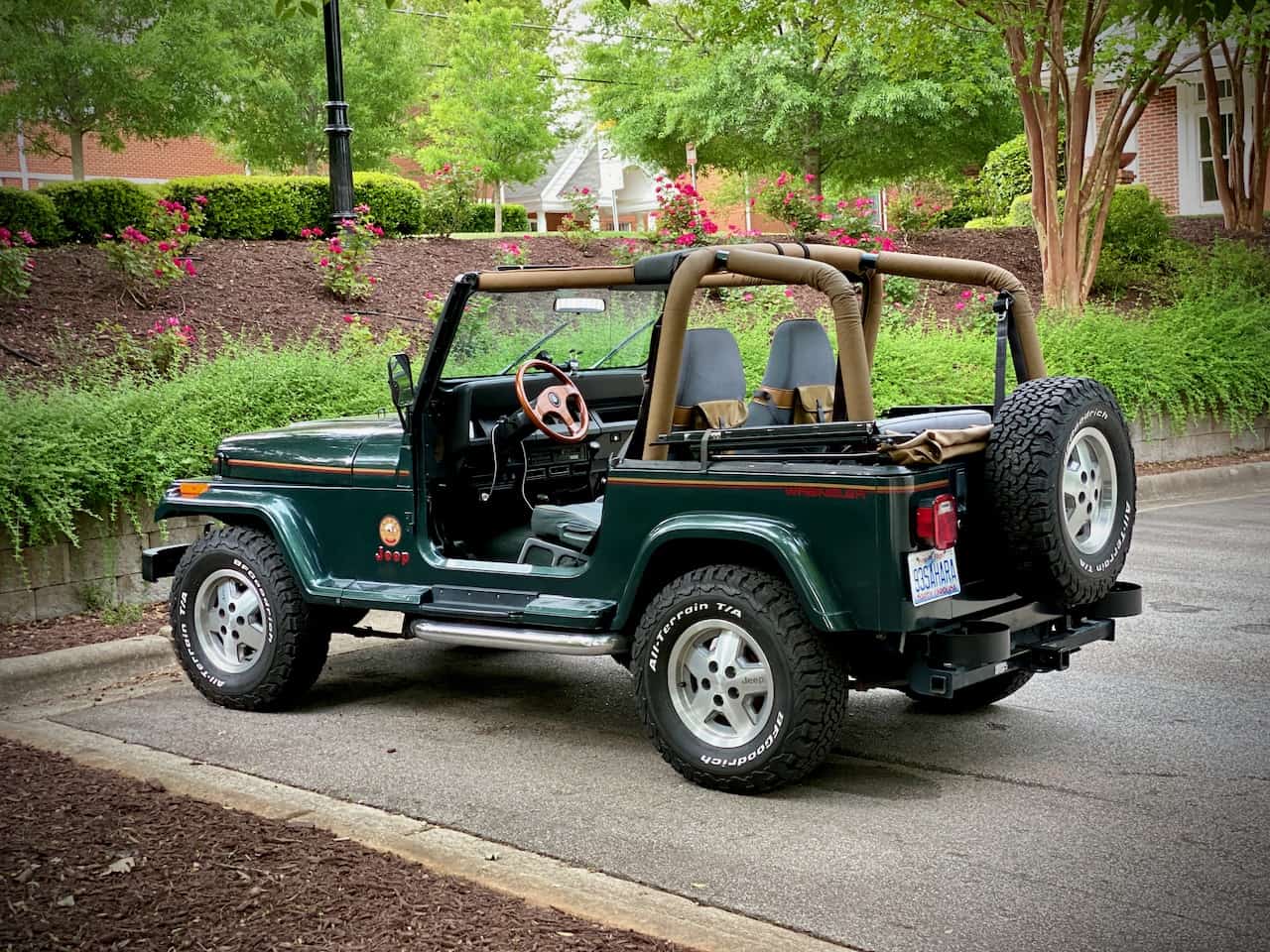 So what makes the YJ so special?
The YJ models are the first-generation Jeep Wranglers manufactured from 1987 to 1996. This model is noticeable by its square headlights and provides a versatile small-body, two-door four-wheel drive off-road vehicle. It also offered air conditioning which was not available before then.
Some elements of the YJ are reminiscent of the CJ model previously, with some slight adjustments. For example, Jeep Wrangler owners of YJ models could purchase soft top and hardtop options, with both half-doors and full-frame doors, depending on the topper.
The Wrangler YJ used several engine options through the years, including:
2.5 L AMC 150 4-cylinder
4.0 L AMC 242, fuel-injected 190 hp (134 kW)
4.2 L AMC 258 6-cylinder
From 3-speed automatic to 5-speed manual transmissions, the YJ offered slight variance for those in the market for alternatives.
The Wrangler YJ has several trim options available, including:
Base models S and SE
Laredo
Islander
Renegade
Rio Grande
Sahara
Sport
This first-generation Wrangler kick-started the need for a more compact and versatile Jeep that is exceptionally suitable for off-road and highway driving. However, these models are not the most popular options for many Jeep owners.
Although they are a less expensive option as a Wrangler, they have had several mechanical and electrical hiccups, making them less than ideal as a reliable vehicle. The Wrangler YJ also has a lower clearance than other models, which can cause problems for drivers who enjoy heading off-road.
Jeep tweaked several elements of the YJ generation models as they aged. Some adjustments ranged from moving away from the Peugeot-sourced unit to the preferable AX-15 'box to upgrading the four-cylinder engine into the multi-port fuel injection. Slowly, the YJs morphed into a more attractive and functional model for drivers.
Jeep introduced additional elements later include:
Three-point rear seat belts
Anti-lock brakes
A third brake light for increased safety
Price Point for the Wrangler YJ
There are just over 550,000 Wrangler YJs in existence right now, which helps keep the demand for these models high. Depending on the condition of the first-generation Wrangler you find, you can be spending anywhere between $3,800 up to over $21,000.
Naturally, due to their scarcity, if Jeep enthusiasts can find a first-gen Wrangler YJ in near perfect condition, the value will only increase over time rather than decrease with age.
The Wrangler TJ and LJ Models
Jeep owners (myself included) all think and argue their model of Jeep (YJ, TJ, LJ, JK, JL, etc) is the best Jeep ever. As much as I love my other Jeeps, the LJ… that's the Jeep to dream about. From my perspective, it is the best Wrangler ever built.
It's also the Jeep I personally own as my adventure rig. It is excellent offroad, but also quite impressive on the road. One major difference between the YJ to the LJ is just how quiet the soft top is on the highway vs the flapping and noise from the YJ.
This generation of vehicles (not just Jeeps) will probably go down as the best generation of vehicles for enthusiasts. Vehicles of this era were still simple to work on in your garage and they were not covered in tech gadgets and computers, yet you still had OBD diagnostics to help figure out what is wrong with the Jeep.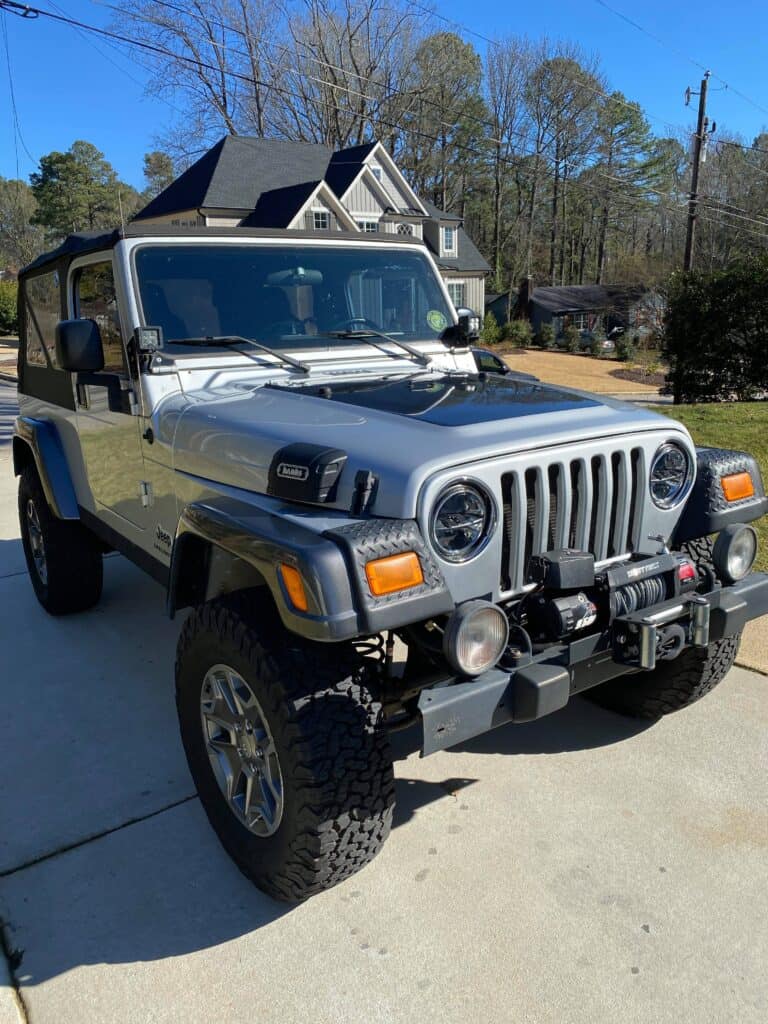 Off-road enthusiasts should lean towards the second-generation Wrangler TJ or LJ models as one of the more suitable choices for their lifestyle. From 1997 to 2006, these Wranglers gained popularity quickly for several reasons.
From exceptional towing capacity, rugged good looks, and versatility, this generation is terrific for city driving, off-roading, or for its truck-like hauling features. It is also the first Wrangler generation to offer front airbags, making a safer ride.
Although they perform exceptionally well with rough terrain, these Jeeps still provide a smooth and comfortable ride on the highway, making them flexible enough for getting around the city during the workweek.
The engines in the Wrangler TJ and LJ models did change slightly through the production years. So depending on the age of the vehicle, it may have one of these under the hood:
2.4 L DOHC 4-cylinder
2.5 L AMC 150 Inline-4 cylinder
4.0 L AMC 242 Straight-6 cylinder
Consequently, the 6-cylinder engine is probably one of the most reliable engine choices built for those who enjoy off-roading and rough terrain driving. This engine also handles upgrades better and offers an optimal towing capacity that you will not get with the smaller 4-cylinder choices.
These Wranglers switched from leaf springs to coil springs, helping to create a more comfortable ride. As one of the most capable off-road Wranglers, you will find various transmission options in the TJ and LJ Wranglers to help make the smoothest ride possible, including:
Three and four-speed automatic options and five-speed manual choices for 4-cylinder engines
Three and four-speed automatic selections and five or six-speed options for 6-cylinder engines
Second-hand Wrangler TJ and LJ models can be upwards of $25,000 or more, depending on the trim level and condition. This hefty price tag does not mean that these Wranglers are not worth the cost, though. On the contrary, these models and other Wrangler choices hold their resale value exceptionally well.
The LJ Difference
The LJ offers a slightly longer body that helps spread uneven terrain across more surface area, smoothing out any bumps for a more enjoyable ride. In addition, an extended body provides more interior room for those looking at a Wrangler for extra cargo space or passengers.
Wrangler LJs are significantly heavier than TJ models, which may be beneficial or be a disadvantage, depending on what you use your Jeep for. However, the longer, heavier chassis is terrific for more towing torque and stability for owners who regularly haul cargo.
Consequently, the LJ was only in production for a short few years, between 2004 and 2006, making it one of the more sought-after Wranglers for Jeep enthusiasts. Unfortunately, if you are lucky enough to find one, it may cost you a pretty penny.
The Total Resale Costs For a Wrangler TJ or LJ Model
Consequently, second-generation Wranglers can give your bank account a shock. Even though Jeep produced over 950,000 variations of this model and was discontinued in 2006, they still average just over $17,000. So Wrangler lovers who prefer a rare LJ model should prepare to pay even more for one of the 44,000 vehicles manufactured.
After knowing the ins and outs of all the Wrangler models and being behind the wheel of each generation, when I have to get behind the wheel of a Jeep, I typically find myself jumping in the LJ and professing the LJ as the best Jeep Wrangler ever made.
The coil springs in the front and rear and their versatility make them one of the more desirable Wranglers. They hold their value and will continue to deliver exceptional performance, with the worth only increasing over time (In my opinion).
The Wrangler JK
By sheer volume, the JK and mostly the JKU (4-door) Wrangler is the most popular because this is the vehicle that took Jeep mainstream. YJ's were stiff, bouncy simple machines. TJs and LJs were slightly more refined and offered a smoother ride to appeal to more buyers. BUT it was the JK model that truly gained the attention of the masses and introduced them to Jeep Life.
From soccer moms (yes I said it) turning in their minivans to offroad enthusiasts wanting to bring more people and gear along on their adventure, the JK model brought the Wrangler to the masses.
I like the JK a lot. Especially the JKU 4-door if you are going to use it as a daily driver. Getting in or out of the backseat of a YJ or TJ is left to the youngest and most nimble. If I were buying one today, I would target a 2014 or 2015 model (just my personal preference).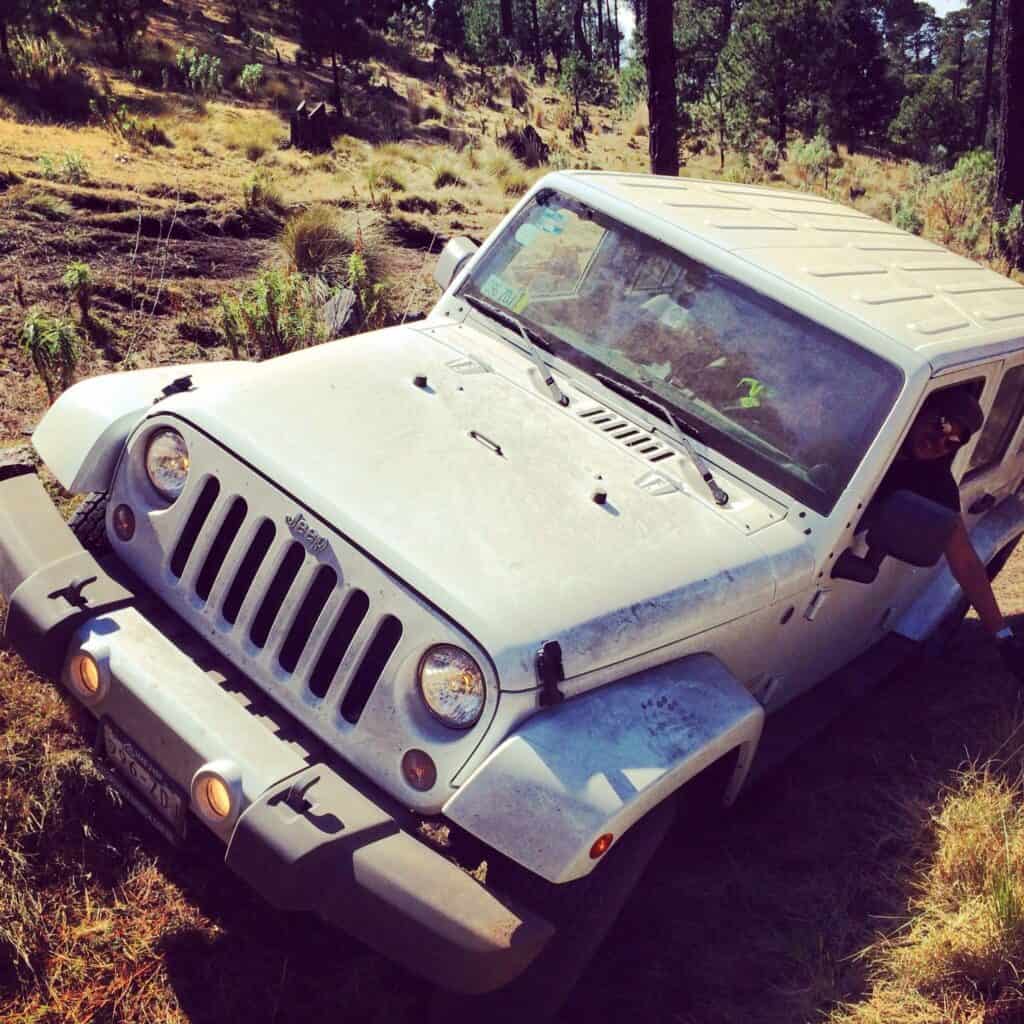 As the third-generation Wrangler, this model was available from 2007 until 2018. You can find JK models sporting a 4-speed automatic or 6-speed manual transmission. They offer a short wheelbase in the two-door trims and a long wheelbase in the four-door models.
The Wrangler JK offers three engine options through the production years, including:
2.8 L RA 428
3.6 L Pentastar
3.8 L EGH
Depending on the year and trim of JK, you can find one of two four-wheel-drive systems, such as:
Command-Trac with optional Trac-Lok limited-slip differential
Rock-Trac
The Wrangler JK provides multiple trim packages, including:
Altitude
Freedom Edition
Rubicon
Rubicon Recon
Sahara
Sport
Sport S
Willys Wheeler
Willys Wheeler W
While the Sunrider convertible soft top is standard, the Wrangler JK also offers a three-piece modular hardtop alternative. Both have the capability for complete removal along with the doors for a better open-air experience.
Compared to the previous generation, this model has a slightly wider track, even though it is marginally shorter than the TJ models. However, the Wrangler JK does not have as large flares as the JL, making it harder to upgrade to larger tires for better off-roading trips.
The Wrangler JK has improved safety features with stability control on top of the standard traction control and anti-lock braking systems.
A few excellent accessibility features of the JK are the remote power door locks, power windows, and navigation controls that previous generations did not offer.
Some of the best features of the Wrangler JK consist of off-roading elements. For example, drivers can remove front bumper end-caps during extreme climbs to prevent front-end damage. In addition, the disconnecting front sway bar makes handling uneven terrain quite a bit easier.
The Price Point for the Wrangler JK
If you want a less expensive Wrangler but still require many of today's features, the JK model may be your best bet. Production numbers for this third-generation Wrangler run just under 1.8 million units, making them in abundance for anyone looking for a second-hand vehicle.
Potential Jeep owners looking at a JK should prepare to pay anywhere between $16,000 and $40,000. This total cost will depend on the vehicle's condition and mileage.
The Wrangler JL
I am amazed by the advancements in Jeeps over the years. The JL is such a pleasant Jeep to drive. The soft and hard tops are both quiet. The on-road handling and ride quality compared to prior Jeeps is excellent, and Jeep still offers front and rear solid axles for the die-hard offroad community! I truly love the JL on so many levels.
Two hurdles I see for the JL would be tons of technology, and most obviously the price. If you are going to use your Jeep as an adventure vehicle, computers and technology don't always handle life on the trail all that well.
I think the pricing topic is self-evident. My 1993 YJ Sahara had a sticker price of $13,500. A similar Jeep today is going to be a whole lot more… but we will dive into those details shortly. Let's just say it's a good thing Jeep Wranglers have a reputation for holding their value.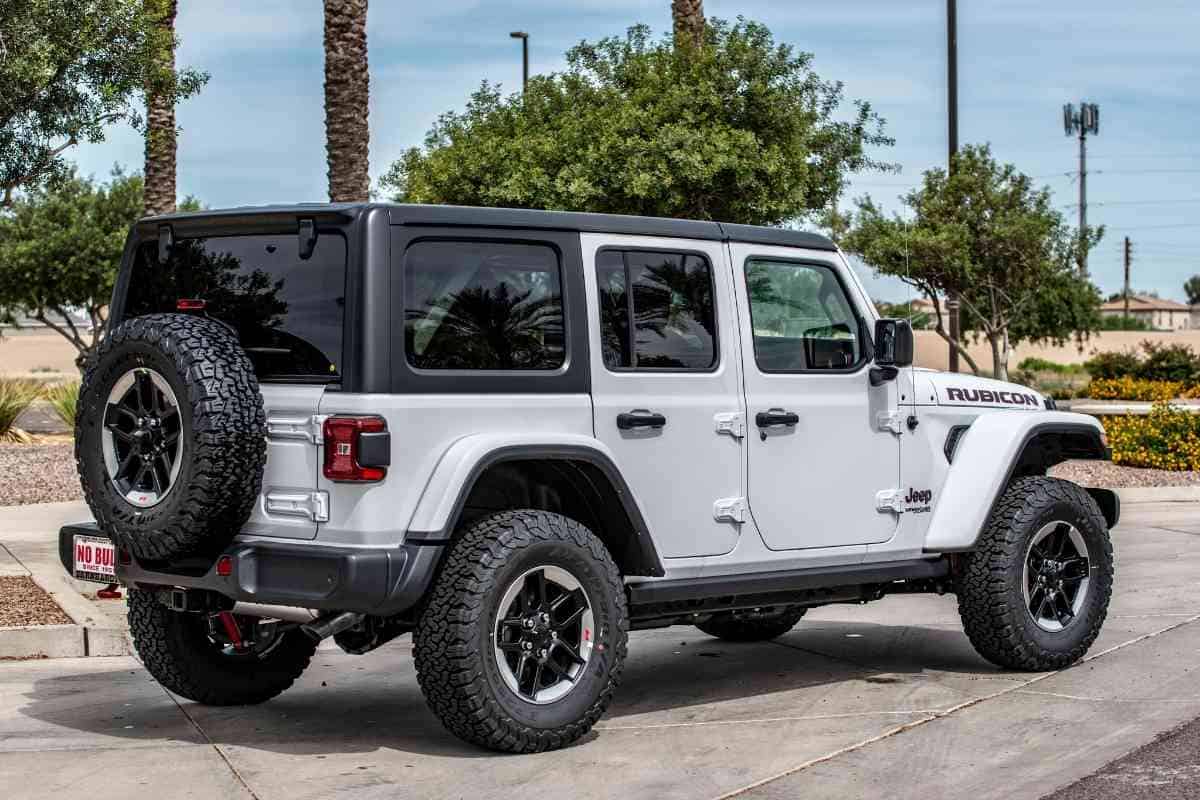 The Wrangler JL is a terrific all-around choice if you are a new Jeep enthusiast. This fourth-generation model became available in 2018, and Jeep continues to put out an excellent SUV year after year with its JL option. Although Jeep offered both Wranglers JK and JL for a short time during 2018, there are some significant differences between these two models.
The Wrangler JL is offered in both two and four-door models, making it versatile enough for a single driver or a family. In addition, the JL features a push-button start rather than a key, the first Wrangler model to provide this option.
It comes in three engine options, including:
3.6-liter Pentastar V6
Turbocharged 2.0-liter four-cylinder
3.0-liter EcoDiesel V6
To help keep the engine cooler, especially when working hard during off-roading, Jeep includes small fender flare vents. This feature was a step up from previous models dealing with hood flutter problems from restrictive airflow.
This model provides both an 8-speed automatic and a 6-speed manual transmission if you want variety. It also offers a convertible option, which you will find as the all-new premium Sunrider.
It also offers three various four-wheel-drive systems to choose from, including:
Command-Trac
Rock-Trac
Selec-Trac
The Wrangler JL comes in several trim options, depending on your preferences for style and functionality. Unfortunately, not all the trim choices will include the two and four-door options.
Freedom
High Altitude
Islander
Right Hand Drive (RHD)
Rubicon
HEMI powered Rubicon 392
Moab
Sahara
Sahara Altitude
Sport
Sport Altitude
Sport S
The JL models have a ground clearance of 10.9 inches, water-treading capabilities up to 30 inches deep, and a standard crawl ratio of 2.72:1. It also contains upgraded axles that you will not find on the JL to provide better all-terrain capabilities. These elements give more off-road potential than other Jeep models, such as the JK.
As a bonus, the JL offers a completely folding front windshield. So for owners who want the best fresh-air experience, this model is a terrific choice.
Jeep redesigned the Wrangler front end to emulate older Jeep models by sporting a more raked grille to improve aerodynamics. The absence of the Jeep logo on the front grille is characteristic of the JL model.
It also includes new front fender flares sporting a running light and built-in turn signal with its larger bumper. This move from under the headlight to the front fender flares makes the driver's intentions more visible than ever before.
Overall, the Wrangler JL is one of the most comfortable rides you will find in a Jeep model, both on and off-road. With ​​recirculating ball steering with electric power assistance and an anti-spin rear differential, drivers will find one of the smoothest rides in this Wrangler.
Jeep does not stop at only making a comfortable ride in the JL model, though. This Wrangler option includes Uconnect infotainment systems with display screens and pinch-to-zoom features. Some trim models also integrate Apple CarPlay and Android Auto, giving drivers the most up-to-date technology at their fingertips.
For additional safety features, the Wrangler JL has better outward visibility due to the lower beltline, while the rear space tire is lower for better rear visibility. This model also includes a built-in blind spot monitor within the taillight housing. In addition, Jeep offers a backup camera with the JL model that is not available in previous Wrangler versions, giving owners one of the safest choices available.
If you are an average new car buyer, you can't go wrong with the new Wrangler JL. However, if this will be your only vehicle, you just can't beat the comfort, technology, and warranty that Jeep offers.
The Costs For a Jeep Wrangler JL
Naturally, the Wrangler JL is the most recent model still in production. Drivers can purchase brand new models or find used vehicles that are only a few years old, with many more miles in them. A Wrangler JL will hold up to 70% of its original MSRP, making it one of the best choices if you prefer to exchange your vehicle and upgrade after a few years.
Even after five years, a Wrangler JL model will only depreciate around 27%, giving owners a solid investment in a reliable vehicle. This Wrangler will also carry one of the best warranties in a Jeep model, making it perfect for many first-time buyers.
Which Wrangler Is the Best?
Once you break down each generation of Jeep Wranglers, you may still wonder, which is the best one? Unfortunately, it may not be as cut and dry as you may think. Each model has its advantages and drawbacks, making your decision rely on what you will use your Jeep for to help guide your choice.
The Wrangler YJ Is Best For
Choose a 1993 to 1995 first-generation Wrangler if you want a less expensive Jeep that will hold its value and give you the iconic Jeep look. Later YJ models will have fuel injection, anti-lock brakes, and other favorable elements that make them better than earlier years.
This model is best for seasoned Jeep lovers who enjoy tinkering with their vehicle since it may require some time under the hood as you put on the miles. Remember, it's practically an antique now.
The YJ is a more bare-bones Wrangler and carries with it a more retro look and feel to it.
The Wrangler TJ or LJ Is Best For
If you prefer a Wrangler that is more suited for off-roading but still delivers exceptional smooth riding capabilities, the second-generation provides everything you need. Jeep lovers who want a rare, coveted Wrangler model will enjoy driving around in an LJ and belong to the elite few who own this popular model.
Jeep owners who regularly stray off the beaten path should opt for the TJ or LJ as the most reliable and durable Wrangler option. They are comfortable and dependable, providing a terrific model for seasoned Jeep owners.
The Wrangler JK Is Best For
Drivers who enjoy a more up-to-date ride but want to avoid a high price tag can get everything they need in the Wrangler JK. These models retain an incredibly high resale value, have a wide range of trim options, and come in both two and four-door options.
Jeep owners who love to remove the top and doors for an attractive open-air experience will enjoy driving around in a Wrangler JK. This Wrangler is best for Jeep lovers who enjoy the modern comforts without paying the new market prices.
The Wrangler JL Is Best For
The Wrangler JL is the best choice if you are a new Jeep owner or just enjoy having the latest model. Depending on the trim option you choose, the JL comes well-equipped with many technological features to improve safety and convenience.
The Jeep warranty on the JL is a terrific selling feature for these models, giving new owners a great reason to choose a newer Wrangler. This versatile model's combination of comfort and durability is ideal for a single off-road enthusiast, couples, or even a family who needs to get around town easily.
Final Thoughts
In the end, selecting the Jeep that best fits your needs is a personal choice. I hope my sharing my 25+ years of Jeep experience will help in giving you a little background into the practicality and best use of each Jeep model.
I would say the most important thing is to buy your first Jeep. Drive it for a while and see what you like and don't like. Then you can modify or upgrade your Jeep to dial it in to your way of driving.
In the end, Jeep Life is great. You can form a great bond with other Jeep owners and a friendly reminder, as a new Jeep owner… learn the Jeep Wave and don't be shy about waving! Yes, the Jeep Wave is a thing.