If you're already an avid camper, you may know that a car big enough to sleep in is great for bad weather. Maybe you need a new car and simply want the option to use it for sleeping in the case of a spontaneous camping or road trip.
If you're looking at a Subaru Forester, you may already love some of its rugged features. But it isn't a camper so, can you sleep in it? The short answer is yes, you can. Quite comfortably even.
However, there are some other things you may want to keep in mind before deciding to get a forester to sleep in, so keep reading.
How Big is the Back of the Subaru Forester?
The Forester has changed design over the years. The current 2021 model is pretty big—the trunk has 31.1 cubic feet of space for storage. The 60/40-split flat-folding rear seatbacks come standard to give you more room and configuration options.
The dimensions are a little different on older models, make sure you find out which years of Subaru to avoid.
If you're buying secondhand, you'll want to check out the exact square footage of the trunk. The 2018 Forester is actually slightly bigger, and you get 34.4 cu-ft with the seats up (74.7 with them down).
Why Use a Subaru Forester for Camping
The Subaru Forester is a compact SUV with a high safety rating and a towing capacity of 1500-3000, depending on the year.
It has decent enough off-roading capabilities that you can take it pretty much anywhere. If you don't feel like sleeping in your car, it can tow a decent-sized popup camper, small fishing boat, or other fun outdoor gear.
People like the compactness and utility. It's the ultimate vehicle for spontaneous journeys but has all the bells and whistles for a meticulously planned road trip.
As we discussed, you'll be able to take whatever you need, go wherever you want, and get there safely. And you can easily sleep in this car (without any of the bulk of an RV) if you want to or need to.
How Many People Can Sleep in a Forester
This answer will depend on how big you are and how much you like the other people. Two average-sized (5'5 or under) women can sleep in the back of a Forester pretty easily.
I know one guy who also slept comfortably with his girlfriend in one, and other online reviews support this.
However, once you're over six feet tall, you may experience some sleeping issues. Most people say they either need to curl up or sleep diagonally to make it work. But you won't be sleeping stretched out in the back of the Forester if you're over six feet tall.
If sleeping at a weird angle (and you're over six feet tall) is a deal-breaker for you, consider looking into the roomier Subaru Outback.
Tips for Sleeping in the Back of a Forester (Or Most Cars)
You'll probably need to put the back seats all the way down to comfortably sleep in your car. But some people are comfortable stretching out on the seats themselves, and those people are probably short.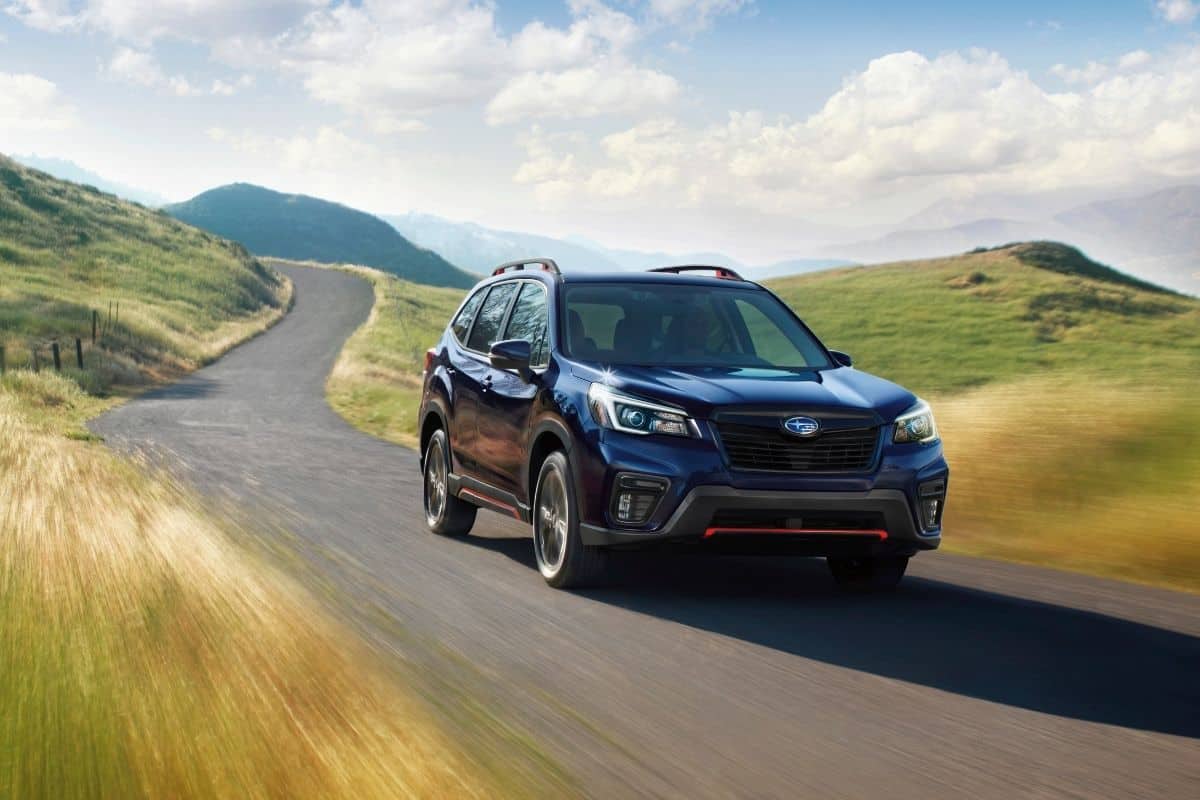 You won't want to be caught without some blankets and at least a mattress pad, if not an actual air mattress. You can fit a twin to a full-sized air mattress, but there won't be room for anything else back there.
The hinges where the seats fold away can be uncomfortable in some Forester models. If you don't have something to put on top of them, you'll feel them all night. A thick blanket could be enough, but I found a mattress pad to be a better buffer.
You could also try a puffy sleeping bag, a bag rated for below-freezing temperatures usually has enough padding. You'll also be able to keep a window cracked for air circulation without getting too cold.
Other Ideas for Sleeping in Your Forester
If you've never slept in your car instead of your tent or camper, there are some things you should think about (other than what sized mattress you can fit in the trunk).
Window Treatments
You should invest in some good custom shades for your Forester. These don't need to be expensive, and plenty of brands like WeatherTech, make shades for specific car models.
You don't want the sun to wake you up too early or overheat your car during the day, making it pretty uncomfortable when you're ready to settle down for the night. They're also good for privacy. You don't want fellow campers peering in while you're trying to sleep.
It's also usually a good idea to sleep with the window cracked just a bit. You may not want to do this in freezing temperatures (especially not without an extremely warm sleeping bag), but it does keep air circulation going. It will also help keep your windows from fogging and condensation from gathering.
If you do want to crack your window, make sure you also have a window screen to prevent bugs from getting in. No one wants to wake up to something landing on your nose.
Food Considerations
If you're spending the night in your car, you should invest in a decent cooler. You'll want to eat at some point on your trip, and a good cooler means you can have some fresh, perishable items and keep other snacks and drinks safe from overheating.
Good coolers for campers should also be bear-safe, meaning they protect against the animal opening them or damping the smell of your food. Yeti makes some popular bear-safe coolers that also have very long ice-retention- the ice should last for a few days.
Waterproof Trash Bag
Trash is an often overlooked part of camping for the inexperienced camper. If you're beginning food, you'll also have trash.
One of the top rules of camping: leave no trace. You'll need to take your trash with you. There probably isn't a super nearby trash disposal site if you're out in the wilderness rather than an active campsite.
Taking a bag full of waste into your car won't be fun if you can smell it and it's leaking. To keep your campsite clear and your car clean while you transport your trash, invest in a suitable trash bag like this one from Sea to Summit.
Power
The Forester has plenty of charging ports. You can safely use it to charge your phone. However, you don't want to rely solely on your car to power all of your devices, especially if you need power for more than just your phone.
If you're going to be deep off the grid, you don't want to be stuck without power. It's good to have some options other than your car for safety reasons. If your vehicle dies for any reason, you'll want to make sure you can fully charge your phone and any other device to help you get help.
There are several portable power options for charging devices, large and small. There are, of course, small wireless chargers for just your phone, but there are also solar-powered generators for larger items.
Before You Go
Sleeping in your Subaru Forester isn't just possible—it's a good idea. If you have some of the basic necessities in your car, like pads, blankets, and food storage, you'll have an awesome time.