Is Toyota Tacoma Worth the Money?
Toyota has worked hard to build itself a name and none of that effort has been in vain. There are plenty of cars and even a couple of trucks on the market, one of which is the well-known and well-loved Toyota Tacoma. This truck has some notable characteristics but it also has a pretty high price, so you'll have to ask yourself whether or not that price is really worth it.
Most people would say that a Toyota Tacoma is worth the money. Most models have a starting price of $26,500, a price that goes up when trim packages are added. However, thanks to its many helpful and convenient features, the Tacoma is widely considered to be worth the price, even despite its flaws.
Other people say the Tacoma is worth it, but that still leaves you needing to make up your own mind and decide for yourself whether the Toyota Tacoma is going to be a good investment. Read on to learn a bit more about the Tacoma, including what its strengths and fun features are as well as some specific pros and cons. These will hopefully help you to not only understand what the Tacoma has to offer but whether or not it will serve your needs well.
Toyota Tacoma Specs: Why So Expensive?
The first thing you should know about the Tacoma truck is that it has at least five different trim options including the SR, SR5, TRD Sport, TRD Off-Road, and the Limited. Each of these has different features and will add a different price to the truck. Here are a couple of key things from each one so you'll have a better idea of what you're getting.
SR
The SR is the lowest package and will therefore cost the least amount of money which is $26,500. It has a fuel economy of 18/22 (city/highway) which is, unfortunately, the lowest here. However, it also features dual-zone automatic climate control, a deck rail system, and projector-beam headlights which make driving easy and safe at any time of day.
SR5
The SR5 option ups the price to $28,290 which is at least $2,000 more than the SR. However, the SR5 makes up for that with its four to ten-way adjustable front seats, integrated fog headlights, and dual automatic climate control. However, this climate control option is only available with the V6 model.
TRD Sport
The TRD sport has plenty of fun features to enjoy, even though it does jack the price up to $33,410. The TRD Sport will provide you with a smart key system, a camera with a panoramic view monitor, and machined alloy wheels. It's called the "sport" package for a reason; the features give it a very souped-up name and feel.
TRD Off-Road
The TRD Off-Road is not that different from the TRD Sport in price or fuel economy. The price is only a thousand dollars difference give or take ($34,690). With this package, you will be getting rear-differential locks (diff locks), crawl control, and sixteen-inch wheels. Each of these things makes the Tacoma TRD Off-Road model a great option for off-roading fans.
Limited
Despite what the name might suggest, the limited package has the highest price ($39,255) and most advanced features. It has eighteen-inch wheels, JBL audio with dynamic navigation, and a panoramic camera with a monitor. Each of these things adds to the comfort and ease of using the Toyota Tacoma.
You can read more details about each trim package (and the Tacoma in general) on Toyota.com.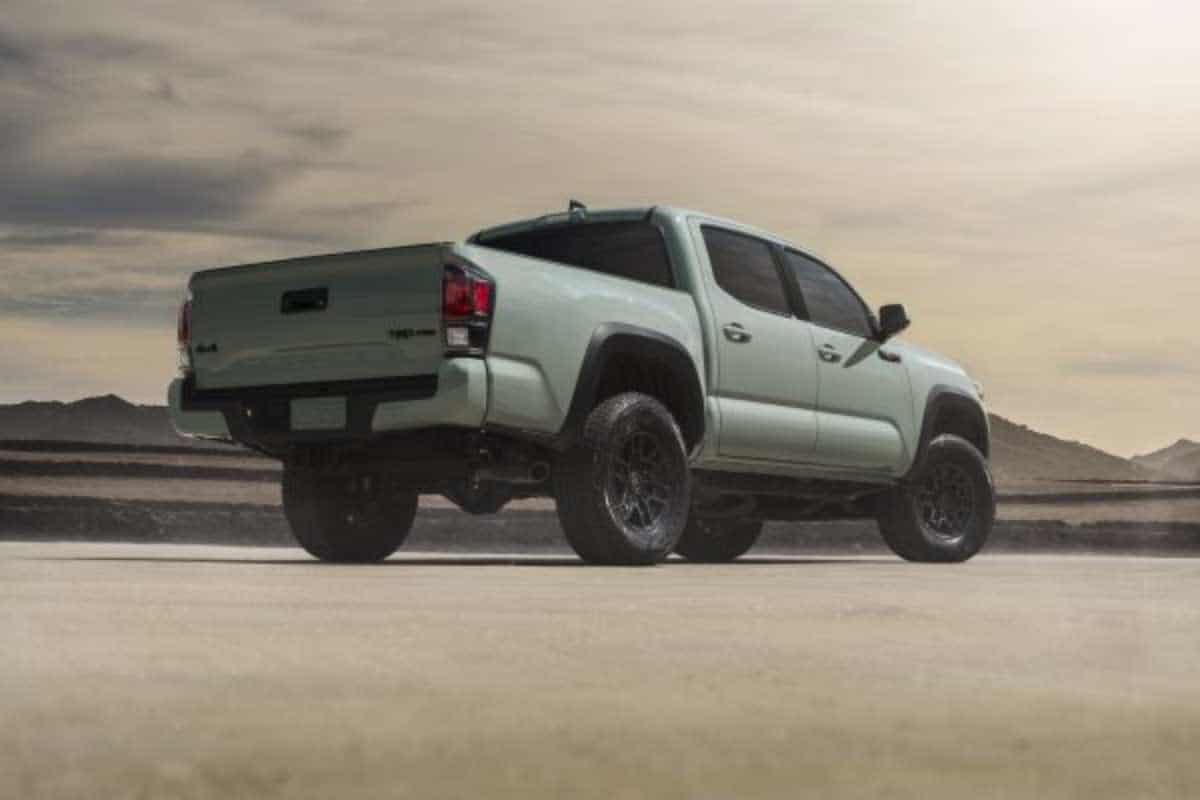 Pros and Cons: Is it Worth it?
According to the Kelley Blue Book, the Toyota Tacoma scraped up a 3.7 out of 5 in user reviews, suggesting that most customers have been happy with their Tacoma's features despite the price. However, when it comes down to it, whether it's worth it or not is an individual decision/opinion. So, here are a few pros and cons that might help you solidify your decision.
Pros
One of the Tacoma's most redeeming qualities is its reliability. It was designed with longevity in mind, which would explain the fact that so many have reported their trucks lasting for several years at a time. Plus, because of its reliability, the Tacoma holds its value quite well. This makes it a perfect choice especially for those who may want to sell later on.
The Tacoma does great both on and off the road. The TRD Sport package is particularly popular if you enjoy riding around on residential roads. It has superb suspension which helps it take curves smoothly, plus this package gives the Tacoma a very sporty and stylish look that will definitely turn some heads.
Conversely, the TRD Off-Road package will give you an edge when you hit the dirt. It comes equipped with diff locks, a skid plate, crawl technology, and many other features that allow it to handle rough terrain with no problem. Plus, its small stature makes it agile and swift.
Cons
Unfortunately, the Tacoma also has its drawbacks. While some good can come from the Tacoma having a smaller size and shape, that also means that the cabin is going to be considerably smaller as well. The ride quality is pretty good and the truck itself handles quite well, but having a cramped backseat can make road trips and off-roading trips somewhat uncomfortable.
The Tacoma also only has 159 horsepower to boast. Compared to the competition, that could be considered pretty flimsy. Thanks to this, the Tacoma's acceleration lacks the strength that might satisfy a zealous truck enthusiast and leaves plenty to be desired.
It is also outranked by several competitors in the towing department. Most Tacoma models have an average towing capacity of about 6,800 pounds which is nothing to sneer at and can get most jobs done with no problem. However, in comparison to other trucks from Ford and Chevrolet (whose towing capacities can be as high as 13,000 pounds or higher), it's not all that impressive.
You can read more about the Toyota Tacoma's pros and cons right here.