What Are The Best Tires For A Dodge Durango?
What are the best tires for your Dodge Durango? The sporty SUV has quite a few tire options to choose from for dry, wet, and snowy weather.
Tire manufacturers have a huge variety of tires they could buy. The question remains, which tires are the best option for a Dodge Durango, and how do you know which ones will work best for you?
What Are The Best Tires For A Dodge Durango?
The best tires for the Dodge Durango include the Pirelli Scorpion AS Plus 3, Michelin CrossClimate 2, Continental CrossContact LX25, and Firestone Destination LE3. Snow tires include Bridgestone's Blizzak and the Michelin X-Ice Snow.
We'll take a look at ratings for each tire, and consider what is important to the average Dodge Durango driver.
Our evaluation of the best tires starts with discussing how we think a driver might evaluate what kind of tires they want.
We'll then break down different kinds of tires and offer a complete explanation of each tire, and a brief synopsis too.
We have been working in the automotive world for a while and our familiarity with vehicles and tires makes us well qualified to help you find the right tires.
We'll focus on companies like TireRack that do an exceptional job of testing tires and gathering driver feedback, all while selling tires direct to customers.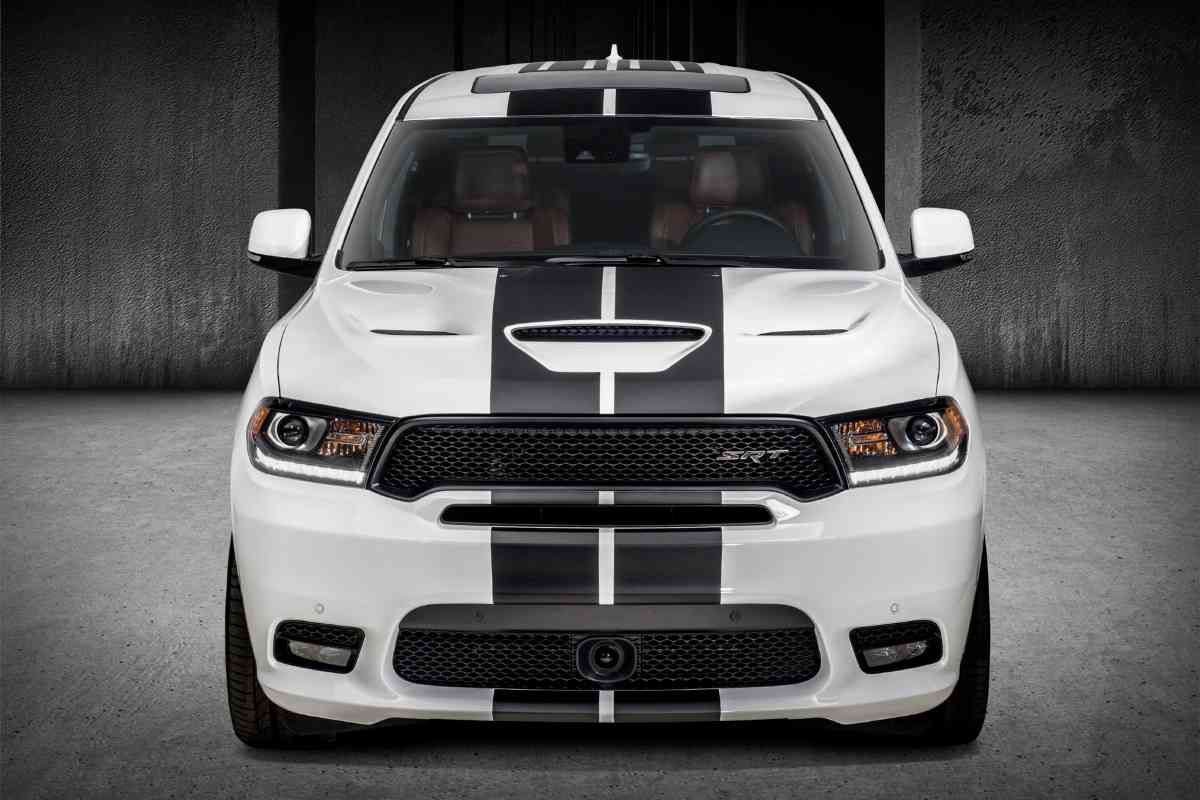 What do Dodge Durango drivers value?
The Dodge Durango is a relatively inexpensive performance-oriented SUV.
The Durango offers a sharp look as well as available 6-cylinder and 8-cylinder HEMI engines which offer fast acceleration.
Safety
As an SUV with seating for up to 8, the Durango could also be driven as a family vehicle.
This also means that the driver might give safety and stopping distance higher consideration – though many drivers will think that these are very important anyway.
Price
While the MSRP of the Durango has gone up like other vehicles, the Durango is a fairly reasonably priced SUV.
Many drivers who purchased a Dodge Durango are looking for the best balance of price, safety, and performance.
Ride Comfort
The Durango has a sporty suspension for an SUV and could be driven in the city or on the highway. Drivers will want a tire that absorbs bumps well.
Weather
The Durango is available in rear wheel drive and all wheel drive, and could certainly be used in a wide variety of environments.
For this reason, we'll cover all terrain and all weather tires, including snow tires.
Dodge Durango Tire Sizes
We base the pricing we provide below on the smallest tire size for a 2020 Dodge Durango. The size shown is 265/50/R20.
If you are purchasing larger or wider tires than the standard size, the price may go up accordingly.
Best All-Season tires for Dodge Durango
Pirelli Scorpion AS Plus 3
A Dodge Durango driver looking for a great balance of wet and dry handling needs to look no further than the Pirelli Scorpion AS Plus 3.
The Pirelli sits atop a very competitive class of tire with very solid wet and dry ratings of 9.5 and 9.6.
You'll also get better than average comfort with a 9.5 rating, which beats all other tires in class by a half point.
Finally, treadwear relates heavily to value – and the Pirello once against rises to the top with a 9.8 out of 10.
On non-subjective tests, the Scorpion does admirably too.
Stopping distance is above average against other all-season tires at about 82 feet going 50 miles per hour.
While the wet stopping distance didn't quite lead the group, it was competitive with the Michelin CrossClimate 2, which cost a bit more.
Pirelli achieves its combination of road comfort and wet handling with some thoughtful construction.
The Pirelli has asymmetric treads that offer as constant of road contact as possible, leaving little room for noise to escape the pavement and into your Durango's cabin.
Fully grooved sipes also whisk water away to provide better than average wet handling.
The tread life comes from Pirelli's use of a two-ply polyester casing that keeps the tire stable around corners.
Corner stability allows for more even treadwear.
While the tire does offer good treadwear, some drivers have critiqued the Pirelli's cornering abilities as just average.
In addition to good treadwear, Pirello offers a good warranty.
You get unlimited time and up to 70,000 miles.
Want to buy the Pirelli Scorpion? We suggest using TireRack.com.
You get free shipping from a worry-free site with a great reputation. Pricing starts at about $260 per tire.
Pros
Well above average wet and dry handling
A very comfortable Durango tire
Great warranty
Cons
About average stopping distance for an all weather.
Some drivers weren't impressed by cornering abilities
Michelin CrossClimate 2
From the Pirelli we go to a Grand Touring All-Season tire, They compare admirably, but the CrossClimate is intended to be more of a wet tire with comfort.
The CrossClimate 2 handles that well, achieving high marks with wet and dry handling at 9.4 on both.
Winter and snow handling gets a nice bump to 9.0, though this is not a snow specific tire.
Michelin still provides a very solid 9.0 on the comfort scale according to drivers.
They also earned a 9.2 treadwear rating, so these tires will last a while.
The high comfort rating is the result of Michelin's PIANO technology, which uses computer modeling to consider how loud a tire will be based on the tread type, formation, and timing.
On real tests, the CrossClimate outperforms the Pirelli and traditional All-Season tires in some ways. The CrossClimate will stop sooner than the Pirelli in both wet and dry conditions by a few feet, which is important if you are driving in poor weather regularly.
Admittedly, the CrossClimate's lap times are a touch slower than other Grand Touring Tires in the rain, but we consider that a Durango driver is looking more for traction than powering through the corner.
Michelin's enhanced stopping distance is engineered through v-shaped edges.
These edges offer solid contact through wet conditions, which is very important when braking fast.
The CrossClimate comes with a 6 year or 60,000 mile warranty.
This is right on par with the rest of the Grand Touring tire industry.
One major improvement you'll see from the CrossClimate over many tires on this list besides actual snow tires: The CrossClimate handles snow pretty well.
The tire stops sooner and offers more controlled acceleration on light snow.
Find the CrossClimate 2 on TireRack here.
You'll pay a little more than the Pirelli at about $285 per tire, but some drivers in cooler climates might find the snow abilities very positives.
Pros
Very good overall on wet and dry handling
Surprisingly able in snow for grand touring
Decent warranty
Cons
Not the most comfortable for a grand touring, but well balanced.
Continental CrossContact LX25 (Honorable mention for all-season)
The Continental CrossContact blends all-season performance well with a balanced 9.3 on dry and 9.2 on wet.
An extra layer of cushion under the tread also leads to a solid 9.0 in comfort as well as a 9.2 in treadwear performance, which are above average for the class.
Continental's unique tread compound makes a big difference in wet and dry handling, as few tires combine wet and dry handling well.
The CrossContact excels at handling and is about on average with the best competitors at stopping in the rain.
Cornering on dry pavement sounds fun with CrossContact's, as the sticky treads can combine the powerful Durango engine.
At $242 per tire, they aren't a bad deal either.
Check them out on TireRack.
Pros
Corners and handles well
Fairly quiet
Inexpensive
Cons
Not as highly rated for comfort and wet traction
Firestone Destination LE3 (Best Highway Tire)
If you spend a lot of time traveling at high speeds and want a comfortable tire at a reasonable price, the Firestone Destination LE3 is an excellent choice.
Rated highly on wet and dry at 9.1 and 9.3 respectively, the Destination also shine for treadwear in class with a 9.4.
Highway tires like the Destination are known for their comfort rating, and TireRack's subjective tests place this one above higher and similarly priced tires.
9.3 for comfort is quite good.
Firestone manages to achieve their high treadwear rating and high comfort rating through design.
The treads are symmetrical and all parts of the read are full depth, giving consistent contact with every rotation.
Dual steel belts within the tire also make it especially flexible and study when driven at high speed.
Testers also complemented the Firestone's ability to offer some natural road feel with SUVs like the Durango, which are often sized in a way that makes them feel less responsive.
One criticism provided by drivers was the feeling over bumps, which are more common in city driving.
While the Firestone Destination was rated about average when it came to handling characteristics, it did well on both handling under acceleration and lap time.
With this said, the Destination is a friendly tire for taking on ramps to the highway!
Here is the best news of all for the Firestone: It's available on TireRack with free shipping, and it's fairly inexpensive.
$227 per tire is a great price for a comfortable highway tire on a large SUV.
You also get a substantial 5 year or 70,000 mile warranty.
Pros
Highway comfort
Well priced
Great treadwear
Cons
Not real comfy over city bumps
Only about average responsiveness for steering
Cooper Evolution H/T (Best value for dry climate)
There's a saying in tires, especially for all-season: You get what you pay for.
The other end of this is that if you live in a fairly dry climate, like the southwest, you might be paying too much for what you don't need.
The Cooper Evolution is a fine tire for dry at 9.3 and still does well in wet at 8.8 – we would still feel confident in the rain.
You even get pretty good comfort at 9 while treadwear lags slightly behind the Pirelli, Firestone, and Michelin.
The tread itself is designed with symmetrical and well designed contact points to reduce the amount of noise you'll hear at highway speeds.Treadlife comes from durable steel belts that also assist with noise while cornering.
The Cooper Evolution offers slightly less of a warranty with 6 years or 50,000 miles.
The biggest standout feature on the Cooper Evolution is the price. Tire Rack offers them for $195 including free shipping.
For a fairly comfortable tire that handles dry quite well, this is a great price for a good tire.
Drivers who are looking to save a few dollars in their Durango will still appreciate this one.
Cooper offers this tire for at leat $20 per tire less than their competitors while offering a warranty that's pretty close.
Pros
Inexpensive
Gets good dry ratings
Comfortable to drive with the Durango
Cons
Not as good on wet surfaces
Slightly lesser warranty
Falken WildPeak A/T Trail (Best All Terrain)
Do you live off the beaten path or frequently find yourself on unpaved roads? The Falken WildPeak A/T is among the best in class for your Durango if you want to go camping, head to a construction site, or drive around the farm.
A tire like this is meant to be balanced more toward potentially driving on gravel, dirt, mud, and even rocks.
That said, the wet and dry ratings are less of a concern.
Falken still scores pretty high on wet and dry at 9.1 on both.
Snow ratings are quite good too at 9.0 and even comfort is surprisingly high for thick, aggressive treads at 8.7.
Falken achieves their outstanding combo with the right silica compound that does well in wet and dry conditions, and an aggressive tread pattern.
The Falken manages to loko good while providing the deep, thick treads necessary to power through mud, and provide a bit of a snowpack for good handling after a snowfall.
When tested against other all-terrain tires, the Falken certainly held its own with good stopping distances on wet and dry compared to other all-terrain tires.
The WildPeak's overall off-road rating of 9.0 makes it the top overall pick in class. Find it here on TireRack. While the cost is the highest by a very small margin, $264 isn't bad for a very good all-terrain tire – and with better off-road performance.
Bridgestone Blizzak DM-V2 (Best Snow Tire)
Many Dodge Durango owners bought their vehicle with All Wheel Drive knowing that the large SUV has intelligent drive features and the right weight and drivetrain to take on snow.
Some drivers prefer to have a couple of sets of tires per vehicle for different purposes.
Others in the upper midwest, Canada, and Alaska, might take on lots of snow and want to feel confident driving when they can barely see pavement.
Enter the Bridgestone Blizzak, our choice in best overall winter and snow tire.
In the particular case of winter, the ability to accelerate in snow, and of course stop under control are very important.
Dry and wet handling is not weighted in our decision for a snow tire.
Speaking from all around standpoint, the Blizzak is fairly comfortable, but not as comfortable as other tires in class for handling snow and ice.
Blizzak does handle the most important part right, and outduels Michelin with shorter stopping distances and better acceleration on snow.
Consider that you'll likely either be caught in traffic during a snowstorm or potentially driving with few people around you and distanced – either way, you'll need to stop and keep control of the vehicle.
Bridgestone's Blizzak excels there.
Tires like the Bridgestone Blizzak are able to improve upon all-seasons tire's snow performance with aggressive treads and different compounds.
The Blizzak and Michelin's Ice-X tires have similar rubbers that adapt well to extremely cold temperatures.
They also offer deep treads that can store snow – as snow packed tires actually dig into snow quite well.
TireRack sells the Bridgestone Blizzak for around $234 per tire.
Pros
Great snow performance
Rides fairly comfortable
Cons
No warranty, which is standard for snow tires
Michelin X-Ice Snow (Runner up for snow tires)
The Michelin X-Ice is amongst a couple of tires that TireRack has not fully reviewed, but they have a certain history or doing well.
Michelin uses a unique method of helping a tire dig through snow.
They put microtreads within their treads to allow individual contact points to get through hard and light packed snow, which makes them a great choice for very cold or snow places.
X-Ice buyers do get a warranty, which is somewhat rare. 6 years and 40,000 mile is nice, especially when most don't offer any backup.
Is there an ice tire for the Dodge Durango?
While Michelin carries the name "X-Ice Snow", snow tires are only truly meant to keep control of a vehicle's acceleration, cornering, and braking while on heavy or light snow.
If you recently had freezing rain, or the roads are coated in ice, tires are only going to do so much to slow you down.
While relying on a snow or ice tire is better than all-season, driving with caution is a better bet because ice can be unpredictable.
Snow is very easy to see, but ice, including black ice, can be hidden and difficult to account for.