What Are The Best Years For The BMW X1?
This post may contain affiliate links. As an Amazon affiliate, I earn from qualifying purchases.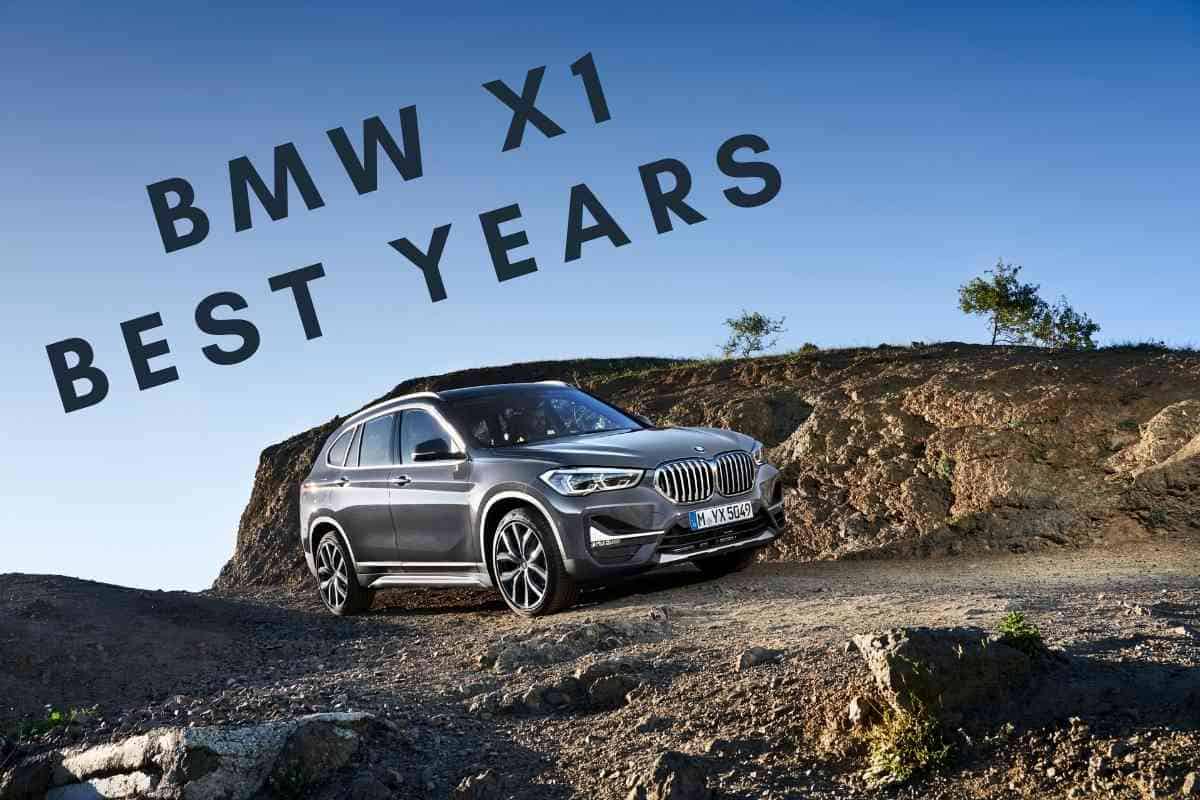 The BMW X1 is a popular luxury SUV manufactured by German automaker BMW. This article will review the best years for the BMW X1. Our findings and rankings are based on data from trusted automotive repair data and consumer feedback.
What Are The Best Years For The BMW X1?
Some of the best years for the BMW X1 are 2018, 2019, 2020, and 2021. They have many unique qualities that are different from other vehicle brands. Each of these models has received exceptional safety ratings and luxurious interiors. They also include some of the most advanced safety features.
The BMW X1 has been around for nearly two decades. With this much time to perfect the model, it makes sense that the newer models would be the best. Keep reading to learn more about what makes these models better than the rest. 
Suggested Reading: Here are the BMW X1 years to avoid
2018 Model Year
The 2018 BMW X1 is currently selling for $33,900. While this model has five seats, it can feel a little small.
However, what this model lacks in space, it makes up for in performance.
With front-wheel drive and 228 horsepower, this car can go fast.
As you slide into a 2018 BMW X1, leather seats are there to greet you.
The metal gear shift feels cool under against your palm.
The armrests fold up and down for the ultimate comfort.
If you carry important documents with you, the glove box offers a secure location to store them.
Use the glove box key to prevent intruders from accessing these papers.
Have your hands full of groceries? No need to fumble for your keys.The 2018 BMW X1 features keyless entry to make getting in your vehicle that much easier.
This model year uses 18-inch tires on aluminum rims.
One downside is that it doesn't include a spare tire. If a tire goes flat while driving, you'll need to call a tow truck, which could be quite expensive.
For a sedan, the BMW X1 has excellent fuel capacity.
With a 16.1-gallon fuel tank and an average fuel efficiency of 26 miles per gallon, the 2018 BMW X1 can travel 418 miles before refueling.
While his car can go a long way, it is a little small, being only 175.4″ in length, and 62.9″ in height.
Don't let the size fool you. The 2018 BMW X1 is one of the safest vehicles on the road.
The National Highway Traffic Safety Administration gave this vehicle a 5-star overall safety rating.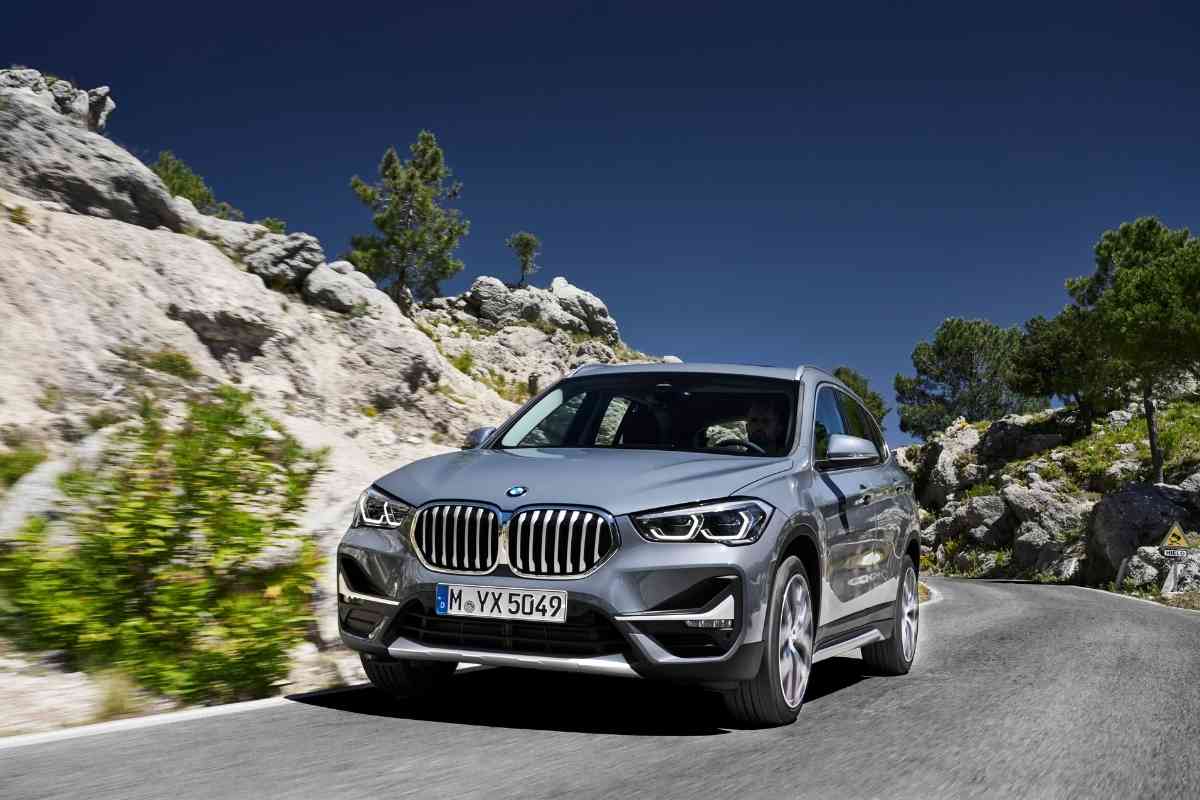 2019 BMW X1
The 2019 BMW X1 currently sells for $34,950. With a 2-liter, 4-cylinder engine, this car can pump out 228 horsepower.
This engine has 258 net torque and can go fast for a long time.
BMW offers five interior color options: black, mocha, oyster, and blue. All of which have a sleek design and are crafted with precision.
The head restraints are made of a soft fabric so the passengers can relax while on long car rides.
Use the power adjustors on the front seats to find the perfect seating arrangement.
This car has the classic appearance of an analog car, and the steering wheel is adjustable.
While seats aren't real leather, they feel like they are. You and your passengers will hardly notice that the seats are made from synthetic leather.
The 2019 BMW features an HVAC system under the seats.
Like its predecessor, the 2019 BMW X1 received a 5-star overall safety rating from the National Highway Traffic Safety Administration.
A perfect safety rating makes up for the other minor problems associated with this model year.
2020
The 2020 BMW X1 has a starting price of $35,200.
While you've heard of four-wheel drive, you probably haven't heard of four-wheel breaks.
This breaking system allows the vehicle to slow down faster without sliding.
This vehicle also includes ABS to prevent the wheels from locking up in an emergency.
When it comes to entertainment, this model has a HI-FI sound system, with professional radio and Bluetooth.
A window Grid antenna is also included, along with satellite radio.
When it comes to safety measures, this car has front and rear airbags.
The side impact beams run through your doors and are also designed to keep you safe during an accident.
A backup camera helps when reversing out a parking space, preventing any collisions from happening.
When parking, this car has special sensors on the front and the back of the vehicle to help guide the vehicle into tight spots.
These sensors activate when driving as well.
With the help of the collision mitigation system, you'll feel safer while on the road.
It also has a collection of airbags that are controlled by an Airbag Occupancy Sensor, which tells the car if an adult is sitting in the front seat.
Which makes it even safer for people in the front seat.
The BMW X1 2020 Model scored an 8.1 out of 10 for its overall rating.
This score shows that every aspect of the 2020 BMW X1 is high-quality.
2021
This 2021 Model of The BMW X1 currently costs $35,400.
As it is one of the newer models it costs a little more but comes with many more perks.
The 2021 BMW X1 comes in a range of colors: ice blue, greys, whites, and deep black.
Prospective buyers can also choose between a black or mocha interior.
An auto-latch is connected to the trunk for a handless opening.
The back seats fold down for more storage space, with cargo space lights for easy visibility.
Additionally, the front power seats allow you to achieve maximum driving comfort.
This gets 27 miles to the gallon from its 4-cylinder engine.
The maximum alternation capacity is 210 amps.
This car is equipped with ABS, driveline traction control, and a collision mitigation front for maximum safety.
Driver and passenger knee airbags, backup cameras, and rear child safety locks.
The BMW X1 has an overall rating of 5 out of 5 stars.
This goes to show how incredible the vehicle is.
If you want more security and luxury, the above BMW X1 models are highly recommended.
FAQ
Which X1 is the most reliable?
In terms of reliability, the BMW X1 models produced in recent years have generally performed well. However, it's important to note that reliability can vary depending on various factors such as maintenance, driving habits, and individual vehicle history. It is always advisable to research specific model years and trims, and consider factors like manufacturer recalls and customer reviews to determine the most reliable X1 for your needs.
Is a used BMW X1 a good buy?
Purchasing a used BMW X1 can be a good buy, especially if you find a well-maintained vehicle with a good service history. Used cars generally have a lower initial cost compared to new ones, which can provide good value for buyers. However, it's essential to thoroughly inspect the vehicle, consider its mileage, maintenance records, and potentially have a professional inspection performed before making a purchase decision.
Is the BMW X1 a good value?
The BMW X1 is often considered a good value due to its combination of luxury features, versatile functionality, and competitive pricing within its segment. It offers a premium driving experience, comfortable interior, advanced safety features, and modern technology. However, determining value can be subjective, so it's recommended to compare the X1 with similar vehicles, consider your specific needs, and take a test drive to see if it meets your expectations.
What cars compare to X1?
The BMW X1 competes in the compact luxury SUV/crossover segment. There are several vehicles that compare to the X1 in terms of size, features, and price. Some notable competitors include the Audi Q3, Mercedes-Benz GLA, Volvo XC40, Lexus UX, and Infiniti QX30. These models offer similar luxury, performance, and functionality, so it's worth exploring and comparing them to the BMW X1 to find the one that suits your preferences.
Are second-hand BMW cars reliable?
BMW cars, including second-hand models, are generally known for their performance and build quality. However, reliability can vary depending on factors such as the vehicle's age, mileage, maintenance history, and overall care. It's advisable to research the specific model and year you are interested in, review its reliability ratings, and consider having a pre-purchase inspection done to ensure you're making an informed decision.
How much does it cost to maintain a BMW X1?
The cost of maintaining a BMW X1 can vary depending on factors such as the model year, trim level, mileage, and the type of maintenance required. As a luxury vehicle, BMWs often have higher maintenance costs compared to non-luxury brands. Routine maintenance, including oil changes, filter replacements, and inspections, will generally be similar to other vehicles in its class. However, repairs and parts replacement for luxury vehicles can be more expensive. It's advisable to budget for routine maintenance and consider extended warranties or service plans to help mitigate potential costs.
Is the BMW X1 an SUV or crossover?
The BMW X1 is classified as a compact luxury SUV or crossover. It combines elements of both a traditional SUV and a car-based crossover. The X1 offers a higher seating position and increased cargo space compared to a sedan, similar to an SUV, while maintaining car-like handling and drivability characteristics. Its smaller size compared to larger SUVs makes it well-suited for urban environments and those looking for a balance of practicality and sportiness.