What is the #1 Selling SUV in America? (Revealed!)
This post may contain affiliate links. As an Amazon affiliate, I earn from qualifying purchases.
When looking for a new car to buy, there are so many options out there, especially if you are looking for an SUV. There are so many different brands and models of SUVs, so it can get overwhelming to find what you want. If you don't know which SUV to buy, a good place to start is the highest selling SUVs because people obviously enjoy them a lot.
The #1 selling SUV in America is the Toyota RAV4. The 2021 Toyota RAV4 has sold more than 338,441 units. With ratings over 7.7 in every category, positive and informative customer reviews, and impressive specs, it has been the best selling SUV for four years in a row.
While the Toyota RAV4 is the highest selling SUV in America for the fourth year in a row, it is important to know details about this SUV before you decide whether or not to purchase it. Keep reading to learn more about why the Toyota RAV4 has such high ratings and is so popular!
Sales of the RAV4
There is a lot of great information about the Toyota RAV4 in specs, ratings, and sales. We are going to cover the impressive sales reports and records of the Toyota RAV4. For four years, the yearly models of the Toyota RAV4 have held the spot for the highest-selling vehicle and when we look at the actual numbers, that is a lot of cars sold!
In 2018, Toyota sold 427,168 RAV4s. In 2019 they sold 448,068 units. In 2020, they sold 430,387 RAV4 models, and in 2021, Toyota sold 338,441 RAV4 SUVs. These numbers are highly impressive yearly sales, especially considering that these numbers are for just one model from that year and not any of their other vehicles.
The sales of the Toyota RAV4 have been incredibly high for such a long time, and that is not without the impressive specs and ratings of these vehicles. They are highly rated in every category from US Car News, and you will soon see why!
RAV4 Specs
Now that you know how well the Toyota RAV4 has sold over the past four years, it is important to know the specs of this vehicle. Knowing about the ins and outs of the 2021 Toyota RAV4 will help you get an understanding of why this SUV sells so well.
The details of a vehicle tell the consumer how well it will run, and it can tell us why so many people chose this SUV over so many others. We will focus on the base LE model, as the other models have special features that other SUVs can't compare to.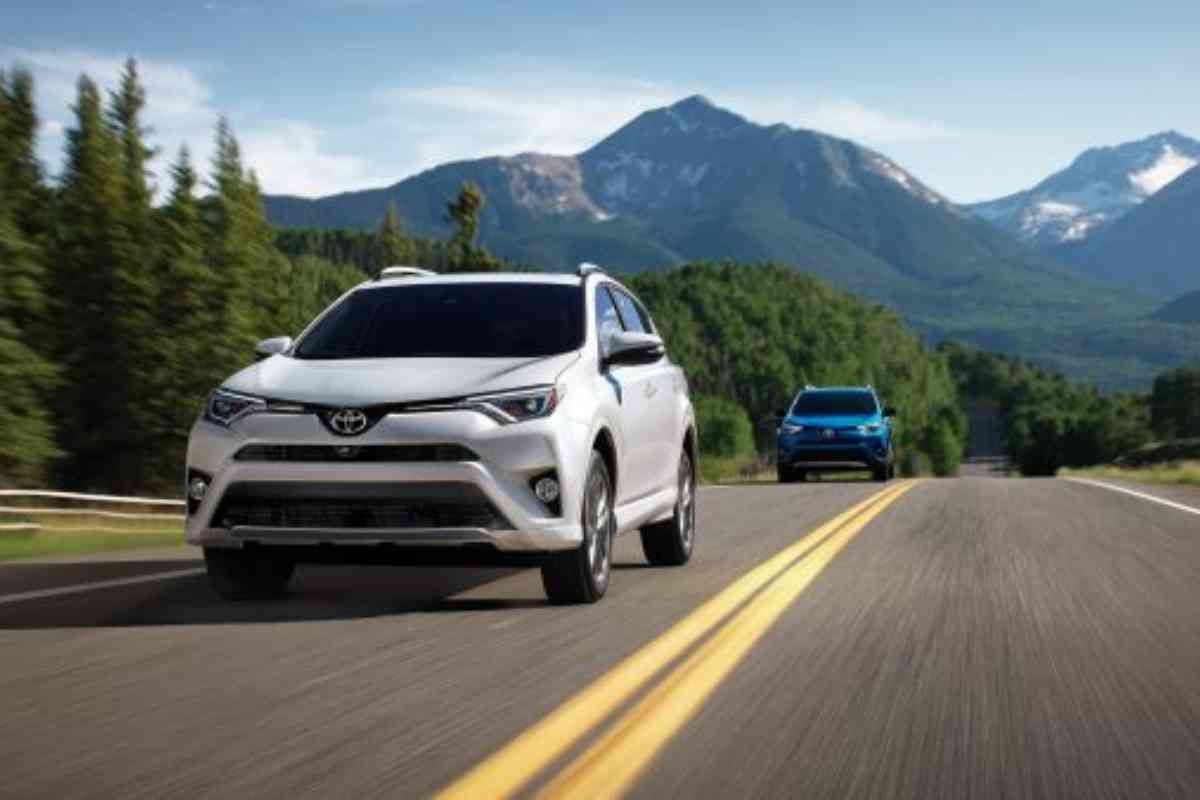 Mileage
The first major detail to take note of is the mileage that the 2021 Toyota RAV4 LE gets. Mileage is an extremely important part of any vehicle, as it can give you a good idea of how much gas will cost you and of how efficient the engine is.
When driving on city streets, the RAV4 gets about 27 miles per gallon, but when on highway streets, it gets about 35 miles per gallon. This is not too bad as SUVs are known for being quite the gas guzzlers.
Performance
When it comes to performance, we will focus on the engine and its power. This is important to know because if a vehicle is as big and hefty as an SUV, even a crossover SUV, you want a powerful but efficient engine. The engine on the RAV4 LE model is a 2.5-Liter, 4-cylinder engine.
It produces 203 horsepower at 6,600 rpm and 184 pounds per foot of torque at 5,000 rpm. This is a pretty powerful engine and because of its great mileage, it is also efficient. (Source)
Capacity
Finally, the 2021 Toyota RAV4 LE has reasonable capacities and it has a lot of great space inside which is what most people are looking for when shopping for an SUV. When it comes to fuel capacity, the tank holds up to 14.5 gallons of fuel. This can take you over 500 miles on highways.
On the interior, there are 98.9 cubic feet of space for the passenger, 107.4 cubic feet of cargo space (with the backseat and trunk combined), and 136.4 cubic feet of space overall.
Ratings
Now that you know some of the most important specs of the Toyota RAV4, you have a better idea of why people end up loving the car. However, when it comes to getting people to buy it in the first place, the ratings have to be impressive.
For the 2021 RAV4, the ratings that it received are not something to sneeze at. We will cover all of the ratings that are mentioned in US Car News reports for this SUV.
Overall, the 2021 Toyota RAV4 received an 8.3 out of 10, which is a very good score with all categories considered. For the critics rating, this SUV received an 8.4 out of 10 which is pretty good. This rating is one that gets many consumers to seriously consider purchasing this vehicle.
For performance, the RAV4 got a 7.8 and for interior, it received an 8. These are not the best scores that vehicles have received in these areas, but they are still very good and should not be discounted.
Finally, the safety rating and the quality and reliability rating are both very important. For safety, this SUV came out with a 9.4! Because driving can be a very dangerous mode of transportation, safety is a huge factor to consider in a vehicle. For quality and reliability, the RAV4 received an 8.1, which is very good, especially on a car with such a high safety rating.
Overall, the ratings on the 2021 Toyota RAV4 are very impressive. These are the kinds of ratings that are indicative of a best selling SUV and the sales reports definitely match! If you are considering buying an SUV, the Toyota RAV4 is well loved and highly rated. There are very few known issues with this vehicle, which makes it an ideal family car.