What Is The Best Used Family SUV? (Revealed!)
This post may contain affiliate links. As an Amazon affiliate, I earn from qualifying purchases.
When looking for a new car for a family, there are a lot of options and factors to consider. It is very financially smart to start by looking in the used car market because they are cheaper, but still reliable. So what is the best used SUV to purchase for a family vehicle?
The best used SUV to purchase for a family is the Toyota Land Cruiser. This SUV is durable and reliable and is. a great vehicle to purchase second-hand. There are many years to choose from when purchasing a used Toyota Land Cruiser, but the 2004 and 2005 models especially stand out.
What makes the Toyota Land Cruiser stand out as a great SUV to purchase second-hand? Continue reading to learn more about the great qualities and safety features of a Toyota Land Cruiser and find out what to look for when purchasing a vehicle second-hand.
What Years To Purchase of Toyota Land Cruiser Second-Hand
There are many different years to choose from, each offering different perks and unfortunately, some downfalls. Within this wide variety of Land Crusiers to choose from, what are the best years to consider and look for when purchasing second-hand?
2004-2005
These are some of the best years to purchase when looking for a second-hand Toyota Land Cruiser. The 2004 and 2005 models were the first to get the new and improved engine, the 5 speed automatic. The 4.7-liter V8 now has a reduced fuel consumption.
1990-1993
Many people continue to rave about the 1990s models of the Toyota Land Cruiser. The reliability surely has passed the test of time.
What Makes the Toyota Land Cruiser A Great Vehicle to Purchase Used?
When buying a car second-hand, it can be tricky to know what to look for to ensure the vehicle you are purchasing will be a great investment. The Toyota Land Cruiser has earned excellent reviews over the years, making it a vehicle you can put your trust (and family) in.
Reliability
One of the great things about purchasing a Toyota Land Cruiser is the large number of trims and years that are available under this model name. People that purchased their Toyota Land Cruiser in the 1990s may still be driving and loving the same vehicle even after all these years.
Reliability is one of the most important (if not the most important) factors to consider when purchasing any vehicle, but especially if it will be used as a family vehicle. Knowing that the Toyota Land Cruiser has a great record for staying reliable for over 30 years should ease any doubts you may have.
On a forum where people were discussing the 1990 year of the Toyota Land Cruiser, many people talked about the reliability that it continues to show.
One person mentions how the model from 1993 may be better because of the stronger engine, but despite that small factor, they enjoy their 1990 Toyota Land Cruiser and have had no major issues with it.
To view the forum and read over more comments about the early Toyota Land Cruiser options, click here to be redirected.
On another forum discussing the best aspects of the Toyota Land Cruisers, one comment mentions how the engine in many of the Cruisers is one of the best compared to other SUV options on the market. The engine is very well known for the great reliability that it provides to the drivers.
To view this forum and read over more comments about some of the best characteristics of the Toyota Land Cruiser, click here to be redirected.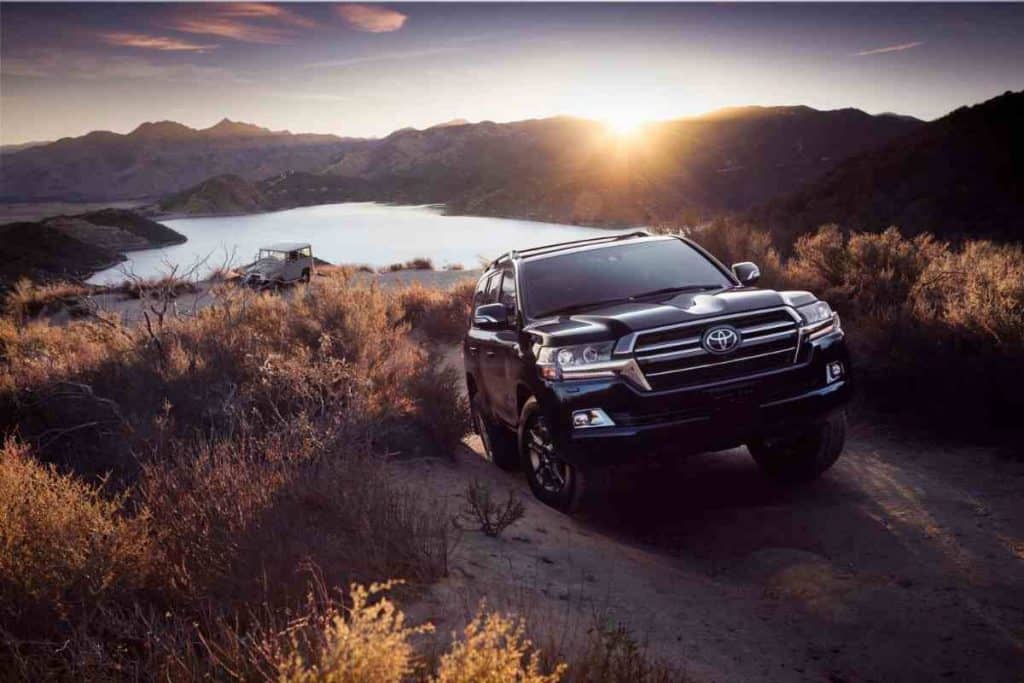 Size
When looking for a family vehicle, you want to make sure that it can fit the whole family comfortably and still leave a bit of room for storage. The Toyota Land Cruiser is a great option that is large enough to fit the family and all the cargo needed for various types of adventures. It's still compact enough to fit comfortably on the road though!
There are many drivers who do not enjoy driving exceptionally large vehicles because of the extra work it takes to ensure everything stays contained. For someone who does not want to drive a huge vehicle but still wants the benefits that come from owning one, the Toyota Land Cruiser is a great option to consider purchasing in the near future.
Depending on the specific make and model of the Toyota Land Cruiser, these vehicles can seat 5-8 people. For a medium to large family, this is the perfect amount of seats. You might even enjoy having a few extra seats in case the kids need some space from each other.
Maintenance
Toyota is a very well-known and popular brand to purchase cars from. For someone looking for a great car that is easy to maintain, purchasing a Toyota is a great idea.
Due to the popularity of Toyota around the world, the parts are readily available and can easily be changed by most mechanics. This is especially beneficial for someone who plans on purchasing a vehicle that can be used for travel outside of the United States of America.
Price
It is no secret that Toyota Land Cruisers are very expensive to purchase when they're brand new. They are incredibly reliable and durable cars, but most people simply cannot afford the price tag attached to the quality. Purchasing a new one can also be tricky due to the limited supply of brand new cars that are available.
While it is still expensive to purchase second-hand, it is way more cost-effective and still just as high-quality (depending on how the previous owner cared for the vehicle). Keeping an eye on various different second-hand seller's shops is smart when looking for an affordable model of a Toyota Land Cruiser.
One of the great things about the high price is knowing that the value of the vehicle will remain high if you ever want to sell the vehicle. This is also great for people who are interested in "flipping" cars and selling them for a higher price after fixing up issues with the vehicle.