What is the Smallest Pickup Truck Available?
This post may contain affiliate links. As an Amazon affiliate, I earn from qualifying purchases.
While the sizes of pickup trucks have grown a lot over the years, there is still a pretty big market for mid-size pickup trucks. While many search for the biggest pickup trucks, others might be more interested in the smallest ones.
The 2022 Ford Maverick is the smallest pickup truck currently available on the market. It is only 199.7 inches long, 83.5 inches wide, and 68.7 inches tall. It is a relatively light pickup truck at 3,674 pounds, and the bed is only 54.4 inches long, or about four and a half feet.
The newest Ford Maverick is the smallest pickup truck available on the current market, but besides size, there is much to unpack about this vehicle. Keep reading to learn more about this mid-size pickup truck and its features.
2022 Ford Maverick Size
The dimensions of the 2022 Ford Maverick, both inside and out, give you a good idea of just how small this pickup truck is. There are three Maverick trim packages to choose from: the XL, the XLT, and the Lariat. Which package you choose may alter the actual dimensions.
Exterior Dimensions
Finding a smaller truck is especially important if you plan on driving or parking in narrow areas. The exterior dimensions of the 2022 Ford Maverick are the same as the 2021 model's dimensions. The entire Maverick is just 199.7 inches (16.6 feet), and only 54.4 inches of that is the bed.
Surprisingly, the Maverick is a four-door pickup with a 145.3-inch long cab (about 12 feet). That means that the truck bed is only 4.5 feet long. If you don't need to haul large loads, then this shouldn't be a problem.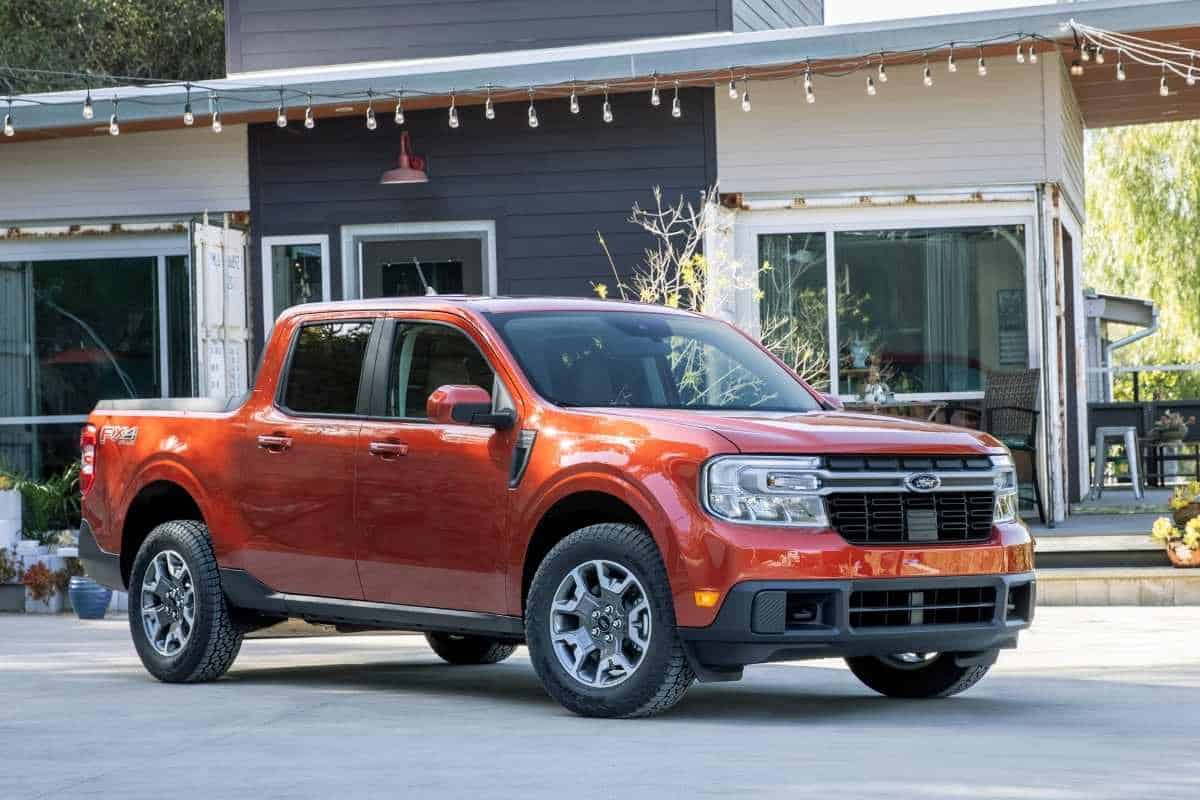 The Ford Maverick is 83.5 inches wide (nearly 7 feet), including the mirrors. Seven feet is a fairly standard truck width, making the Maverick only slightly narrower than other models. It is 68.7 inches tall (5.7 feet), making it shorter than a full-size pickup.
While it is a small vehicle, the Maverick has a pretty large wheelbase of 121.1 inches. A larger wheelbase means you can fit relatively large tires on the vehicle. Larger tires will improve the Maverick's performance while on rougher terrains.
Interior Dimensions
While the exterior dimensions are important for parking and versatility, the interior dimensions are what impact how it feels to ride in the truck. Since the Maverick is a smaller truck, it has a fairly compact cab. The area that will feel the most cramped is in the front seat. There are only 55.5 inches (4.6 feet) of hip room and 57.3 inches (4.7 feet) of shoulder room available.
The Ford Maverick has a standard amount of head and legroom. With 40.3 inches (3.4 feet) of headroom and 42.8 inches (3.6 feet) of legroom, you won't notice that much of a difference.
Although the Ford Maverick has less shoulder and hip room available, it shouldn't make the driving experience too uncomfortable. The interior of the 2022 Maverick is smaller than a full-size pickup, but there is still enough room to drive and ride inside comfortably.
2022 Ford Maverick Engine
The 2022 Ford Maverick is a mid-size pickup truck and being so much smaller than a full-size pickup, many consumers wonder about the engine's power.
Since the Ford Maverick is a smaller vehicle, it doesn't need an engine as powerful as a full-size truck. The 2022 Ford Maverick has a hybrid engine instead of a diesel engine. This means that it has an electric motor that helps reduce the amount of fuel burned. It is a 2.5 Liter hybrid DOHC 16-valve, 4-cylinder engine.
It gets 162 horsepower at 5,600 rpm and has 155 pounds per foot of torque at 4,000 rpm. The Ford Maverick's engine is plenty powerful for the truck's size. It is also powerful enough to carry some extra weight in the bed.
Because it is a hybrid engine, the 2022 Ford Maverick is very fuel-efficient. This mid-size truck gets 23 miles per gallon on city streets and 30 miles per gallon on highway streets.
For a truck, this is quite impressive. With a fuel capacity of 13.8 gallons, the 2022 Maverick can go up to 414 miles on one tank of gas. Owners of this vehicle will save quite a bit on gas expenses due to the excellent gas mileage.
2022 Ford Maverick Power
Chances are if you're buying a truck, you want it to tow things with. Unfortunately, the size and weight of the Maverick do not leave much engine power to tow with. If you want a truck with lots of towing capacity, a full-size pickup is a better choice.
A full-size pickup truck can usually tow at least 5,000 pounds, and some can even tow up to 12,000 pounds! Being a much smaller truck, the Maverick does not quite measure up.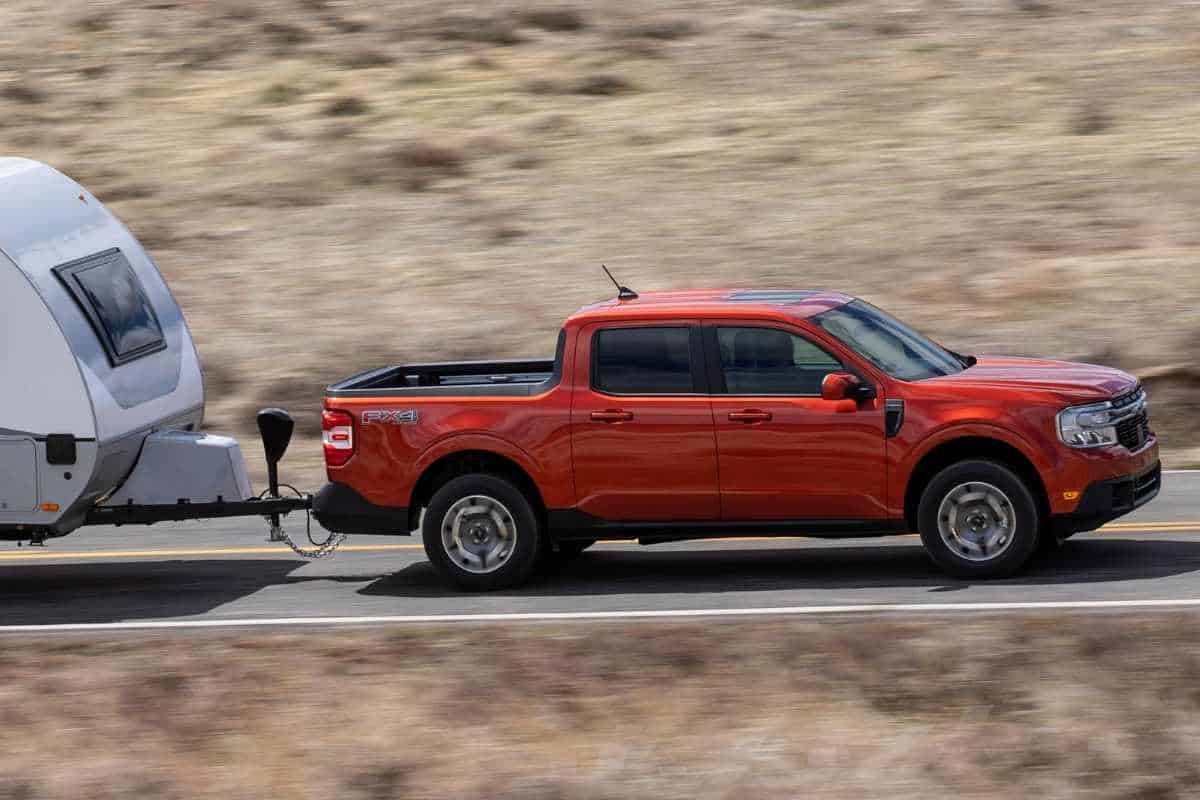 The 2022 Ford Maverick can tow up to 2,000 pounds. This is significantly less than full-sized trucks. If you do not need to tow heavy loads, then this limited towing capacity won't be an issue.
The Ford Maverick's payload capacity is 1,500 pounds, only a bit less than a full-size pickup. Considering the truck bed's size, it would be difficult to exceed this capacity.
Conclusion
The 2022 Ford Maverick is the smallest pickup truck currently on the market. Because the Ford Maverick was only released in 2021, it is difficult to compare it to other trucks on the road.
The Maverick does not have the same amount of power as a full-size pickup truck. However, those who need a small yet capable pickup truck will enjoy driving this vehicle.
The convenience of a smaller pickup truck is a significant benefit of the Maverick. The Ford Maverick takes up less space in the garage and is easier to maneuver than large pickup trucks. While the vehicle is more compact, you keep the helpfulness of a truck bed.
Not only is the Ford Maverick the smallest truck on the market, but it is also one of the cheapest. Starting price for a 2022 Ford Maverick is less than $20,000! If you need an affordable, compact pickup truck, the 2022 Ford Maverick is a perfect choice.