What is the Toughest Toyota Pickup? (Answered!)
This post may contain affiliate links. As an Amazon affiliate, I earn from qualifying purchases.
As Toyota trucks go, there are not many to choose from that are currently on the market. Of course, the Toyota trucks that have been manufactured have had plenty to offer as far as features and durability are concerned. However, the question remains as to which Toyota truck is the toughest.
The Toyota Hilux is widely considered to be the toughest Toyota truck. It was capable of withstanding several physical tests and held up quite well without sustaining any irreparable damage. The Hilux was quite popular from the 70s through the 90s, but it is no longer sold in the United States.
You might feel like this answer isn't helpful, especially if you are currently in the market for a new truck. However, it might please you to know that Toyota sells two other trucks in the United States, both of which have much to offer. Read on if you'd like to know not only more about Toyota's toughest trucks
The Toyota Hilux: the Toughest Truck
The Toyota Hilux was released in 1968 as a humble utility truck. Since then, it evolved greatly and turned into the living legend that is Toyota's "toughest" truck. This was proven through a series of serious tests that included crashing it into a tree, driving it into a body of water, dropping it from a crane, and several other crash tests.
While this might all sound dramatic and pointless, the tests proved one thing: the Hilux is, without a doubt, the most durable of Toyota's trucks. For many of these tests, the Hilux only sustained minor damages that were repaired without much effort or expense, which is why it is still considered the toughest Toyota truck.
Unfortunately, the Hilux is no longer being manufactured and sold in the United States and hasn't been since 1995. This is partially due to taxes imposed on transporting certain cars and the introduction of the Tacoma. Additionally, the Hilux couldn't keep up with changing emissions laws.
You might be fortunate enough to find some Hilux parts if you know where to look. If you're lucky, you may even find an operational Hilux at an old shop. However, they are nearly impossible to find in the United States nowadays.
The Toyota Tacoma
Just because Toyota's toughest truck isn't available in the U.S. doesn't mean you can't enjoy Toyota toughness with another one of its trucks. Toyota now has two very popular and reliable trucks that are nearly as durable as the Hilux. One of them being the Toyota Tacoma.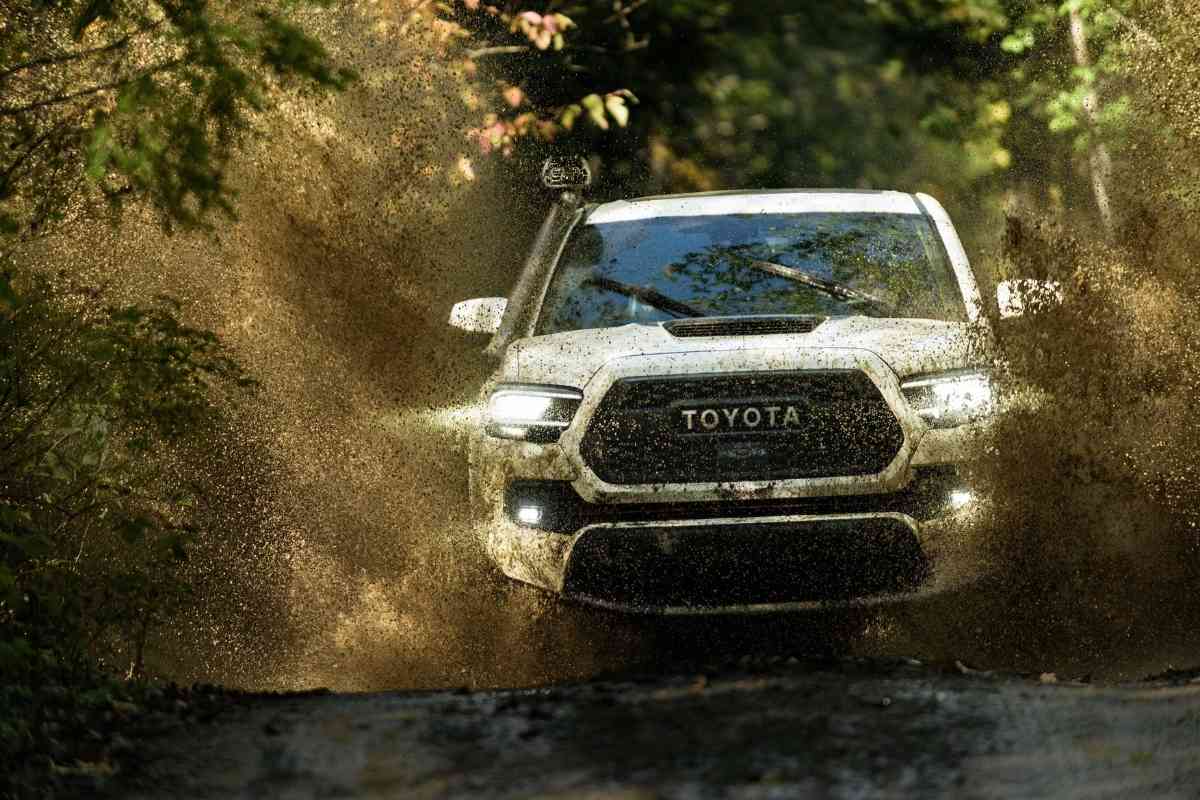 The Tacoma is a mid-size truck, and is quite a bit smaller than many of its competitors, but it has many features that set it apart from other trucks.
You can customize many features on your Toyota Tacoma, including the wheels, color, and trim. There are at least nine different color shades you can choose from for your Toyota Tacoma.
There are also several trim packages that you can choose from, including the SR, SR5, TRD Sport, TRD Off-Road, and the Limited. With any of these, you will have the privilege of enjoying features like a smart key system, LED headlights, multi-terrain crawl control, integrated fog lights, adjustable seats, and dozens of other features.
The trim packages get progressively more expensive, but the number of included features also increases.
Pros
The Tacoma has been criticized in the past for its awkward driving capabilities and lack of general comfort. Today, this is no longer applicable. The front seats are power-adjustable and heated, and all seats are upholstered in leather. It would be difficult not to be comfortable while riding in the Toyota Tacoma.
The Tacoma is also strong for such a small truck. It can tow up to 6,800 pounds. There are plenty of trucks that can tow more than that, but for a mid-sized truck, the Tacoma stands out.
Cons
Unfortunately, the Toyota Tacoma is not perfect. There are indeed new and improved gadgets and features in the cab to add to the comfort of this truck. However, the Tacoma remains a small truck and therefore, the cabin is also small. This can make long road trips and even off-roading trips pretty uncomfortable.
Don't let the small size fool you, the Toyota Tacoma is still one tough truck.
The Toyota Tundra
The Toyota Tundra is another one of Toyota's trucks that has pleased the general public for years and years. It is quite different from the Toyota Tacoma, but just as reliable. Like the Toyota Tacoma, the Tundra has plenty of customizable options for colors and trim packages.
There are twelve different colors available for the Tundra. That's three more than the Toyota Tacoma. Additionally, there are six rather than five trim packages which include the SR, SR5, Limited, Platinum, 1794 Edition, and the TRD Pro. These packages will provide you with plenty of fun features.
These include luxury heated and ventilated leather seats, five-spoke alloy wheels, a large fuel tank, a Toyota Safety-Sense P safety system, and much, much more. You'll be able to customize according to your preferences. As with the Toyota Tacoma, each of these packages gets progressively more expensive. However, the more upgraded the package is the tougher the truck gets.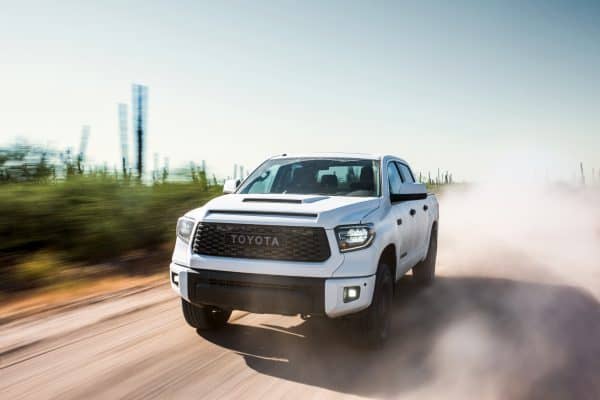 Pros
The Tundra is a much larger truck than the Tacoma. This means it has a larger towing capacity as well as plenty of horsepower to boast. The 4WD option combined with that strength makes for a great off-roading truck. You won't have to worry about getting stuck or the truck breaking down in any way. The Tundra is definitely one of the toughest Toyota trucks.
Cons
Sadly, the Tundra has its flaws. One of these is the fact that it's a major gas guzzler. It is, of course, difficult to find a truck that gets good gas mileage. However, a fuel of efficiency of just 15 MPG is pretty sad considering all the other features and capabilities this truck has.
If you are looking to purchase a durable Toyota truck, consider the Toyota Tundra or the Toyota Tacoma, as they are the toughest truck models that Toyota currently offers in the United States.