What Truck Can Pull a Fifth Wheel?
This post may contain affiliate links. As an Amazon affiliate, I earn from qualifying purchases.
Many people consider a fifth wheel to be their home away from home when they're on the road or roughing it out in the wilderness.
The only thing about fifth wheels is that they're enormous and will need a strong tow vehicle to pull them from one place to another.
So the question is, what are some of the best trucks to pull a fifth wheel?
Trucks such as the Ram 2500 and 3500, the Chevrolet Silverado 3500, the GMC Sierra, and others are all capable of pulling fifth wheels. The truck needed will vary somewhat depending on the fifth wheel's weight, but most heavy-duty trucks are safe choices for hauling a fifth wheel.
Now that you know that you have a pretty big range of options, you undoubtedly want to know what some of the best ones are and which one you should go with.
Here you will find some of the most popular heavy-duty haulers as well as a few pros and cons for each of them.
Before we go into the options, you should know that the average fifth wheel weighs anywhere from 13,000 pounds to 20,000 pounds.
That is a pretty big trailer to haul! If you're ever in doubt, you should just always pick the most heavy-duty option available from whichever dealer you're looking to buy from.
Here are some of the best options from Chevy/GMC.
First, we have the one and only Chevrolet Silverado 2500 or 3500 HD. Chevy's trucks were designed with rugged terrains in mind.
This means the Silverado+ can handle just about anything you would care to throw at it.
Not only does it have plenty of power and good handling, but it also comes with a spacious and comfortable cabin to ensure that your passengers will be treated to a luxurious ride wherever they go.
Keep in mind that the 3550 and 2500's towing capacity is 14,500 pounds, which is a bit lower than some of the other trucks here, but it will still get the job done if you need it to.
Next, we have the good old GMC Sierra 3500HD.
Not only are there a lot of trim package options available for the Sierra, but if you need to haul something heavy, this is the truck you want.
The 3500HD is capable of hauling up to 35,000 pounds at a time.
This means a fifth wheel would likely be no sweat at all for a Sierra!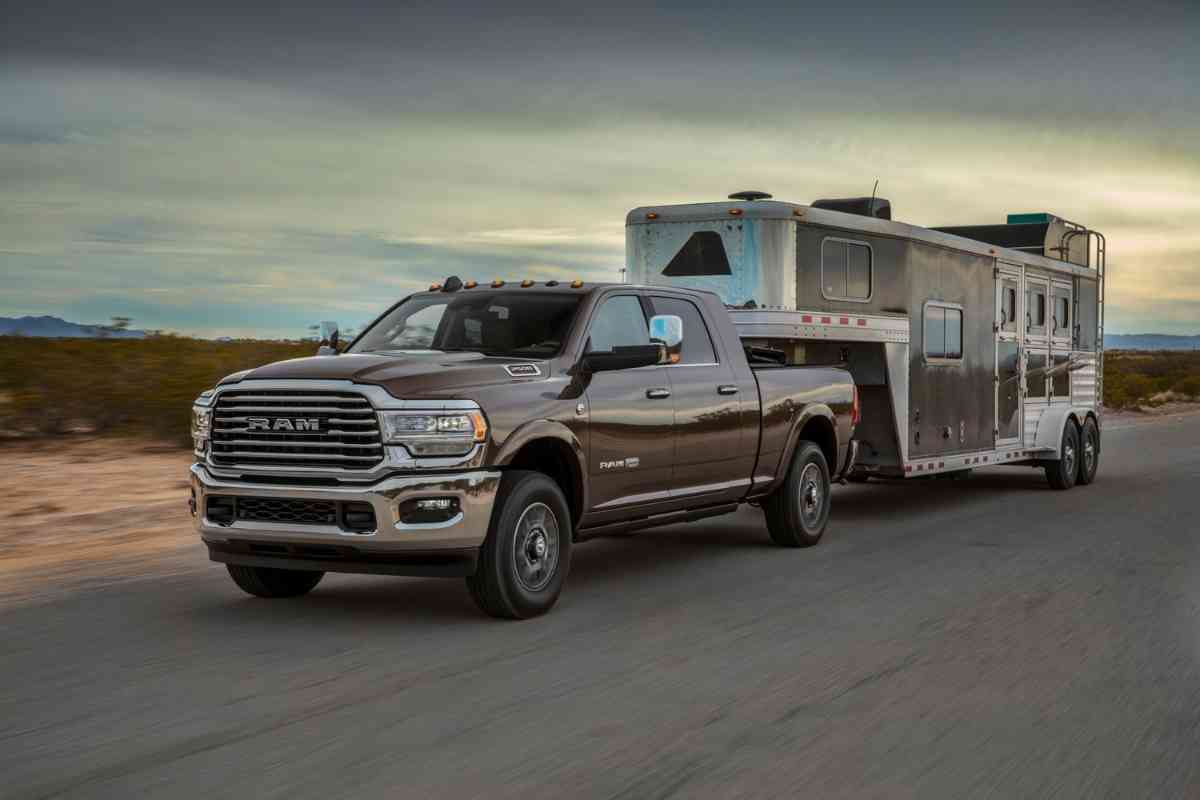 Not to be outshone by Chevrolet is the mighty Dodge Ram 2500.
This truck is a full-sized monster but it has superb handling and performance! On top of the incredible 1,000 pound-feet of torque, the Ram 2500 is capable of hauling around 19,680 pounds.
This is not quite as high as the Sierra, but Ram is still a great choice for those who need a strong truck.
Plus, it has a sporty, heavy-duty look that you just can't ignore.
The only downside is that the 2500 doesn't have nearly the same hauling capabilities as its competitors, so you will have to be somewhat careful when selecting your truck and your trailer as well.
Most fifth wheels might prove to be a bit too heavy for a 2500 to manage.
However, if you are cautious about your choice, you won't be disappointed.
The Ram 3500 is the brother of the 2500 which means they do have a few similar features, but the 3500 has plenty of its own unique configurations.
This is, in fact, one of the 3500's biggest strengths.
You can essentially customize and configure your truck to be exactly what you want it to be.
We can't talk about the Ram 3500 without mentioning its exceptional ride quality.
Most trucks were only built with practicality and handling capabilities in mind.
However, the Ram 3500 has surpassed every expectation as far as comfort is concerned.
Not only is the cabin spacious and refined but the ride quality is also fantastic thanks to Ram's top-notch, adaptive air suspension.
You simply couldn't ask for a better ride while hitting the dirt.
A lot of the time, Ford trucks win in the category of towing capacity so it makes sense that at least two of them make their way onto this list.
First is the Ford F-350 Super Duty.
While the GMC Sierra currently wins as far as towing capacity is concerned, the F-350SD is close behind with a whopping 32,000 pounds of towing capacity.
With a truck that big you wouldn't expect it to have great ride quality.
However, like the Ram 3500, the F-350SD was built with a powerful performance as well as a comfortable cabin and excellent ride quality.
Plus, the cabin is up to date, refined, and pretty spacious.
Next on the list is the one and only Ford F-450 Super Duty.
It, like its predecessor, has a towing capacity of 32,000 pounds which means there's little you can throw at it that it won't be able to handle.
If having a sharp, intimidating truck is number one on your priority list (besides good towing capacity, of course) then you can't do any better.
The F-450SD is a powerful truck with a thick grill and an overall intimidating stance.
Overall, this truck will stand out on the road with no problem.
You will not find a better-looking 4WD anywhere else!
There are lots of powerful trucks to choose from when you're looking to tow a fifth wheel.
Just make sure you carefully measure the RV you want to tow and account for any extra weight that might come from water, cargo, extra gear, and anything else that could add weight.
But if you stick with one of the trucks on this list, you should be clear to tow just about any fifth wheel on the market!
These trucks are all powerful and extremely capable on a variety of road conditions.
You would be smart to choose any one of them and you can have a great experience with your fifth wheel.