Which Ram Truck Is The Cheapest? [Answered!]
This post may contain affiliate links. As an Amazon affiliate, I earn from qualifying purchases.
Dodge has made a popular and credible name for itself and its RAM trucks. It is important to keep pricing and budgeting in mind, so let's take a good look at Ram's cheapest truck and see what it has to offer.
According to both the website and a sales associate, the Ram 1500 Classic is the cheapest Dodge truck on the market currently. It has a starting price of $29,515, but that price will increase as a trim package and extra features are added on. There is a fairly wide variety of add-ons to choose from.
If you're on a budget, then a Ram 1500 Classic could very well be just what you're looking for. Below, you will find information about the RAM 1500 Classic and its features.
The RAM 1500 Classic: Pricing and Specs
As seen earlier, the starting price for the 1500 Classic is $29,515, but it will grow increasingly more expensive as you add on trim and any extra features you might want. Don't disregard any of these packages as unnecessary. Many of those additional features are well worth the price you'll end up paying. Here are some details.
There are three trim options available for the RAM 1500 Classic: Tradesman, Express, and Warlock. The Tradesman trim package is the cheapest option.
A few highlights of the 1500 Classic include an eight-speed automatic transmission, a 4WD drivetrain, a 3.6-liter V6 engine, and much more. It has an impressive level of 395 horsepower (with the proper engine selection), which gives it a nice kick. The RAM 1500 Classic gives drivers an edge when off-roading or driving on uneven roads.
As for the rest of the exterior, you can pretty much customize it any way you like. You can choose to have a chrome appearance on the grille, which gives the truck an overall giant, intimidating look. Plus, there is quite a color palette to choose from, allowing you to personalize every aspect to your liking.
Comfort is the name of the game when you consider the Classic's interior. You will have the choice of choosing cloth or leather upholstery. Leather is often the more popular choice as it allows heated seats. You'll also be able to enjoy benefits such as both Apple and Android music compatibility, an 8-inch touchscreen, and plenty of other new techy toys.
You can learn more about the 1500 Classic on Ram's website. The build and price tool is especially helpful if you'd like to visualize exactly what you want and what you'll be getting. Give that a try, then contact a dealer if you're thinking about purchasing soon.
After speaking with the dealer, ask if they are any discounts or deals available for this model and trim package.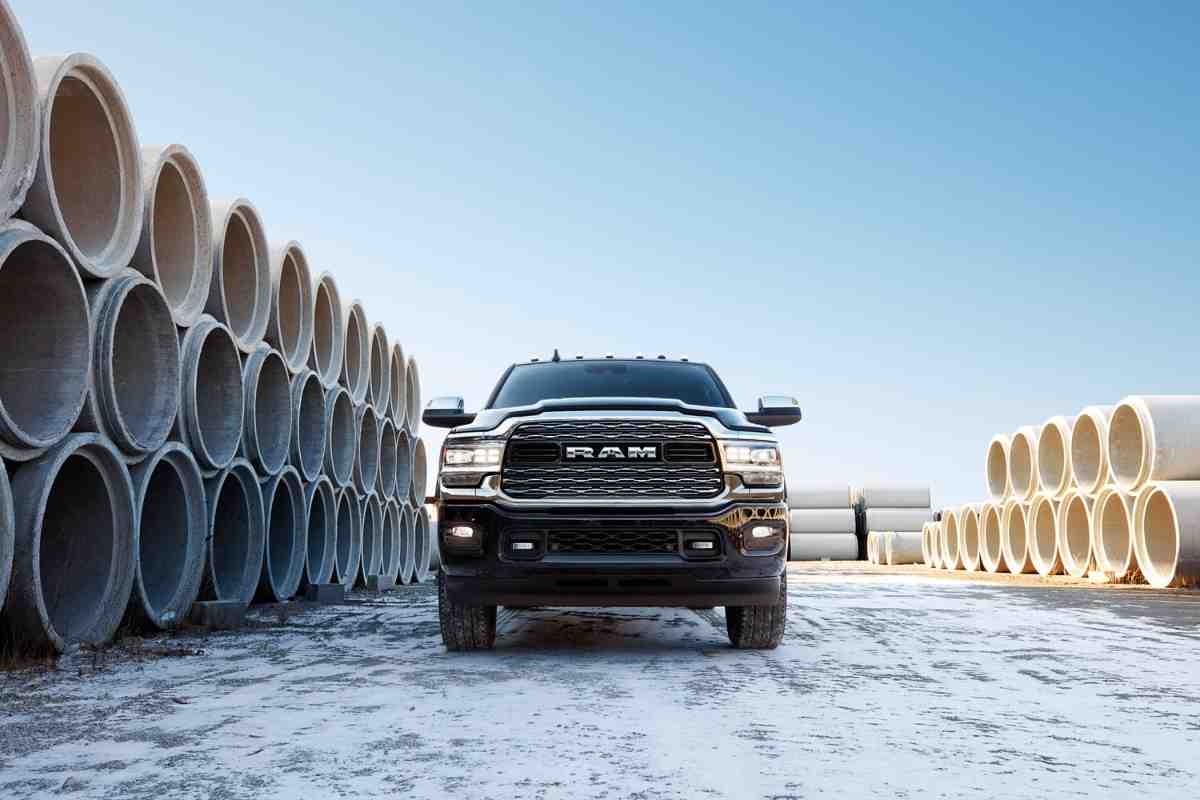 Maintenance Tips
Just because the 1500 Classic is the cheapest vehicle on the list doesn't mean it doesn't require good care. Keeping your truck nice is one of the most important things you can do. As you keep up with routine maintenance, it will be easier to find minor problems before they become serious. Here are some things you should know.
First, keep your RAM 1500 Classic clean. This might sound funny, but the truth is that if you stay on top of washing your truck, you won't find grime and debris making their way down into the inner workings and fouling things up.
Ram also has a recommended regular maintenance schedule. This maintenance schedule is broken down by mileage intervals. Check out the following chart to ensure you're keeping up with regular maintenance.
| | |
| --- | --- |
| Mileage | Suggested Maintenance |
| 8,000 miles | Change out the oil and filter. Rotate the tires to even out tread wear. |
| 20,000 miles | Inspect the front suspension, tie rod ends, and brake linings. Make necessary replacements. |
| 30,000 miles | Inspect the CV/Universal joints, transfer fluid case, and front/rear axle surfaces. Replace the engine air filter. |
| 60,000 miles | Replace automatic transmission fluid and filters. |
| 100,000 miles | Replace spark plugs. Inspect the PCV and make necessary replacements. |
| 120,000 miles | Change transmission fluids and filters. Change the transfer fluid case. |
| 150,000 miles | Flush and replace the engine coolant. |
Source: Free Hold Dodge
Change your oil and filter every 8,000 miles or less to keep the engine well lubricated and working well. An oil filter that is overly contaminated with gunk will then contaminate the oil itself, and that won't do your truck any favors. Even though the RAM 1500 Classic is the cheapest of RAM's trucks, it still has a powerful engine that needs proper maintenance.
As time goes on, you'll want to continue having your truck serviced and inspected for any other issues. Make sure you stay on a regular inspection schedule.
Ram 1500 Classic: Pros and Cons
Now you understand a little better what you're going to have to do to take care of your truck. It is time, then, to discuss the general pros and cons you can expect to experience when you become the owner of a 1500 Classic. Here are a few of the basics!
Pros
The first thing to note about the Ram 1500 Classic is the sheer number of options. There are quite a few trim packages you'll get to choose from, plus a bunch of extra features that are available (such as floor mats, air filtration systems, etc.). This means you will get to choose exactly what kind of truck you want. This is a pretty nice perk for most people!
Pickup trucks tend to be extremely loud and not well-insulated, but that is not the case for the RAM 1500 Classic. The RAM 1500 Classic features, noise cancellation technology. This truck gets even better with plenty of passenger space. You won't ever have to take an uncomfortable or excessively loud ride in the Classic.
Cons
Unfortunately, the 1500 Classic has a few flaws. One of these is the price. Often, the cheapest Ram truck label can seem misleading. It's true, the truck costs the least as a barebones truck, but when you start adding features and trim, that price increases quite a bit. Keep a budget in mind when customizing your RAM 1500 Classic and if possible, purchase a used truck to save some money.
Another common misconception about pickups is that they can all handle off-roading with the same level of ease and power. The Classic can off-road fine, but in comparison to other RAM pickups, it doesn't do as well. If you would prefer to have something that can handle dirt and rocks just a wee bit better, then you might prefer a RAM 2500 or 3500.