Are Tahoes Good for Towing?
This post may contain affiliate links. As an Amazon affiliate, I earn from qualifying purchases.
A question I hear a lot from prospective Tahoe owners is about whether or not the Tahoe is a good vehicle for towing. That's a valid question, especially if you have an RV you love and need a good tow vehicle.
A Chevy Tahoe has a towing capacity of 7,900 lbs, which makes it a good towing vehicle for lightweight trailers and smaller cargo. Although Tahoes cannot pull as much as larger trucks, they provide many benefits for camping and traveling, especially with family or larger groups.
So what can a Tahoe pull? Are there benefits to using a Tahoe as opposed to a bigger truck? Here is everything that you need to know about Tahoes and towing.
What is a Tahoe?
A Chevy Tahoe is a full-size SUV that has three rows of seating and can hold up to 9 people. The Tahoe is a good family vehicle due to the large number of seats it has and the general safety and comfort features of the vehicle. The Tahoe is durable and built to travel through all types of terrain. This vehicle is also a preferred camping vehicle because it has a fairly high towing capacity and lots of room within the vehicle for cargo space.
The average price of a Chevy Tahoe ranges between $49,000 and $68,000. In recent years, the Chevy Tahoe has been the best-selling SUV, outselling its competitors 2 to 1.
Customers who own these vehicles report that they have easy maneuverability, high-performance levels, and clear rear visibility. The Tahoe has a lot of cabin space within the vehicle, which makes it comfortable for passengers. It also has very high safety features, with a score of 4 out of 5 on crash tests.
What is the Towing Capacity of a Tahoe?
A Chevy Tahoe has one of the largest towing capacities of any other SUV. There are different makes and models of Tahoes. The standard Chevy Tahoe has a 5.3-liter V-8 engine and Tahoe can tow up to 7,900 pounds with a horsepower of 355.
The larger Tahoe, on the other hand, has a 6.2-liter V-8 engine with a horsepower of 420 and has a higher towing capacity. This Tahoe can tow up to 7,900 with the two-wheel-drive option, but the 4-wheel-drive option goes up to 8,300 lbs if you have the max towing package.
Any trailers with a total weight under this capacity can be pulled by a Tahoe. However, when addressing weight, there are some things that you need to consider. First of all, make sure that you understand the difference between empty weight and gross weight.
Empty Weight: Empty weight is pretty self-explanatory, but this is how much the trailer weighs alone, without any additional cargo.
Gross Weight: This is how much the camper weighs with all the cargo in it. Cargo includes anything that you chose to store in the camper or add on to the camper. Cargo can add another thousand pounds to the weight of the trailer, so it's important to factor that in.
It is important to remember the difference between these two weights so that you can effectively pull a trailer. If you purchase a trailer with an empty weight of 7,900 pounds, you will not be able to put any cargo in it and still be able to pull it with a Tahoe. The lighter the trailer is that you purchase, the more cargo you can put in the trailer and still be able to easily pull it.
What Can a Tahoe Tow?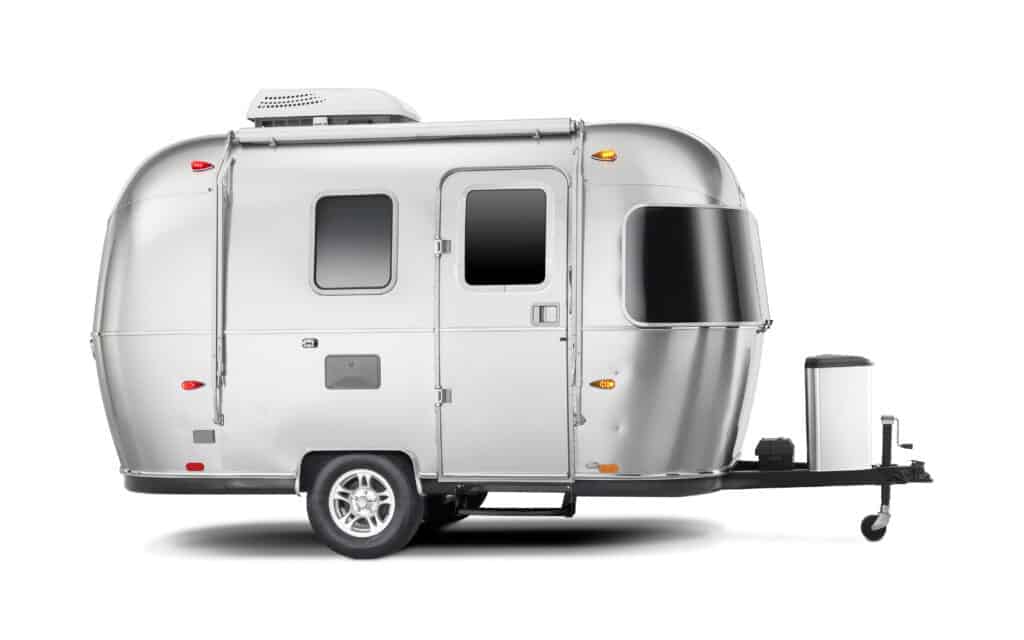 Although the range of what they can pull is more limited than a larger truck, Tahoes can still pull a variety of trailers and campers. Here is a list of different types of trailers that can easily be pulled with a Tahoe:
Teardrop Trailer: A Teardrop trailer is the smallest camper option. Some of them weigh about 1,700 lbs empty, so a Tahoe could easily handle that. This is a good trailer for someone who likes to travel and camp alone because it does not offer a whole lot of room.
Pop-Up Camper: This camper gets its name because the camper works as a tent that can be popped up. This allows for a lot of sleeping space for family trips. However because the walls are soft, this camper can only be used in the warmer months and does not hold up very well in very hot or cold temperatures. The empty weight of these trailers is about 2,300 lbs.
A-Frame Trailer: This trailer gets its name for the "A" shape that is created by the roof. This camper can be used all year round because it has hard walls on all sides. This is a good camper for a small family to take on camping trips and it can be easily pulled by a Tahoe. When they're empty, some of these trailers weigh about 1,700 lbs.
Small Travel Trailer: Small travel trailers are easy to take on trips. Some models have a dry weight of 2,800 pounds and they are super easy to maneuver and maintain.
Medium Travel Trailer: This is the largest trailer that a Tahoe can tow. The empty weight of these trailers is around 6,700 lbs. These trailers are bigger so they are harder to navigate with and provide the necessary upkeep. However, for a larger family, this camper provides more space.
Benefits of Towing with a Tahoe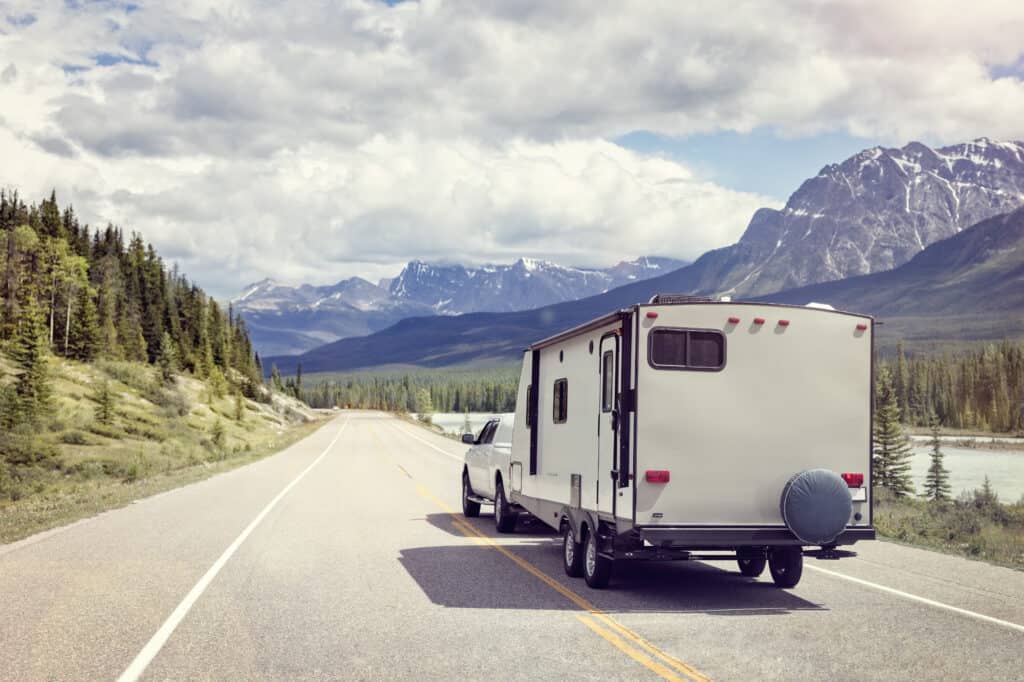 Although larger trucks can carry more weight, Tahoes offer high-quality towing capabilities. Using a Tahoe for towing offers many benefits over a larger truck.
More Room for Passengers: Tahoes have more seating and offer more room for passengers. This passenger capacity makes this vehicle better for camping because it provides a better option than cramping everyone into the cab of a truck. This is also a better option for families that want to travel or camp together.
Better Gas Mileage: SUVs generally have better gas mileage than trucks do, and a Tahoe is no exception. The Chevy Tahoe averages 21MPG in the city and 28MPG on the highway. Larger trucks have slightly worse miles per gallon. In comparison, the Chevy Ram has an average MPG of 19 in the city and 23 on the highway.
Easier to Drive: Big trucks are intimidating to drive and can be hard to adjust to and navigate. On the other hand, Tahoes are easy to drive and navigate, despite their larger size. The 2020 Chevy Tahoe has maneuverability as one of its top features.