20 Best Off-Road Camper Trailers
This post may contain affiliate links. As an Amazon affiliate, I earn from qualifying purchases.
So many people love camping and often assume that a tent and some gear is enough to have a great trip. While that is true, an off-road camper trailer can be a huge upgrade from that setup. Here is a list of the 20 top camper trailers on the market.
1. Opus OP15
First on the list is the Opus OP15. The OP15 is an off-roading camper trailer that has everything you may need. If you are no on a budget, then the OP15 should without a doubt be first on your list. The retail price for this trailer is $45,000 and it is worth every penny.
Although the trailer is large, it does not sacrifice its off-roading abilities.
The OP15 has "3 100ah AGM batteries linked to a 300watt solar system [to] keep you powered on the go. An articulating hitch sits at the end of a galvanized steel chassis to tackle the roughest roads with ease. Underneath there are twin shock absorbers and trailing arm independent suspension for each wheel."

OpusCamper
Below is a list of the perks of the Opus OP15:
Extendable rear
Pop up roof
300-watt solar system
Slide-out stainless steel kitchen
Refrigerator and freezer
King bed
Twin bunks
Shower and toilet
Dining area
Hot water system
2. Expedition 2.0
Second, on the list is Expedition 2.0. The Expedition is a great option for off-roading and is being sold for $26,900. This spacey trailer offers ample room all the while being compact enough to off-road.
Below is a list of the perks of the Expedition 2.0:
All metal
Mold and mildew resistant
31-gallon water tank
55L refrigerator
Onboard fresh water tank
1.2lb high-density memory foam mattress with zippered fabric top and vinyl underside
Powder-coated aluminum hot water on demand outside shower box
Roof rack and adjustable rear storage
Sink and stove
Dometic dual burner propane cooktop
3. North America Conqueror UEV-310
Third on the list is the North America Conqueror UEV-310. This camper trailer costs $29,990.
"[The UEV-310] is small enough to tow around town, tough enough to take on any terrain. If you need to tow light, have restricted storage space at home, or just prefer versatility … this bush-basher is built for battle!"

ConquerorCampersUSA
Some of the main features of the Conqueror are:
Comes with bed linen: a fitted sheet and cover as well as a doona.
Foldout military-grade rip-stop canvas tent.
PVC awning
Mesh on all doors and windows
A Caravan style groundsheet
Extra storage space
Fire extinguisher
90-liter water tank
2 military-grade jerry cans and holders
Aluminum ladder
Mechanical brakes
Spare wheel
4. Switchback
This is a really unique off-road trailer that has two galley configurations. It comes in 2 models and has a starting price of $19,900.
12 Volt Fridge
31-gallon water tank
High capacity propane tank
roof rack & rear storage
Mold and mildew resistant
Off-Road tires
Great suspension and electric brakes
Coated Aluminum body construction
LED Lighting Package
Solar Ready Port
It also comes with lots of additional options which will add to the camper overall. You can also add an additional storage package, a mini BBQ, portable solar, or an awning.
Source: Offgridtrailiers.com
5. Hiker Trailer Extreme Off-Road Deluxe
Coming in at number 5 we have yet another great camper with lots of great features to help you on all of your off-road adventures. It comes in two different sizes. The 5 by 8 model's base price is $10,895 and the 5 by 9 model is $11,895. Below is a list of amazing features that this camper has.
Black Steel Fenders
Suspension with Shocks
17 inch black wheels
7 pin wiring harness
Varnished wood surfaces
110 Volt Power Strip
Cabin and Galley light fixture
Vinyl flooring
Manual hand-crank roof vent
Integrated storage rack
Medium toolbox
There are also other great versions of the Hiker camper, without the additional off-road features. The information above was found here, and more information can be found through that site.
6. Australian Off-Road Sierra ZR
This camper is a micro camper, which means it's small and along for any ride. It is actually Australian-made but costs about 19,050 American dollars. Here are some of its features: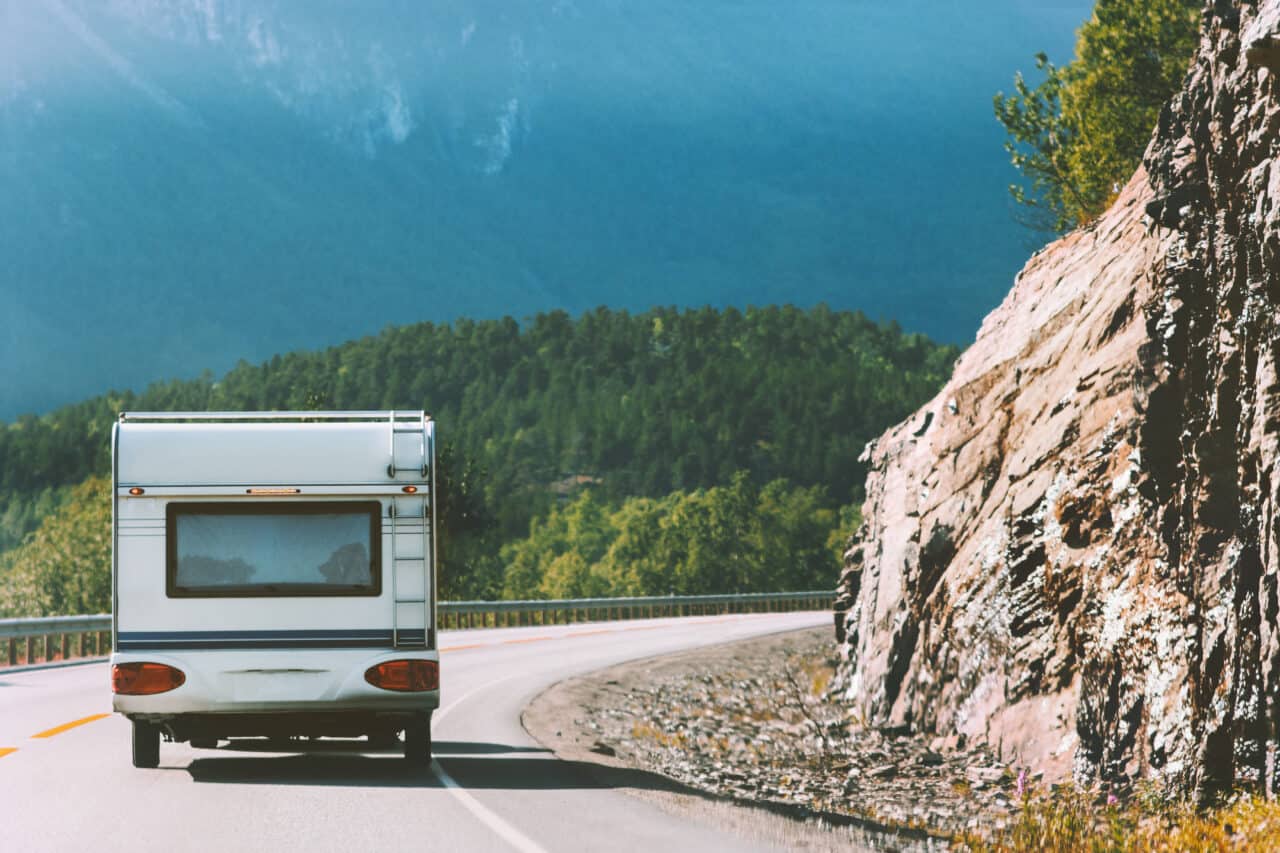 A large side-mounted kitchen
Slide our cooker placement (additional)
Slide-out BBQ
Stainless steel benchtops
Area for one or two rooftop tents (sleeps 2 to 4 people)
Roof rack
Roll out awning
Shower
Tents have enclosed canvas rooms
Unregulated solar panel input
LED lights, anti-bug, and dual-color
60-liter water storage (or optional 140-liter tank)
Source: australianoffroad.com
7. Black Series HQ12
The new 2021 series of this camper runs at about $65,999. It comes with a whole lot of features to compensate for that price and has a beautiful interior and exterior.
Adjustable table and lounging beds/couches
Black leather on the sofa
Fly Screen door
Fridge/freezer
Slim lightweight air conditioning
3 burner stove
Entertainment system including BlueTooth and USB.
External or internal shower
50-gallon water tank
2 stage pop-up canvas enclosure
Wind-out awning
5-year structural warranty
Find more information here.
8. Forest River No Boundaries 10.6
This camper offers some unique features like a rear ramp door so that you can take a 4-wheeler as well if needed. Its base price is around $35,972. Some of the specs are below, we found them online here.
Inside and Outside LED lighting
LED Entry Step Light
USB Charging Station
Rear ramp door
Wrap-around awning
60 by 82 queen bed
Rhino Roof Rack
Lots of ground clearance
30-gallon water tank
2 burner glass recessed stovetop
Air conditioning (optional)
12 V LED TV (optional)
9. Bruder EXP-6
The Bruder camper is meant for the rugged off-road. It is also Australian-made and costs about 38,800 American dollars plus the shipping costs.
170-liter internal water tank
Adjustable height and leveling
Remote control for lights and suspension
Lots of storage space
Electrical awning
Clothes Washer (optional)
External hot and cold shower
Made to be more aerodynamic and improve fuel economy
2-way access kitchen
Swivel TV
Comfortable Couch
Climate Control
Ceiling window
It comes with a lot of really cool features which can be further explored on burderx.com (source).
10. Taxa Outdoors Cricket Overland
Another great off-road camper coming in at number 10. This camper has no axles so you can take it down some crazy roads. Its starting price is $36,900 and has some amazing features and specs.
14-inch ground clearance
Sleeps four people
Pop-up roof for ventilation
Axle-less trailer
'Lock N' Roll' hitch, with 360-degree rotation
Full-size bed and under the bed storage
5 swing windows, shades, and screens.
Milkcrate drawers in Storage tower
15-gallon freshwater, 16-gallon grey water
Portable toilet
Source: Taxaoutdoors.com
11. Kakadu BushRanger 200 XT
This camper comes at a great price and is perfect for a rugged adventure. Its starting price is $9,895.
Heavy Duty tires that are puncture-resistant
Reinforced canvas roof
Roll Edge to keep water out, and inside accessible window flap
Sleeps 4 to 5 people
Storage space
No kitchen unless you pay an additional $1,150.
Find more information here or on the Kakadu website.
12. Boreas XT 12
This camper comes equipped with its own power system and galley and starts at $18,900. It is a really hot seller and comes with great add-ons and an exterior look.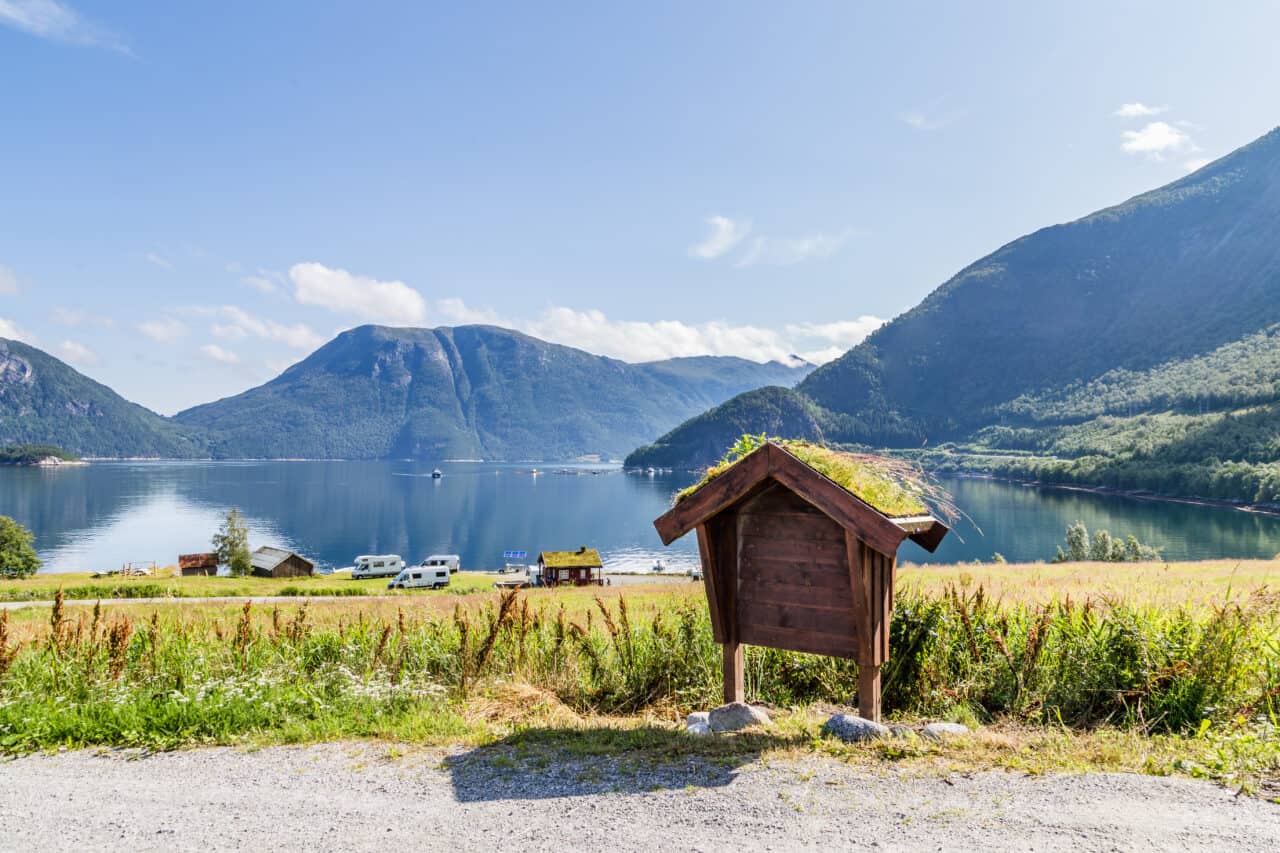 Front Storage box
Mudflaps
270-degree awning
Exterior LED lighting
Rear Camera
Bluetooth speaker system
Exterior shower
Composite and metal construction
Sleeps 4 adults
Queen Bed
Rear pantry storage
Fully insulated cabin
Overhead fan
3 burner cooktop
Fold-down prep table
Fridge and Freezer
50-gallon freshwater tank
Learn more about Boreas Campers here.
13. Mirror Lake Basecamp
Mirror Lake Basecamp is a very cute little camper that sells at a base price of $10,500. It doesn't come with everything you need initially, but if you want to add things the price goes up, and the full package with all of its details will be around $19,000.
Lightweight
Lots of interior space
Rear galley
Great for tall people, high ceiling
Sliding modular storage baskets
2 door living area
14. Schutt Industries XVenture XV-3 Trailer
This trailer is very durable and built to last, it comes with great features and claims to be 'severe duty.' Its starting price is $12,495. To find out more information about it visit their website.
Incredibly Durable
10-year chassis warranty
Slide-out kitchen and table
Propane stove
Pressurized hot water
22-gallon water tank
360-degree lighting coverage
Rolling hardcover
15. TetonX Hybrid
The TetonX Hybrid comes with many great features and conveniences. It has similar features to some of the great trailers listed above. It has a base price of $13,995. Learn more about it online here.
6'6 standing room
Different Bed Sizes – Some larger than a king-size.
Lightweight – only 2800 lbs
Customizable bunk bed configurations
Front and Rear slide-out kitchen with no needed set up. All-around kitchen.
Private hot shower
Lots of storage
Dining table inside
Wall-mounted TV.
Forced air heat
16. Airstream Basecamp X
The Airstream Basecamp X is a great option for those looking to upgrade from their classic Airstream Basecamp. The Basecamp X is an add-on package for those who own an Airstream Basecamp already. The original Airstream Basecamp averages a price of $36,900 and the X package is about $2,700 making it a total of about $39,600.
Large Rear cargo hatches
Flexible storage space
Lightweight
Solar window guards
Stainless steel rock guards
Black shadow wheel guards
3-inch lift kit
Raised hitch jack foot pad
Full wet bath
Convertible benches to beds (up to 4 people)
17. Oregon Trail'R Do-Drop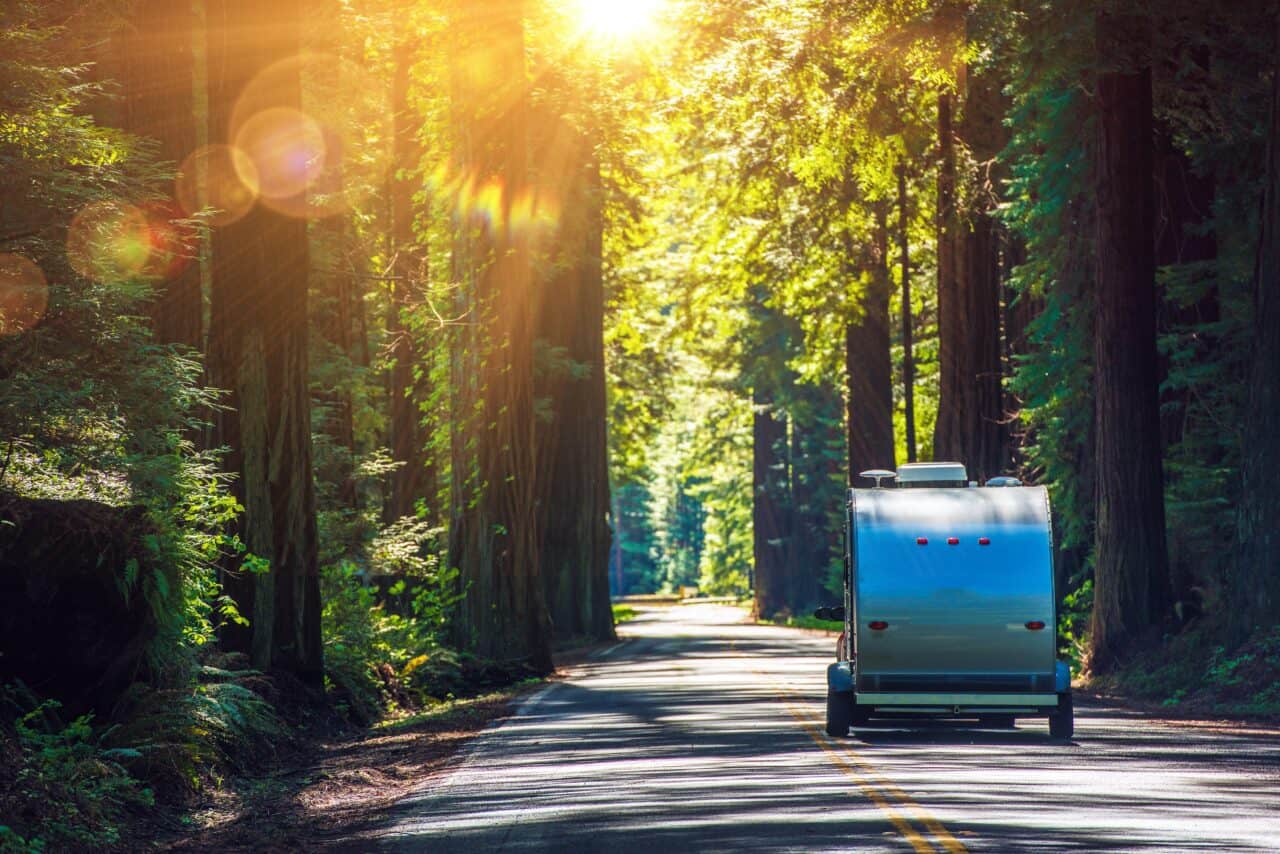 The Do-Drop by Oregon Trail'R is a great option for those looking for a more lightweight, budget-friendly trailer. As the name suggests, the Do-Drop is a smaller trailer than the ones previously explored with a bed length of 78″ and an interior width of 47″. Coming in at a base price of $6,750, this trailer is a great option for those starting their camping obsession.
Average weight of 625 pounds
Textured black finish on chassis
Interior shelves
LED lighting
Convertible window coverings/outdoor tabletops
Ceramic disk heater
Roof rack
12V electrical
18. Taxa TigerMoth Off-Road Camper
Taxa's TigerMoth camper is another smaller trailer, but pricey because of its abundance of features. These trailers are available for about $12,990.
Sleeps 2 adults
Additional roof tent increases sleeping space to 5 adults
Large side hatch
Pullout kitchen with a 2-burner portable stove
Multi-purpose space
Roof rack
5 gallon freshwater NATO can
Aluminum skeleton
Solar input
Electric brakes
19. Mobi Nomad Mobi X
The Mobi X is a much tougher camper than the original Mobi Nomad. Functioning similarly to a pop-up trailer without the hassle, the Mobi X starts at $29,000.
Sleeps up to 6 people
150-liter water tank
15 amp Victron charger
7 LED lights
270 batwing awning
Roof tent
Full pullout kitchen
Fits in a garage
Stone protector
Canvas fold-out bathroom
20. Pando 2.0
As a heavier trailer of 2300 pounds, the Pando 2.0 by Off Grid Trailers comes in with a base price of $27,900, but the quality of it really makes it worth the purchase.
All metal and composite construction
Mold and mildew resistant
Rigid foam insulation
Water heater
Roof rack
Up to 33 gallons of water
Water heater
Stainless steel sink, folding faucet, countertop, and backsplash
Dual burner, propane cooktop
Memory foam mattress
Electric breaks
Zamp solar-ready port