Auto Repair: Oil Change and Oil Filter Changes
This post may contain affiliate links. As an Amazon affiliate, I earn from qualifying purchases.
This article is about the basics of an oil change and oil filter changes. If you have never changed your own oil before, I hope this article gives you the confidence to give it a try yourself. I am confident you can do it.
There are no dumb questions. When it comes to working on your own vehicle, we all start to learn with the basics.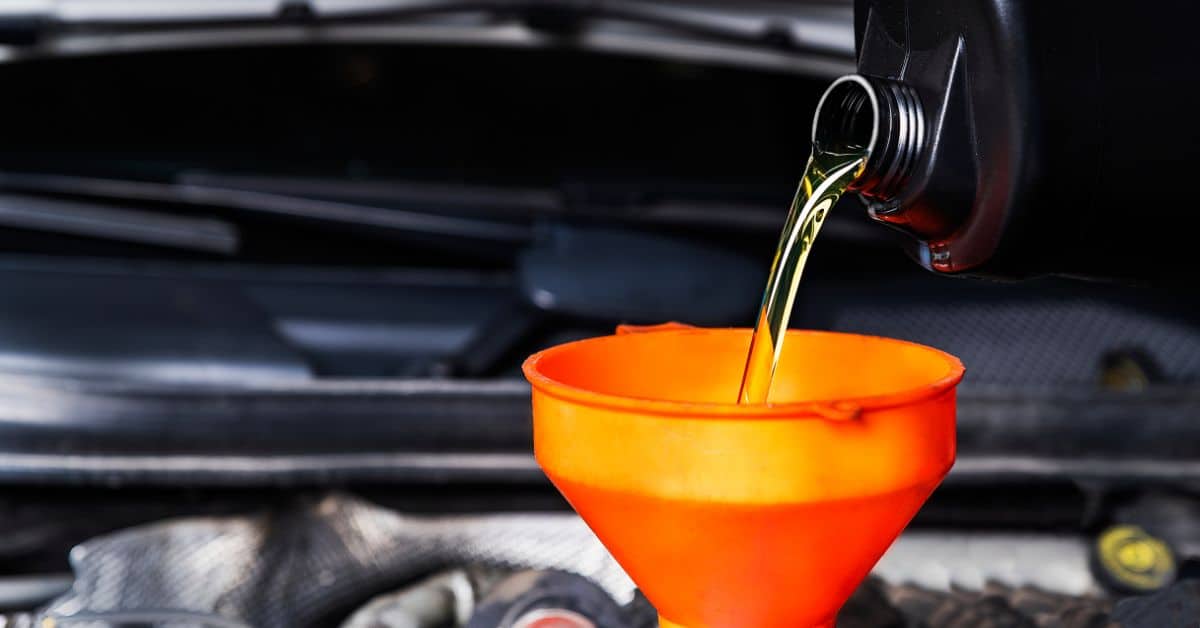 For me, I had a decent understanding of how cars worked and spent plenty of time around vehicles, but I never really worked on mechanical stuff myself.
For others, they grew up working on cars as a kid, yet some people have zero experience at all.
In this article, we will discuss the what, why, and when of changing your oil and oil filter.
Always remember: Check your owner's manual. It should be your car maintenance and operation bible.
With this said, let's get into everything oil change related!
What Is An Oil Change?
What is an oil change? An oil change consists of removing the old oil from a vehicle's engine and replacing it with fresh, new motor oil.
When you change the oil in your vehicle, you should also replace the engine oil filter at the same time.
What Is An Engine Oil Filter?
What Is An Engine Oil Filter? An engine oil filter is a filter designed to remove debris and contaminants from motor oil. The filter keeps the oil clean so it can do its job to protect and lubricate the engine.
This leads to the question of, Why?
Why Should You Change Your Oil?
Why should you change your oil? Engines have moving parts. Moving parts create heat and friction. Oil is used to lubricate the moving parts to reduce friction and reduce heat. If your motor oil gets dirty it is not as efficient at reducing heat and lubricating the moving parts in your vehicle's engine. For this reason, you need to change your oil on a regular basis.
Without the oil doing its part, the moving parts could heat up so much that they lock up and stop working.
Can you guess what questions is coming next? I bet you can.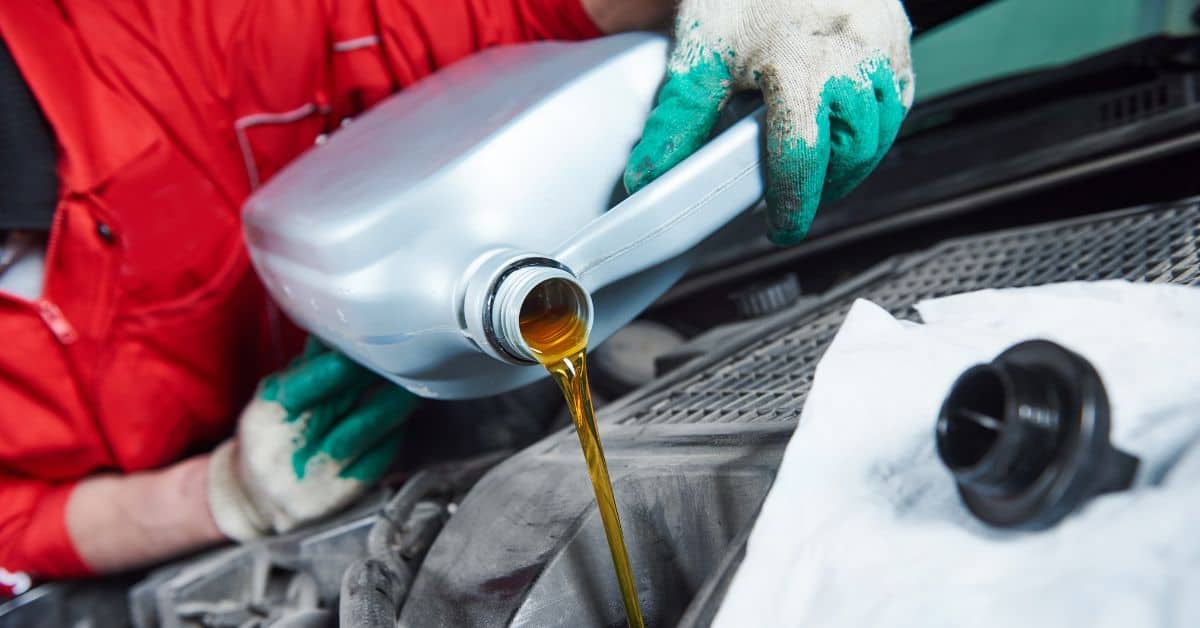 How Often Should You Get Your Oil Changed?
How often should you get your oil changed? Most modern cars today can go 5,000 miles on a single oil change. With this said, you need to follow the manufacturer's guidelines as spelled out in the user manual.
It used to be a common recommended for oil and filter changes to occur every 3,000 miles. With new synthetic motor oils and engine changes over the years, vehicles today are better when it comes to the need for more frequent oil changes.
What About Oil Changes In Older Vehicles?
For older vehicles like my 1991 Jeep Grand Wagoneer, I still prefer to change the oil every three thousand miles or at least once per year. I do this because I typically do not put many miles on my collector vehicles.
Another thing I do with an older vehicle when I first get them is to change the motor oil and filter more frequently. I rarely know the service history on a 30-year-old Jeep.
For this reason, I like to change the oil every 500 miles or when it starts looking dirty.
My thinking is that I want to remove as much gunk and grime from the engine as I possibly can. I feel like it will make the engine last better and run smoother, but I have no way to prove this, it is purely a personal preference when working on classic vehicles.
Do I Need to Change Oil Every 6 Months If I Don't Drive Much?
Maybe you live in a big city and walk most places, or maybe you like to collect vintage vehicles like me and don't put very many miles on a vehicle. Regardless of why you don't drive much, you still need to maintain the motor oil in your engine.
Automotive professionals will still recommend changing your oil every six months even if the vehicle just sits for long periods of time between uses.
This is where it's important to point you back to your manufacturer guidelines or dealership for their recommendation.
As for me (remember I am not a mechanic). I do a lot of initial oil changes on my collector vehicles, and then I make sure to change the oil once per year, or every 3,000 miles, whichever comes first.
You will need to do your own research for your specific vehicle and determine what you feel is right for your driving conditions.
What Happens If I Don't Change My Oil?
What happens if I don't change my oil? Over time the lack of clean engine oil could cause engine components to wear out and fail. This failure could destroy your engine and make it not work any longer.
There are always tales of the driver who got 200,000 miles on one oil change, but that is NOT typical.
There are many factors that impact how long your motor oil will last.
Here are just a few factors to consider:
Do you do mostly highway driving, or are you driving around town in stop and go traffic?
How aggressive do you drive?
Do you use your vehicle for any motor based activities like off-roading, overlanding or maybe you like to get your vehicle out on the race track?
Do you pull a boat or trailer with your vehicle?
All of these are contributing factors to determine how long your motor oil will hold up.
This is the reason why general guidelines have been produced so the standards are widely known and hopefully nobody forgets to get their vehicles serviced on a properly designed interval.
Can I Change My Own Oil and How Hard Is It?
If you are looking to get more hands-on with your vehicle, an excellent way to start is to change out the old motor oil for new motor oil.
The first time I changed my own oil, I simply watched a few YouTube Videos and gave it a try.
As far as I was concerned it was super easy.
This got me thinking…
Going forward, when I write about automotive repairs and maintenance items on a vehicle, I need to give it some level of score for how easy or difficult the task may be for someone to do themselves.
Introducing The DIY Repair Skill Estimator
If you watch YouTube, you probably know the name Doug Demuro. Doug reviews vehicles and has started giving them a "Doug Score" to help compare the hundreds or maybe even thousands of vehicles he has reviewed on his channel.
While I don't claim to be on the same viewership level as Doug Demuro, I do like the concept of giving auto repair projects some sort of DIY score.
This is why I created the DIY Repair Skill Estimator.
What would I rank changing the oil and oil filter on the new DIY Repair Skill Estimator?
Changing the oil and oil filter in a vehicle gets its own category right in the middle.
As far as I am concerned, changing the oil and oil filter in your car, truck, SUV or in my case Jeep, is the perfect DIY auto repair that almost anybody can do themselves.
With this said, there are a few things you will need in order to change your own oil.
What Tools and Items Do I Need To Change My Own Oil?
Ramps, Jacks and/or Jack Stands:
You need safely lift the vehicle off the ground so you have enough room to operate under the vehicle.
I first used the drive on ramps like these [Amazon Link]. I still use them for tasks like oil changes.
Then I moved up to a floor jack and jack stands like these [Amazon Link]. The floor jack and jack stands are not needed for an oil change if you have the ramps, but removing tires and other repairs and upgrades are a lot easier using the jack and stands.
A Catch Bucket:
You need some form of bucket or container to collect the used motor oil. Once you have finished the full oil change and still have the used motor oil you can pour it into the now empty oil jugs and take it to an auto parts store or oil change facility and in most locations, they will recycle the oil for you.
I use a catch bucket like this one because it also stores the used oil so I only have to haul it off after a few oil changes. [Amazon Link]
Oil Filter Wrench:
For the other items, there are a lot of different products that will work. However, when it comes to the oil filter wrench you buy, I feel very strongly about buying the right one. I currently have four or five different oil filter wrenches in my tool box and only one of them did the job when trying to get the filter off of my 1991 Jeep Grand Wagoneer.
The one I suggest you purchase is this one [Amazon Link]. It is low cost and it works better than all of the others as far as I am concerned.
A Funnel:
Funnels are useful when you are putting the clean new motor oil into the engine. Using a funnel helps keep the oil from spilling on the motor and smoking really bad when you fire up the engine to drive.
I suggest getting one of these bigger funnels because many vehicles hold five or six quarts of oil. With that much oil, you can bug a larger jug, fill up the big funnel and move to another task why the oil is flowing into the engine through the funnel [Amazon Link].
A Wrench Set:
You will need a wrench to remove the drain plug from the engine drain pan on the bottom of the vehicle. Removing this plug is how you get the dirty old oil out of your engine. Then you put the drain plug back into the pan before filling it up.
Each vehicle has a specific size that works for its drain plug, so this is one where it may be trial and error. Just grab a few different sizes of standard and metric wrenches and crawl under your vehicle to see which one fits.
You can probably find it by doing a google search, but sometimes, especially with older vehicles, what size should be in there might not match up if the drain plug has been replaced before.
That's why I crawl under a vehicle with multiple wrenches because nobody wants to keep getting up and down a bunch of times when laying on the ground under a vehicle.
New Motor Oil
You will need new motor oil and each vehicle requires a certain type of oil that is specific to the proper functioning of its engine.
For example, a 1991 Jeep Grand Wagoneer uses conventional 10w30 motor oil. While a 2011 Lexus GX460 uses a synthetic 0w20 motor oil. If you were to use the wrong motor oil, it would not be right for the specification and tolerances of the engine in your vehicle.
New Oil Filter
Just like motor oil, the size of oil filter is unique to the engine in your vehicle. Check your users manual or with a dealership to get the correct part number for the motor oil used on your vehicle.
Closing Thoughts
If you are still reading this, you are probably considering changing your own motor oil for the first time. All I will say it DO IT!
I feel quite confident that if I can do it, you can do it. I was not born with a wrench in my hand, but I have enjoyed learning how to perform routine maintenance on my Jeeps.
I can tell you there is tremendous pride factor when you fix, repair or maintain parts of your own vehicle.
Sure, it would be easy to just pull up to a quick lube or gas station and pay someone else to change the oil for you, but just give it a try.
Once you have done changed your own oil a few times, you will know exactly what goes into the process and you can decide if it is worth saving some money and doing it yourself, or you will know you never want to do it, and it is clearly worth it to you to spend the extra money to have someone else do the oil change work for you.