Can Land Rover Be Flat Towed?
This post may contain affiliate links. As an Amazon affiliate, I earn from qualifying purchases.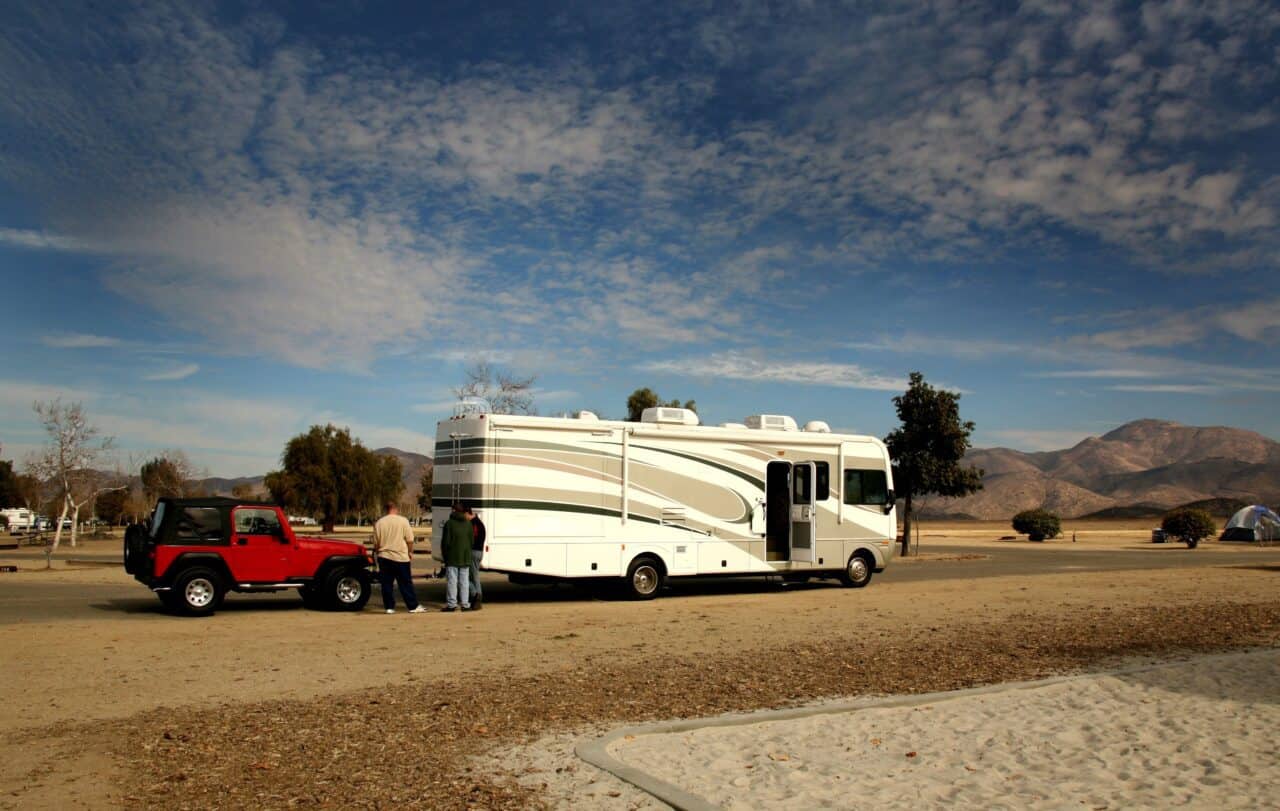 Before flat towing your vehicle, it is important to know if the car can handle the trip. Looking at the 2020 Land Rover models, we can see whether or not your vehicle will withstand being towed behind an RV.
The 2020 Land Rover Defender, Discovery, Discovery 4, Range Rover, and Range Rover Sport can be flat towed for at most 30 miles and no faster than 30 mph. They can only be flat towed driving forward and if all user manual specifications are met. Because of these requirements, it is not advisable.
Considering the importance of keeping your Land Rover intact, we will look at the Land Rover user manuals to see what specifications need to be met to flat tow your vehicle.
What Is Flat Towing?
Flat towing is also referred to as "four-down towing" and "dinghy towing." It is when you attach a vehicle to the back of a trailer or motorhome and the vehicle is then pulled with all of its wheels on the ground. This is a technique that makes it easy to bring a spare car with you when you travel with an RV.
It is the most convenient way to tow a vehicle, especially if you need to connect and disconnect the vehicle often.
How to Flat Tow Behind an RV:
Which Land Rovers Can and Cannot be Flat Towed
| Can Be Flat Towed | Cannot Be Flat Towed |
| --- | --- |
| 2020-2022 Defender | 2015-2021 Discovery Sport |
| 2017-2022 Discovery | 2020-2021 Range Rover Evoque |
| 2016 Discovery 4 | 2018-2021 Range Rover Velar |
| 2016-2021 Non-Armored Range Rover | 2018-2020 Armored Range Rover |
| 2016-2022 Range Rover Sport | |
What Needs To Happen Before Towing
Transmission Park Release
The transmission park release mechanism MUST be activated before you start towing. This is because if your car is placed in Neutral and the engine is then turned off, the transmission will automatically select Park instead of Neutral after 10 minutes.
If you begin towing your vehicle and this happens, there will be significant damage done to your transmission, plus it can make it harder to move the vehicle forward. Thus, activating the transmission park release will lock the transmission in Neutral and prevent unnecessary damage or injury.
According to the 2016 Discovery 4 manual, to activate your transmission park release, you first need to secure the car with wheel chocks and apple the Electric Parking Brake. Then, you will have to remove both cup holders and the trim panel in the center console. Next, pull the strap available until the Transmission park release locking mechanism is accessible.
Once you see the Transmission park release locking mechanism, turn it 90° counter-clockwise. Lastly, use the strap to latch the Transmission park release mechanism in the vertical position. (Before towing, release the Electric Parking Brake.)
Steering Column
The steering column MUST also be unlocked before flat towing. If the steering column was to lock while towing, you would likely lose control of the vehicle.
Unlocking the steering column requires the battery to be connected. Additionally, after a time delay, the car will lock the steering column automatically if the ignition is off and the Smart key is no longer inside the vehicle. Therefore, to keep the steering column unlocked, you need to keep a Smart key in the vehicle and leave the ignition on.
Warnings
The vehicle MUST be towed in a forward direction with all four wheels on the ground. Failure to keep the vehicle forward or if there are only two of the wheels touching the ground, there will be significant damage to your transmission.
The vehicle CANNOT be towed further than 30 miles and CANNOT exceed 30 mph.
The vehicle can only be towed if the transmission is in Neutral.
If the rear differential has failed in the locked position, you cannot tow it. (Source)
It will be harder to brake and slow down quickly if you are towing an extra vehicle. Your momentum will be increased and you'll need to factor in a longer stopping distance. (Source)
Disadvantages of Flat Towing
Flat towing can be very dangerous for your vehicle. You really do need to follow all of your owner manual's directions for it to be towed properly and if you don't, your vehicle can be severely damaged (especially the transmission.)
It also can take a very long time to get your vehicle in the condition to be flat towed. Not only can it take some time to make the basic changes to your car (like listed above), but you may need to make additional modifications for your specific vehicle's needs. That can result in spending more time and potentially more money (if you need to purchase appropriate gear) than necessary.
A very significant disadvantage to other types of towing is that the vehicle will experience wear and tear as if you were driving it. Your tires will get worn and you'll be adding miles to your suspension. Unlike driving your car, flat towing will also add strain to your transmission while the car is set in Neutral. You can avoid the strain on the transmission by unlinking the driveshaft before towing, but then the convenience of connecting and disconnecting the vehicle is no longer applicable.
In regards to the dangers of flat towing Land Rovers specifically, they are not designed to be towed. Therefore, it is more likely to come across complications when trying to flat tow one. It also is very risky because Land Rovers cannot be towed in any direction other than forward.
Pros and Cons of Flat Towing Behind An RV
Alternatives to Flat Towing
Considering how valuable and sensitive your Land Rover can be, it is wise to not flat tow your vehicle even if it technically can be flat towed.
Using A Tow Dolly
In this situation, your vehicle's front wheels are elevated and placed on a tow dolly. This is a great way to avoid wear and tear on your drive train and you won't put additional miles on your car.
Using A Flat Trailer
This is certainly the easiest option if you are worried about damaging your vehicle. You simply drive the car onto the flat platform and anchor it down. This will prevent any wear and tear on your vehicle and it will keep you from putting miles on your car. Using a flat trailer is also an easier method when considering backing up your trailer.