Can You Fit 3 Car Seats in a Nissan Murano?
This post may contain affiliate links. As an Amazon affiliate, I earn from qualifying purchases.
Nissan's large SUVs run the gamut from extremely spacious to remarkably cramped on the inside.
If you are a parent of several children and looking for a good SUV, you need to know which ones will fit your lifestyle.
Do three car seats fit in the back seat of a Nissan Murano?
Can You Fit 3 Car Seats in a Nissan Murano?
You can fit three car seats in the backseat of a Nissan Murano, depending on the size of your car seats. No matter the combination of types you have, from rear-facing to booster seats, the back seat should be spacious enough for all of them.
The Nissan Murano has one of the most spacious backseats of all large SUVs, even though it only seats five.
Unless you have a very wide car seat or plan to pack the back seat with more than just children, all three of your car seats should fit in the back of a new Nissan Murano with ease.
Can You Fit 3 Car Seats in a Nissan Murano?
The new Nissan Murano is advertised as the manufacturer's largest and "most capable" crossover.
It is the largest of its kind, being wider and longer than the previous Nissan Muranos.
Three car seats will certainly fit in the back seat of the Nissan Murano.
Whether you need three front-facing seats, three infant seats, or a combination, you will be able to put your children in the car in safety.
Three separate seats will fit side by side in the back seat of the Murano.
Each seat has a latching car seat option, although the actual seat buckles are equally safe.
The Nissan Murano has won multiple safety awards and scored very well in front, side, and rear safety.
In short, you can easily fit three car seats in a Nissan Murano, and it's very safe to do so.
If you need three car seats at once, the Murano might be your best non-minivan option.
It's spacious enough!
What Kind of Car Seats Work in the Back Seat of the Nissan Murano?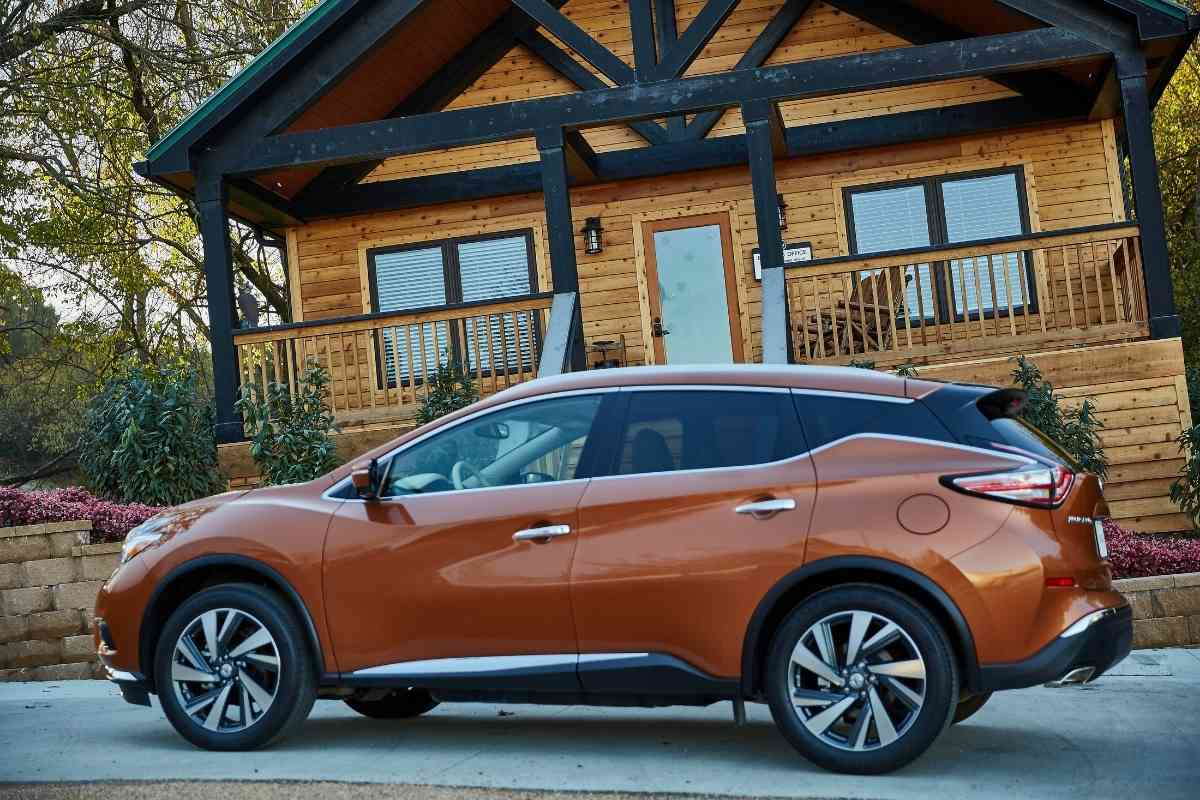 Although you can fit three car seats in the back of a Nissan Murano, it's going to be crowded.
If you need to drive with three children in the back, make sure you have the right kinds of car seats!
Proper car seats are vital both for safety and ease of transport.
Once you've put a kid in a car seat, you want them to stay put until you arrive and be easy to get out.
Luckily, the Murano will likely be able to handle the car seats you already have.
Regular width car seats will work quite well in the backseat of a Nissan Murano.
If you have an extra-wide car seat for some reason, measure it before buying the car (or get a new car seat).
Wider car seats would fit on their own but might be crowded with other seats.
Any regular width combination of car seats shouldn't have an issue in the back of a Nissan Murano.
The order you put them in will depend on what you think is safest for your children (in terms of vehicle safety and safety from each other).
If you intend to put a rear-facing car seat in the middle, be aware that you might not be able to use the latching system.
Unless it's the only car seat in the car, the seat in the middle will likely need to use regular buckling techniques.
In the case of a rear-facing seat, the shoulder strap can block the rearview mirror.
Can You Fit Three Car Seats in the Back of a Used Nissan Murano?
Of course, cars change as they are updated.
A 2006 Nissan Murano is much smaller than a newer model, and it might be more difficult to fit as many car seats in the back.
However, even the older Muranos still work for three-across car seats.
The Murano has only been around since 2003 and has only grown.
If you purchase a very old model, you're less likely to find car seat latches or safety upgrades in the newer models.
It's not that the old models are unsafe or too small–the new Muranos are just larger and safer.
You and your children will be safe in any Nissan Murano that's in good condition.
You might simply need to squeeze those seats a bit!
What Are the Dimensions of a 2022 Nissan Murano?
The newest Nissan Murano, the 2022 model, is the largest.
It's wider and longer than any previous model, measuring 193" long and 75" wide.
It has a very comfortable back seat for both children and full-grown adults.
This car is one of the roomiest SUVs that Nissan offers.
The passenger and driver seats also have extra legroom, and there is enough storage for all of a family's vacation needs (unless you're bringing the kayak, but hey–you can install a roof rack).
The Murano only seats five, but this gives the back seat more room than a seven-seater car would have.
A seven-seater SUV, like the three-row Nissan Rogue, often struggles to accommodate multiple car seats.
For this reason, the new Nissan Murano is the most recommended for multiple car seats.
Even if you only need one or two car seats, it offers the most spacious back seat area.
Other passengers won't feel cramped if they sit between two seats.
Is it Legal to Fit Three Car Seats in the Same Row?
Through all of this, you might be wondering: is this even legal? It seems like it would be dangerous to have three kids in the same row.
However, putting three car seats in the same row is perfectly legal if you do it safely.
To put the front-facing seats in correctly, you might need to take off the headrests in the car.
This situation is fine as long as the seats aren't boosters.
It's illegal to have booster seats or adults sitting in a car without a headrest.
Otherwise, the only laws are what car seats are the safest for your children.
You'll have to research that one, as car seat laws vary per state. However, your kids will be safe sitting next to each other (at least from the perils of the road).
The Nissan Murano features latching technology, so you don't need to use the actual seat belts if you don't want to.
Latching technology secures the car seat to the actual seat of the car and is often touted as being safer.
However, the seat belts on the Nissan Murano are just as safe and can be safer in some instances.
Depending on your type of car seat, it might be better to use the built-in seat belts instead of the latches.
Whichever way you choose to latch your car seats into the car, you can be assured that they are perfectly safe in the Nissan Murano.
Safety and comfort are two of the top priorities for Nissan's SUV line.
Final Thoughts
The Nissan Murano is one of the best two-row SUVs to fit three car seats.
Although it only seats five, it has extra space and safety features in the back seat.
These aspects make it ideal for any family looking to keep their children safe in an SUV!