Can You Sleep in a Kia Sorento Comfortably?
This post may contain affiliate links. As an Amazon affiliate, I earn from qualifying purchases.
Whether by intent, environmental factors, or in an emergency, sometimes it becomes necessary to take a nap or spend a night in your vehicle.
Some vehicles are better suited for an overnight stay than others.
The Kia Sorento is perfectly suited for a nap or an overnight—you would almost think accommodating both was part of the original design.
Can You Sleep in a Kia Sorento Comfortably?
The Kia Sorento is well-cushioned, and the front seats are adjustable, making it a great option for napping or overnight sleeping. The bed provides room for sleeping when the back seats are in the down position, and with planning, the Sorento makes a very comfortable place to land for a night.
While napping is easy in virtually every seat in the Sorento, the challenge is to prepare for an overnight stay.
Understanding its dimensions allows for a customized experience tailored to those spending the night.
By merging both, an overnight in a Kia Sorento can be fun and comfortable; here is how to achieve that.
How Easy Is It to Nap?
Napping in the front seats of the KIA is easy. The seats recline almost to the prone position and are well cushioned.
In the back, the seats are less forgiving but still comfortable.
It is uncomfortable to recline across the back seats because the middle section rises to create a bump.
How Comfortable is Sleeping in the Bed of a Kia Sorento?
The answer is "it depends." If you are stranded somewhere with no bedding or other amenities, you can make it through one night in a Sorento, but you will not be very comfortable.
The Sorento bed dimensions can accommodate two average-sized people, but the sleeping surface is very hard.
There is also the issue of climate control. Unless you plan on sleeping in shifts, you have none.
Because the Sorento is a metal vehicle, it will get cold very quickly.
If you want to leave a window open for air circulation, it will cool off even faster.
That means someone must periodically run the vehicle through the night, long enough to warm the Sorento.
If you do plan on a sleepover or have an emergency kit for a sleepover, you can sleep very comfortably in the back of a Sorento.
The Dimensions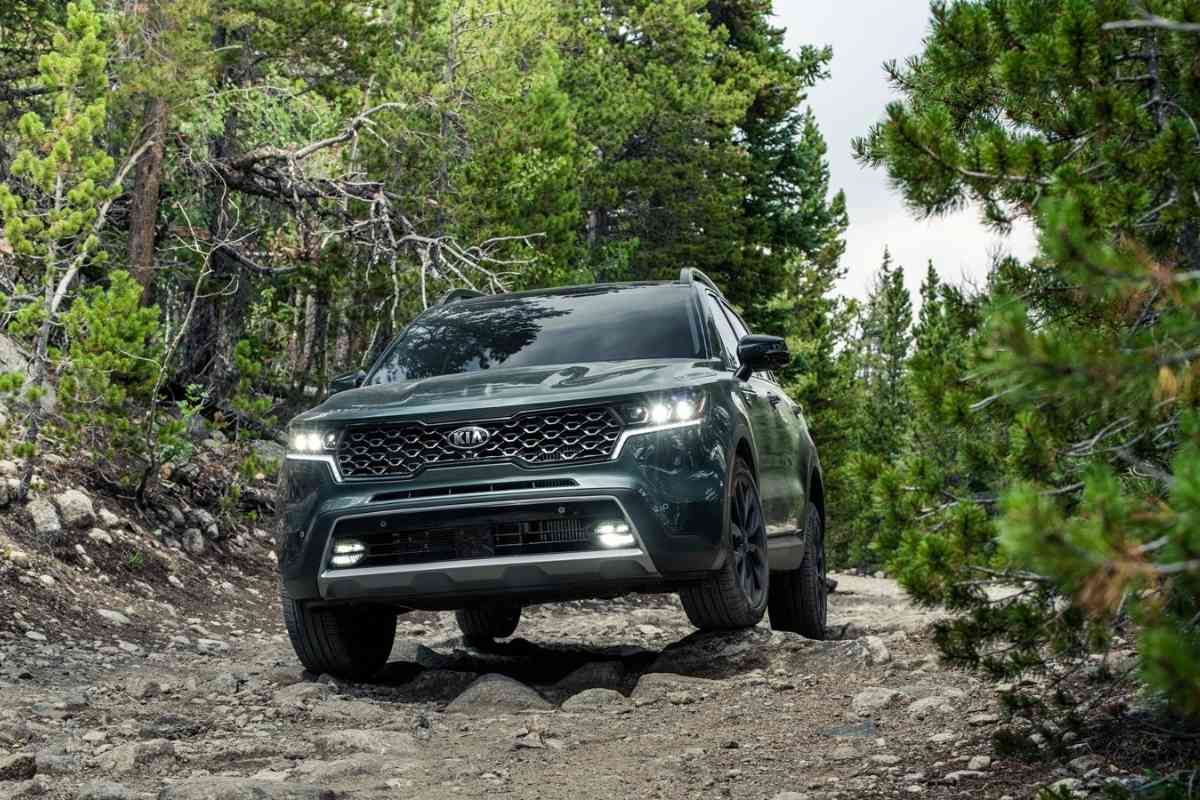 A Sorento bed comprises two rows of collapsed seats.
These fold forwards and lay almost flat (there is a slight incline towards the front driver and passenger seats.
The head area of the folded-down seats allows those sleeping in the back to expand the sleeping area to the back of the front seats.
For taller individuals, the extra space adds approximately one additional foot of head or legroom.
The basic bed dimensions are 67" long by 45" wide at the wheelbase and 30" deep.
In addition to the added approximate foot and a half of extra length due to covering the entire back bed, the seat wells can be used to provide limited storage.
Custom Options
The designers of the Sorento were going for a midsize SUV.
That resulted in a bed dimension and layout almost perfect for accommodating a sleepover for a night or several.
Air Mattresses
The bed-sized can hold a full-size mattress with a bit of maneuvering.
Additionally, there are several customized-to-the-Sorento and SUV crossover air mattresses on the market.
Other Bedding Options
A futon couch mattress is almost exactly the dimensions of the bed of the Sorento.
It is slightly wider than the width at the rear wheel wells, but that also provides cushioning without taking up a lot of space.
A futon mattress is also ideal if you are sleeping with an infant, as the sides and door access are covered by the mattress when it is fully extended.
In an emergency, you can also sleep without bedding in the back of the Sorento, although that would be very uncomfortable if you had to do it for more than a few hours.
Other Customized Alternatives
If you plan on staying a night in the back of your Sorento, you should keep in mind that your sleeping quarters are surrounded by windows.
If you desire total privacy, you should include some way to cover the windows in your supplies.
Additionally, because your Sorento will not be running when you are "in bed," you should have an alternative source of power (a portable air compressor/battery bank will work.) It also pays to have charging cords on standby.
Storage
Storage under the first row of back seats is accessible even when the seats are down.
It is ideal for storing snacks and overnight items.
If you travel with the bed down, the front storage space is also suitable for storing blankets and pillows.
Storage under the second row is inaccessible when the seats are down.
It does, however, provide a surprising amount of storage space.
One can easily fit up to three small suitcases or duffle bags.
If you leave the back row of seats down, you can use the space to store a collapsed air mattress as well as overnight bedding.
Plan Ahead
The key to using the Sorento for an overnight stay (or several nights) is to plan on that being a possibility whenever you take the vehicle on a trip.
At least, you should have the following in your Sorento before you start your trip:
Collapsed, self-inflating air mattress
Pillows
Sheet
Blankets
A portable air pump/charger/generator (for use at night without having to run the vehicle)
Additionally, it pays to also pack the following in case you find yourself unexpectedly having to stay overnight in your Sorento:
Toiletries
A change of clothes
Phone chargers
Water
Snacks
You should have enough of each item on this for every person on your trip.
Limitations
The Kia Sorento is not a camper, RV, or roving hotel. It will not accommodate large people or anyone that is extremely tall.
The bed of the Sorento is also limited in how many normal-sized people it can hold.
The maximum number that can comfortably sleep in the bed of a Sorento is two and maybe three if the third person is a very small child.
Another caution pertains to heat. It is not advisable to spend a night in your Sorento if it is very cold.
It is also a bad idea to run the Sorento for extended periods, especially if you are sleepy.
You can manage to spend a night in cold temperatures if you turn the Sorento on and run the heater for 20 minutes at a time, but that should only be done in an emergency.
Frequently Asked Questions
Can you sleep overnight in a Kia Sorento comfortably?
With the proper planning, you can spend an overnight in a Sorento in comfort.
With the right supplies, you can even spend several nights in the Sorento if the space is used just for sleeping.
Can More than two people sleep comfortably overnight in a Kia Sorento?
Adding a third person to sleep overnight in the bed of a Sorento would be a very tight squeeze. The dimensions more readily fit two people.
Are there air mattresses that fit the bed of the Kia Sorento?
Yes. A standard air mattress can fit.
There are also customized Sorento and SUV cross-over air mattresses that fit in the Sorento bed.