Are Kia Sorentos Good Cars (Explained!)
This post may contain affiliate links. As an Amazon affiliate, I earn from qualifying purchases.
Whether you recently purchased a Kia Sorento and want to know about its reliability or are considering purchasing a new car and are wondering whether a Kia Sorrento is worth it, it is important to understand what can go wrong with it Kia Sorrento.
To learn more about Kia Sorrentos, their problems, their ability to hold value, possible engine problems, their gas mileage, and more, continue reading our in-depth guide below.
Are Kia Sorentos Reliable Cars?
The most important thing to understand about Kia Sorrentos, whether you are an owner or potential buyer, is whether they are reliable cars. With a total reliability rating of 4 out of 5, the Kia Sorrento ranks 12th out of 26 compact SUVs in Consumer Reports.
While Kia Sorrentos are not the most reliable cars on the market, they are still considered highly to moderately reliable, with minor repairs only occasionally needed.
These repairs tend to cost an average of $533 per year compared to $652 per year for cars of other models.
The likelihood of your Kia Sorrento needing an extensive annual repair due to a total breakdown or a severe issue not caused by a collision is around only 11% compared to the 12% average for other car models.
How Long Do Kia Sorentos Last?
Kia Sorentos usually last and run properly without any significant issues for around 200,000 or more miles. According to Autotrader, many well-operating Kia Sorentos available for sale by owners with upwards of 250,000 miles or more on their odometers.
While some car owners prefer to keep their cars for only around 150,000 miles max before switching to a newer car with less mileage, Kia Sorentos are perfect for drivers who intend to pilot their vehicle for as long as possible without needing to trade-in.
There is one caveat to driving a Kia Sorento with upward of 200,000 miles on it. When you reach this milestone, you will need to increase the frequency with which you schedule your maintenance appointments and oil changes to keep your car in the best condition possible for its age.
What Tends to Go Wrong with Kia Sorentos?
Kia Sorentos do not typically have many minor problems such as electrical issues or sudden battery failure. They do, however, sometimes face one more significant problem.
Some customers have issued complaints about their Kia Sorento experiencing a complete engine failure while driving their car.
This puts the driver and others around them at risk for an accident. This problem, however, usually comes with a warning sign in the form of the check engine light being illuminated.
If you ever notice that a Kia Sorento has a check engine light on, hesitate before purchasing it or take it to the mechanic right away to address the issue and avoid engine failure.
What Year Kia Sorentos are the Most Reliable?
The best model year for a Kia Sorento is the 2018 model. With a 4 out of 5 reliability award from Consumer Reports and an 84 out of 100 rating in reliability from J.D. Power, this Kia Sorento model will give you the most prolonged and safest driving for your dollar.
To become the highest ever rated 2018 Kia Sorento, the vehicle was measured against and beat out the following other 2018 competitors:
Toyota Highlander
Honda Pilot
Do Kias Have Engine Problems?
If you are contemplating whether or not Kia makes cars have engine problems, the answer is that they occasionally do. Kia cars tend to experience more engine problems than other vehicles, from total engine failure to periodic engine repairs.
Kia's 2020-2021 Seltos SUV, for example, has been recalled by the manufacturer. Over 145,000 of these subcompact SUVs and Soul Wagons are considered undrivable due to an issue with their 2.0-liter engines that causes a safety concern.
It is unclear why Kia has produced these cars with engine problems. However, the mishap could be attributed to a heating process and treatment on piston oil rings that has been inconsistent and therefore destroy the engine, causing sudden loss of engine power.
Do Kia Sorentos Hold Their Value Well?
Kia Sorentos have some of the lowest resale values on the market for their most popular models.
The 2020 Kia Sorento, though chosen for its best model year value from the Sorento Company, still does not have a resale value as high as a Nissan or a Toyota, for example.
On average, a used Kia Sorento buyer would pay around 69% of the new Kia's price, with 92% of the car's actual life being intact.
This means that while still below average, the newer 2020 models of the Kia Sorento have a better resale value than some of the older 2018 and 2019 Kia Sorento models. The Kia Sorento, therefore, will lose 61.5% of its value in just five years.
This may be one of the reasons that the demand for new Kia Sorentos is decreasing with time, and the demand for used Kia Sorentos is increasing.
Used Kia Sorento buyers can get a better value on their car while the seller is left with a much lower return than what they purchased the vehicle for.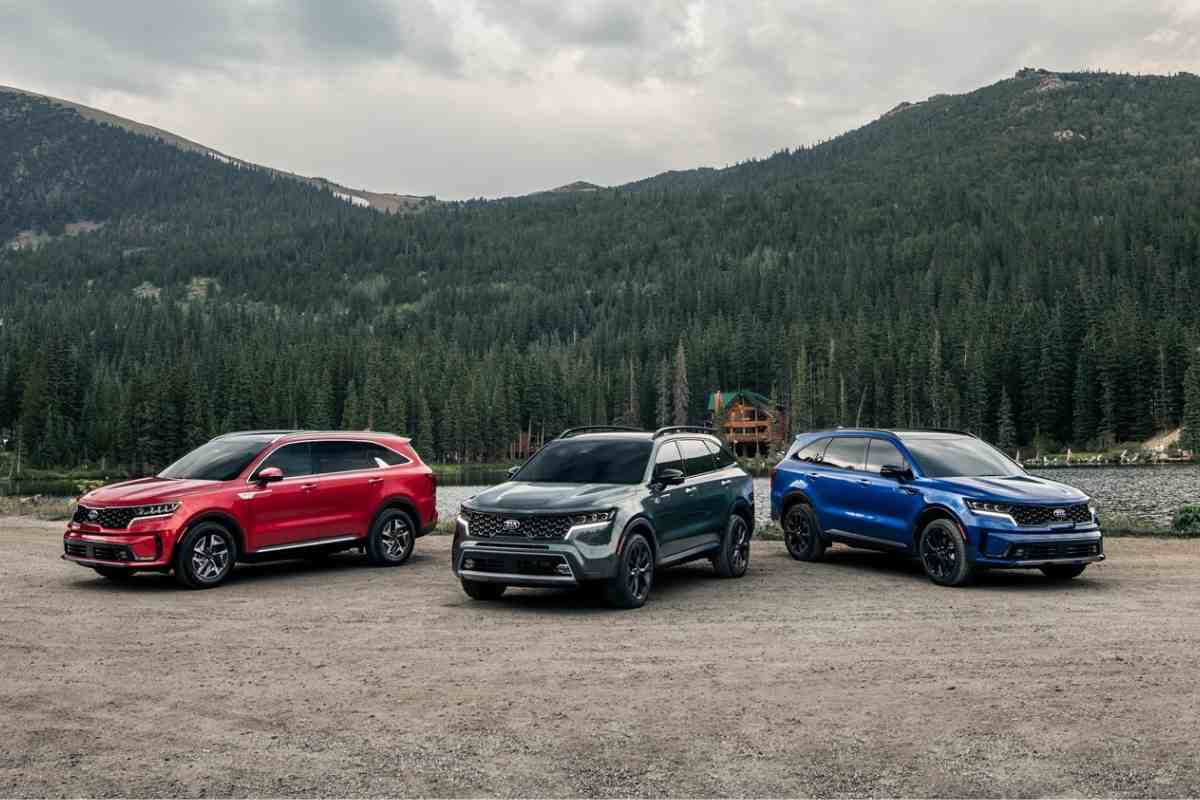 Are Kias Expensive Cars to Fix?
Kia Sorentos are not considered expensive cars to fix compared to luxury vehicles such as Mercedes, BMW, and Audi. They are slightly less costly to repair than equivalent models of Nissans, Toyotas, and Hondas.
When it comes to maintenance, Kia Sorentos are considered the 14th least expensive car to maintain over the first decade of its life when purchased new and only owned by a single owner. The average cost to fix a Kia Sorento is $8,800 for ten years.
The Kia Sorento costs about $550 to maintain and repair annually, depending on how it is cared for and how often it is driven. This can be compared to the Kia Sedona, which takes $495 per year, and the Kia K900, which costs more at almost $700 per year for repairs and maintenance.
Does the Kia Sorento Get Good Gas Mileage?
The 2019 and 2020 Kia Sorento models offer anywhere from around 29 miles per gallon fuel efficiency when driving on the highways and interstates and 22 miles per gallon when used on city streets.
This means that the Kia Sorento offers excellent gas mileage for a suburban and city car.
When it comes to older models and used Kia Sorentos, their gas mileage tends to be an EPA-estimated 24 miles per gallon for all city driving and 29 miles per gallon when traveling by highway.
While this might seem to make Kia Sorentos excellent road trip vehicles due to their superior gas mileage, it is suggested that they are used only for in-town driving due to the engine problems that could arise after excessive driving.
The exact gas mileage of a Kia Sorento depends greatly on its engine.
When an FWD Kia Sorento is equipped with a 2.5-liter 4-cylinder engine, it can get a mile per gallon combined estimate of 26 miles per gallon. When the same engine is in an AWD Kia Sorento, it can have a 24 combined mile per gallon rating.
When it comes to Turbocharged Kia Sorentos, the FWD Turbocharged 2.5-liter 4-cylinder engine has a combined mile per gallon rating of 25 miles per gallon while the AWD Turbocharged 2.5-liter 4-cylinder engine comes in at a combined 24 miles per gallon.
Since Kia Sorentos are not hybrid cars, unfortunately, they cannot reach the optimal rating of 30 miles per gallon for highway or city driving.
The Pros and Cons of Buying a Kia Sorento
Kia Sorentos can be considered reliable and inexpensive cars that last a long time. They do, however, come with their limitations and downfalls.
To recap whether Kia Sorentos are good cars, consider the pros and cons list below.
Pros
The most notable pros and reasons to purchase a Kia Sorento for you and your family include the following benefits:
Inexpensive cars to purchase
Many used Kia Sorentos are available
They do not have a lot of recurring minor problems
It is reasonable to maintain a Kia
They offer excellent gas mileage
Last a long time, over 200,000 miles on average
Spacious cabin options
Many have a new Turbo 2.5-L 4-cylinder engine
Second-row captain's chairs options for an additional cost
Cons
Some cons that might make you and your family think twice before purchasing a Kia Sorento include:
Tends to have engine problems
No free scheduled maintenance is available at dealerships
The second row can feel cramped due to its high flooring
An average $8,800 maintenance cost over the first ten years of ownership
Therefore, Kia Sorentos can be considered good cars when maintained properly with consistent inspections, oil changes, and engine checks.