Do Kia Sorentos Hold Their Value?
This post may contain affiliate links. As an Amazon affiliate, I earn from qualifying purchases.
The Kia Sorento is a mid-sized SUV with three rows of seating and a convenient infotainment system.
Should you decide to make a purchase, it's essential to understand the resale value and if the car holds its value or depreciates quickly.
We'll tell you the value difference between a new vs. used model, common problems you may have with this car, and an estimate for if you trade or sell your Kia Sorento after one to ten years.
Do Kia Sorentos Hold Their Value?
The fact is, a Kia Sorento does depreciate around 55 percent after the five-year mark. Depending on the year you bought it, that brings down the resale value to between $15,000 and $16,000. Based on these figures, we suggest that the Kia Sorento holds its value at a below-average rate.
When compared to the competition, like a Nissan or a Toyota, you can see that it's amongst the lowest resale values in the market.
If you already have a Kia Sorento, or you're intent on purchasing one, it's best to know the specifics: How long will it last? What years are less prone to consumer complaints or recalls? Is the Kia Sorento really worth buying? Keep reading to get the answers to all of these questions and to understand a few other topics as well.
The most popular Kia Sorento models generally have the lowest resale values.
Why?
This is partly because of the supply and demand for the car itself and the lower reliability compared to brands such as Ford, Toyota, and so on.
Toyota, for example, has been making cars since 1937, whereas Kia just started manufacturing cars in 1973.
That 36-year difference has an impact on buyer confidence and brand reputation.
The 2020 Kia Sorento was selected as having the best resale value compared to all of the other years, and that value is still lower than Toyota and Nissan.
If someone were to purchase a used Sorento, they could expect to pay close to 69 percent of the price for a new Sorento.
And they'd get about 90 percent of the car's life still intact.
So, even though the more recent models hold better value than the 2018/2019 models, they'll still depreciate about 63 percent after five years.
This could be one of the reasons that consumers seem to gravitate towards the used models more so than the new Kia Sorentos.
Historical Depreciation for the Kia Sorento
| | | |
| --- | --- | --- |
| Year | Price | Percentage Paid |
| 2021 | $34,750 | 100% |
| 2020 | $22,743 | 65.15% |
| 2019 | $21,175 | 61.58% |
| 2018 | $20,242 | 59.44% |
| 2017 | $18,428 | 52.52% |
| 2016 | $15,750 | 44.97% |
| 2015 | $12,363 | 35.08% |
| 2014 | $10,700 | 30.35% |
| 2013 | $7,995 | 29% |
| 2012 | $8,848 | 26.93% |
| 2011 | $7,255 | 21.33% |
| 2009 | $6,345 | 18.54% |
Buying a New KIA Sorento vs. a Used Model
Based on the information provided, it would be a better financial decision to purchase a used Kia Sorento instead of a new one, as new vehicles depreciate quickly.
If you can, buy a model between two and four years old.
If you get a Kia Sorento that's just two years old, you'll see that you could save upwards of $13,000, compared to if you bought it new.
With this purchase, you'd still get a relatively new model with most of its life remaining.
Keeping it for around three years puts you at a lower level of depreciation because it was already used, and you saved money on the initial purchase.
It can get tricky, but when you understand how poorly Kia Sorentos perform in the resale market, you have to try ownership length and age combos to see if you come across the depreciation sweet spots, so to speak.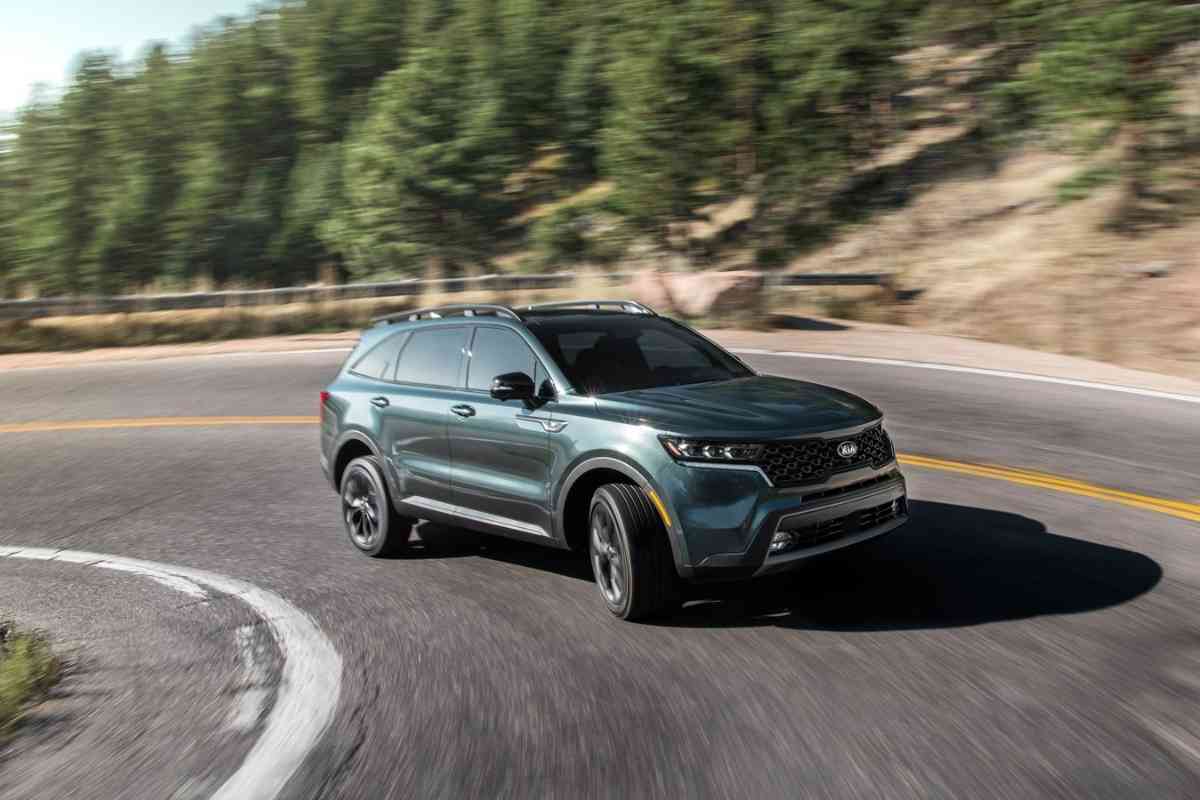 How Long Does a Kia Sorento Last?
You shouldn't have any problems with your Kia Sorento for at least 200,000 miles.
You will have to maintain the car well with oil changes and regular basic repairs, but overall, there shouldn't be any significant problems.
Autotrader reports that there are well-kept and high-functioning Kia Sorentos on the market with more than 250,000 miles on them.
When you go past 200,000 miles, you have to be sure to take care of your Sorento if you want it to last.
You should increase your maintenance appointments and try not to miss oil changes and other important tune-ups.
This will help increase the car's lifespan as much as possible as you reach the latter years of ownership.
On average, expect 12 to 15 years off-shelf life before significant problems arise.
Typical Kia Sorentos Problems
Debuting in 2003 as a mid-size crossover SUV, the Kia has become a highly rated model with many features; this includes three roles of seats.
Four generations of this car have been sold, and the latest generation was introduced in 2020.
Over the years, the Kia brand has marketed and sold different versions of Kia Sorentos.
As a result, buyers have reported experiencing various problems depending on the year of the Sorento in question.
For this reason, we recommend that you avoid model years 2004, 2006, 2011, 2012, 2013, 2014, and 2016.
These models, in particular, have costly problems, which are very common among them.
The problems include but are not limited to engine problems, airbag problems, electrical problems, lights problems, body paint problems, transmission problems, and seat belt problems.
However, engine failure is the worst of these problems with a Kia Sorento.
Unfortunately, this happens only after owners have driven a mere 62,000 miles on average. So steer clear of these models as they will only cost you more money in repairs.
The Best Model Years to Buy a KIA Sorento
Our nominee for the top pick for the best KIA Sorento is the 2020 edition.
With the 2020 Sorento, on average, you'd pay 65 percent of the price as new while having as much as 92 percent of the vehicle's useful life remaining.
The 2018 and 2019 model years are also good options to choose from for the Sorento, as they provide lots of value.
Multiple factors are considered when determining the best Sorento; this includes new and current price, remaining years of overall predictable expenses, and maintenance cost.
The top-ranked model is the epitome of the best car for the kind of money typically spent on KIA Sorento models.
Is a Kia Sorento Worth Buying?
The short answer is yes. It's an excellent midsize SUV. After the total redesign for the 2021 model year, the renowned crossover features comfortable seating with an upscale interior and user-friendly technology system with information and entertainment apps.
Moreover, it handles well and rides comfortably.
Furthermore, the Kia Sorento has a reliability rating of 4.0 out of 5.0, ranking it 12th out of 26 for compact SUVs.
The average yearly cost of repairs is just $533, indicating it's lower than average ownership costs.
The Sorento is dependable, especially considering the available AWD, ample seating, driver assistance technology, large cargo space, and the turbo powertrain.
Furthermore, the 2022 Sorento X-Line SX Prestige AWD boasts many functions for convenient and safe driving.
What Other Cars Are Comparable?
The Ford Explorer, which comes in gas-electric and gas models with three-row seating, is a rival of the Sorento.
Another is the five-seat Hyundai Santa Fe, which in 2021 has a new look and a hybrid version.