How To Deep Clean Car Seats? 5 Easy Steps!
This post may contain affiliate links. As an Amazon affiliate, I earn from qualifying purchases.
Deep cleaning car seats is not a task most of us look forward to, but it can be done effectively and efficiently if several steps are followed. There comes that day when you look down at the seat next to you and realize your gorgeous gray upholstery is now black, or your beautiful beige now looks a lot more like a dirty brown. Because it is. Dirty, I mean. But you either don't have the time or the money (or both!) to take it into a detail shop. You want to find the best way to do it yourself, but don't even know where to start.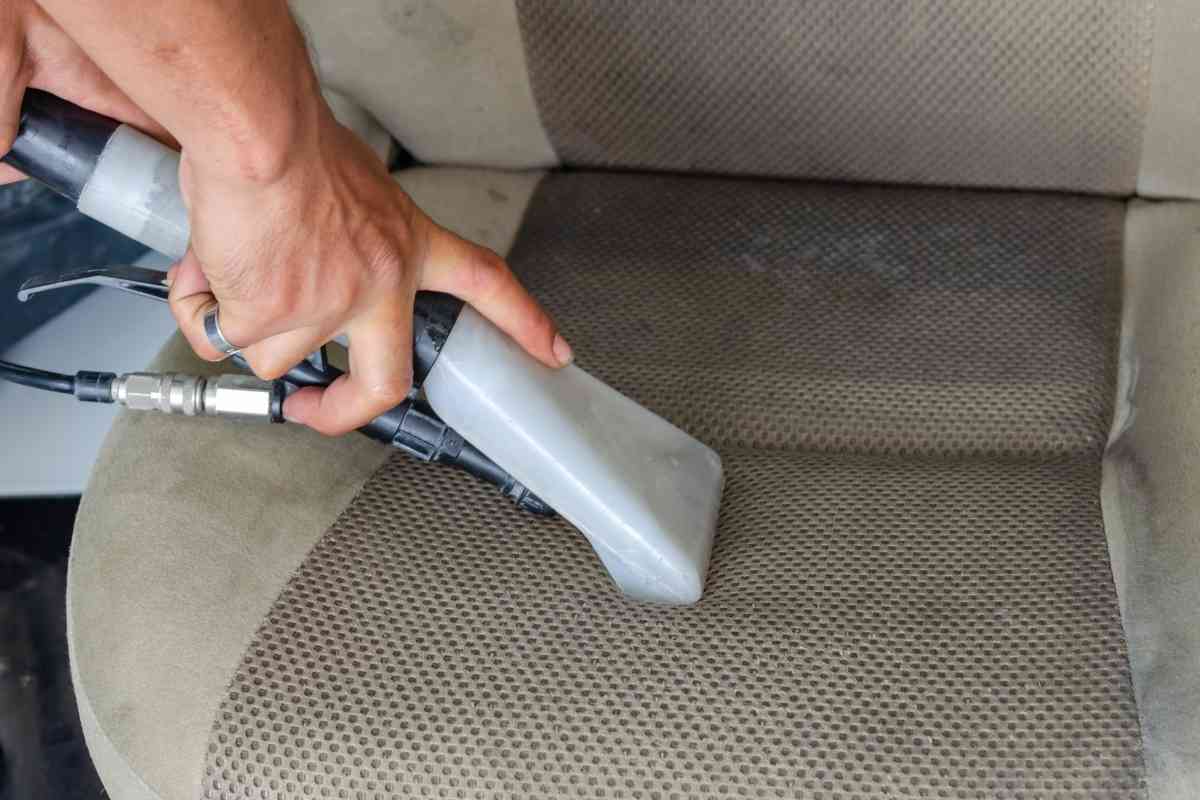 Table of Contents
What's the easiest way to deep clean car seats?
Deep cleaning your car seats is easy and will result in a successful experience as long as you know what kind of seats you have, prep the area ahead of time, have the best products for the job, choose the right day to do it, and allow yourself ample time to complete the task.
Most of us practically live in our cars. Because of our lifestyles, they are almost like our second homes. We do work from our cars, eat meals, transport (stinky) small athletes and even apply our makeup – all from the comfort of our car seats.
All these activities can cause some memorable, but messy situations. Just like our homes, we want our cars to be reasonably neat and clean, but we also want the task to be reasonably inexpensive, straightforward, and easy.
The following steps are going to help you make your car feel homey again.
I have a bunch of kids and spend a lot of time driving them to activities and also commuting back and forth to work. I like my car and take pride in keeping it clean. Read on to see what I've discovered is the best way to quickly and expertly get my car looking like new again.
How to Deep Clean Car Seats
Our cars really are an extension of our home life and most of us value keeping the inside of our car looking as good, if not better, than the outside. An organized, clean car is like an organized, clean kitchen or garage…we just feel more productive, organized, and at peace when these key spaces are clean.
I am going to give you an easy, step-by-step guide as to how best to clean your car seats so they will look good while not breaking the bank or taking up your entire Saturday afternoon.
1. Know What Kind of Seats You Have
This will be a big part of how you decide to deep clean your car seats and is the reason I listed it first.
The number one thing you need to know before tackling a deep clean of your car seats is what type of upholstery do you have? Is it a standard, factory-installed cloth? Do you have custom seat covers that have a specialized fabric that is not standard? Are your seats genuine leather or a man-made faux leather fabrication?
Knowing what your seat covers are made from will play a big part in determining how and with what you are going to deep clean them.
Here is a quick rundown of what types of products are best for what kinds of seats:
factory-installed cloth – These seats are the most basic and probably easiest to clean. Everything from a foaming cleanser to a homemade product should work. The best tool to have is a soft bristle brush that can help bring any dirt and grime to the surface, which then can be wiped away.
custom seat covers – If you have something that has been tailor-made to your vehicle's seats, it's important you know the cleaning procedure of the material so you know how to maintain it. It is best to ask before you have it made and installed about what type of upkeep will be required and how often it will need to be done to keep the seat covers in optimal shape.
leather – The best way to clean leather is going to be with a solution that is specifically made for leather products. These are easy to purchase and don't have to be expensive. You can get them at specialty detail shops, online, or even at many box stores. Just look for products that are specific for car interiors. If your car's leather is an upgrade or otherwise unique, you may need a more custom product than just the standard leather upholstery cleaner that most places sell.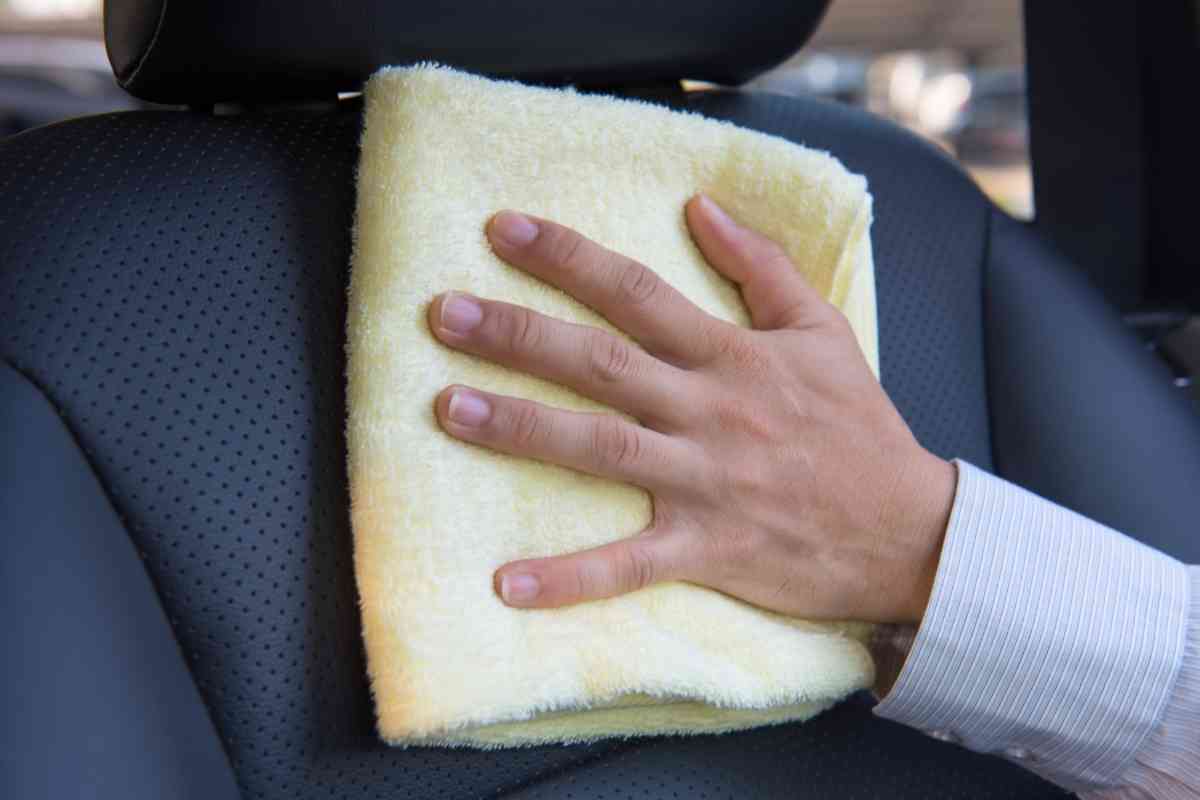 2. Prep the Area Ahead of Time
This may sound silly, but it's super important.
Just like if you were preparing to power wash the outside of your house, or you were getting ready to deep clean your living room carpets, you would want to make sure the area is already clean from and free of surface dirt and debris, right?
Car seats are no exception to this. Before you can really deep clean them, you will want to make sure you have rid the area of any excess trash or other items that will hinder your deeper cleaning capabilities.
This means ridding the seats of any goldfish crackers, stray hairs, ponytail holders, and wrappers.
All that needs to go before the deeper cleaning starts!
The best way to make sure your seat's surfaces are clean of any surface debris is to use a shop vac, a dust buster, or even a regular, in-home vacuum cleaner.
Clearing your space and giving yourself a clean canvas will allow you to focus on the deeper clean, once the surface stuff is cleared.
3. Have the Best Products for the Job
Just like house cleaning, there are so many products on the market for car cleaning that it can almost be overwhelming and cause you to want to throw up your hands and let someone else do the job for you.
But…relax! Cleaning your car seats doesn't have to be as complicated as many car detail companies try to make it.
Yes, there are plenty of products you can buy to clean your seat upholstery, and there are some you can make yourself. One good option for a home cleaning solution is to mix the following:
1 cup dish detergent
1 cup white vinegar
1 cup of club soda
a dash of baking soda
Mix all of these ingredients together and apply them with a soft brush to your upholstery. Remove with a dry cloth and let dry for at least 8 hours.
4. Choose the Right Day to Clean Your Seats
Just like any project you may take on that has to do with deep, detailed car cleaning, you will want to think through when is the best time to deep clean your seats.
Obviously, there are a lot of factors that go into this. What is the weather like on the day you decide to deep clean? Will you be able to sufficiently air out the car? Is there weather coming in that may affect your car's ability to stay open during the drying period?
Deep cleaning your car seats is not rocket science…but it does require a period of commitment if you want to do it correctly. It would be a big bummer if you were to deep clean your seats on a day that you then have to close up the car and not allow any air circulation to help with the drying process.
Wet surfaces are a breeding ground for mold, and the last thing you want to have to happen is that you go through the whole deep cleaning process of your seats, to only then end up with mold because the weather turned on you and you couldn't let your cleaning work air out appropriately.
5. Allow Yourself Ample Time to Complete the Task
Though this sort of falls into the same category as making sure you pick the right day to deep clean your car seats, I think it deserves its own reflection.
Even if you have spent time prepping your car seats before you deep clean them, bought or made the best cleaning products for your upholstery, and made sure you are going to deep clean your seats on the appropriate day – the whole thing will be a fail if you don't make sure you have ample time to complete the task.
The reason is this…yes, you could start the project then stop and finish the rest of it another day. But – just like the need to give the car ample time to air out after cleaning – you also need to give the car ample time to dry before you drive it, or pile people back into it.
Different materials dry differently. Making sure you know the drying time of whatever product you decide to use will help you know how long it will take before the car seats are ready to be sat on again.