Here Are The 4 best hybrid trucks for towing in 2024
Hybrid vehicles are becoming much more popular as each day passes, and the topic lends itself to hot debate with truck owners. For decades, we've relied on trusty internal combustion engines to do our hauling, and, for the most part, they've done a great job.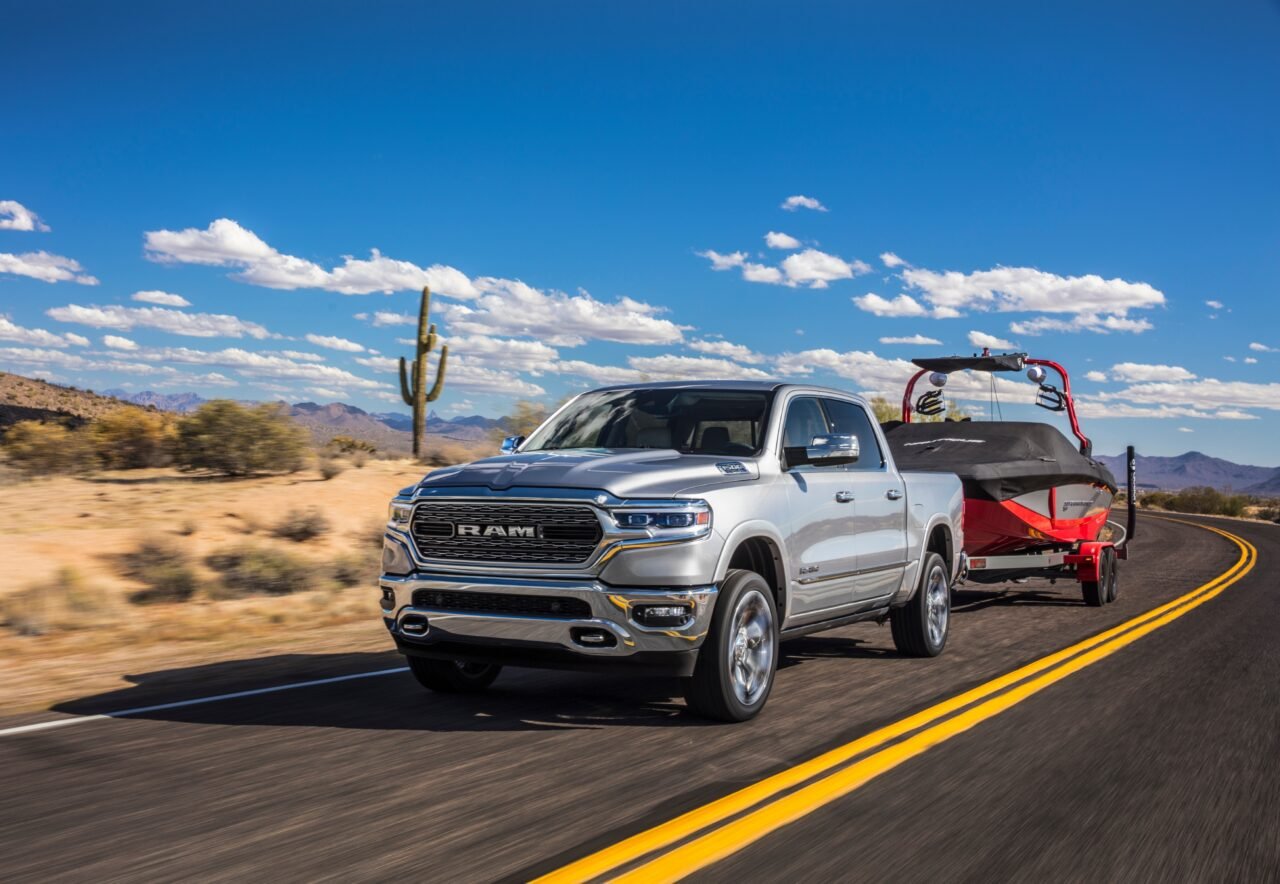 So, now that things are changing, one can't help but wonder if hybrid trucks will be just as good as towing. Let's start with the idea that we're all about to have a hybrid or electric vehicle soon. If this is the case, then one important question comes up, and we'll answer it in this article. What is the top hybrid truck for towing?
Learn More: If you are trying to decide between a hybrid truck or SUV,
you should bookmark our article on the Best Hybrid SUVs for Towing.
Our Picks: the 3 best hybrid trucks for towing
We've scoured the truck world to find the best trucks to pull those heavy loads. We can say that the full-size truck segment performs best when considering the data.
Let's take a look at them.
1. Ford F-150 Hybrid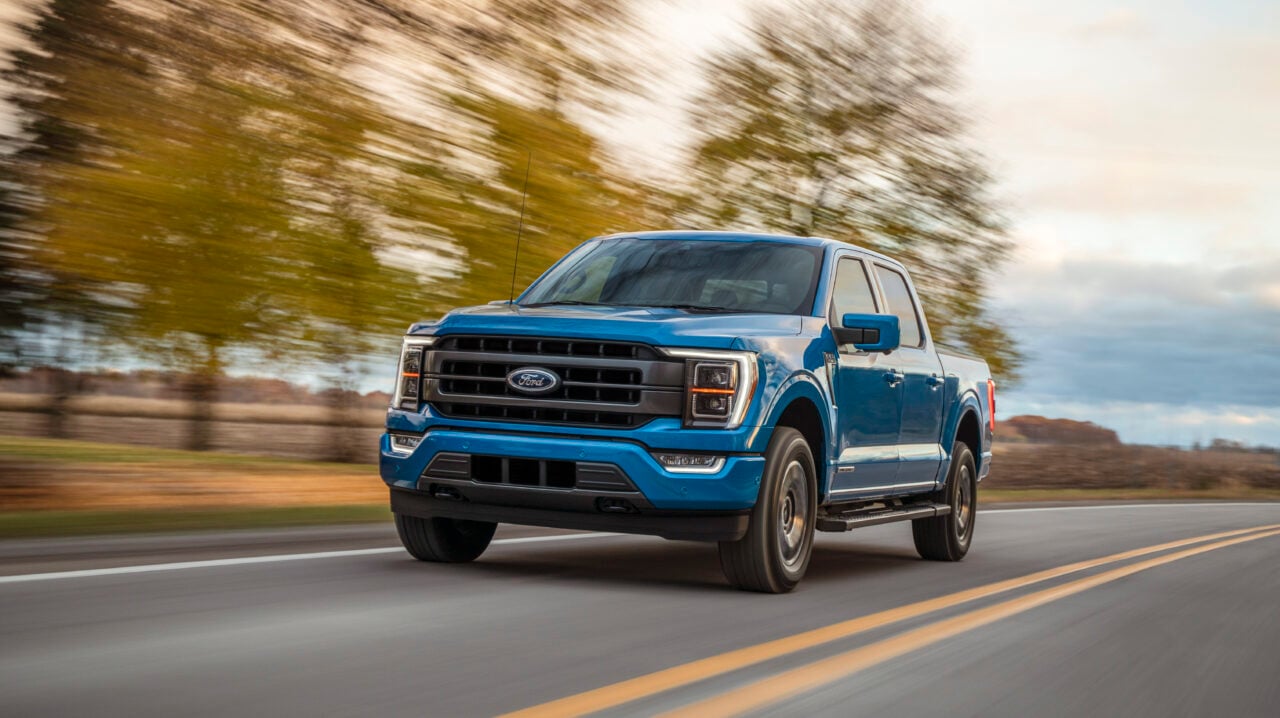 The Ford F-150 Hybrid leads all in this category with a max towing capacity of 12,700 lbs. Such performance puts it first on our list and is close to other F-150 powerplant choices.
The Ford F-150 is a full-hybrid that uses the famous 3.5L V6 EcoBoost gas engine in combination with electric motors to give it 430 hp and 570 lb-ft of torque.
If we compare this performance with the gasoline V6, we'll find that it's 30 hp and 70 lb-ft more, but here's a captivating thing.
It's the gasoline-powered EcoBoost V6 that has the better performance. This is due to the weight from the batteries and electric motors. Still, this Ford F-150 has an excellent towing performance.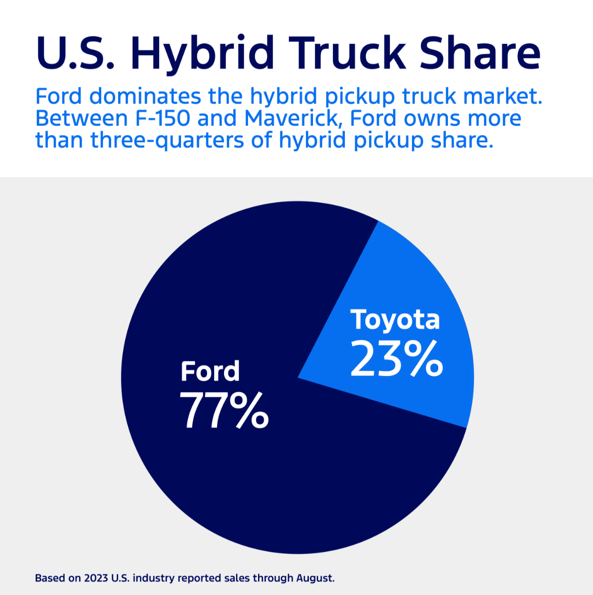 Ford Makes Up 77% of the Hybrid Truck Market
Between the Ford Maverick and F-150 PowerBoost Hybrid, Ford controls 3/4 of the hybrid pickup sales.
Here's what Ford says about it, "Through the first half of 2023, Ford F-150® is the best-selling full-hybrid pickup truck. Ford hybrid truck sales are up 28.1 percent in the first half of 2023.

Right now, 10 percent of all F-150 trucks sold are hybrids. Ford plans to double the mix of hybrid trucks manufactured for the 2024 model year to give even more customers access to this advanced technology."
2. Toyota Tundra Hybrid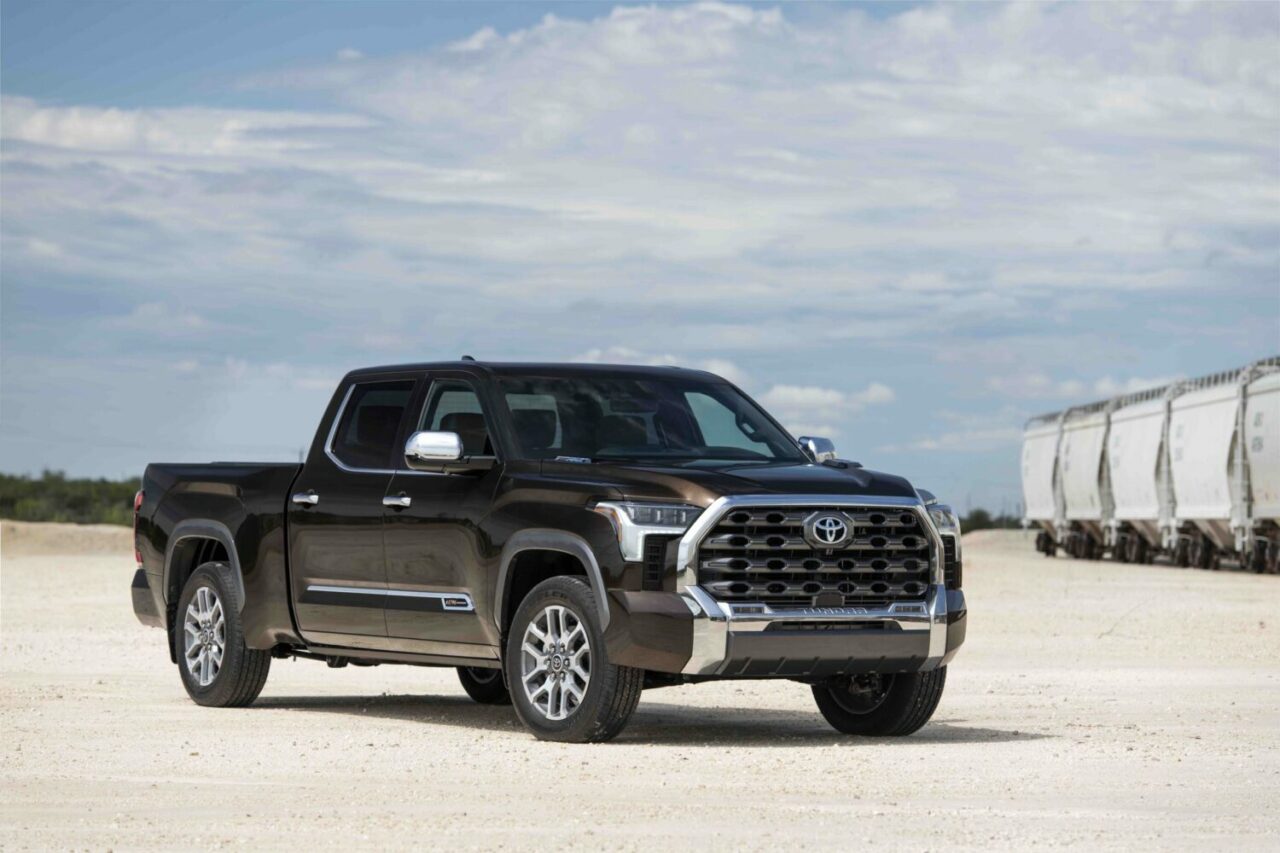 The Toyota Tundra Hybrid can tow up to 12,000 pounds, making it an excellent choice for reliability and fuel economy. This truck ranks second, but it outperforms the F-150 in range, with an impressive 611 estimated miles of range.
The Toyota Tundra is a full-hybrid truck with a 3.4L twin-turbocharged V6 putting out 437 horsepower and 583 lb-ft of torque.
This outperforms the gasoline-powered version and can squeeze out a couple more miles per gallon.
The reality is that you want to get the most towing performance out of the Tundra Hybrid. So, to accomplish this, it's best to opt for the towing package, which includes stability assists and more cameras.
*My Experience: I own the SUV version of the Tundra, the Toyota Sequoia, and have grown to really like the hybrid setup. Shifting into sports mode and stepping on the throttle will really plant your head against the headrest because it has so much torque off the line. This said, my good friend has the non-hybrid Tundra and we get similar fuel economy, so don't expect major fuel savings from the hybrid.
3. RAM 1500 Hybrid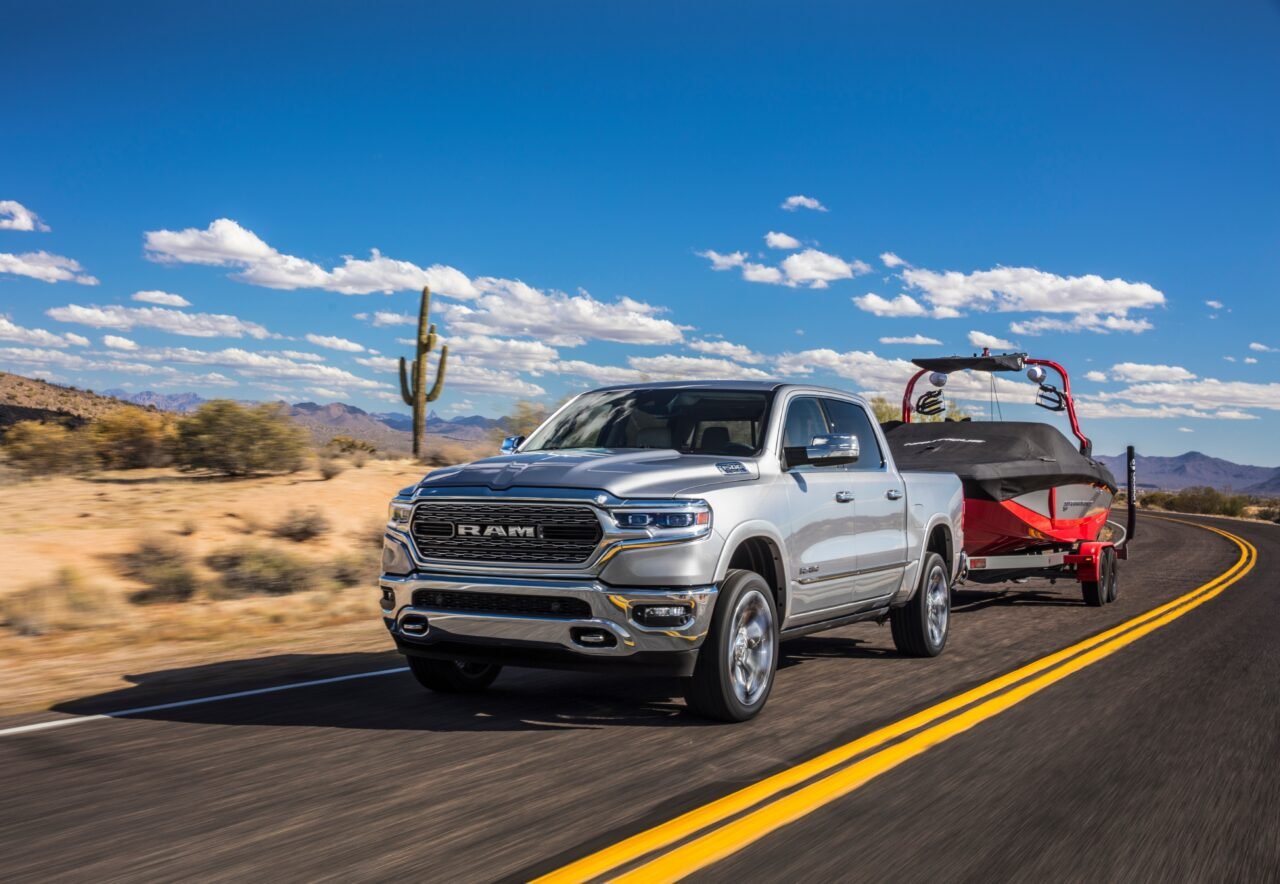 The RAM 1500 is an excellent example of how mild hybrid technology can improve performance.
This truck comes with a 5.7L V8, putting out 395 hp and 470 lb-ft, 130 of which come from the eTorque electric motor. With such horsepower, the RAM 1500 is capable of towing 12,750 lbs.
We place it below the Tundra because it's a mild hybrid. This means that, at no point will you drive solely on electric power. However, that doesn't take away from the impressive performance.
Getting the towing package and the V8 would be best, as it helps the RAM get the best performance. The counterpart is that this has very low fuel efficiency, yielding only 14-16 mpg.
And, here's the surprising thing. That's it! That's the list of full-size hybrid truck options. With manufacturers migrating more towards EV trucks (for example, Chevy came out with its Silverado EV but doesn't have a hybrid), the full-size segment is scarce.
That doesn't mean there aren't other options. We'll check them out in the next section.
Other options for towing with a hybrid
As we've mentioned, the full-size hybrid truck market is scarce, which applies to other hybrid trucks. If you search the web, you'll find that there are few hybrid trucks at all.
We'll dive deep into why this happens further down. Meanwhile, this leaves only one other choice.
4. Ford Maverick Hybrid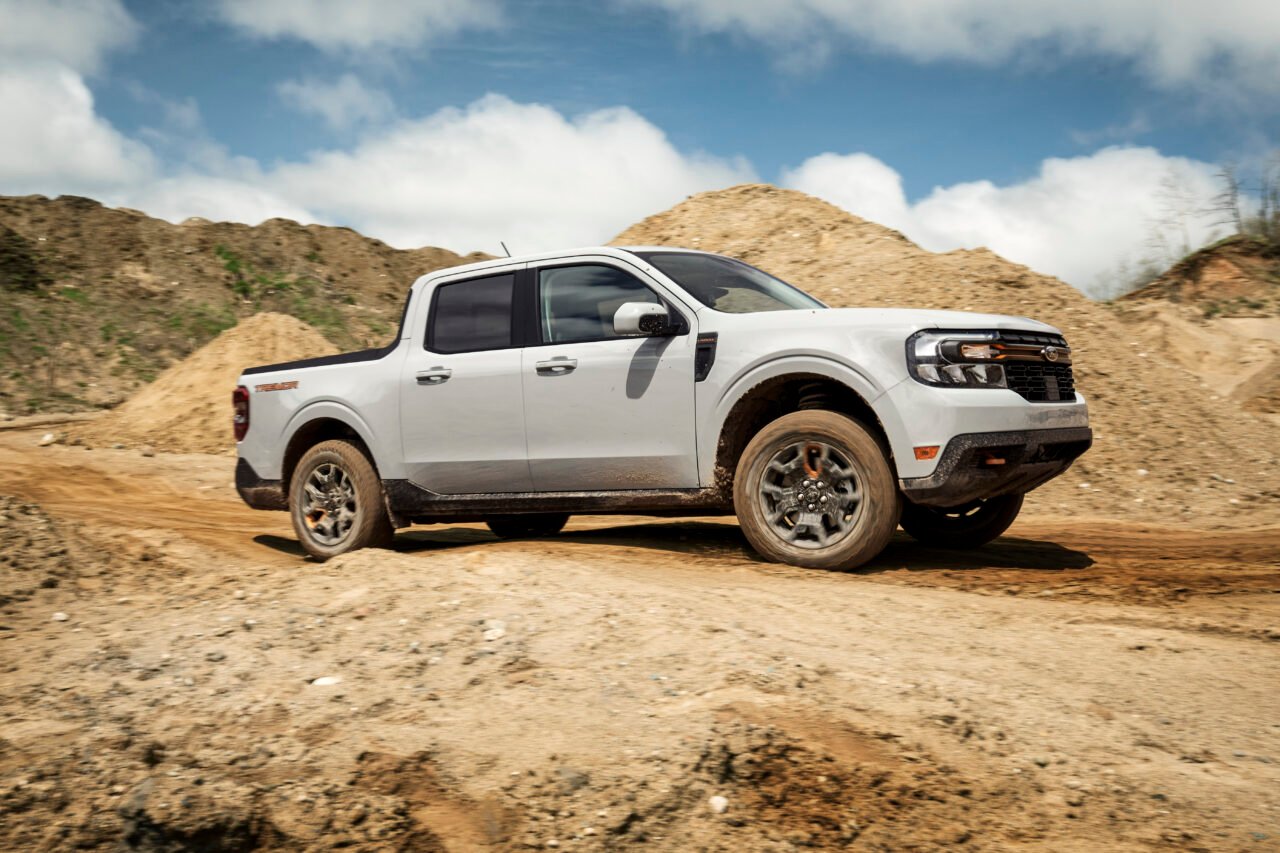 The Ford Maverick hybrid is a small-size pickup aimed at younger audiences and those who want a sense of adventure while also being able to put in some work.
Powered by a 2.5L 4-cylinder Ecoboost Hybrid powerplant, the Ford Maverick puts out 191 hp and 155 lb-ft of torque.
While not as impressive as others on this list, you can still tow up to 4,000 pounds with the appropriate tow package, but you might not be able to pull a travel trailer. It's also extremely fuel efficient, as you can get more than 20 mpg easily.
The Ford Maverick does come with a significant downside. If you opt for the hybrid version, you will only have a front-wheel-drive option, which can hinder performance.
Other options are coming in the next years. These include the Ford Ranger and other options, but it's worth analyzing the hybrid truck sector with an objective approach.
Now that we've discussed they top hybrid truck models for pulling performance, let's go into what makes a hybrid vehicle unique compared to other gas or diesel truck options.
Understanding hybrid vehicles
Hybrid Vehicles Explained
A hybrid vehicle combines two or more power sources. For most of us, a hybrid car uses a gasoline engine and electric motors to move the wheels in three possible configurations:
Parallel hybrids connect the Internal Combustion Engine (ICE) and electric motor to the wheels. The vehicle can use both or one at a time to move.

Series hybrids use the ICE as a power plant to move the electric motors, which are connected to the wheels.

A plug-in hybrid uses either technology but has a larger battery pack (more on this later), which can help by providing all-electric power.
A common term that you'll hear when talking about trucks is a mild hybrid. This one is prevalent with bigger vehicles, and, as its name states, it's a vehicle that uses an electric motor to assist in driving. However, this configuration will never rely entirely on electric power to move.
Instead, the idea is for the electric motor to provide assistance with aspects such as braking and idling. This helps reduce fuel consumption, sometimes making vehicles up to 15% more efficient.
As a result, it's common to see trucks use a mild hybrid configuration to make the most use of the internal combustion engine's power.
Are there benefits of towing with a hybrid truck?
Trucks are designed for hard work, so it's hard to accept that hybrids could replace ICE-powered vehicles altogether.
That's one of the notions that we'll have to change and, fortunately, there are some benefits to this new technology.
Currently, these hybrid systems use high-performance engines such as V6s or V8s, so there's no shortage of power.

The electric motors play a crucial part in short distances, reducing fuel consumption.

The electric motors also provide an additional power boost at low speeds to help with the initial part of towing.
Factors to consider when choosing a hybrid truck for pulling heavy loads
With so many brands offering powerful hybrid options, it's hard to choose your next ride, that is, if you don't have a preference (here's to you, Chevy and Ford owners).
As these technologies improve, you'll also see better performance, and who knows?
Perhaps the new performance figures will sway you to another brand. If you're looking for a hybrid, here are some factors you should consider.
Towing performance
This variable is simple: the higher the rated towing capacity, the more you'll be able to pull. Since many trucks are mild hybrids, you won't find a drastic difference, especially in the full-size sector.
Trailer compatibility and towing options
As with ICE-powered trucks, it's always best to ensure that your vehicle is compatible with what you want to tow. This includes whether it can physically tow your trailer, but it isn't limited to that.
Some hybrids might not come with all the towing packages that their fuel-powered counterparts have.
While it's not as common, it can happen, as some companies have yet to configure their hybrid vehicles for towing fully.
The future of hybrid trucks for towing
The reality is that, in 2023, most manufacturers are migrating to electric pickup trucks. Despite the controversy, Ford has released its Lightning truck and is betting on it.
Chevy is doing the same with its fully-electric Silverado EV, and then there's the Hummer EV. Whether you want to tow with it, it's up to you, but the options are there.
Moreover, regulatory demands force manufacturers to produce more EVs in the next twelve years. California now demands that the companies make at least 50% of their fleet as EVs by 2035.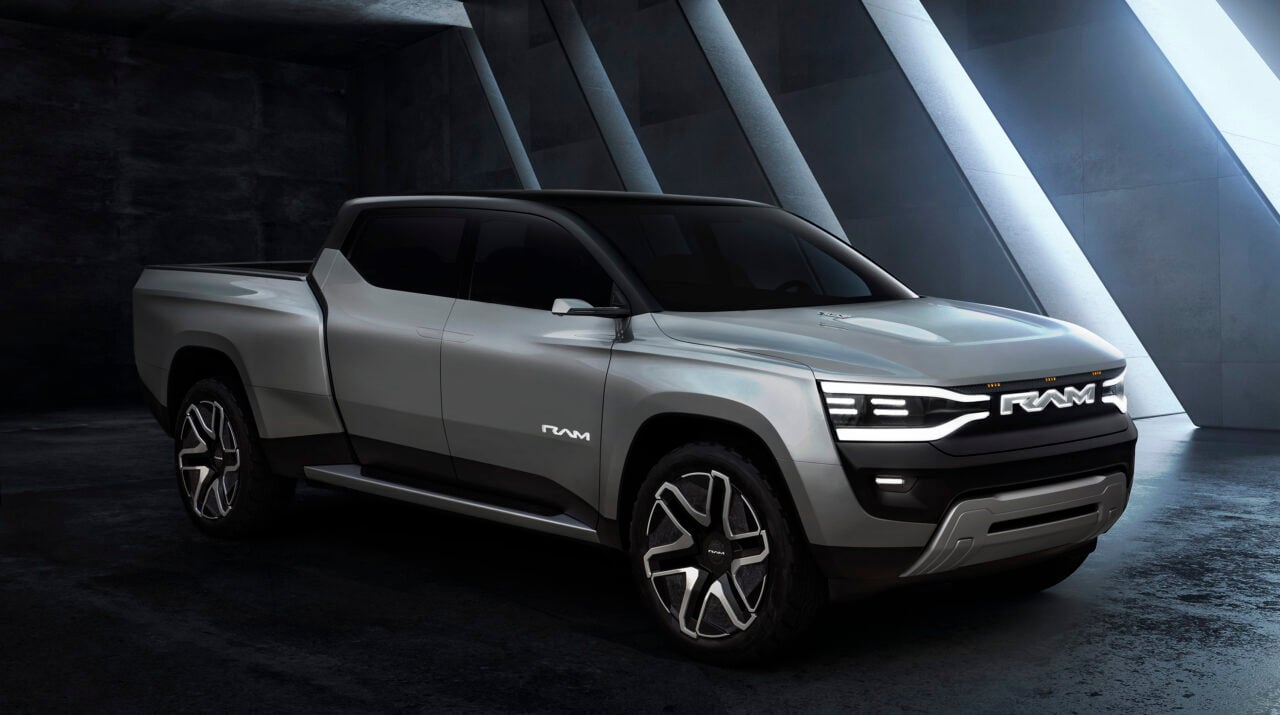 That's not to say that there aren't new models coming along. Toyota will release the Tacoma Hybrid, including its I-Force hybrid powertrain, and Ford with the Ranger.
The hybrid truck might be a dying idea in the coming years, which is fascinating. Interestingly, it's one of the shortest-lived segments in the automotive market and one that has huge potential.
As a counterpoint, hybrid SUVs are booming in popularity. We've covered the best hybrid SUVs for towing, so check out our article.
Conclusion
These are the best hybrid pickup trucks you can choose, which might seem like a low number, but that's not necessarily bad when we look at the models available.
Three trucks, the F-150, Tundra, and RAM 1500, have excellent performance that can compete with many gasoline and diesel-powered counterparts.
The Ford Maverick provides respectable performance for a small truck and can get you out of a bind with its 4,000 pounds of towing power. Plus, it's great for lengthy trips as it has excellent mileage.
Hybrid trucks offer excellent towing performance, and paying attention to them might be a good idea. So, whenever you're in the market for a vehicle to pull heavy loads, you might be better off with one of these.