Jeep Side Marker Replacement – Easiest Project Ever!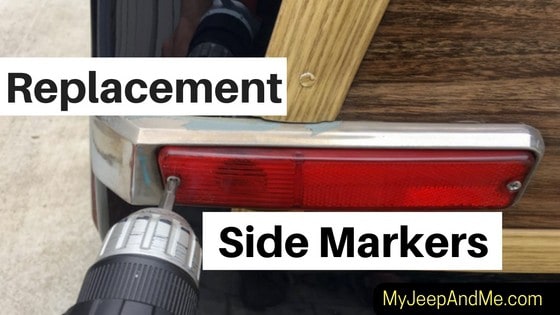 As Jeep owners, we are always tweaking, upgrading and working on our rides. For me, the Jeep serves as a stress reliever. It is a hobby that allows me to work with my hands. When I am working on the Jeep Grand Wagoneer, I can forget about the day-to-day stresses of work and have a singular focus by working on the Jeep.
For those of you who are not very handy (trust me, I was there too), I have the perfect upgrade for you to try. It requires a lot of fancy tools (i.e. a screwdriver), two hands, two eyes and reading this post.
If you can do read this blog, you can accomplish this upgrade. It's one of the reasons I love working on Jeeps (at least of this vintage), most everything can be adjusted and reached by hand.
Okay, so the task is to replace the side markers on the Jeep. I ordered new side marker trim from 4Wheel Parts, and they were very low cost.
Now that you have the parts, here are photos of the job. Trust me; it is incredibly easy!
In the below photo below you can see how worn out the chrome side marker base has become over time. It looks bad, doesn't it!
Fortunately, we can fix it, and it is cheap.
Simply remove the two screws and be sure to have your hand out to catch the screws and keep the lens from falling if you plan to reuse the lens.


Now for the hard part (just kidding)! Simply twist the yellow plug and it will come out of the white housing.
That wasn't too hard, was it?
Okay, now to put it all back together, simply do this process in reverse. Easy as could be isn't it! Let us know how it works out for you, and send some photos if you take any. I would love to see them.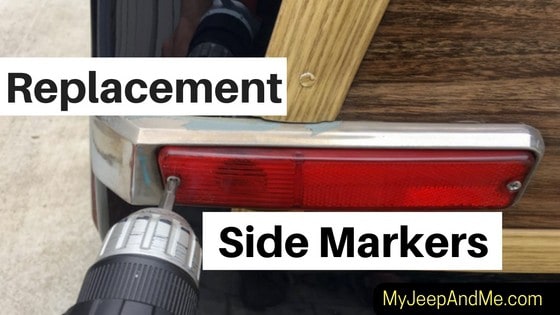 Keywords: Replacement Jeep Side Markers, Replacement Lens, Replacement Side Marker Base #Jeep, #Wagoneer, #JeepLife, How to Fix a Jeep