Leased Cars And Oil Changes: Can You Do It Yourself?
This post may contain affiliate links. As an Amazon affiliate, I earn from qualifying purchases.
Car leases typically last 24 to 36 months, and that means the vehicle will eventually need an oil change. In fact, routine maintenance, like oil changes, tire rotations, and belt replacements, is required with a leased vehicle. But can you change the oil yourself, or do you need to visit the dealership every time?
You can change the oil in a leased car yourself or at a shop of your choice. It's illegal for a dealership to require routine maintenance at their facility, and oil changes are typically less expensive elsewhere. That said, failure to comply with regular maintenance can result in costly fees.
If it's time to change the oil on your leased car, there are several factors to consider, like scheduled maintenance intervals, price, oil type, and more. Let's look at everything you need to know before you head to the auto shop.
Can You Change the Oil on a Leased Car?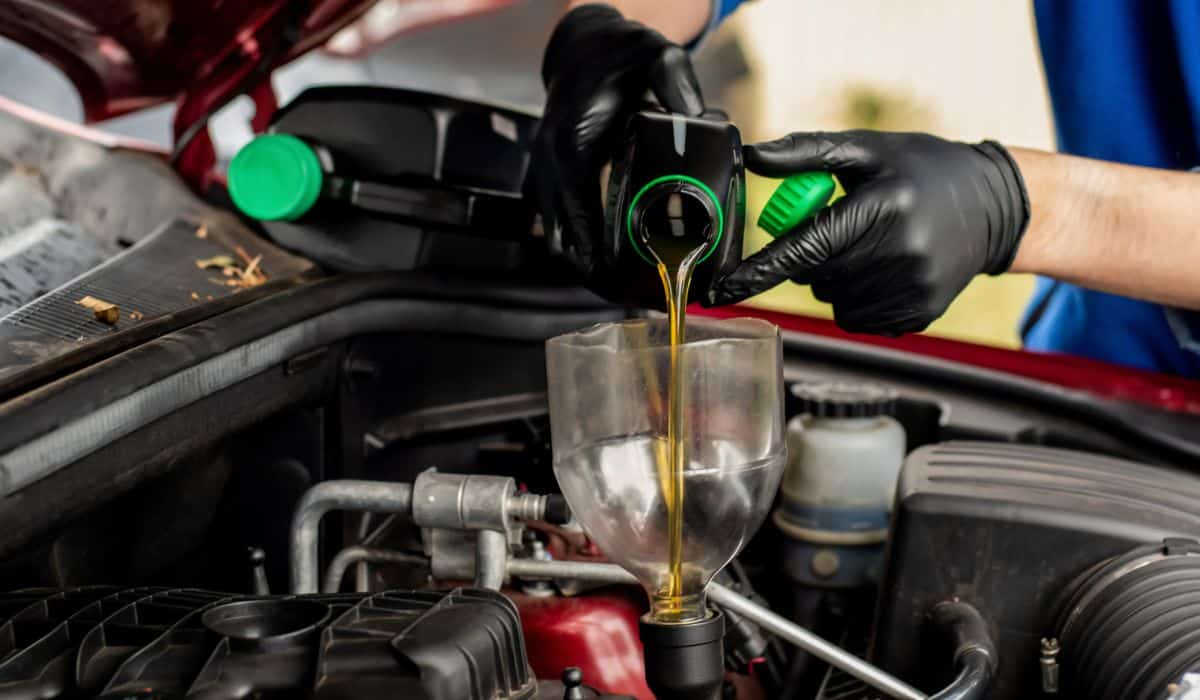 Yes, you can change the oil on a leased vehicle by hand, at a certified mechanic, or at a dealership.
The Magnuson-Moss Warranty Act that was enacted in 1975 prevents dealers in the US from requiring consumers to conduct routine maintenance at their facility. Instead, consumers can perform routine maintenance by hand or at a licensed mechanic without violating their warranty.
Routine maintenance typically includes vehicle inspections, oil changes, tire rotations, belt replacement, fluid checks, flushes, and brake pad replacement.
Consult your contract to determine what constitutes routine maintenance, as it can vary, and failure to follow scheduled maintenance intervals can result in expensive fees upon returning the vehicle.
Do You Have to Pay for an Oil Change on a Leased Car?
Yes, you must pay for an oil change on a leased vehicle like any other car — unless it's specifically covered under the contract.
Many lease agreements include free oil changes depending on the mileage, timeframe, or condition. For example, some warranties provide the first oil change for free, while others offer free oil changes up to four times. Some lease agreements don't include any free oil changes or maintenance.
Other contracts can include routine maintenance packages that may be useful. You'll need to consult your contract to determine if any free maintenance services or oil changes are included in your agreement.
Failure to follow your vehicle's routine maintenance can result in expensive fees when you return the car.
How Much Do Oil Changes Cost?
Generally speaking, an oil change costs between $25 and $100 at chain locations like Jiffy Lube, Pep Boys, or Walmart. Synthetic motor oil costs more, ranging from $60 to $130, but it typically lasts longer and needs to be changed less frequently.
The vehicle's year, make, and model will affect the price of an oil change. The location also affects the total price of an oil change, and places with higher living costs generally have more expensive labor costs.
Changing the oil and filter by hand can save you money if you have the tools. Five quarts of oil and a replacement filter will cost between $30 and $45, depending on the factors mentioned above.
How Much Do Oil Changes at the Dealership Cost?
Routine maintenance at the dealership is typically more expensive than at independent shops. Prices will vary depending on the vehicle, manufacturer, location, and oil type. That said, prices are still relatively competitive and may cost between $65 and $150.
Dealerships use Original Equipment Manufacturer (OEM) parts and have more expensive labor fees. You'll incur even more costly fees if your vehicle requires synthetic oil.
Will You Lose Your Warranty?
Fortunately, you won't lose or violate the warranty if you get an oil change at a location other than the dealership. Many dealerships try to scare consumers into using their services, but they can't legally force you to do so.
Depending on your preference, you can conduct routine maintenance by hand, at a licensed mechanic, or at the dealership. Be sure to inspect the lease agreement to determine what routine maintenance consists of and the regular service intervals.
Do Dealerships Change the Oil for You?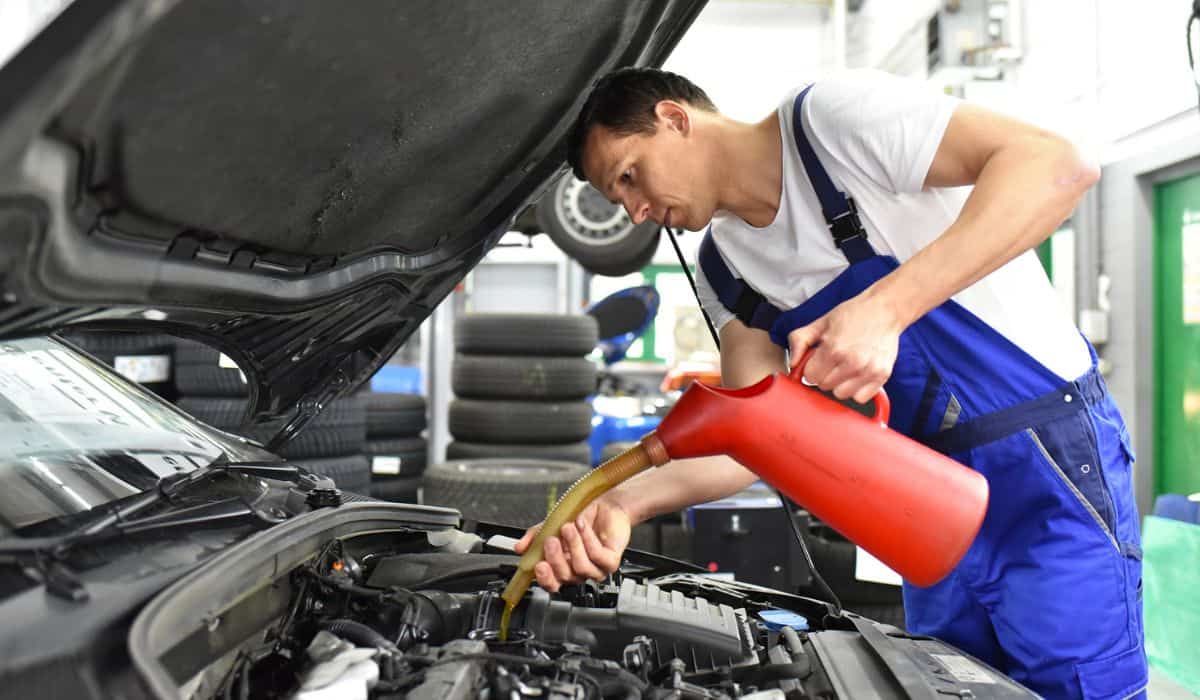 Many lease agreements include certain repair services that the dealership provides without additional costs. That said, most dealerships do not provide scheduled maintenance like oil changes or tire rotation for free.
As we mentioned earlier, several lease agreements offer free oil changes at the beginning of the term provided by the dealership, but this varies. Other dealerships offer prepaid maintenance packages that may or may not be worthwhile, depending on your situation and budget.
Should I Change My Oil at the Dealership?
Although it's not mandatory, you may decide that changing the oil at the dealership is worth it.
Let's take a deeper look at some pros and cons of using the dealership for routine maintenance on a leased car.
Disadvantages of an Oil Change at the Dealership
More Expensive: As we mentioned earlier, dealerships typically charge more than independent oil shops. Dealerships use OEM parts and have more expensive labor rates. That said, prices will vary depending on your vehicle, location, oil type, and lease agreement.
Less Convenient: Dealerships are typically less convenient than independent shops. You might need an appointment for routine services like oil changes, tire rotations, and general inspections. Independent shops, on the other hand, often allow walk-ins and can usually work on your car immediately, depending on the volume.
Advantages of an Oil Change at the Dealership
Less Room for Error: Oil changes might be a straightforward service, but many things can go wrong, like using the wrong filters or breaking drain plugs. One of the advantages of using the dealership is that you can rest assured they won't mess anything up. The dealership will know your car better than independent shops, and they'll follow the warranty.
Follow Your Warranty: Although dealerships can't void your warranty for using a different shop, you can rest easy knowing they'll follow all of the warranty guidelines. The dealership uses OEM parts and will ensure that your vehicle leaves in good condition.