Oh the Places You'll Go! …in a Jeep
This post may contain affiliate links. As an Amazon affiliate, I earn from qualifying purchases.
 Congratulations, today is your day. You're off to great places, you're off and away. You have brains in your head, you have feet in your shoes. You can steer yourself in any direction you choose. You're on your own, and you know what you know. And you are the guy who will decide where to go…

 — Doctor Seuss's, Oh the Places You'll Go
Doctor Seuss's wonderfully wise story book, Oh the Places You'll Go has inspired many to dream of great adventures. To build a vision of setting out and exploring the world. Unfortunately for many of us, we never take the leap to set out on the road to see the world.
However, there are some among us who shed the ties to desks, mortgages and the daily routine we all know so well. These people are the ones who follow Doctor Seuss's words and steer their direction wherever they choose.
I too have visions of exploring. My adventures currently involve taking my two girls camping in our 1987 Jeep Grand Wagoneer. (I wouldn't trade these moments for anything.)
But…

 
There is a whole other level of exploring going on around the world.
It's called Overlanding.
As you sit here reading this post, there are hundreds, maybe thousands of people taking their vehicles to remote destinations around the world.
This is where I'd like to introduce you to the travels of a fellow Jeep owner.
His name is Dan Grec.
In June 2009, Dan had never heard of Overlanding, but he set out on a Pan-American expedition that would allow him to journey from Alaska to Argentina.
His expedition vehicle was a 4 cylinder, 2000 Jeep Wrangler (TJ).
About His Trip
Here are a few of the highlights from his trip:
Distance Traveled: 50,000 miles (64,517 km)
Travel Time: 1 year, 10 months
Countries Visited: 17
Total Cost: $27,300
One of the questions Dan get's most often about his trip is, "What was your favorite place?"
As you can probably imagine, it's hard for Dan to pick just one, so he put together a collection of what he calls Defining Experiences. My personal favorites are his photos of The Uyuni Salt Flats in Bolivia and hiking in the Cordillera Huayhuash.
His Pan American trip was several years ago. You can read more about it here: PanAmerica Expedition.
As amazing as the Pan American trip is, it's not the adventure I want to share with you.
You see, Dan has set his sights on another adventure…
---
Dan's Great Adventure – Part II
Dan has embarked on a truly amazing journey. It's one that would have many people out of their comfort zone for sure.
For this experience, Dan has a whole new Jeep setup. He decided if he was going to be living in his Jeep he would like to be up off of the ground to sleep. As a result, he built an amazing 2007 Jeep Wrangler Unlimited (JKU) into the ultimate Jeep Overlanding vehicle.
So where is Dan going on his next Jeep adventure?
And guess what…
He is already there!
Dan Grec will spend two years circumnavigating the African continent. He even put the map on the hood of his Jeep.
His travels will take him through big cities, remote wilderness, and even an active minefield. He will put nearly 80,000 miles on his Jeep as he crosses through 30 different countries. He will camp next to lakes, hike in the mountains, and make friends with chimpanzees, locals and other people traveling Overland.
If that's not enough to keep you busy, you will definitely want to read about Dan's experience with border crossings, bribery and how he gets his vehicle legally from country to country.
As I write this post, Dan is over 400 days into his African journey. He has traversed 13 different countries putting 12,847 miles on his Jeep.
Can I ask you a question?
If you could go anywhere in the world where would you go?
A tropical paradise? Hiking across Europe? Or would you be as brave and adventuresome as Dan Grec and seek out a level of adventure that's almost too extreme to imagine?
Here's the good part…
Whether you want to be like Dan and navigate the continent of Africa, or you just want to sit down at your computer and live vicariously through Dan's photos and travel stories, you can.
I met Dan through a Facebook group and I've really gotten into reading his blog. I strongly encourage you to follow his journey.
If you want to read about his adventures in Africa, subscribe to his blog at theroadchoseme.com.
You can also see Dan through his YouTube channel.
I thought this video was pretty cool:
What Jeep owner in their right mind wouldn't love taking their Jeep through that kind of mud!
That's all I have for this post, my friends.
I truly hope you have enjoyed getting to know Dan Grec's story. Follow him, read his blog, but most importantly follow his (and Dr. Seuss's) lead and get out there for a little adventure.
Just remember, You can steer yourself in any direction you choose.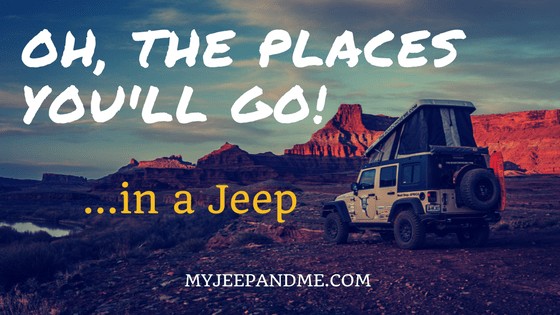 Keywords: Jeep, Overland, Wrangler JKU, Dan Grec, Camping, Africa