What To Look For In A Used Jeep Wrangler? [YJ, TJ, LJ, JK, JL]
This post may contain affiliate links. As an Amazon affiliate, I earn from qualifying purchases.
Of all of the vehicles, The Jeep Wrangler is the one I know the most. It's the vehicle that started my obsession and I am ALWAYS on the hunt to add another Jeep to my growing fleet. This brings us to the topic of what to look for when you are looking to buy a used Jeep Wrangler.
The Jeep Wrangler is an iconic offroader that has been with us since the '80s. It's a rugged vehicle that can tackle any terrain. Plus, since it has kept its design throughout the generations, the Wrangler is reliable (if you buy one that has been maintained) and can go for thousands of miles. But, this very same characteristic makes it hard to find used models with low mileage. In this article, we'll discuss what you have to look for in a used Wrangler.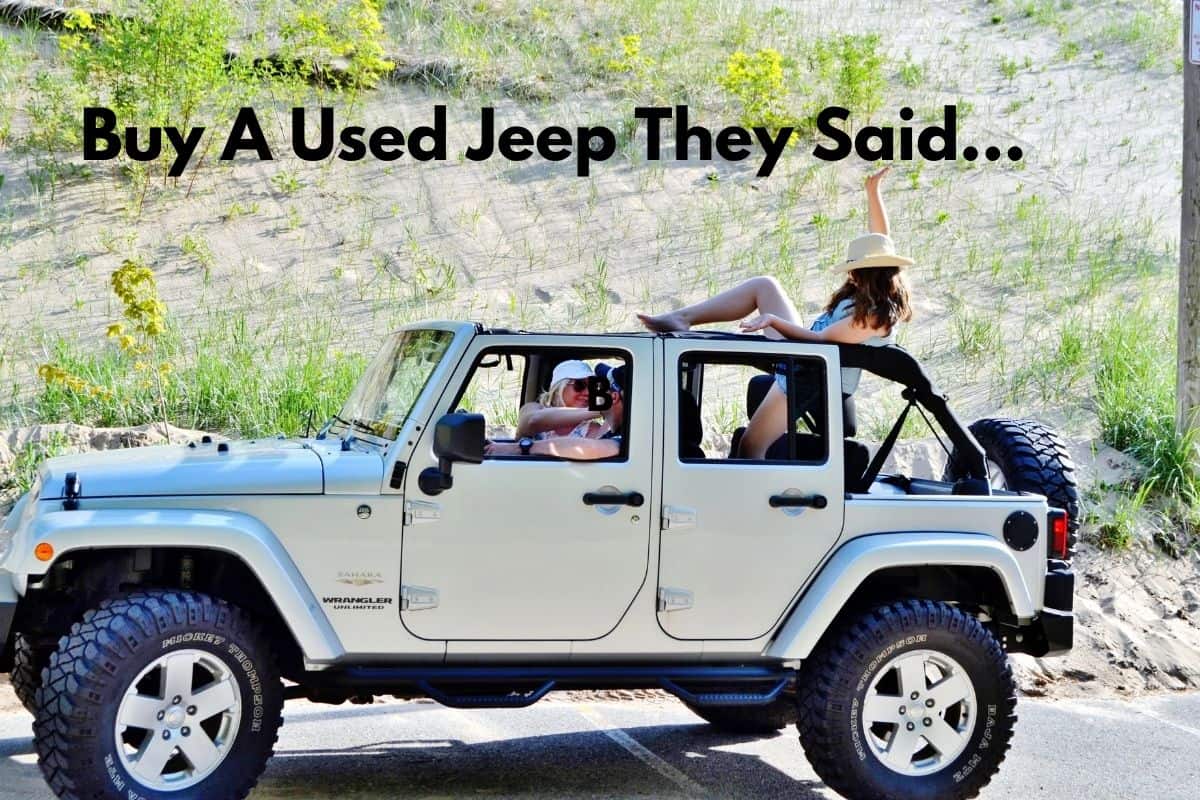 What do you look for in a used Jeep Wrangler?
If you're looking to buy a used Jeep Wrangler, the first thing to look for is evident offroading damage, such as in the frame. Other important issues include the transmission and engine. Since the Wrangler is great for offroading, many issues might be related to aggressive use, but this isn't always the case.
Though the body has had few changes over the years, that's not to say the Wrangler is primitive.
It still holds the same design principle of solid axles in the front and back, plus dependable transmissions and differentials. But, over the years, Jeep has also introduced other driver aids to make it more capable off-road.
The first Wrangler came to life in 1986, back when American Motor Corporation still existed but under the control of larger corporations. Taking strong influences from the CJ Jeeps, there were some design changes.
A sign of the times was the boxier lights and square design. Also, a departure from the CJ was better handling and safety, which sacrificed ground clearance.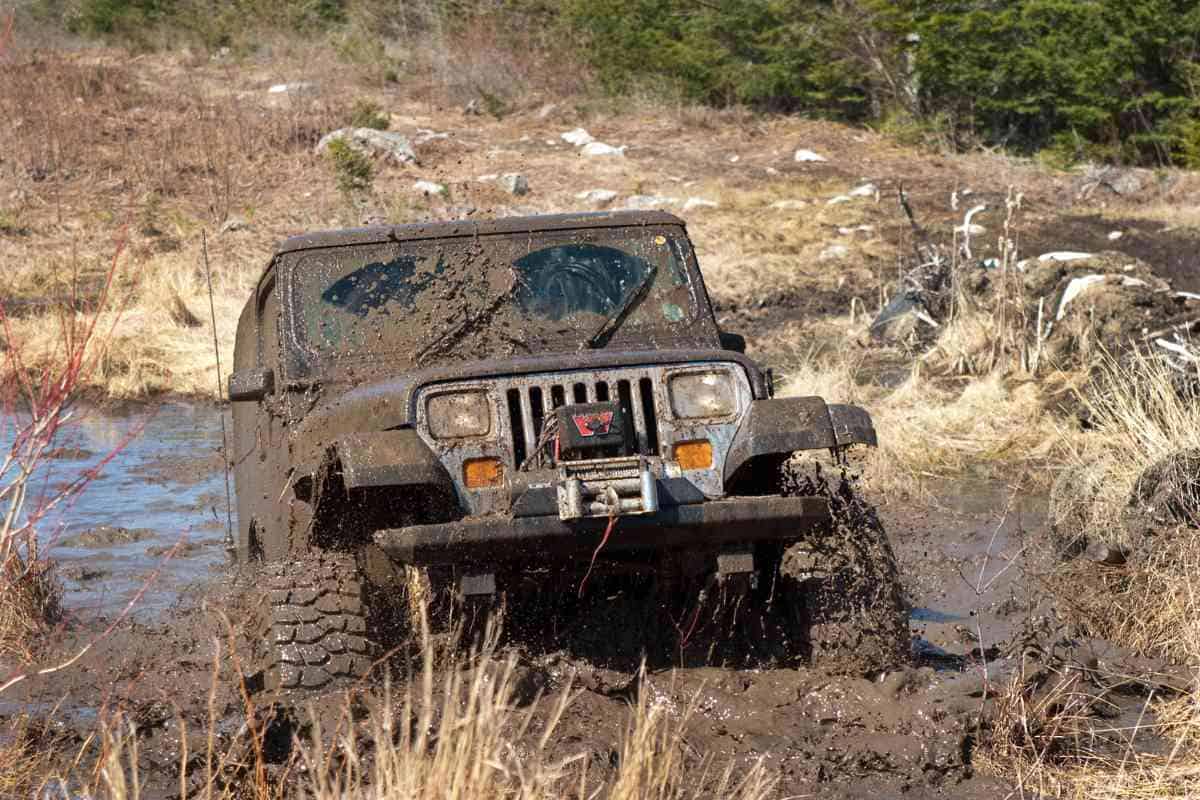 Still, with a tried and true design, the Wrangler proved its capability in off-road conditions. You could have a four-cylinder or an inline-six engine, mated with either a three-speed automatic or a five-speed manual. The first-generation model lasted for close to ten years.
The second generation came into the market in 1996 (as a 1997 model), and it came with a smoother design in some aspects.
But, most importantly, the Wranger continued to improve mechanically. Coil replaced leaf springs, which would be a fixture from then on.
Also, the available trim levels grew in number, and many of them included more robust Dana differentials and a larger axle ratio.
Sales were consistent but not impressive. But, with the following iteration, Jeeps began to grow in popularity.
In 2007, Jeep launched the third-generation Wrangler. This latest iteration came with not only more technological improvements but different body types as well.
For example, you could choose, for the first time, between two and four doors, inconvertible and hardtop. In addition, diesel engines and V6s were now available, plus more and improved transmissions.
The four-door design proved to be a commercial hit. Sales went from 70,000 a year to 110,000 units sold during the first year of the third-generation Wrangler. In addition, trim levels like the Rubicon came with bigger tires and improved interiors.
The company hoped to ride the success with the next generation. In 2018, it launched the fourth and most recent Wrangler, which now came with many engines and body choices.
While there were subtle design improvements, not much changed aesthetically. Plus, Jeep offered a pickup spinoff, the Gladiator, which we've covered in the past.
The Wrangler proved to be a tough, reliable truck that could take you anywhere throughout the years. And that's where there's a bit of a dilemma.
Since most of these vehicles are the number choice for offroaders, it's hard to find them in good conditions. But they come with solid axles and a manual transmission. So, they're desirable, as these features are less frequent nowadays.
In the following section, we'll cover some of the issues you need to look for in a Jeep Wrangler.
Look for these issues in a used Wrangler.
As we've seen, many of the design features in the Wrangler haven't changed throughout the years. For example, it still has solid rear and front axles. Plus, you can still buy one with a manual transmission. These are vital features that raise the price and key aspects to check when buying a used one.
Chassis condition
The Jeep Wrangler is also one of the few offroaders that come with body-on-frame construction. This means that the body rests on a steel frame that adds rigidity and robustness. While the chassis can take a lot of punishment, it's not eternal.
You should check the entire undercarriage from top to bottom. Critical points are the link points with the suspension, wheel arches, and the middle of the frame. If there is any significant sign of rust, it's best to avoid them.
Doing a background check on the Wrangler also helps. Avoid vehicles that lived in the Rust Belt, where snow and salt are frequent.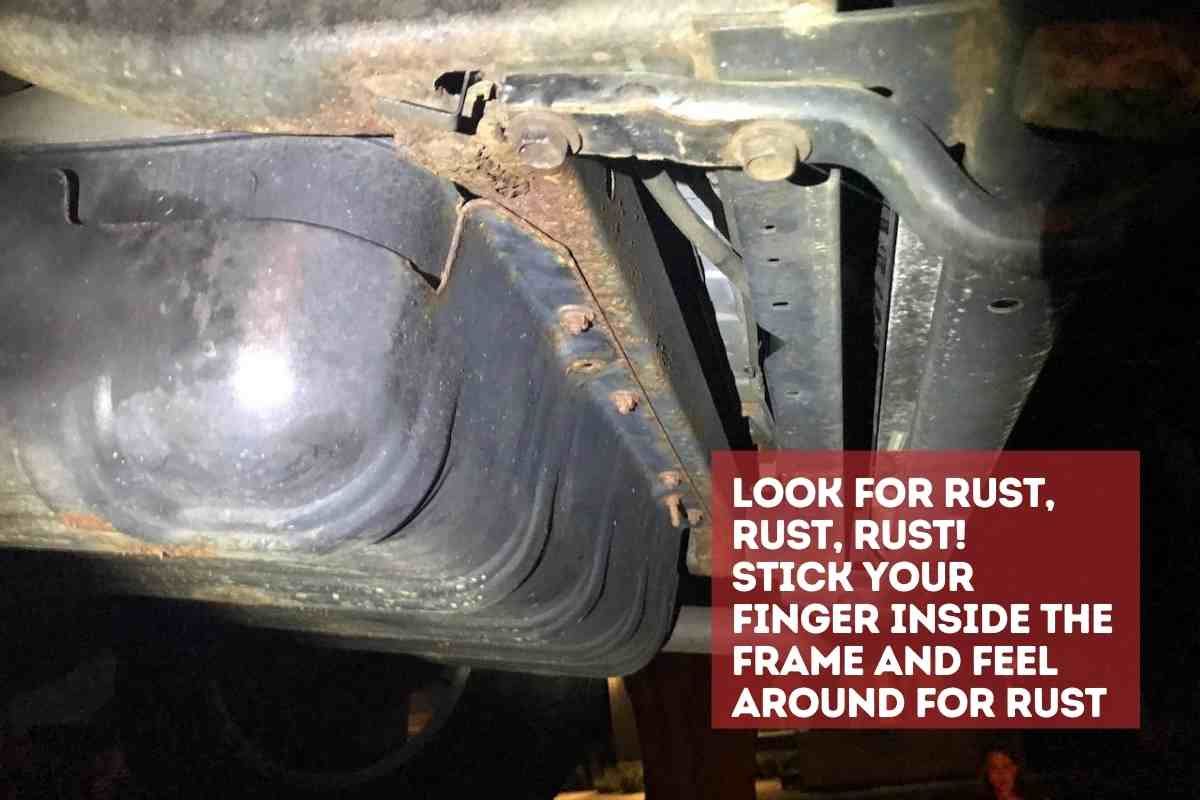 Skid plates
This is an interesting point to look after. Manufacturers put skid plates on the frame to protect the transmission, engine, and differentials from rocks.
So, if you look under your Jeep and find them scraped, bent, or even missing, then that vehicle has seen some rugged terrain.
While this isn't an immediate cause for concern, it's a sign that should be extra cautious with the vehicle's condition.
Tires
That's right, tires are critical in any used car. But, in a Jeep, more so. First of all, one of the most common modifications that you can do to your truck. So many people do them.
But bigger tires are more expensive. So, if you're going to buy a Wrangler with aftermarket rubber, check out its condition. It's not cool to have to dish out hundreds of bucks per tire immediately after purchasing a used car.
Also, be sure to check the tires for uneven wear. If this is the case, it might mean that something within the Jeep's suspension and steering is off.
If you notice that the inside of the wheels is considerably worn out, then it might be a sign of rubbing. This happens when you fit a tire that's bigger than the vehicle can handle. While it's a common modification, it might be a sign of excessive off-road use.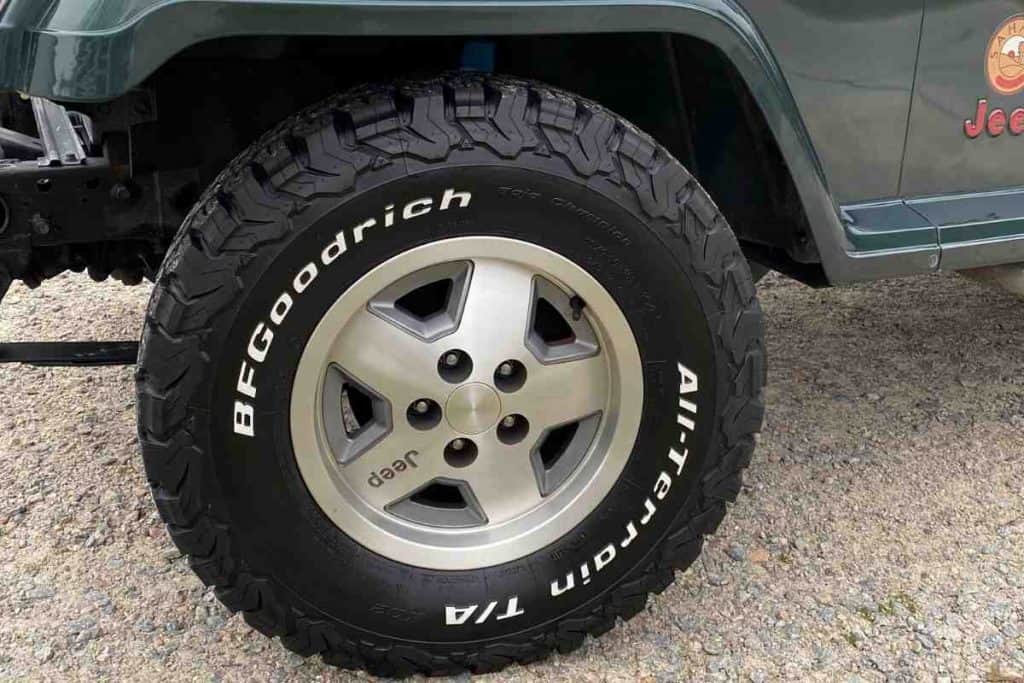 Leaks
A spot is not a good sign. While leaks might be expected on older Jeeps, they might become a nuisance in the future. Check the engine and hoses for cracks. Another helpful tip is to start the engine and check for any leaks.
Now, if oil spots are so common, what's the difference with Jeeps? Well, most cars have oil and transmission leaks due to deteriorated gaskets. But, it might be due to a jagged rock on a long offroading trip in the case of a Wrangler.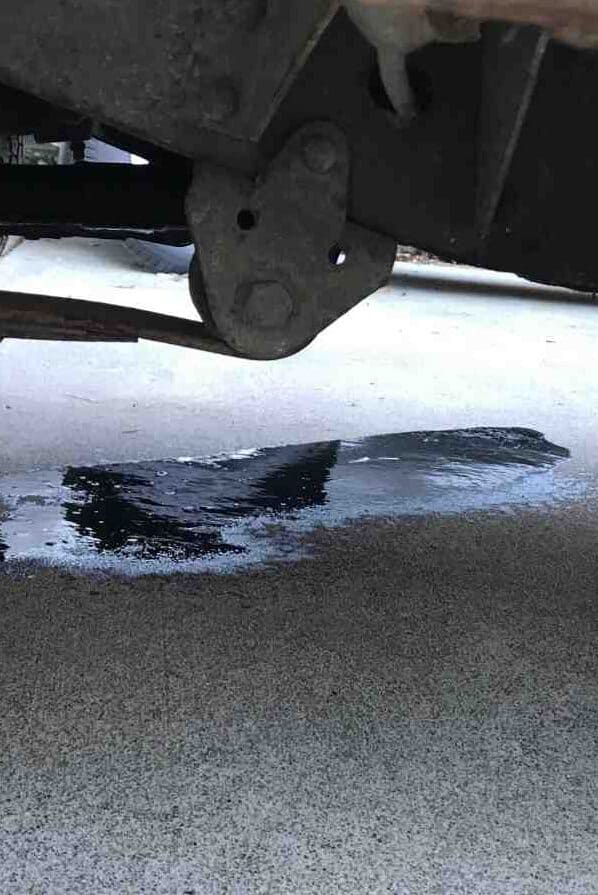 Transmission
One of the components that suffers the most is the transmission. When you're stuck in a rut, an ideal way to get out is by swinging the Wrangler back and forth, which takes a toll on the gears.
Start the Wrangler and make sure that it shifts properly. If it's automatic, then it should smoothly.
If it's manual, feel for any increased friction on the clutch and stick. The transmission shouldn't have a problem with any of the gears, including reverse.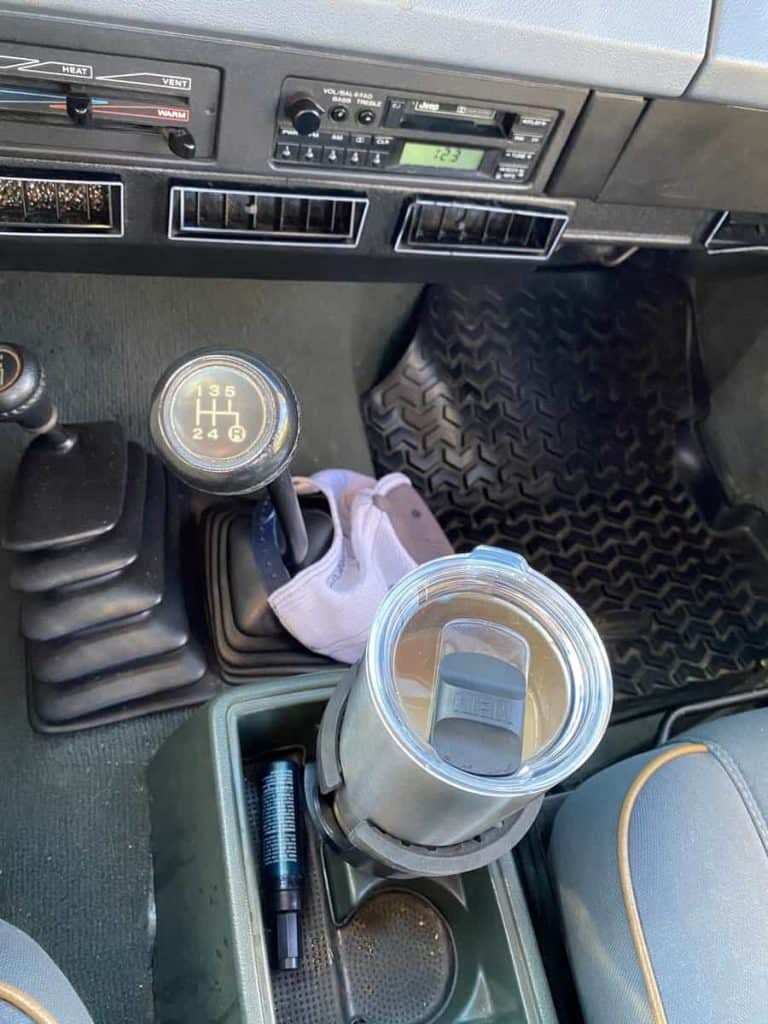 The famous tick
Jeep Wranglers have a tick that's common in most engines. However, this is due to the engine design, so it's not a reason for concern.
But if you notice a loud ticking, then there could be more severe problems. If there's a tick, you should check for compression and other performance aspects.
Modifications
Just as we said with the wheels, the Wrangler is ideal for modifications. This has its pros and cons.
The positive side is that your Wrangler is already one step closer to offroading if you so desire. On the other hand, modifications can be expensive, and buying one that has them is usually cheaper than buying them apart.
The negative side is that the chances are high that the Wrangler has been through some rough days. So, components like the differentials, engine, and transmissions might be nearing their end of life.
Common modifications include suspension kits, bigger tires, and stronger differentials. Check each component to see if there are signs of damage.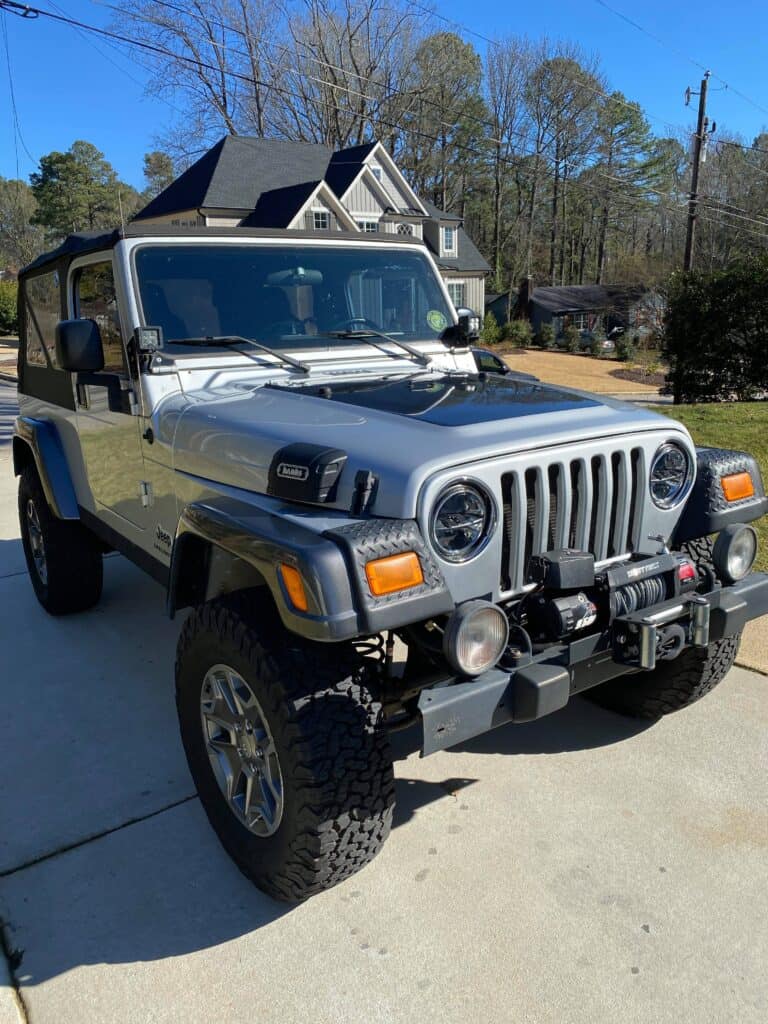 Roof damage
Wranglers are famous for having the option of using a convertible top. This soft roof is ideal for summer days, but it can also be problematic. If it's an older fabric, then leaks can appear, and moisture pools up in certain spots.
Check the Jeep with the roof down, and inspect all around the seal. If the rubber is falling down, leaks have likely occurred, so check for rust in and around the roof.
So, now that we've seen some of the more common problems the Wrangler can have let's discuss which are the best to buy.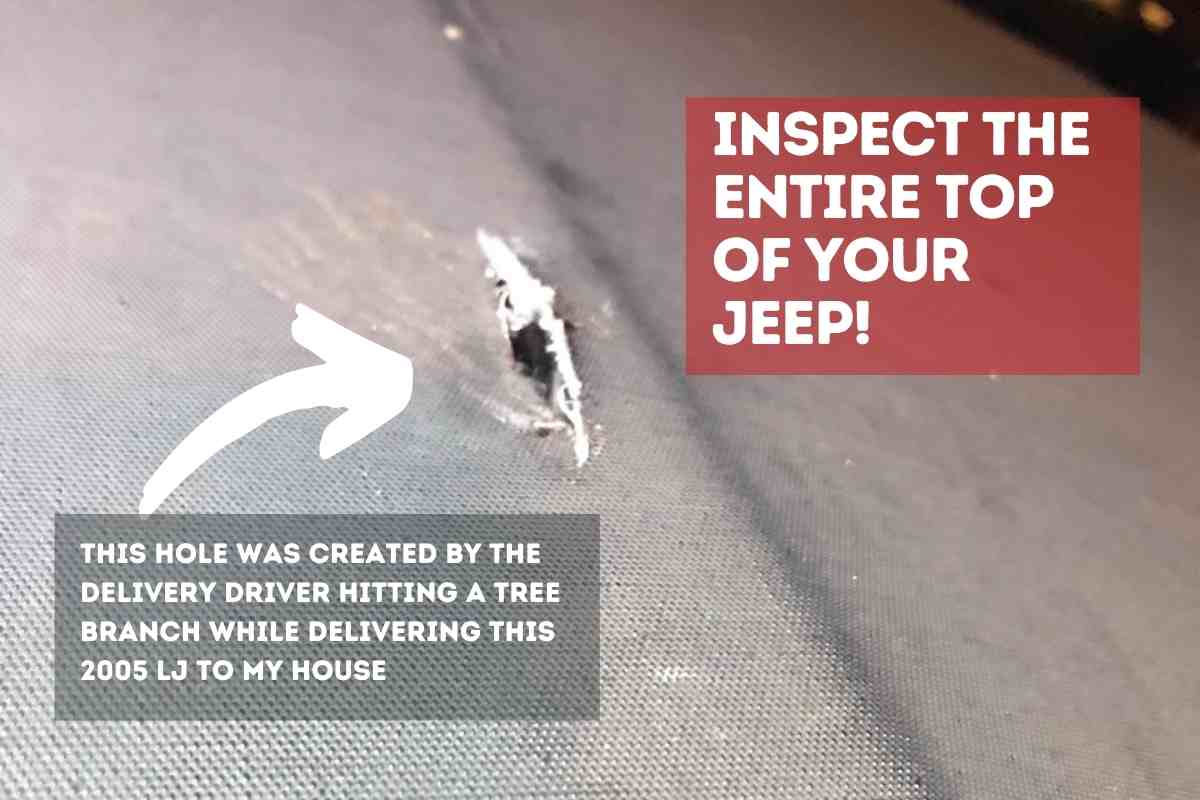 What are the best years to buy a Wrangler?
In this section, we'll look at the best years to buy a used Jeep Wrangler. This vehicle goes through an interesting phenomenon.
Many magazines rate them low, but customer satisfaction is high, on average.
You won't have a great ride on any of the generations. It's usually stiff, and the vehicle has a lot of road noise. So, don't buy one of these for comfort.
Also, it's important to note that finding first-generation models is increasingly hard to find. As a result, they're becoming a rarity.
First-Generation Wranglers (YJ) to buy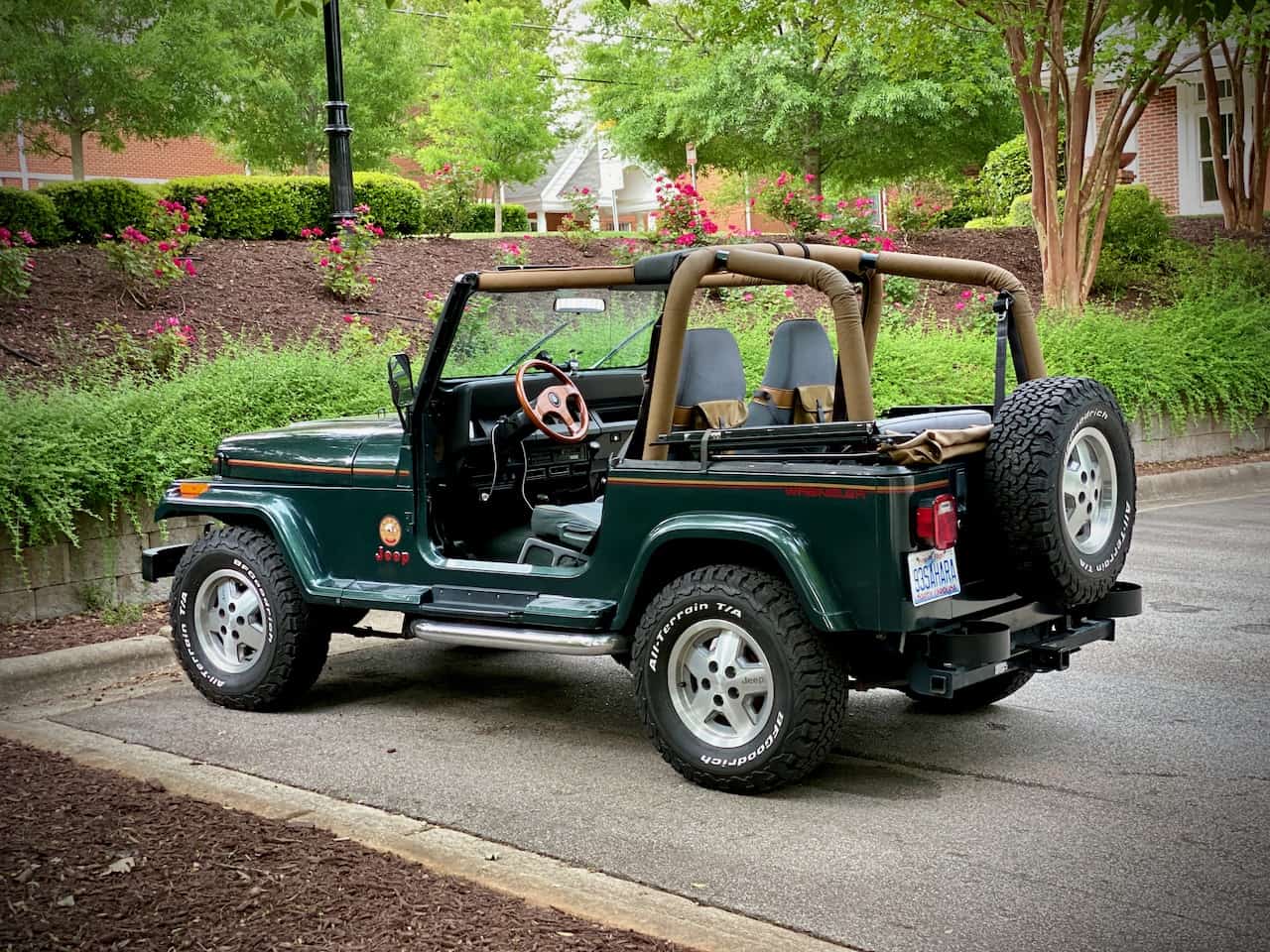 Since the first models rolled out of the factory, they came with an underpowered four-cylinder engine or a carburated 4.2L engine. So, it's best to avoid these. If you want a first-generation Wrangler, the ideal model would be a 1993 example, preferably with ABS, which was introduced that same year.
But, the ideal powerplant is the 4.0L I6, so look for those. Also, the 1994 and 1995 models are great if you're looking for one with an automatic transmission.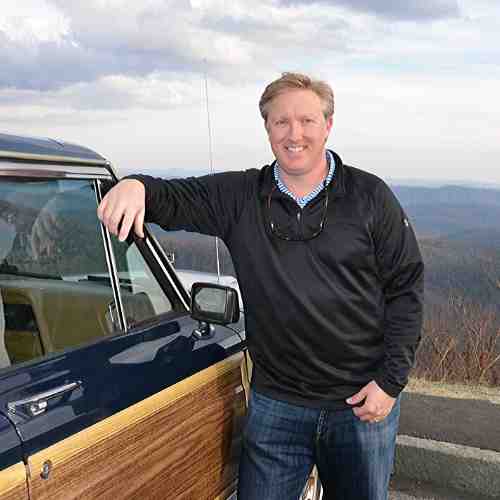 Expert Tip
Here's how to tell the difference between a 93 and a 94 or 95 Jeep Wrangler YJ!

The easiest way to tell the difference between the 93, 94, and 95 YJ is the existence of a 3rd brake light. 1993's did not have a 3rd brake light but in 1994 it was mandated that all vehicles have a 3rd brake light.

Additionally, the 1993 and 1994 interiors were the same with a gray dash and green seat plastic. The 1995 dash front seat plastic was tan.

Now you know too!
Second-Generation Wranglers (TJ and LJ) to buy
Many consider the Jeep Wrangler TJ and LJ from 1997 to 2006 to be the last great Wrangler built. There are lots around. They have a more modern ride quality than the first generation YJ because the TJ introduced a coil suspension over the leaf spring YJ.
This had a lot of Jeep enthusiasts upset at the time. Lifting and upgrading a leaf spring Jeep was much easier and less expensive than lifting a Jeep with coils. Today, however, this is not commonplace but it caused quite a stir back in the late 1990s.
For those looking for a vehicle that you can put through the paces, models from 2001 to 2004 have an excellent reputation with automatic transmission. However, earlier models didn't have onboard diagnostics, which might be valuable in the long run.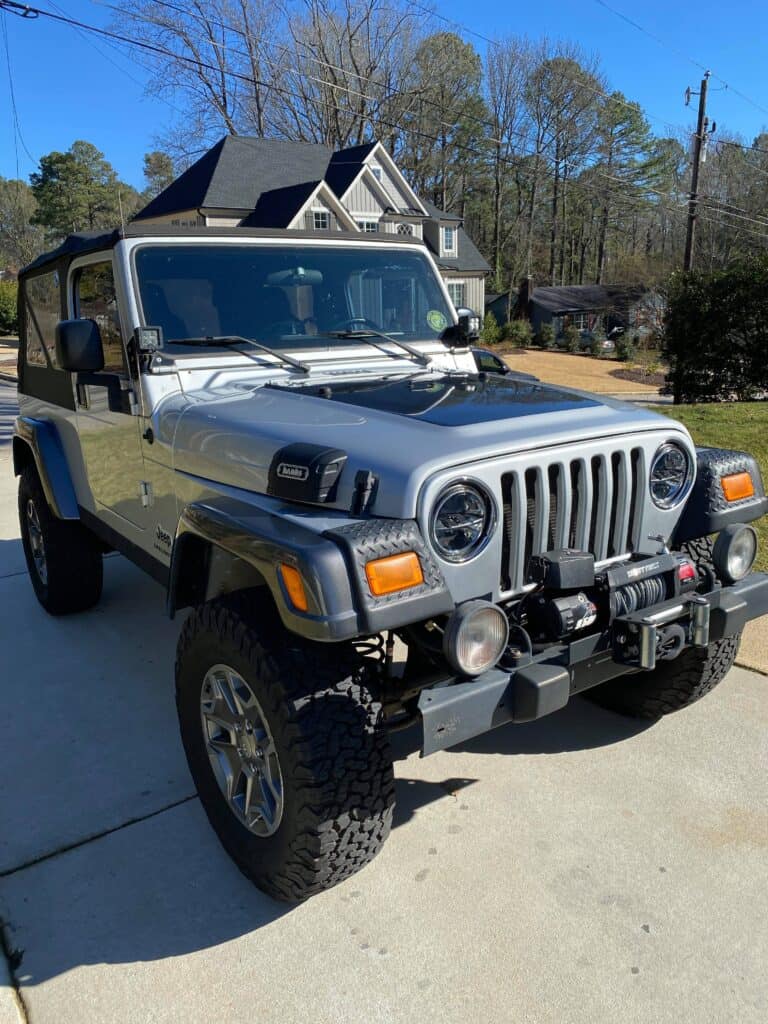 Third-Generation Wranglers (JK, JKU) to buy
Though this generation produced some of the better Wranglers out there, it also produced some you have to avoid. We'll see this in the following section.
The 2010, 2013, 2014 and 2015 model years seem to have less reported issues than other years.
Of these three years, most would suggest going with the 2014 or 2015's because they came with the 3.6L Pentastar engine. The 2010 had the 3.8L engine that often feels underpowered and is known for burning oil.
This being said, if you find a clean example of a 2010, don't let it scare you off. Just know someone will likely give you a hard time about your "minivan engine". If it makes you feel better, when the TJ came out, YJ owners called the TJ a minivan Jeep with its cushy coil ride, airbags and full plastic dash that was a departure from the CJ and YJ style dashes.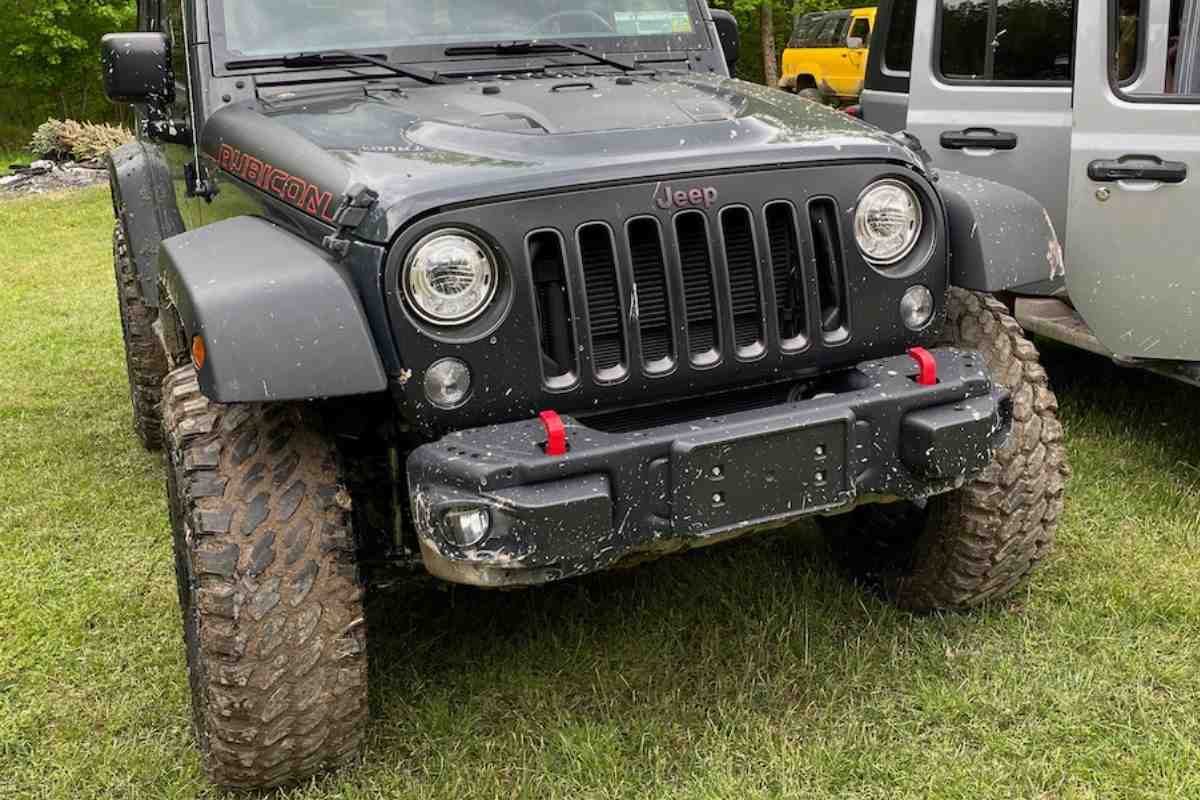 Now the TJ is regarded as one of the best Jeeps ever built. I am not saying this will ever happen with the 3.8L Wranglers, but "you do you" is all I am saying.
Another great benefit of the the Wrangler JK platform is massive aftermarket support. You will be able to customize any JK wrangler any way you like with all of the available parts.
Fourth-generation Wranglers (JL and JLU) to buy
The latest generation has enjoyed quite a good reputation. In fact, several magazines have rated it as one of the least depreciating vehicles in the market. So the ideal engine to go for is the 3.6L Pentastar.
2018 and 2019 Rubicon models are in high demand. You can find them with low mileage, no rust, and proper maintenance. But, in general, any of the fourth generations is a good buy. You do have to be ready for higher prices.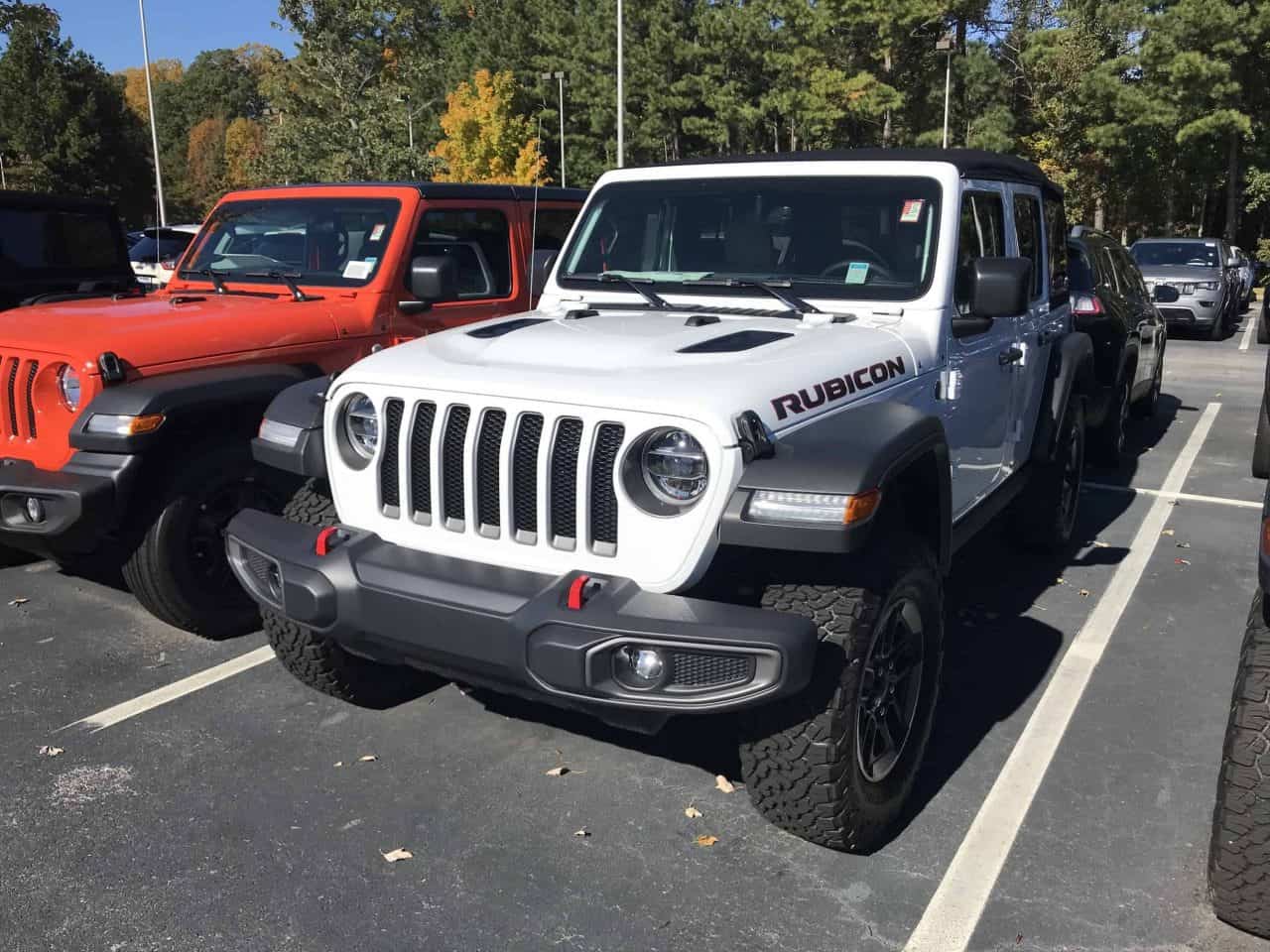 What are the worst years to buy a Wrangler?
Unfortunately, the Wrangler has also had some rough years. In fact, many of the transitional models between generations come with many issues. So, always look to avoid these. Having said that, let's look at some specific models to avoid.
First-Generation Wranglers to avoid
Any Wrangler with excessive rust, especially the early ones, is not a good buy. Plus, those with the smaller powerplant can be underpowered.
Second-Generations Wranglers to avoid
With this generation, a model to avoid is any produced between 2005 and 2006. This is because wranglers had major oil pump issues in these years, and going through a rebuild is expensive and time-consuming.
Third-Generation Wranglers to avoid
The third generation had significant issues when it came to steering. You might remember the famous Death Wobble. Well, it was on this iteration that it happened.
Steering and suspension issues were prominent in 2007 and 2008 models. But that wasn't all. There were also engine failures and airbag issues.
Another troubled year was 2012. These models ranked the lowest amongst all the Wranglers ever produced, and that's saying something. Steering, engine, and suspension issues plagued them. But Jeep worked hard to solve them the following year.
Fourth-Generation Wranglers to avoid
It's hard to pinpoint fourth-generation Wranglers that have had issues due to them being so recent. Conventional wisdom would say to avoid the first model year (2018) since manufacturers are still working out the flaws in a new vehicle.
But, ironically, the 2021 model faced a significant recall, causing many magazines to rate it low and recommend not buying it.
As of the writing of this article, it's just a little too early to determine the long-term reliability of the JL model wranglers.
Closing thoughts
The Jeep Wrangler is an excellent offroader. It can take you anywhere and do so in style. But, it has also had some bad years, with serious issues.
Plus, since it's a preferred choice for the adventure seeker, chances are used models have deteriorated. So you need to look out for rust, suspension, and engine issues.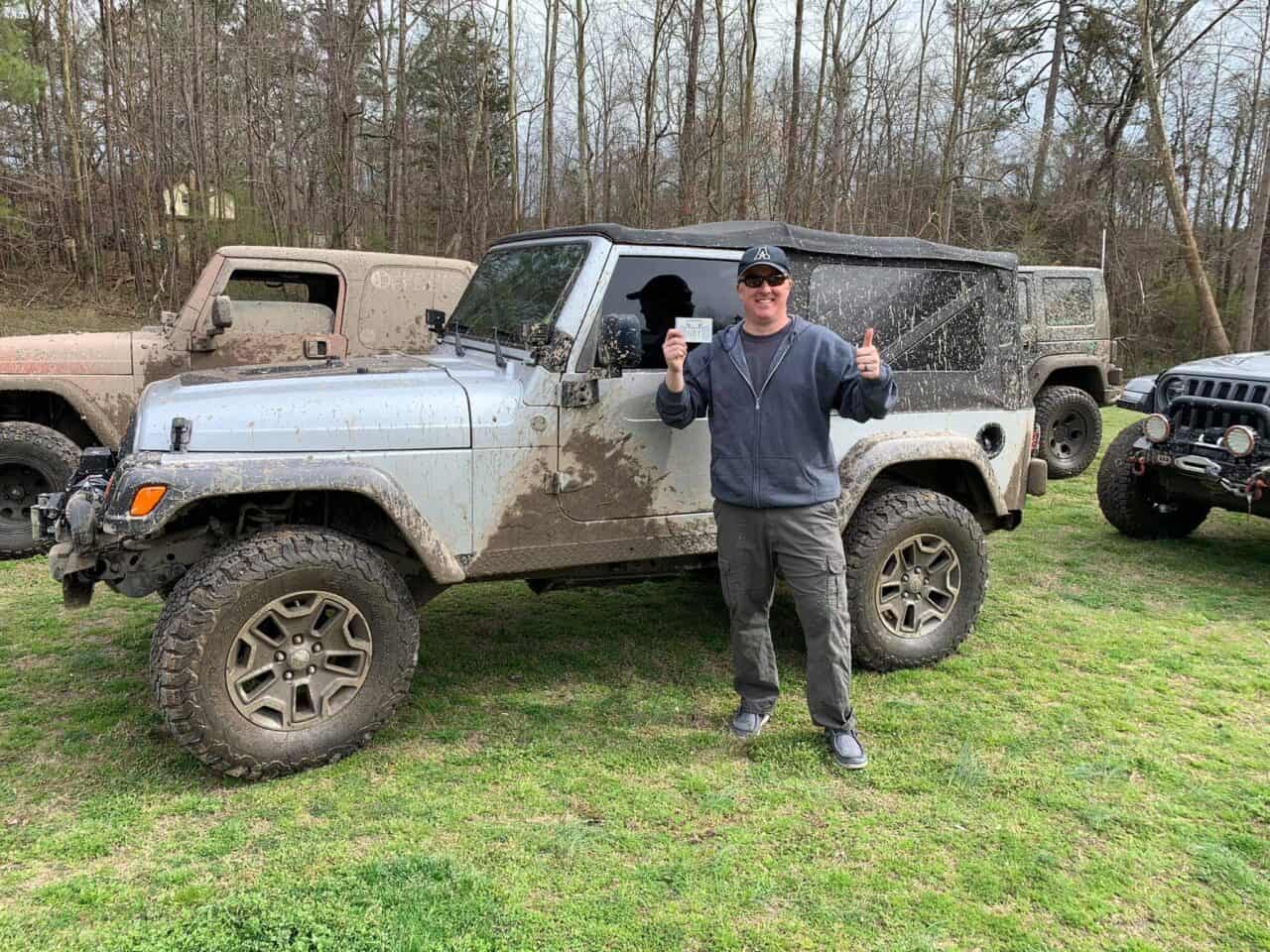 If you find one in excellent condition, you have to be prepared to dish out big bucks. Unfortunately, these vehicles don't depreciate as much. And, given their cult following, prices are usually high.
The second generation is the cheapest, and the fourth is the most expensive. But mint-condition first-gen models also drive a high price.
Fixing up a Wrangler can be an expensive endeavor. But, since it has such a big following, you can find spares and aftermarket components easily. If you buy a modified example, be extra cautious as it's likely it's gone through very tough use.
A Jeep isn't only about driving. It's more than that. Hopefully, this article gives you all the information you need to make that step into one of the most iconic brands in automotive history. So just be on the lookout as it can have an impact on your wallet.