Can You Paint A Leased Car? What You Need To Know
This post may contain affiliate links. As an Amazon affiliate, I earn from qualifying purchases.
Although dealerships don't consider a different paint color as acceptable "wear and tear" on a leased vehicle, that doesn't mean that you'll be stuck driving the car of your dreams in the wrong color. Luckily, there are a few ways you can change the look of your leased car without violating the lease agreement.
You're not supposed to paint a leased car, but that doesn't mean you don't have options: You can paint the car and pay the resulting penalty, plan to paint it twice to restore it back to its original color, or install a removable vinyl vehicle wrap and remove it before your lease ends.
As you can see, there are several decent options if you want to imprint a bit of your own personality on your leased car. Let's take a closer look at whether you can paint a leased car, which modifications you can make, and which damages you can be charged for, so that you don't have to worry about violating your lease agreement.
Can You Paint a Leased Car?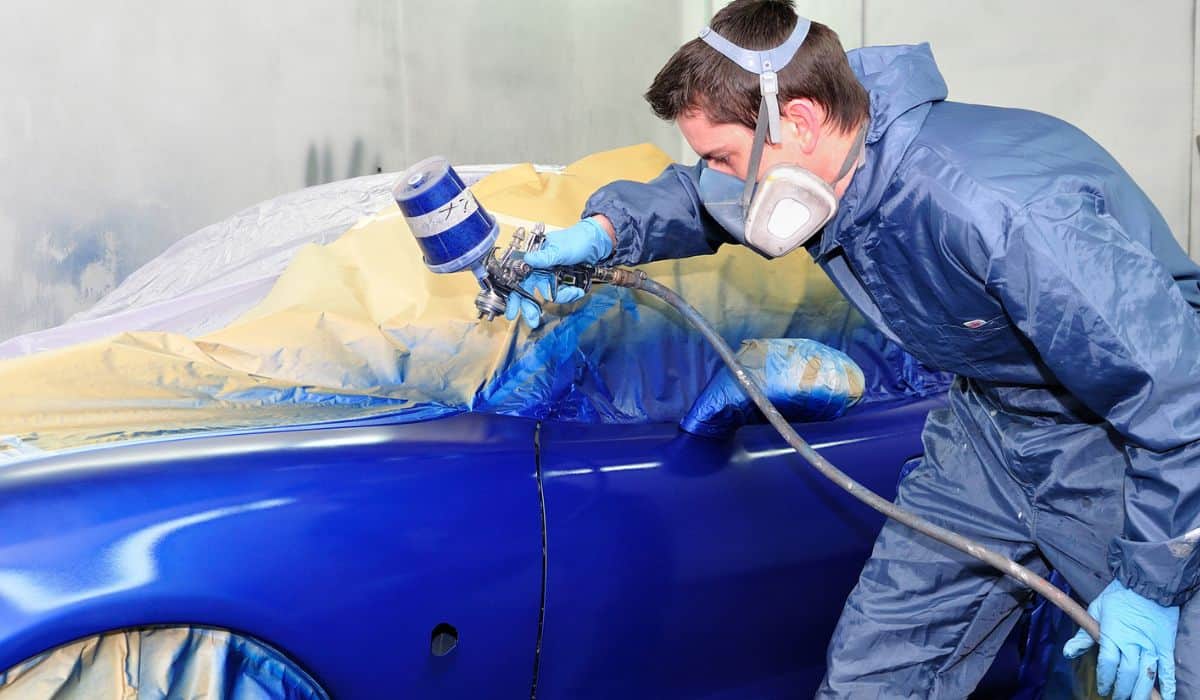 You can't officially paint a leased car without violating the lease agreement (and paying a penalty), but there are a few other ways you can go about changing the look of the car. Let's go through the options in detail:
Paint the Car Twice
If you're dead set on painting your leased car, you could always paint it twice: once for the color you want, and then again to restore the original color.
It's best to research the cost of a paint job and do a cost comparison before settling on your final option. High-end special paint jobs can vary in price from $1,000 to $5,000, so make sure you give the exact brand of paint and the make and model of your vehicle to the body shop for an accurate estimate.
Make sure you also get the quote in writing, and remember that you'll need to pay the amount twice to restore your car to its original color before returning it to avoid any dealership fees or penalties.
Use a Vehicle Wrap
Used for more than simply placing advertisements or graphics on vehicles, vehicle wraps are available in a wide variety of finishes and colors that cover the entire vehicle.
Recent advancements in paint wrapping technologies and materials have allowed car enthusiasts to wrap their cars in stealth matte black (on Amazon), stunning chrome (also on Amazon), and many other unique colors or finishes, such as glow-in-the-dark wraps and 3D animal skin prints.
The best part about vinyl wraps is that you can remove them easily without damaging the car's original paint job. They're even made of materials that help protect your car's original paint from stains and scratches, so you won't have to worry about being penalized at the end of your lease.
Can You Paint the Rims on a Leased Car?
You can't paint the rims on a leased car, as you'll be penalized for doing so. However, if you do want to change the appearance and color of your tires, you can add a removable vinyl wrap (on Amazon) to the rims.
While this will help protect the original paint underneath from scratches, stains, chips, fading, and other cosmetic damage, keep in mind that the constant mud, brake dust, dirt, ice, and leftover oil may quickly dirty the wheel wrap.
What's the Penalty for Painting a Leased Car?
Each lease is different, but almost all leases include an excessive wear and tear clause. Make sure you don't depend solely on the words of the salesperson at the time of signing, as verbal agreements have absolutely no legal standing in lease contracts.
If your lease agreement doesn't specifically mention painting the car, ask a salesperson to identify the section that highlights the cost or penalty of painting the leased vehicle.
If the contract doesn't mention the cost or penalty of a custom paint job, carefully go through other sections of the agreement, particularly those that deal with the disposal fee, security deposit, and other penalties.
What Modifications Can You Make to a Leased Car?
It's important to note that you can only make temporary modifications to a leased car. So, make sure that you only opt for modifications that you can remove once your lease agreement ends.
It's also best to stay away from modifications that can't be easily reverted, such as supercharger and turbocharger systems, ECU tuning upgrades, and permanent bodywork.
What Damages Will You Be Charged For?
Before leasing a car, it's important to understand what exactly you can be charged for once your lease agreement ends. To help you avoid penalties, here are some of the most common components you could be charged for:
Tires
Before you return your leased car, make sure you check the tires. If there's less than 1/8th inch of tread, it's better to replace the tires yourself. The same goes for mismatched tires when you have one brand in the front and another in the back.
Tires are one component that a lease inspector will always check, so it's better to replace and pay for them yourself instead of paying whatever the automaker charges.
Bumpers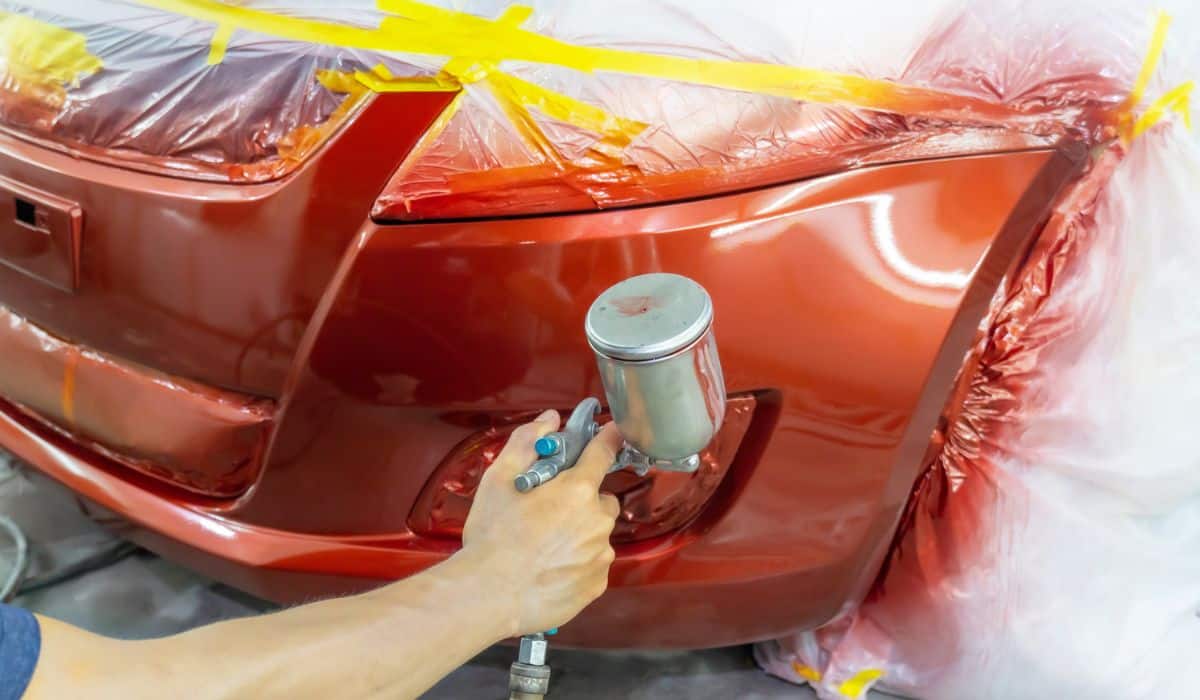 If your car's bumper has been dented by another car or has been scraped to the point that the paint has come off, then you're much better off going to a body shop and having it fixed yourself before your lease ends.
This is another area that's commonly checked for damages, and the cost of getting it fixed before the lease ends is going to be much lower than the cost the automaker will charge once you return the car.
Glass
A cracked windshield will definitely violate your lease agreement, and you won't be able to talk your way out of any other chipped or cracked pieces of glass either.
It's better to get cracked glass fixed before your lease ends or you'll end up paying an exorbitant cost that the automaker decides upon.
Dents
Most dents don't fall under the definition of wear and tear. A rule of thumb is that if the dent is smaller than a quarter and there's no damage to the paint, then you won't have to worry.
Otherwise, it's best to call a dent repair company. These companies are usually mobile and will be able to get dents out of body panels and doors for a much lower cost than what the automaker will charge.