How Long Do Jeeps Last?
Whether you are currently the proud owner of a Jeep or if you are looking to buy a new or used Jeep, you may want to know the answer to the question: How long do Jeeps last?
How long a Jeep lasts can depend on how it's used and cared for as well as what model of Jeep it is. Jeeps are great cars that have a reputation for good function over time even with years of use.
With the proper maintenance, your Jeep Wrangler or Jeep Cherokee can last for many years. In this article, we will answer some of the most frequently asked questions about how long a Jeep lasts, how to get the most mileage out of your Jeep, and how much it costs to do things to your Jeep such as lift it or wrap it.
How Long Will a Jeep Wrangler Last
One of the reasons why Jeep Wranglers have been popular cars for so long and continue to be manufactured is because they are so durable.
They are made out of high-quality materials and with a rugged construction meant to withstand the harsh conditions of off-roading. For these reasons, Jeeps are some of the longest-lasting and best-performing cars.
You can expect to get many years of use out of Jeep Wrangler as long as you take good care of it and perform the proper monthly and yearly maintenance.
Jeeps have been around since the Second World War and they continue to be one of the most reliable cars on the market to this day. A Jeep can last 20 years or more with the right maintenance.
How Many Miles Do Jeeps Last
The average expected mileage on an older Jeep Wrangler with the 4.0L engine is about 250,000 miles. At this mileage you can expect to see more problems develop with the function and operation of the vehicle and parts will require replacement to keep the Jeep running correctly.
If the Jeep has been well taken care of, I have talked to Jeep owners getting close to 400,000 miles out of their Jeeps. The true answer to the question of how many miles a Jeep will last depends on how you take care of it.
Tips For Making Your Jeep Last Longer
If you want to make the most out of your Jeep Wrangler or another model of Jeep, this guide can help. We have answered the question: How long does a Jeep last? And the answer is that how long a Jeep lasts will depend on how well you take care of it.
These are reliable cars with durable constructions that will not easily break down, if you follow these tips you can make your Jeep last a long time.
Do Regular Car Maintenance
There is regular maintenance that is required to keep your Jeep running smoothly. Doing this regular maintenance on the Jeep is the number one contributor to how many miles you can drive a Jeep Wrangler.
There are many Jeep Wranglers and Jeep Cherokees that are still out on the road even after years of service, and this is because they have been well maintained by their owners.
The hardware in a Jeep is meant to last, but regular maintenance is the only way to keep it running for the maximum amount of mileage.
What Maintenance Should You Do To Keep Your Car Running For a Long Time?
The following tips and guidelines for doing maintenance on your car can actually apply for all models of cars. Doing this regular maintenance will keep your car running smoothly for years and years.
The mileage you can drive to and the lifespan of your car can depend on whether or not you perform the following maintenance as required. Below this section, there is another paragraph that outlines Jeep specific maintenance that other cars do not have.
Check tires – the tires on the Jeep should be checked monthly for air pressure and tread. If the tires are not properly aligned this could also cause issues with the steering. Keeping the tires well aligned and appropriately inflated is important for keeping your Jeep Wrangler or Cherokee on the road. Checking the tires is an easy maintenance that you can do from home or at many gas stations for free or a few quarters. The wheel alignment should be checked every 20,000 miles.
Check front and back lights – the lightbulbs in your Jeep Cherokee or Jeep Wrangler can go out over time and could even indicate an electrical issue with the wiring. Checking the lights should be done monthly. Making sure that your lights are functional should be included as a part of the regular maintenance because if a light goes out it could cause an accident or cause you to get a legal ticket that you will have to pay.
Oil change and filter – it is recommended that you change the oil and filters in your car every 3,000-5,000 miles. You can do the oil change yourself at home if you have the correct tools or you can take your Jeep to a trusted mechanic. Regular oil changes are essential to getting the most out of your Jeep. If you are wondering how often a Jeep needs an oil change, you can expect to get one about every 4,000 miles or every three months depending on how much you drive on average per day. The oil change is the perfect time to tune up all aspects of the vehicle under the hood that may need tuning or lubrication.
Tire rotation – about every 7,000 miles you should rotate the tires and balance the wheels. Another way to measure how long it has been since you have had a tire rotation is by time. Every six months or between 6,000 and 8,000 miles is how often you should rotate the wheels on a Jeep Cherokee or Jeep Wrangler.
20,000 mile maintenance – after 20,000 miles there is another set of maintenance that should be performed. You will want to change the air filters in the car first of all. This is fairly simple to do, but be sure to purchase a high-quality filter that is made for your model of Jeep and not a cheap knock off version. You may want to consider replacing the wheels on the car at this point as well, and check the wheel alignment. At this point you will also check the drive belt, hose, and engine timing belt for performance and safety, updating parts as necessary.
What Type of Maintenance is Jeep Specific?
Jeeps are a great car for on-road operation, but what draws many people to them is their off-roading capabilities. If you are looking for a Jeep Wrangler or a Jeep Cherokee for heavy-duty off-roading activities, you will need to perform additional maintenance to the regular requirements for most cars.
Here is a quick guide to what kind of maintenance you should expect from a Jeep Wrangler or Cherokee that is used for heavy-duty off-roading.
Check tire pressure more often – if the Jeep is lifted or it has larger tires this step could be even more important, but you will need to check the tire pressure more often than once a month if you are planning for using the Jeep in, potentially dangerous, off-roading activities. You should check the tire pressure before you begin off-roading and check it again after the activities, before you drive the Jeep on-road to see if there are any changes in the tire pressure.
Align the wheels more often – off-roading activities can mess up the alignment of your tires quickly. You should check the alignment more often and have your tires aligned once every three months on a Jeep that is used for off-road mudding or other activities.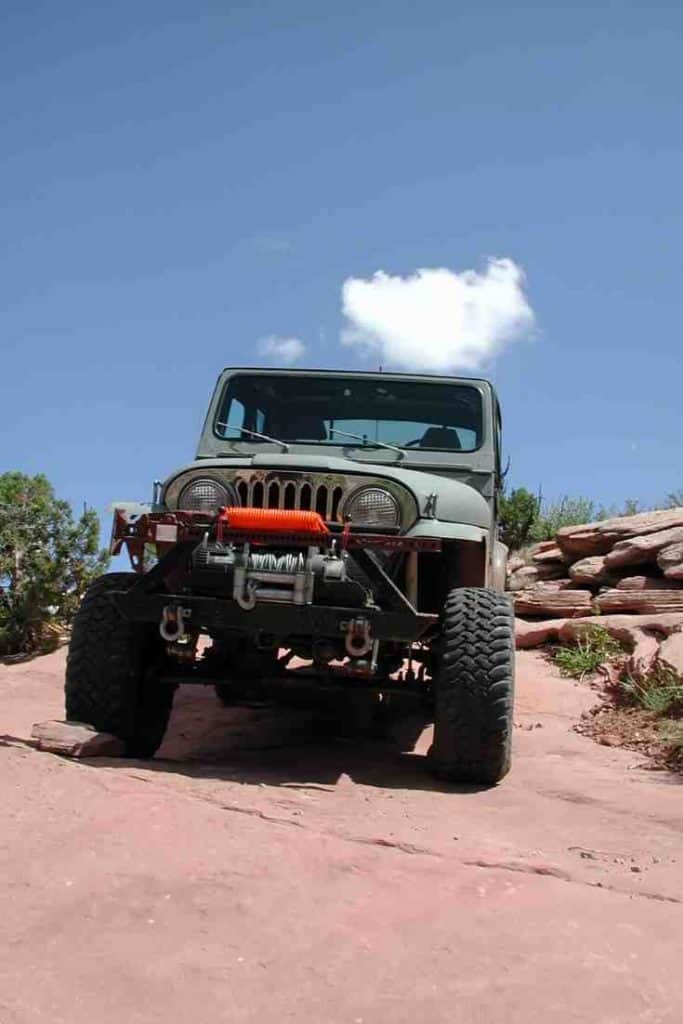 Watch out for mud and water damage – if you are taking your Jeep off-roading in terrains with mud or water, you should be aware that these liquids and the mud can cause problems for the vehicle if the Jeep is not properly maintained. Mud and snow can actually work its way inside certain kinds of Jeep brakes during off-roading, making it harder to get the traction you need to start the vehicle. As long as you clean out the brakes in between use you should be fine. Fluids in the differentials will need to be replaced if you drive over water that is deep enough to cover the tires.
Replace the filters more often – going into rocky, muddy, off-road terrains can cause more dust and dirt to build up in the filters. You can cut the time in between maintenance in half when you consider the damage that off-roading does to the system if you do not replace and clean the parts as you go. The air filter and all other filters should be replaced every 10,000 miles or so when you take the Jeep off-road.
Related Questions
Painting Your Jeep Hardtop
In addition to the maintenance needed to keep your Jeep functioning correctly, if you want to keep your Jeep looking as good as new. When you take a Jeep offroading it is common to get scratches and other surface imperfections on the hardtop.
You can paint a Jeep hardtop if you use the right paint. The difficulty and the expensiveness of the project will depend on what model of Jeep you have and why you are painting the hardtop.
Touching Up Scratches on a Jeep Hardtop
Some people like to call the scratches on their Jeep hardtop "scars", but we like to call them "covered up" with the OEM black touch paint from Mopar.
This touch up paint is made by one of the best manufacturers of Jeep goods and accessories on the market. Many people have found that this brand of touch up paint is very effective for covering up scratches on a Jeep hardtop, better than their competitors.
If the texture of the scratches is visibly raised or indented, there may still be some sign of the scratch after painting it, but you probably will not notice unless you are close up and looking for scratches as the paint will blend everything together.
Painting the Entire Hardtop
Painting the entire hardtop of a Jeep is a task to take on, for the best results you may want to leave it up to the professionals who will get the job done for less than $500.
However, if you do want to paint the entire hardtop yourself, we have a few tips. Clean the hardtop really, really well. You want to make sure that any sort of dirt, wax, and grease has been completely removed from the surface of the Jeep.
Using a heavy-duty dish soap is perfect for cutting through grease. Precision is essential for a good paint job. If you want the best results, you can expect to spend several hours sanding the surface of the hardtop and masking the vehicle to get perfectly clean lines.
You will wish that you took the time or spent the money to pay a professional if you do a bad job on the paint because it will make the Jeep look cheaper immediately.
How Much Does a Jeep Wrap Cost
After a while you may want to get a total body wrap for your Jeep. If the Jeep is used for off-roading it can need a wrap to prevent scratches and damage from driving through the woods, rocks, or mud.
The vehicle is naturally made out of very sturdy and hard to damage materials, but it can also be wrapped in vinyl which makes it even more sturdy and hard to scratch.
Jeep Wranglers are perhaps the cheapest model of Jeep to get a wrap for because it is easiest to take apart and put back together. If you want to know how much it costs to wrap a Jeep, this section of the article can help.
How Much Does Vinyl Cost?
If you are wrapping your Jeep in vinyl, you may want to buy the materials yourself and then either pay someone else to install them or do the wrap, or you could do it yourself with the right tools.
For a custom print job on the vinyl wrap, you will need to go to a professional shop, but if you are looking for a simple black color you can expect to spend between $500 and $100 on materials, plus whatever you spend on labor.
How Does a Vinyl Wrap For Jeep Work?
The wrap process for a Jeep is not very labor-intensive. You can do it yourself or have it done at a shop for a reasonable price. It does, however, take a lot of patience to get it just right.
Vinyl is applied to the surface of the car with heat like a giant sticker, and any surface perfections may show through if the car is not prepared properly for the wrap.
How Much Does a Jeep Wrap Cost?
At a professional shop you can expect to easily spend between three thousand and five thousand dollars on a Jeep wrap. If the Jeep is a hardtop model it will be even more expensive as there is more surface area to cover.
Paying somebody else to do the job will ensure that it gets done right without damaging any of the parts, which is why a professional wrap job is recommended before a DIY one. Wrapping a Jeep can be difficult and take an extreme amount of patience that most people do not have.
How Much is it to Lift a Jeep Wrangler
If you want to lift your Jeep Wrangler for aesthetic, or appearance, reasons then you should go with a simple leveling kit. If you use a leveling kit, it will balance out the front tires with the back tires, which naturally makes the Jeep sit a few inches taller.
The added benefit of lifting the body of the Jeep by an inch is that it allows you to replace the stock tires with much larger tires for off-roading.
The larger tires will lift the car further off the ground as well. If you want a lifted Jeep Wrangler for off-roading, you will need to go for a complete suspension lift which is a more complicated and more expensive process that a body lift.
You can also combine a body lift and a suspension lift for even more of a boost. For a simple body lift you can spend as little as $200, whereas a suspension lift (2-4 inches or more of lift) can cost upwards of $1,000-$2,000.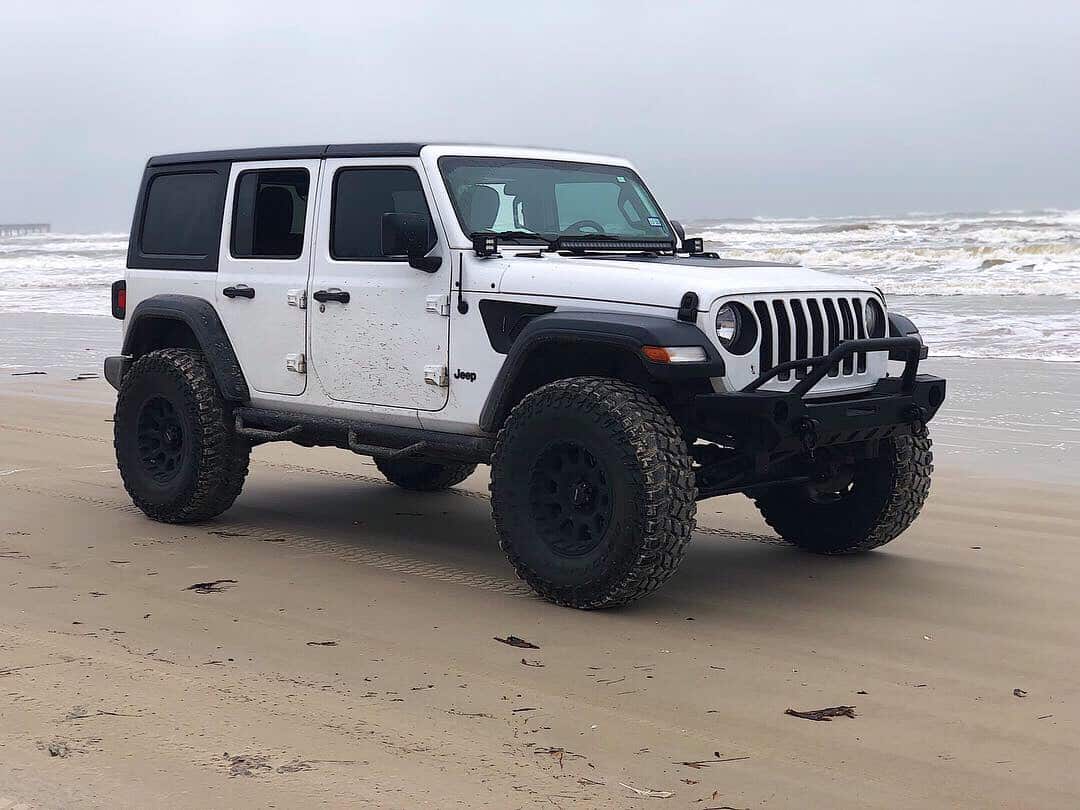 Conclusion
In this article, we have given you an overview of how long Jeeps last if you take care of them right, how to do the proper maintenance on your Jeep, and some tips for wrapping and painting your Jeep to keep it looking brand new for longer.
This handy guide is meant to help you whether you are a current owner of a Jeep and you are looking for ways to extend the number of miles you can drive it, or you are looking to purchase a new Jeep and you want to know how long you can last, we have the answers.
Following the tips and guidelines set by this article can help you keep your Jeep Wrangler, Cherokee, or another model on the road for longer. Thanks for reading!
Popular Jeep Accessories
$5.97
Bestseller No. 1
Bestseller No. 2
CALBEAU Front Door Side Insert Storage Pockets Box, Door Storage Pockets for JK, Door Net Pocket Replacement for 2011-2018 Jeep Wrangler JK JKU 2/4-Door(2020 Upgraded Version)
★100% Quality Assurance - CALBEAU Front Door Pockets Box is a good product. This front door storage box is made of ABS plastic. sturdy and durable, safe and convenient. Excellent impact strength, abrasion resistance, rigidity, and chemical resistance. The surface is flat and tightly connected. Drove on an extended road trip and they didn't drop down even once.
★More Storage - Expand storage space and organize space, provide convenient car life for your Jeep Wrangler and replace the original jeep's original mesh bag to keep the car tidy without worry about annoying looseness and mess. Suitable for putting paper towels, bottled water, cell phones, sunglasses, hand creams, wallets, keys, etc. Great for your car life.
★Easy Installation - Easy to snap in to place. No tools are required. Took about 1 minute to install per side. Just align the buckles around the storage box with the holes in the door, and you can easily install it. Don't need double side tape. An extra area to put a drink or extra items.
★Professional Design - CALBEAU front door storage bag is specially designed for 2011-2018 Jeep Wrangler JK JKU 2 and 4 doors. The new version has longer snaps around the old storage box for greater stability. CALBEAU product team values customer review and user experience, and we have improved the product based on the customer feedback. CALBEAU product Team developed this Door Net Pocket Replacement Storage Boxes to providing a solution for jk owners.
★Service Guarantee - You can use it for a period of time, if you are not 100% satisfied with the CALBEAU door pocket storage bag, just contact us within 30 days . We will do our best to solve your problems and make you have a pleasant shopping experience. Looking forward to your purchase, It is suitable for you.
$6.42
Bestseller No. 3
HITBEAM for Jeep Wrangler Accessories JK Unlimited 2011-2018 Jeep Wrangler JK JKU 2-door/4-door, Interior jk Accessories, Organizer Grab Handle Car Accessory Box Black
🔧 【Suitable】:For Jeep Wrangler Accessories JK JKU 2 4 Door 2011 2012 2013 2014 2015 2016 2017 2018
🔧【Extra-storage】: It can helps Jeep JK owners add extra storage space on the passenger grab bar so that they can put some small personal items such as kid's toys, key, change, credit card, mobile phone, paper towel, sunglasses, etc.
🔧【Material】:This grab bar storage organizer accessories is made of high quality ABS material, and polish process for deformation protection, anti-corrosion, rugged and durable.
🔧【Easy installatlon】:No need for extra tools or drilling holes, just put it in passenger grab handle
🔧【Meet Your Expectations】 Our top priority is that you are satisfied with our product. Feel free to reach us if you have any questions about your purchase, we will gladly assist you at any time!
Bestseller No. 4
Rydonair Antenna Compatible with Jeep Wrangler JK JKU JL JLU Rubicon Sahara (2007-2021) | 13 inches Flexible Rubber Antenna Replacement | Designed for Optimized FM/AM Reception
VEHICLE FITMENT: The RYDONAIR rubber antenna fits Jeep Wrangler JK, JKU, JL & JLU 2007+ & Gladiator (All Jeep Wrangler models 2007 thus 2021, but not for older year models).
HIGH QUALITY: Allows shape memory so antenna springs back into shape when bent. This wrangler antenna is made of premium rubber which can sustain under extreme weather conditions.
STYLISH LOOKING:The Low Profile 13" antenna can Improve the look of your Jeep Wrangler by replacing your 31" long metal antenna. The real carbon fiber column on the bottom offers great looking and also helps the base holding onto the mount.
EASY INSTALLATION: No tool needed, the antenna can be easily screwed onto your antenna base within seconds.
RECEPTION PERFORMANCE: Through thousands of experiments, we worked out the preferable structure for short antennas that performs better in reception on either AM or FM bands. Compare with the other short antenna with normal structure, our 13" antenna is much closer to the OEM antenna in reception. If you're not satisfied with the performance, just simply return it and we will have you full refund!
$3.75
Bestseller No. 5