Wagoneer Armrest Quick Fix
This post may contain affiliate links. As an Amazon affiliate, I earn from qualifying purchases.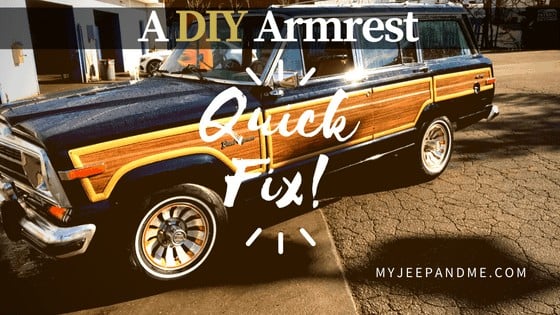 Eventually, every Jeep owner will need a quick fix for their Grand Wagoneer armrest. In this blog post, I will help you understand how I quickly reinforced mine.
The reality is, I didn't know this was an issues. But everything becomes an issue when you are trying to keep a 30+-year-old Jeep on the road. The reason the armrests, the once attached to the door, need help is because the interior is made of plastic. After enough years, they get brittle and break. As this starts to happen Jeep owners start to cringe each time someone closes their doors with the armrest and not the chrome handles. I know I was guilty of this too!
So here is the process I used to fix my

Jeep Grand Wagoneer armrest

…
First I used epoxy. I already had some from my tailgate window upgrade (another post). I used the JB Weld quick set.
Epoxy requires you to mix the two pastes together. One is black the other white. Once you stir is correctly it turns gray. Then you can work with it.
Once the epoxy is ready to use, smear it on the plastic around the opening on the back of the Wagoneer armrests. You can use plenty of epoxies as long as you do not clog the hole.
You can see, I was not trying to be perfect, I just wanted to cover the area all around the opening, but not allowing the epoxy to fill in the opening. You have to be able to get the screw through to attach the Wagoneer armrest back to the Jeep door.
The next thing I did was carefully place a metal washer in top of the epoxy. I was very careful to align the top of the opening, which is curved, with the curvature of the inside of the washer.
Take a look…
This picture also shows how other parts of the plastic has cracked. I did not fill these cracks with epoxy. I will keep an eye on them to make sure it does not get worse. If it does, I could use epoxy there too.
So that is how I used epoxy and metal washers as a quick fix to reinforce the armrests on my 1987 Jeep Grand Wagoneer.
Here are some additional photos I took during the project.
Before photos:
The Epoxy Process:
Putting the Wagoneer armrest back together: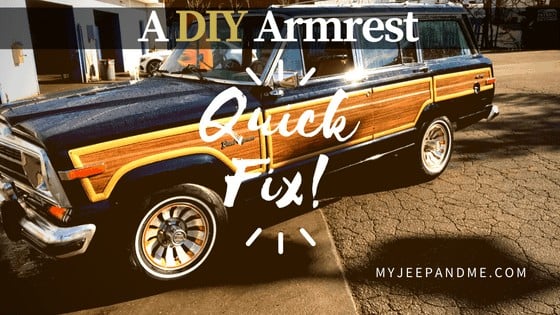 Keywords: Jeep Grand Wagoneer Armrest Quick Fix, Wagoneer armrest, #JeepLife, #Wagoneer, MyJeepandMe.com