No matter what anyone may tell you, towing horse trailers is not easy work. First off, horses are big creatures so to transport them from one place to another, you can only imagine how big the hose trailers have to be. Aside from having a strong horse trailer, you will also need a strong SUV as well. So if you have been wondering, "what are the best SUVs for towing horse trailers" then you have come to the right place.
We have compiled a list of some of the best SUVs for towing horse trailers. Check it out and see if any of your favorite SUVs have made the list or maybe you will be lucky enough to discover some new ones.
Let's get started!
MODERATELY SIZED-SUVs
(4,000 to 5,000 lbs)
Chevrolet Traverse
Dodge Durango
Ford Explorer
Jeep Grand Cherokee
Toyota 4Runner
TRUCKS
(10,000 lbs)
Chevrolet Silverado
Dodge Ram
Ford F-250
Ford F-450
GMC Sierra
Know Your Horse Trailers | Different Types of Horse Trailers
Generally speaking, a horse trailer typically weighs around 2,900 lbs but we are talking in the most general take. In order to figure out if the SUV you are looking at or the SUV you own can tow a horse trailer, you first need to figure out what horse trailer you want to tow and how much that specific trailer (or even trailers) weigh.
Take for the instance this little tidbit of knowledge, there are more than three hundred and fifty different breeds of horse known to man today. That is right, three hundred and fifty different breeds of horses. And those are just the ones that we know about! If you keep that information in mind, then it is easy to understand why there are many different types of horse trailers to accommodate all these different horse types.
Just how many you ask? Let's find out!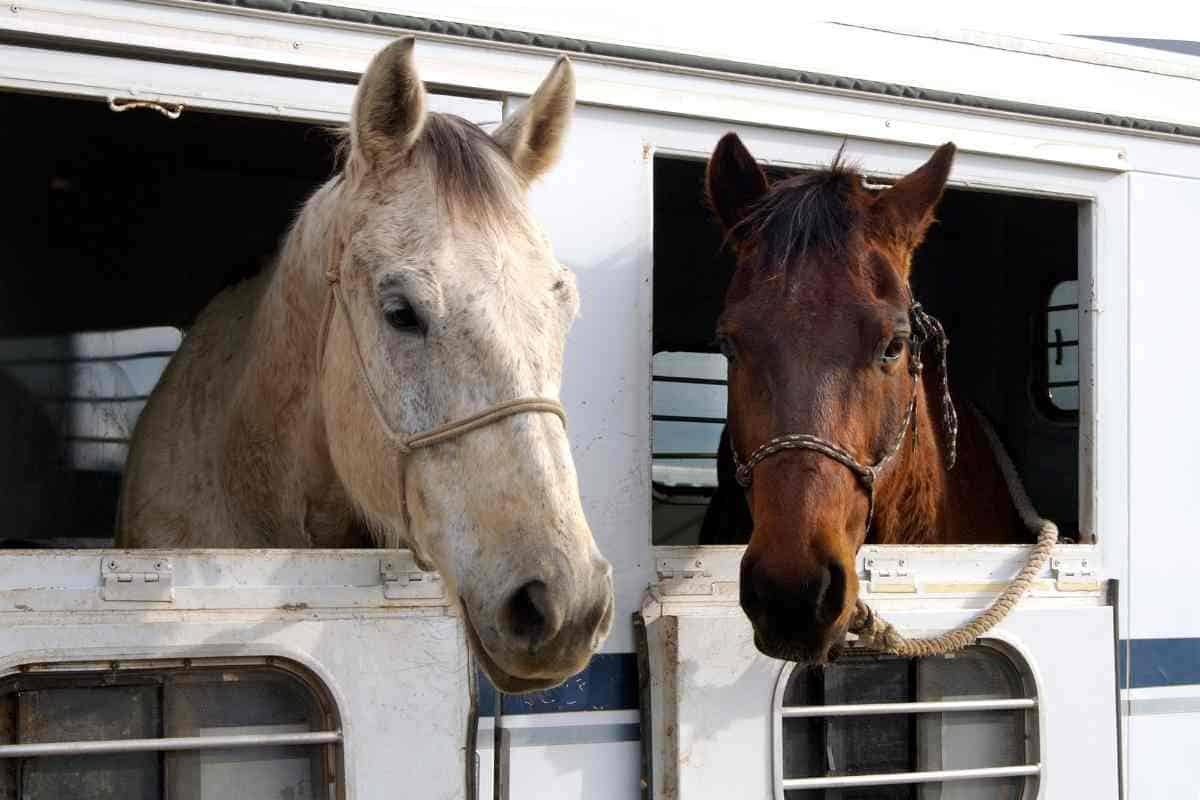 ● Bumper Towed Horse Trailer
Weight: 2,400 lbs to 3,200 lbs (two; when empty).

Do keep in mind that bumper towed horse trailers are normally smaller than most gooseneck horse trailers (if you are carrying larger horses or more than three horses we would not recommend bumper towed horse trailers). Instead we would recommend gooseneck horse trailers, which we will talk about later down the list, but gooseneck trailers were designed to fit more than three horses. Not only that but they are also spacious enough to carry three horses as well as tack and other gear and cargo.

This is important to note because travel time is usually quite long and you do not want to make the horses uncomfortable by jamming them into a horse trailer that is too small for them.

If you are traveling with a single horse or three or less smaller horses then the bumper towed horse trailers are great for you.

Bumper towed horse trailers are seen to be low maintenance because they are (generally speaking of course) the least expensive horse trailers to buy.
● Straight Load Trailer
Weight: ~2,000 lbs+.

Straight load trailers and the next item on our list, slant load travels are not specific types of trailers per se but they are more or so trailer configurations.

The first on our list is the straight load trailer.

Straight load trailers just means that the horses are walked straight into the trailer from the backgate, they then stand side-by-side facing the forward tanist.

Of the two methods, straight load is the most common.

straight load trailers are also great for smaller horses or a one-or-two horse pattern.

Straight load trailers also have a safety feature that many drivers love-a door at the front that allows the driver or the handler to easily exit after walking the horse (or horses) into the trailer.

It is easy and to the point which is why many handlers are a fan of straight load trailers.
● Slant Load Trailer
Weight: ~2,000 lbs+

This is because slant load trailers are bigger than straight load trailers and it will be more comfortable for your horses since they will have more space.

The horses will then travel side-by-side, separately by diagonal stalls.
● Living Quarter Horse Trailer
Weight: 240 lbs approximately* (for each 1 living quarters,add 500 lbs. If your trailer is around 8' wide, add another 1,000 lbs).

The living quarter horse trailer is next on our list.

Living quarter horse trailers are great if you are planning to travel on the road for quite some time either for work or for shows.

Living quarter horse trailers are a mix between a horse trailer and a fifth wheel travel trailer. This is because living quarter horse trailers include a room for the horses, as well as gear in the back. However, they also include travel trailer-like rooms in the front such as a bedroom, a bathroom, a kitchen, and some space for storage.

What turns many people off from living quarter horse trailers is yes, you have guessed it…the price tag. Most people like the idea of traveling in luxury until they have to pay for it and we understand that completely.

However, you do get what you are paying for when it comes to living quarter horse trailers.

For those that understand the tough living conditions of the road and do not mind spending a bit more, we have great news. Some more advanced and luxurious living quarter horse trailers even come with fireplaces, entertainment centers, and big, spacious bedrooms. Talk about traveling in style, right?
● Gooseneck Horse Trailer
Weight: 3,700 lbs to 4,700 lbs (two; when empty).

Last on our list we have the gooseneck horse trailer.

We touched base on gooseneck horse trailers a bit when we talked about bumper towed horse trailers. But basically, gooseneck horse trailers are great for carrying more than three horses.

Gooseneck horse trailers are also great if you are planning on making extended trips.

Gooseneck horse trailers include a main trailer body as well as an overhang that slides over the bed of the towing vehicle to where the coupler will then connect to the truck.

Gooseneck horse trailers are very similar to fifth wheel travel trailers in the sense that they are more stable than the average bumper towed trailer. They are also safer to drive and easier to maneuver.

Granted they are a bit pricey than your average trailer, most owners feel that they are well worth their high price tag.

With gooseneck horse trailers, you will have room for the horses that are traveling in the back and most gooseneck horse trailers will include an area for your tack in the front as well as some saddle racks.

All in all, if you are looking to transport more than three horses then the gooseneck horse trailer is one trailer option that you might want to take into consideration.
Before we end this segment, it is important to note that while new horse trailers can be quite pricey, used horse trailers are a good option to consider. If you are planning on going down the used route, be sure to be very cautious about what you are actually paying for. $1000 or $1500 for a used horse trailer may sound like a dream bargain but if the horse trailer itself is in poor condition or the brakes do not work properly, then the money you save upfront will just be sent on maintenance down the line.
If you are planning on buying a horse trailer off of an online website, be sure to ask the owner to send as many photos of the horse trailer as possible, and in different angles.
Be sure to look both inside and out and ask as many questions as needed before you purchase the horse trailer to ensure the safety of both yourself, and your horses.
Best SUVs for Towing Horse Trailers
So now that we know all the different types of horse trailers, we can figure out which SUVs are truly the best for towing horse trailers. What type of SUV you want to tow a horse trailer does depend on how much weight you need to haul. For example, Gooseneck trailers require a pickup because they are so heavy.
Heavier Horse Trailers (light trucks): 10,000 lbs

If you are pulling a trailer that weighs as much as 10,000 lbs then we would consider a light truck such as the ones below.

Bigger SUVs : 7,000 lbs to 9,000 lbs
Moderate sized SUVs : 4,000 lbs to 5,000 lbs

Do not think that bigger is always bigger and this case rings true when it comes to horse trailers.

Many people think that you need a large truck or a bigger sized SUV to tow a horse trailer but sometimes a moderate sized SUV can do the job, and a lot better than most people might think.

For example, smaller trucks and moderately sized SUVs are perfect if you are more on the minimal size. If your trailer is small and you do not travel often or even if you do travel often but you do not carry much cargo or gear, then a truck or SUV in this range will be more than enough for your needs.

Here are some vehicles that can tow in the range of 4,000 lbs to 5,000 lbs for you to consider:
Before we end, we just wanted to say a quick reminder. A longer wheelbase will definitely give you more control than a shorter wheelbase. You will most likely need to add some a weight distribution system to stabilize your rig.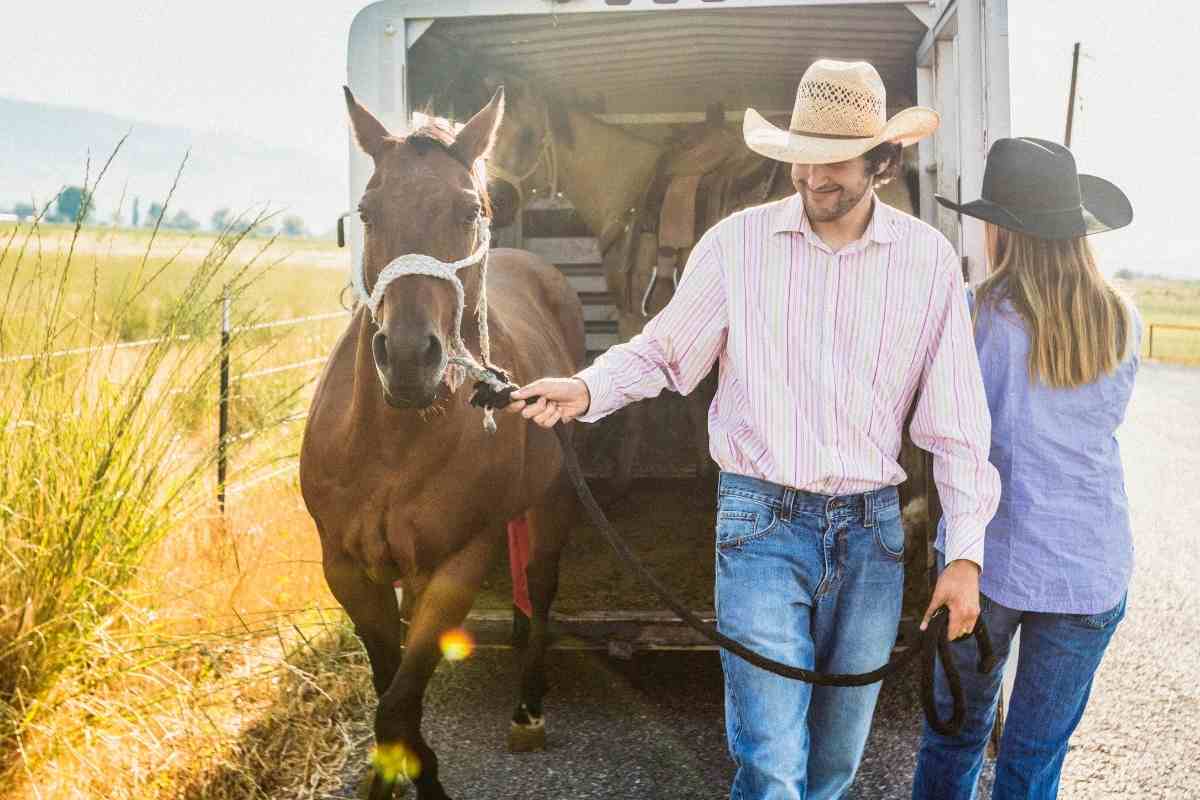 In Conclusion | Which SUV is best for You and Your Horse Trailer?
The type of SUV you want for your horse trailer does depend on what kind of horse trailer you want to buy and what kind of horse trailer you should consider buying depends on two factors.
The first is, how many horses you are thinking of taking or will need to take. Do not force bigger horses or many horses into small trailers as it would be very uncomfortable for them. However, if you are only taking smaller horses then there is no need to get a fancy large travel.
Secondly, consider how often you will be needing the horse trailer. For example, is it your job to transport horses? If so, how often do you go? And more importantly, how long are these trips?
If you go often and the trips are quite the drive, then do consider getting a more luxurious ride since you will be spending more time on the road than off. However, if you are only traveling less than a few hours a week then you might not want to spend so much on a horse trailer.
Ultimately the choice is up to you, but it is nice to know that there are numerous options available to you and this is just the beginning. With the years to come, we would not be surprised if more and more horse trailers become readily available.