Toyota Sequoia vs. Ford Expedition: A 2023 Model Year Comparison
This post may contain affiliate links. As an Amazon affiliate, I earn from qualifying purchases.
Car buyers seeking a nice, full-size SUV might wonder: What's the difference between the 2023 Ford Expedition and the 2023 Toyota Sequoia?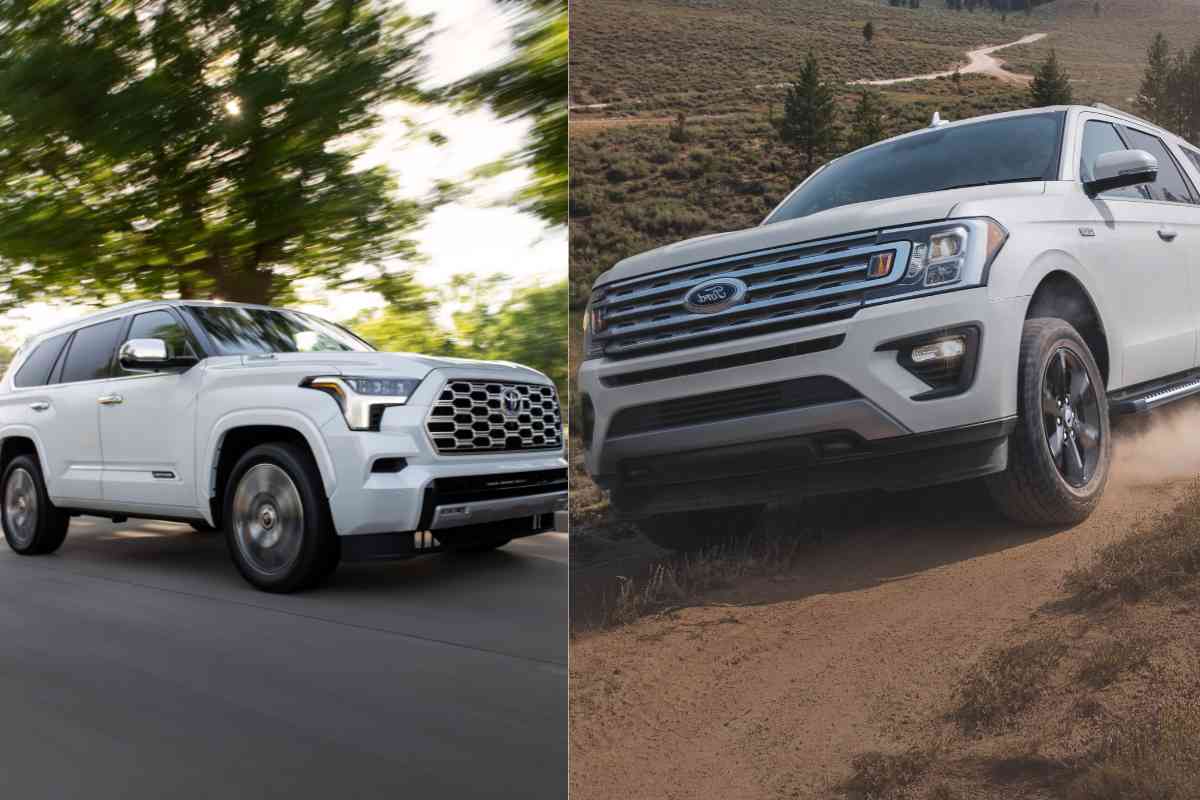 What's the difference between the 2023 Toyota Sequoia and the Ford Expedition?
The major differences between the 2023 Toyota Sequoia and the 2023 Ford Expedition come from a variety of abilities. The Expedition is bigger and a better adult and kid hauler. The Sequoia handles more like an actual truck while the Expedition handles like an SUV. 
We'll discuss the biggest differences between the Sequoia and the Expedition in terms of performance, style, and abilities. They are indeed different vehicles.
Toyota Sequoia vs Ford Expedition in 2023.
Lots of car shoppers who are seeking space, size, and some power will come across info about both the 2023 Toyota Sequoia and the 2023 Ford Expedition.
Driving Feel
There is a bit of a difference between how the SUVs drive.
To make a slightly technical story short: The Expedition offers an independent rear suspension meant to hold handling around corners and smooth out the shock from bumps by isolating them to one wheel. Ford switched to this system over a decade ago.
The Sequoia uses a solid rear axle, so that if you do hit a bump, you might feel it in more than one part of the vehicle.
There is one distinct advantage to the solid rear axle – while your vehicle does handle more like a truck – that isn't a bad thing when driving up and down hills and other places where more solid traction is important.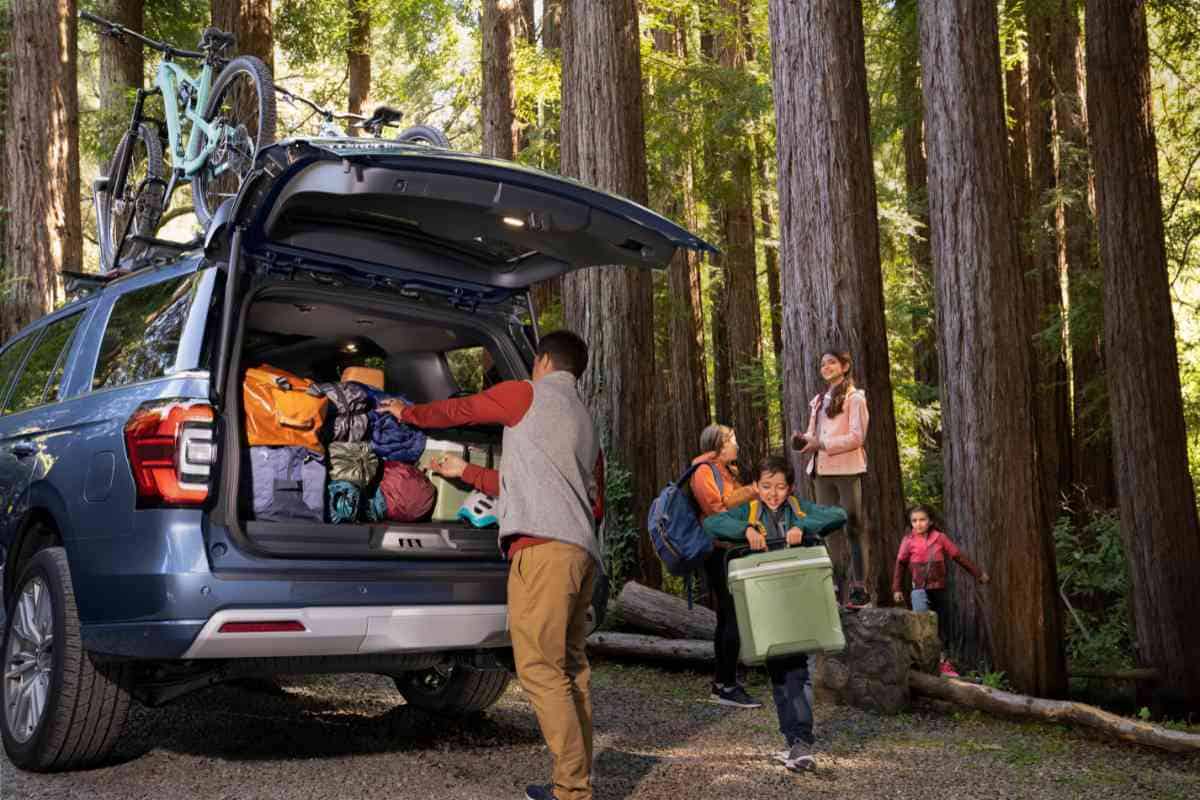 Engines and Power
The engines for the Ford Expedition and Toyota Sequoia are both powerful, they just perform in different ways though neither is likely to leave you wanting for more.
The Expedition power plant is a 440-horsepower 3.5-liter EcoBoost engine on a 10-speed transmission. The Sequoia has a similar engine with an additional feature – hybrid technology which takes some of the load off the engine when traveling at speed.
Per most reviews, the hybrid technology user doesn't help all that much for gas mileage. Real-world tests show that the Sequoia more readily underperforms expected EPA ranges of 19 miles per gallon city and 22 highway.
The Expedition's expected fuel economy is lower at 16 city and 22 highway, but it gets roughly that anyway.
Capacity
Here is where the Toyota Sequoia and Ford Expedition differ a bit, and potentially unexpectedly.
According to most reviews – and a bit of experience with big vehicles like the Suburban, the Expedition has the upper hand when it comes to cargo and people space. The third row is larger and fits an adult.
The Sequoia isn't terrible and has room for people in the third row, but not as much. This comes from both the inclusion of a solid rear axle and the Sequoia using some space within the cabin to have a floor over the hybrid battery.
If you want an opinion here, the answer is up to you. You might like the drive from the Sequoia better and not care about a more limited 3rd-row capacity.
If 3rd-row capacity for adults and teenagers is important, the Expedition might be a better option for you.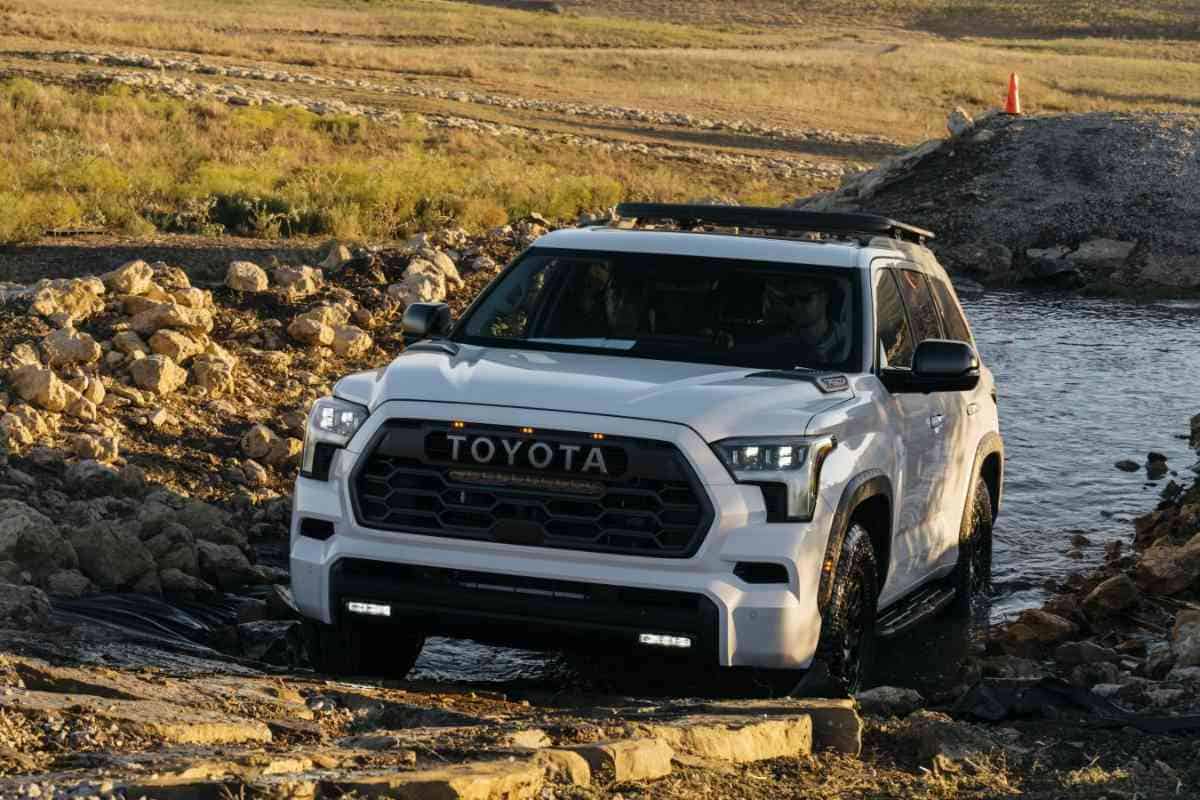 Technology
The Sequoia received a big internal upgrade from last year, though admittedly, we aren't a huge fan.
The Sequoia has a wide screen at 14 inches but doesn't use the space very effectively.
There is no home button, but the left side has an easy-to-easy menu to get where you want to go – so that could be good.
Ford relies on a vertical screen – a while 15.5" that offers more customizations. To be fair, customizations aren't always a positive, especially if you don't want to make lots of changes to your vehicle – but at least you have the option, right? We would prefer to have custom shortcuts to make their own way throughout their screen, as Ford provides.
Styling
The 2023 Toyota Sequoia underwent a whole redesign, inside and out, and it shows. For a full size SUV, it is pretty – and hides its relative enormity well.
It looks like a truck, with a more aggressive design that looks like a capable off-road vehicle. People who have had Sequoias before will certainly notice this difference right away.
The 2023 Expedition hasn't changed much and that's good – we think? The Expedition looks more like your everyday trip vehicle that is a bit boxier and wider – which it needs to be to offer the space provided.
We don't have complaints about either style. Take your pick!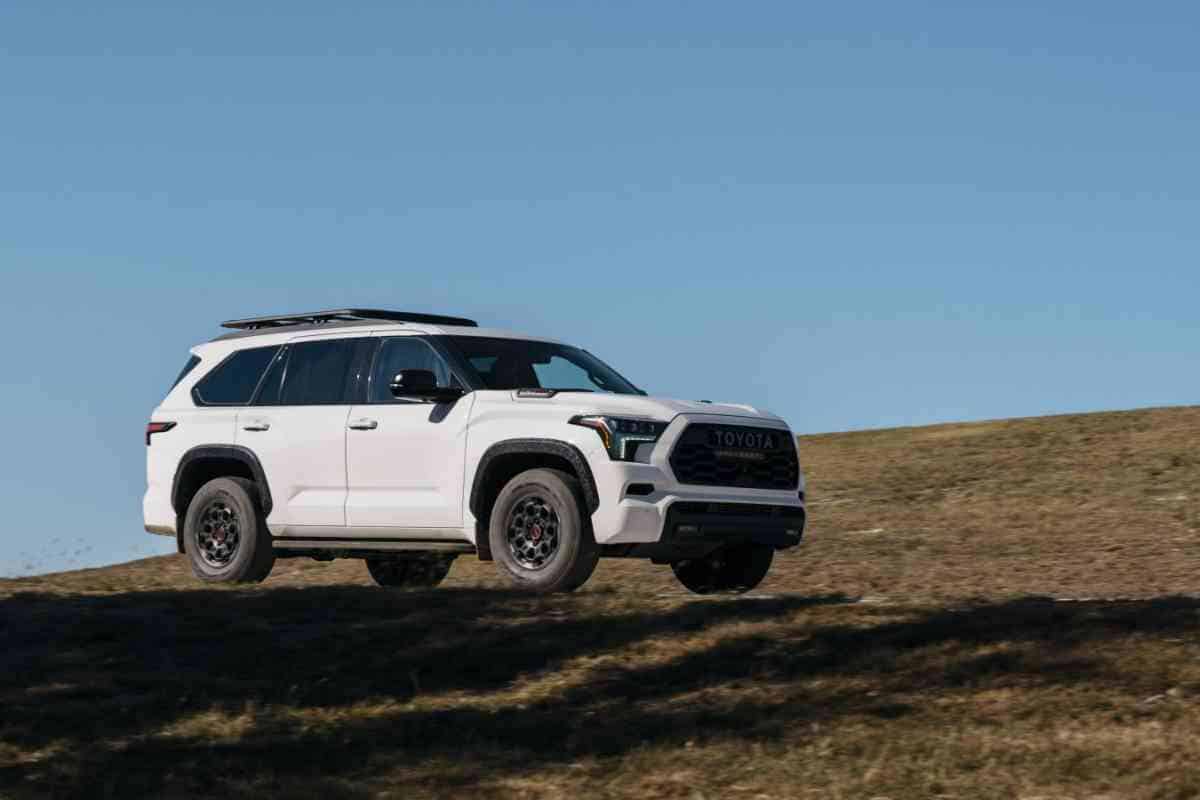 Cost
The 2023 Toyota Sequoia starts at around $60,000.
The 2023 Ford Expedition starts at just under $60,000. The big difference here is that you can add tons of options to your Ford Expedition and push the cost up to nearly $90,000 while the absolute best Sequoia runs around $80,000.
Our verdict
If you have younger kids who can sit in the third row, our suggestion is the Sequoia – for now. The main disadvantage to the Sequoia is the lack of good third-row seating, but your kids probably won't complain about the deficient room until they are in their teens.
The Expedition is better if you are planning to haul your kid's sports team around, and they aren't that young. They, and adults, will feel more comfortable in the back, and you might enjoy the driver better with the independent rear suspension.
My personal preference would be the Expedition, in this particular scenario. With kids in tow, you can't underestimate the value of a vehicle that will grow with the family without comprising a nice drive.
A person who wants to take their vehicle on dirt roads or otherwise enjoys the Sequoia's styling has a perfectly legit argument too!
Key Takeaways
The 2023 Toyota Sequoia and the 2023 Ford Expedition are similar vehicles with slightly different capabilities.
The Sequoia looks more aggressive and is built more for off-roading while the Expedition is bigger inside and drives more like a typical SUV.
A future car buyer contemplating them should check out both before deciding.