What Hybrid Vehicle Has the Highest Towing Capacity?
Recently, car manufacturers all over the world have been trying their hands on the design and manufacture of environmentally-friendly vehicles. Because of this, hybrid vehicles are slowly gaining popularity. This is mainly because of their fuel economy and the quiet and comfortable ride quality.
But what if you need to do some towing? This can be a bummer for hybrids and EVs. Unlike fuel-powered vehicles, hybrid vehicles are not built for towing per se.
However, this does not mean that it is not attainable. Some hybrid vehicles can tow up to 5,000 pounds. This is enough to carry a moderately sized camper trailer. But which hybrid vehicle is the best for towing?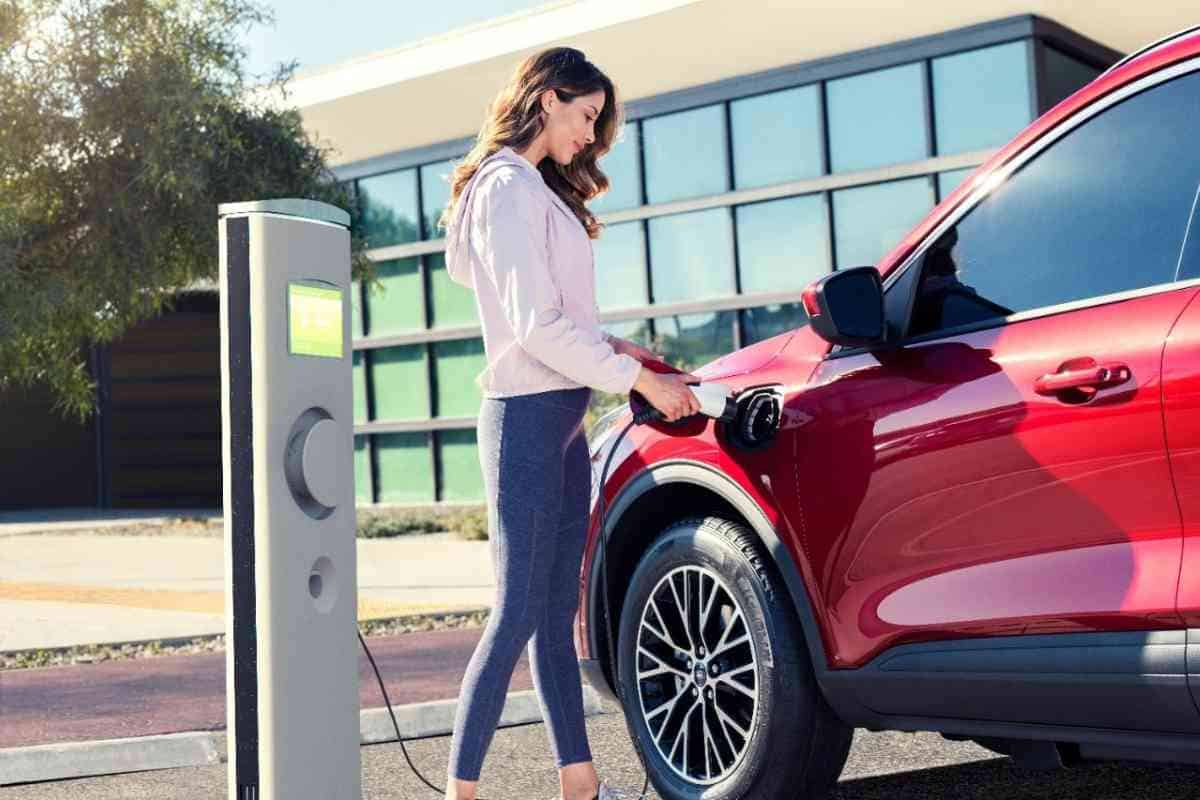 Table of Contents
Hybrid Vehicle has the Highest Towing Capacity?
The Landrover Defender has the highest towing capacity of any hybrid at 7,700 lbs., followed by a distant second and third, the Lincoln Aviator Grand Touring and the Nissan Pathfinder. Consider their towing capacity as well as some of their other features before deciding what's right for you.
Specifically, our top five picks for which hybrid vehicle has the highest towing capacity are:
Landrover Defender – 7,700 lbs. (3,492 kg)
Lincoln Aviator Grand Touring – 6,700 lbs. (3,039 kg)
Nissan Pathfinder – 6,200 lbs. (2,812 kg)
Ford Explorer Hybrid – 5,000 lbs. (2,268 kg)
Volvo XC90 Plug-in Hybrid – 5,000 lbs. (2,268 kg)
These are among the most popular hybrid vehicles with a towing capacity of 5,000 pounds and above, putting them among the top hauling hybrid vehicles.
Even though there are still other hybrid vehicles that offer considerably high towing capacity, they are still a work in progress.
Towing tends to drain the batteries of these hybrid vehicle models, thus it is not recommended unless the towing is done exclusively when the vehicle is on the gas or diesel.
Most hybrid vehicles are designed to have a limited towing capacity, in exchange for superior fuel economy.
Shopping for a hybrid vehicle that will also handle your towing needs can be frustrating.
This is because alternative fuel cars are not always designed for towing.
They all come with limitations; thus you have to choose carefully.
1. Landrover Defender
Maximum towing weight – 7,700 lbs. (3,492 kg)
As a hybrid SUV, the Landrover Defender is a revolutionary vehicle.
It is among the top-of-the-line hybrid vehicles with the highest towing capacity.
Along with having an elegant and stylish exterior, the electric motor offers a high torque. This powerhouse can accelerate easily from 0 to 60 mph in 5.4 seconds.
The Defender features a payload capacity of 1,763 pounds and a towing capacity of 7,700 pounds.
This family-centric SUV is good for your camping and fishing adventures.
It offers a spacious interior for storage of your small stuff and can still pull along with a moderately sized camper.
Landrover Defender is an adventure-ready SUV that comes with a long-range on its battery for long-distance travel.
2. Lincoln Aviator Grand Touring
Maximum towing weight – 6,700 lbs. (3,039 kg)
Following closely is the Lincoln Aviator Grand Touring hybrid SUV.
This performance beast comes equipped with a host of high-tech features.
This car resembles the Ford Explorer mechanically.
The Aviator offers an impressive balance of opulence, dynamism, and off-road ability compared to other vehicle brands and SUVs of its class.
The Grand Touring is a plug-in hybrid (PHEV) sports utility vehicle with the ability to drive over 20 miles on electricity before switching to the gas engine.
This model offers over 494-hp with the combined electric motor and the twin-turbo engine giving 630 lb-ft of torque, which is enough to pull up to a maximum towing weight of over 6,700 pounds.
3. Nissan Pathfinder Hybrid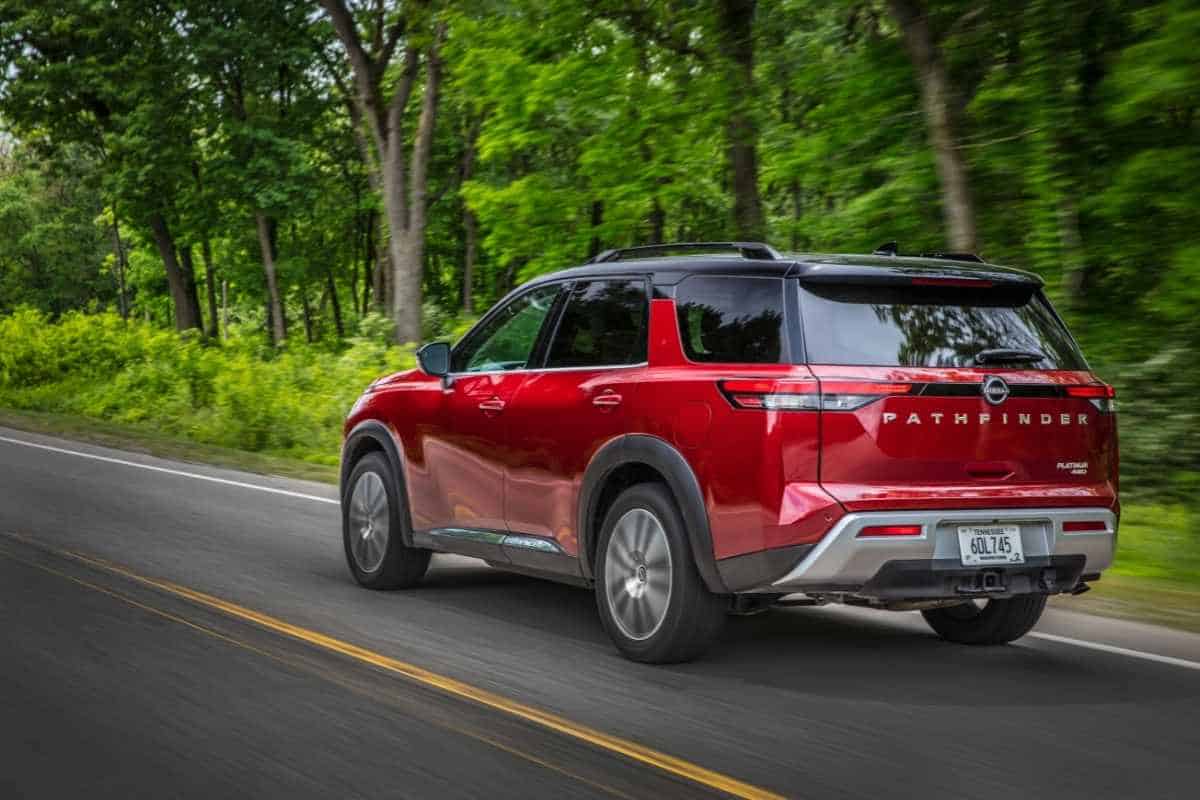 Nissan Pathfinder – 6,200 lbs. (2,812 kg)
Nissan is yet another vehicle brand that has since been keen on the development of alternative fuel vehicles.
After a long wait, Nissan unveiled the Pathfinder 2021 hybrid in the summer of 2021.
Nissan has been improving the feature-filled Pathfinder over time so that it can accommodate seven passengers.
Under the hood, the Nissan Pathfinder boasts a potent 3.5-liter V6 engine that offers enough power and acceleration for this family-friendly SUV.
With about 300-hp from the motor, the pathfinder ranks among the top in hauling capacity.
With a towing capacity of 6,200, this hybrid Pathfinder supersedes all the other earlier models.
This SUV comes standard with ample cargo and passenger space inside the cabin.
The adventure-ready SUV will not only carry all your stuff but also tow your entire camping gear along.
Regardless of your camping style, the Pathfinder will tow several smaller campers' options.
4. Ford Explorer Hybrid
Maximum towing weight – 5,000 lbs. (2,268 kg)
Recently, the Ford Explorer has been redesigned completely to include new advanced features.
This has resulted in a very quiet three-row hybrid SUV without compromising on the performance of this road beast.
The new Ford Explorer hybrid is a complete makeover from the old one, they don't resemble at all, both in style and functionality.
The Ford hybrid model comes with a range of 450 miles with 29 mpg in city and highway for the rear-wheel-drive trim level, while the hybrid AWD option offers 25 mpg.
The Ford Explorer is a nice family SUV that can fit your entire family but still has the capacity to pull 5,000 pounds.
Whether you are going for a long-distance trip or daily commute in the city, this SUV will offer a convenient, quiet, and extremely comfortable ride.
Underneath the hood, the 2021 Ford Explorer Hybrid comes equipped with a powerful 3.3-liter hybrid engine that offers enough torque to handle the harshest terrain.
This SUV is ideal if you need a relaxed, quiet, and enjoyable drive as it comes with a host of other supporting technology features.
With a maximum towing capacity of 5,000-pounds, the Ford Explorer will pull a small trailer along or tag along with your pop-up camper without breaking a sweat.
Thanks to its off-road capabilities, the Explorer is ideal for both rural and urban camping expeditions.
5. Volvo XC90 Plug-in Hybrid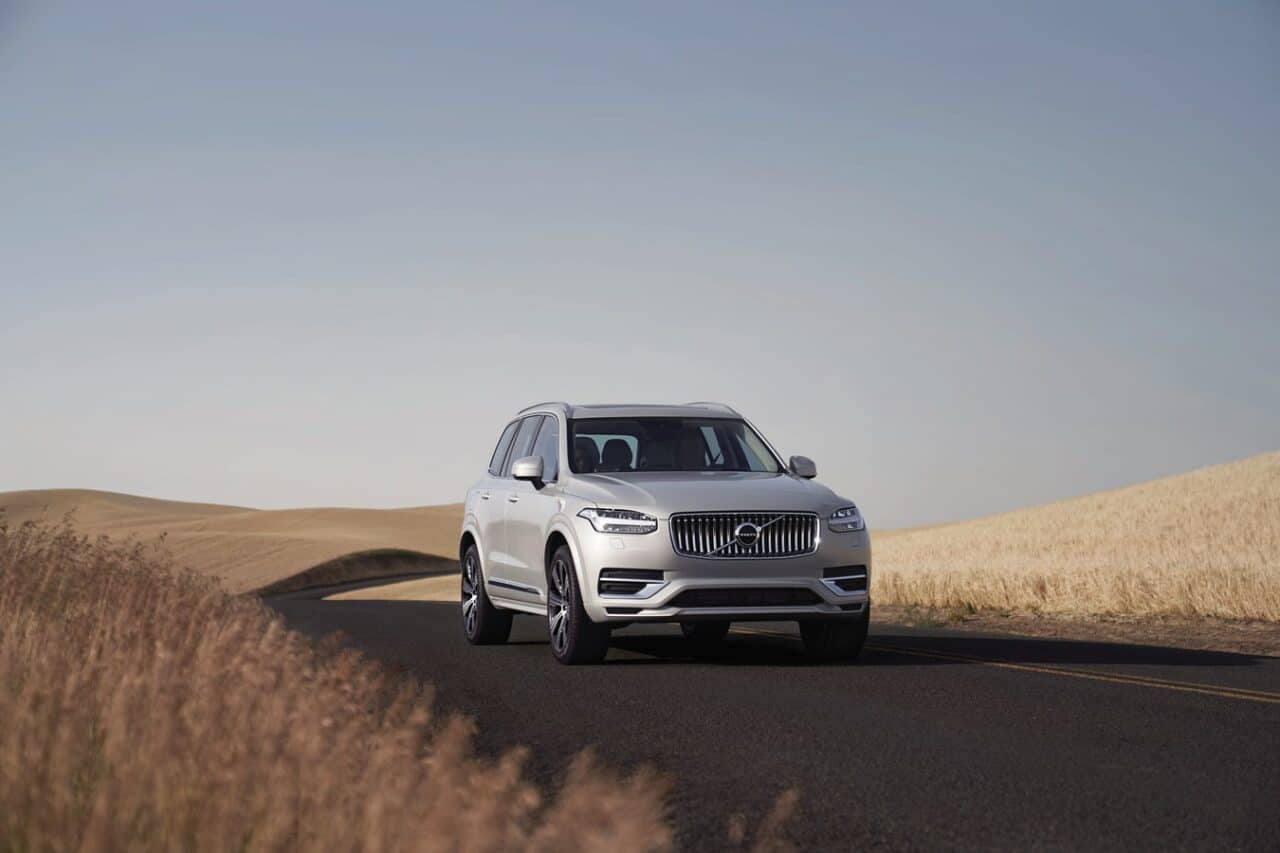 Maximum towing capacity – 5,000 lbs. (2,268 kg)
With Volvo's recent improvements, it now offers refined and feature-filled vehicles.
The Volvo lineup of alternative-fuel vehicles and EV comprises capable and elegant vehicles.
Volvo has achieved the fuel-economy and environmentally-friendly vehicles without compromising on the performances of their vehicles.
The Volvo XC90 Plug-in is one impressive hybrid SUV in its lineup of new models.
The XC90 is powered by a powerful engine, coupled with a smooth-shifting transmission that provides crisp and sure handling.
It comes with a long array of high-tech safety features that is common with all new Volvo models and trims.
Frequently Asked Questions (FAQ)
Are there vehicles with a towing capacity of more than 5,000-pounds?
Yes. Although towing is not the strength of hybrid vehicles, a few top-of-the-line vehicles will hit the maximum towing capacity of 5,000 lbs.
Such vehicles include the
Landrover Defender
Lincoln Aviator, Grand Touring
Nissan Pathfinder
Ford Explorer Hybrid
Volvo XC90 Plug-in Hybrid
Are hybrid vehicles good for towing?
Hybrid vehicles are not specifically built for towing.
But this doesn't mean they cannot manage to pull your cargo.
Some vehicles (listed above) can tow up to 5,000 pounds.
This is enough for pulling modest camper trailers.
This is enough to get your job done when going for your fishing or camping adventures.
Can a Ford Explorer Hybrid tow a trailer?
Yes, the new Ford Explorer can tow over 2,200 kg with ease.
This SUV comes with ample interior space for hauling both passengers and cargo. This is enough for towing a small trailer and your camping gear.
But remember that towing will considerably reduce the range of your battery.
What are the advantages of hybrid vehicles?
Fuel economy and little to no emissions are the two key advantages of hybrid vehicles.
Fuel consumption during peak periods can be reduced by using onboard batteries.
If you accelerate or idle, for example, the power sources switch automatically.
Additionally, tax incentives are available in many states for hybrid vehicles and other alternative-fuel cars.
This will end up saving your money in the long run.
Another advantage of hybrid vehicles is that they offer a comfortable and very quiet enjoyable drive when riding on batteries.
This enhances the ambiance inside the cabin.
Is it good to tow camper trailers using a hybrid vehicle?
Yes. Many people buy hybrid vehicles to save on fuel but still have space to carry their entire family.
Whereas some hybrid vehicles are designed to tow over 5,000 pounds, they may not be as efficient at doing it as their fuel-powered counterparts.
Therefore, if towing is your primary need for the vehicle, either consider the top-of-the-line towing beast listed in this article or consider their gas or diesel alternatives.
Conclusion
Drivers appear to desire fuel-efficient and minimal emissions vehicles.
But this often comes with a compromise on the payload and maximum towing capacity.
A few vehicles will stand out from the rest by incorporating both mother and gas/diesel hybrid assembly that offers high torque and towing capacity.
While the Landrover Defender leads the pack with over 7,700-pounds towing weight, many brands are redesigning and releasing new and more potent engines and drivetrain configurations to be on top of the towing game.
There is nothing as satisfying as carrying your entire family while pulling along all the necessary camping gear to your expeditions.