What Cars Do Subaru Wheels Fit?
This post may contain affiliate links. As an Amazon affiliate, I earn from qualifying purchases.
If you have a set of Subaru wheels, they might look good on another car.
But, not every wheel fits every vehicle. There are significant differences you have to know about and check.
Wheel fitment is easy if you understand bolt patterns and a couple of other things, so let's see what cars Subaru wheels fit.
What Cars Do Subaru Wheels Fit?
Depending on which Subaru model the wheels came from, they might fit any number of cars from makers like Toyota, Lexus, Dodge, Volkswagen, and some Chevy, Buick, and Plymouth models. But that's just a few. The exact fitment varies by specific models, but you need to look for cars with a 5 x 100 bolt pattern.
There's a lot more to learn about wheel fitment than just bolt patterns, though.
It's one of three critical criteria for matching wheels to hubs and their respective vehicles.
So if you want to fit a new set of wheels or you're trying to figure out who might like your old set, read on!
Wheel Fitment Essentials
There are three criteria you need to know for any given wheel before figuring out if it will fit a specific car.
They include:
Bolt pattern – the measurement between and arrange of the lug bolt holes
Hub bore – the diameter of the hole in the center of the wheel
Offset – the distance from the centerline of the wheel to the mounting surface
If you can determine all three of these measurements, you can determine what cars they might fit.
But, you need to have a bit more information to understand how it all works.
Bolt Patterns
The bolt pattern is a way to represent the measurement and spacing of the lug bolts on a set of wheels and the corresponding hubs they mount onto.
Since most hubs are mass-produced, automakers, like Subaru, want them to fit multiple wheels from multiple vehicles in their product line.
So, they often have a standard design.
Each vehicle might have its own type of wheel.
Some vehicles even come with multiple different wheels as factory options.
But, while they all look different, their bolt patterns might very well be the same.
So, the lug nut holes will line up with their threaded holes on the hubs.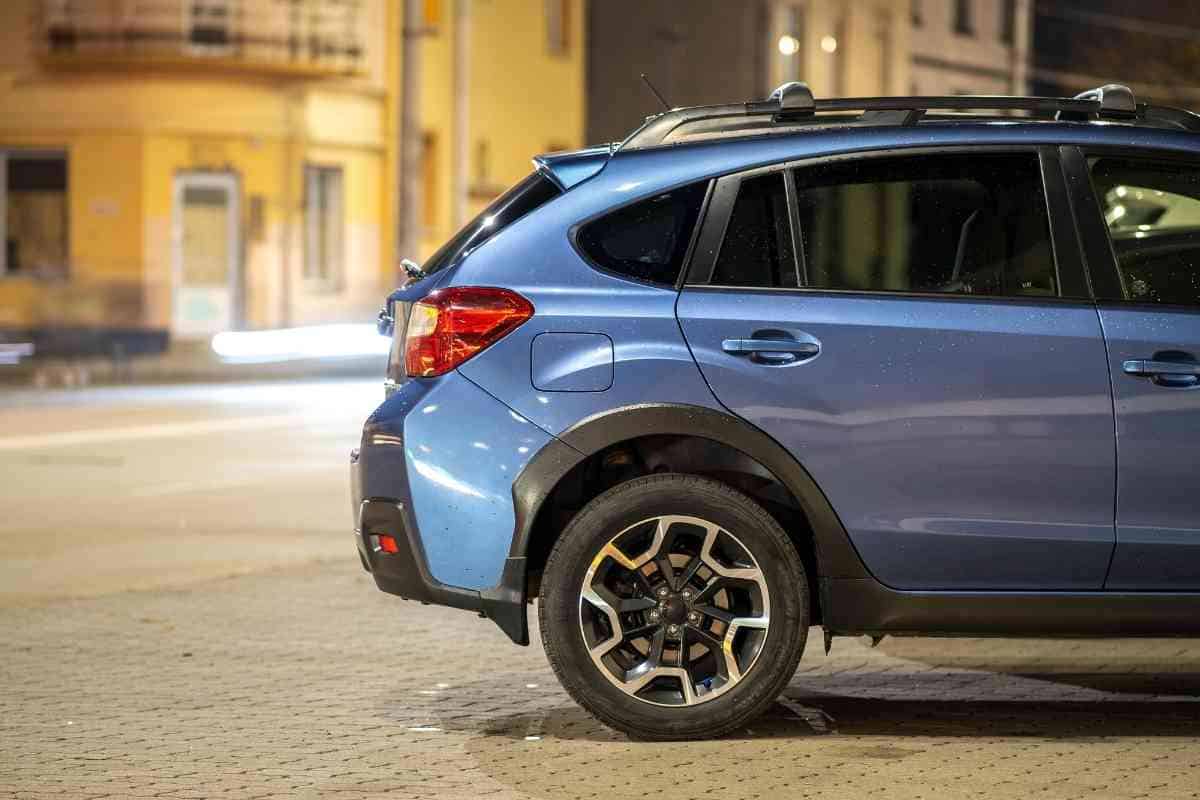 Hub Bore and Mounting
Manufacturers try to fit many different types and sizes of wheels on the hubs of their vehicles.
Since they like to have the same hubs for cost-savings and ease of manufacturing, they standardize the hub's dimensions, including the centering ring.
The centering ring is a rim that sticks out from the face of the hub.
The center hole in the middle of a wheel fits around it.
But, since wheels don't all have the same size hole, you need to know the hub bore diameter before trying to mount one on a hub.
This isn't always as important as the bolt pattern, though.
That's because you can't change the bolt pattern. But you can change the size of the hub on the car by adding a set of hub rings.
These metal or hard plastic rings fit around the centering ring between the wheel and the hub.
So if the hub bore on your wheel is bigger than the factory hub, you can add a ring to make it fit properly centered.
It might not seem like a big deal if your hub and wheel don't sit perfectly centered.
You'll think differently if you mount a poorly fitted set of wheels without hub rings and your car vibrates and shakes as you drive it.
Offset and Positioning
Wheel offset represents the distance from the exact middle of the rim to the face of the hub.
There are three types of offset, including negative, positive, and neutral.
Wheels with a neutral offset have the wheel center in line with the hub and are common on RWD cars.
Wheels with a positive offset sit deeper on the hub, with its face closer to the face of the rim.
Negative offset wheels have their face inside of the centerline, closer to the hub.
In simpler terms, the offset of your wheels determines how far they stick out. Negative offset wheels stick out the farthest and therefore are more likely to rub your fenders.
So What Wheels Come on Subarus?
Most Subies have a 5 x 100 bolt pattern on their hubs.
Most Subaru wheels are, therefore, in the 5 x 100 bolt pattern.
Here is a quick list of Subaru models with a 5 x 100 offset, so you can see just how common it is.
Subaru Alcyone
Subaru Baja
Subaru BRZ
Subaru Crosstrek
Subaru Exiga
Subaru Exiga Crossover 7
Subaru Forester
Subaru Impreza
Subaru Impreza Anesis
Subaru Impreza G4
Subaru Impreza Sport
Subaru Impreza WRX
Subaru Impreza WRX STI
Subaru Impreza XV
Subaru Legacy
Subaru Legacy B4
Subaru Legacy Lancaster
Subaru Legacy Outback
Subaru Legacy Touring Wagon
Subaru Outback
Subaru Trezia
Subaru XT6
Subaru XV
Subaru XV Crosstrek
That's quite a few models of Subarus with the same 5 x 100 bolt pattern.
And, since there is a lot more wiggle room when it comes to offset and hub bore, we can usually figure out which cars Subaru wheels fit by finding the ones that also have 5 x 100 bolt patterns on both their wheels and hubs.
Which Cars Have the Same Bolt Pattern as Subarus?
Cars from the same manufacturer might still have different bolt patterns.
So you have to be a little bit careful about generalizing which makes and models have the exact same bolt pattern as your Subaru wheels.
Interestingly, some manufacturers, like BMW, only have a single bolt pattern for all of their cars.
Unfortunately, it's a 5 x 120 bolt pattern, so Subaru wheels never fit BMWs.
But, there are plenty of other makes and models with 5 x 100 bolt patterns that might work with most Subaru wheels.
In general, the following cars can fit 5 x 100 wheels:
Audi – A1, A2, A3, S1, S3, and TT
Buick – Skylark
Chevrolet – Beretta, Cavalier, Celebrity, and Corsica
Chrysler – Cirrus, Fifth Avenue, LeBaron, New Yorker, PT Cruiser, Saratoga, Sebring
Dodge – Aries, Caravan, Grand Caravan, Neon, Neon SRT, Spirit, and Stratus
Isuzu – Aska
Lexus – CT and ES
Plymouth – Acclaim, Breeze, Grand Voyager, Neon, Reliant, Sundance, Voyager
Pontiac — 2000, 6000, Fiero, Grand Am, Phoenix, Sunbird, Sunfire, Tempest, Vibe
Saab – 9-2X
Scion – Fr-S, tC, and xD
Toyota – 86, Allion, Auris, Avensis, Caldina, Camry, Carina, Carina E, Carina ED, Carina II, Cavalier, Celica, Corolla, Corolla Sport, Corona, Corona Exiv, Corona Premio, Corona SF, Curren GT 86, Ist, Matrix, Opa, Premio, Prius, Prius Plug-in, Prius Prime, Ractis, Sienta, Urban Cruiser, Verso S, Vista, Vista Ardeo, Voltz, WiLL VS, Wish
Volkswagen – Ameo, Beetle, Bora, Bora Variant, C-Trek, Clasico, Corrado, Cross Lavida, Cross Santana, Cross Fox, Cross Polo, Fox, Golf, Golf City, Golf Variant, Gran Lavida, Gran Santana, GTI, Jetta, Jetta City, Lavida, Lavida Classic, Lupo, New Beetle, Passat, Passat Variant, Polo, Santan, Space Cross, Space Fox, Sport Van, Suran, T-Cross, Vento, Virtus
Subaru wheels may also fit some other cars from lesser-known and smaller manufacturers like FAW, GAZ, JAX, MG, Rover, Seat, Skoda, and Brilliance.