What Ford Bronco Should I Get? Pick the Right Trim With This Quick In-Depth Guide
This post may contain affiliate links. As an Amazon affiliate, I earn from qualifying purchases.
The new Ford Broncos are making waves for their new design and selection of attractive features. With six different trim options to choose from, it can be hard to know which one to get.
We've researched for you and will make it easy to compare models to figure out which is best suited to your needs and lifestyle.
In general, many agree that the Outer Banks model is the best Ford Bronco, featuring luxurious details and rugged features. However, answering the question, "What Ford Bronco should I get?" can only come from knowing what you want out of your driving experience and finding the right model to match.
If you're looking for a Ford Bronco, you can't go wrong. All of the new model's options are well-rounded and you'll love the experience of driving one, whether off-road or down the neighborhood street. Still, how can you determine which one is right for you? Let's find out.
Why Is the New Ford Bronco So Good?
The Ford Bronco has been a fan favorite for decades, with vintage models in style now more than ever. But the new Ford Bronco model released in 2021 stepped both the aesthetics and the performance up several notches, making it a much better buying decision than older models.
To start, the elevated aesthetic is one of the first things that we noticed about the new car. It looks rugged but sleek, and retro but modern. It nailed the looks with a bit of nostalgia and a whole lot of progress.
Further, it has a ton of attractive details and features, including removable doors, a halo-style roof frame for an unobstructed aerial view, and waterproofed interiors.
Those who want to make their model feel personalized can do so with over 200 official bronco accessories to choose from, including interior grab handles, cargo management, grille design, and more.
Opting for New Over Old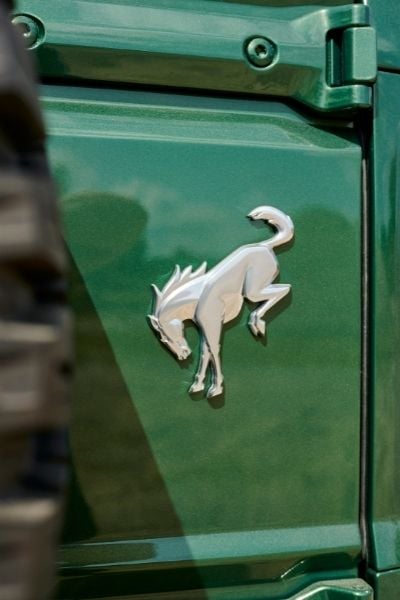 When comparing the old and new models, there's no comparison. The last Bronco model made before the 2021 release was back in 1996, and auto manufacturing has come a long way since then.
Unless you're going for a vintage collector's item, the old model can't stand up to the incredible crowd-sourced design of the new model that features ideas and improvements directly from Bronco fanatics themselves.
The new model is 30% more powerful than the original's V8 engine, offering up to 270 horsepower. This means speed and power are both top features of the new Ford Bronco. As mentioned earlier, it also features tons of capabilities and details that make going off the grid easier than ever.
While the previous model was made more for function than comfort, the newer model finds a strong balance of both, including some more creature comforts we've grown accustomed to such as sound dampening, 360º cameras, and seat heaters.
Let us be clear here – there's nothing wrong with the old Ford Bronco if what you're looking for is a piece of nostalgia to take out cruising now and then.
But if you want sustaining durability so you can go off-roading just as much as you want a bit of luxury and style, the new 2021 or 2022 models are the way to go.
New Ford Bronco Models and Trim Packages
The new 2021 Ford Bronco comes in seven different trims, from its introductory base model to their most lux package, the First Edition.
Figuring out which Bronco to get starts with getting to know each of these models and packages to find one that aligns with your desires and lifestyle.
Base Model
The base model already includes a lot. You get a 7-speed manual transmission and 2.3-liter 4-cylinder engine with EcoBoost for a bit of environmental consciousness.
While it doesn't come with many frills or fun features, you still get 4×4 capability, Ford Co-Pilot360's basic offerings, and any-terrain management.
This is a great model if you hope to add your own modifications as you go or get things customized exactly to your liking. It starts at $28,500 but you can upgrade to an automatic transmission or a larger engine for a bit extra.
If you plan to spend a decent amount of time off-roading, you can also add the Sasquatch package to this base model for an extra $4,200.
Big Bend
The Big Bend model starts at $33,385 for its two-door model and $35,880 for a 4-door. With this upgrade, you get six drive modes, larger tires made for all-terrain types, a leather-wrapped steering wheel, a modern infotainment center, and off-roach tech.
Make it even nicer with Ford's Mid Package that adds on a few extras like blind spot warnings, lane-keeping, and other driver assistance features.
If you want something a bit plusher and more decked-out than the base model and are just dipping your toes into the off-roading world, this model may be a good place to start.
Black Diamond
The Black Diamond is the next step up, adding more off-roading features like a modular front bumper, drain plugs in rubber flooring, and rock rails.
While this option might not be worth the $36,050 starting price for a 2-door model, it might be the best value for those who want a hardcore off-road vehicle without breaking the bank.
If you want, you can go even bigger by adding the Mid Package or the Sasquatch package. Take your pick.
Outer Banks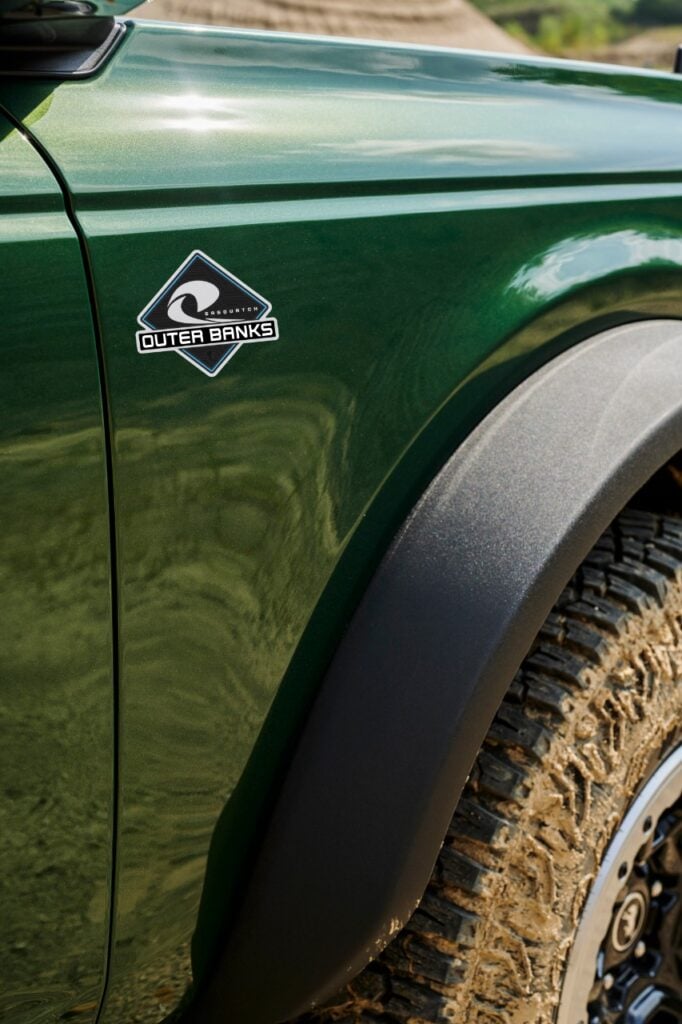 The Outer Banks model is where rugged really meets luxury for the new Ford Broncos. For those who don't want to compromise their comfort and luxury inside the car, you'll love what the Outer Banks offers at a starting price of $38,955.
Choose the High or Lux package add-ons for $1295 or $3590, respectively, and get excited about features like a larger touchscreen, heated steering wheel, sound dampening, and voice-activated navigation.
If you want to feel luxurious indoors without sacrificing durability on the outside, the Outer Banks model is the best Ford Bronco for you.
Badlands
The Badlands model was designed to help you get far off the grid with ease. You'll get much larger, 33-inch tires with beadlock capability and seven different terrain modes.
Be prepared to pay the price for these rugged upgrades, including its very own suspension and a front sway bar that can disconnect. This model will cost you a pretty penny, starting at $42,095 for the 2-door model.
If you want a bit more luxury added on, upgrade to the Mid, High, or Lux packages depending on what you're looking for.
Wildtrak
The Wildtrak starts at $46,980 and is designed with high-speed, off-road, desert running in mind. While it works on the streets, it's not what it's made for.
You won't need to upgrade to the Sasquatch package, as this model has it built-in. Still, you can upgrade to the High or Lux packages for extras like leather-trimmed seats.
First Edition
Finally, there's the First Edition. This is the happy medium between wanting a collector's item (like the old Bronco) and wanting something modern that will last. The First Edition is both, at a starting price of $56,915.
It comes with all of the mechanicals from the Badlands model, combined with the Sasquatch and Lux packages for the ultimate experience in luxury and off-roading. Plus, special first-edition graphics make it known that you're one of the special ones.
Final Thoughts
While it would be easy to say one model and trim package is the best, it's not that simple. What makes any Bronco model the "best" for anyone is how it fulfills their needs and desires in a car and meshes well with their lifestyle.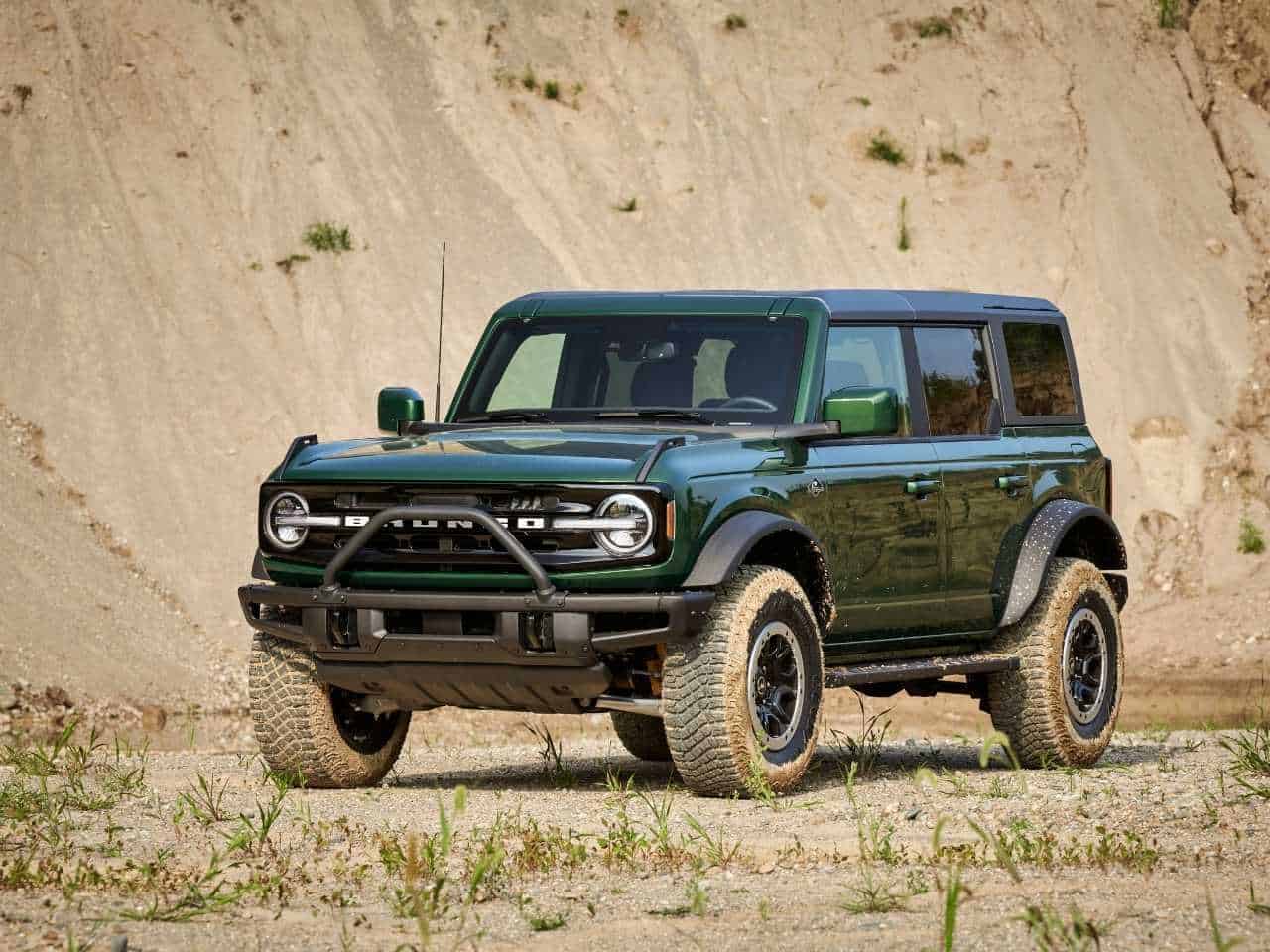 If you're asking yourself, "What Ford Bronco should I get?" the answer won't be Google-able. It will have to come from research of the different models and aligning those details with what you're looking for.
With all of the research presented to you in one place, that task just got a whole lot easier.