What is the Difference Between Chevy Blazer LT and RS? (Solved!)
There are so many different models of the Chevy Blazer and each model has different pros and cons that contribute to how well it drives. This has led some customers to ask, "what is the difference between the Chevy Blazer LT and RS?"
The biggest difference between the Chevy Blazer LT and RS is that the RS has a lot more safety features to prevent crashes. However, the LT is more fuel-efficient and has more design options. The LT stands for Luxury Touring, making it a more luxurious car than the adventurous Rally Sport (RS).
Below, we'll go into the specific similarities and differences between each car. Hopefully, by the end, you'll be able to recognize the major differences and know which model will work better for you. All the information in this article comes directly from the official Chevy site.
The Basics
First things first, let's talk about how much each car costs. The LT costs around $34,000 while the RS costs about $42,000. The main difference you're paying for is their different capabilities. The RS is better designed for more adventurous trips or offroading conditions, while the LT is a more luxurious ride. It's meant for daily life and not adventuring.
Since both these cars are Chevy Blazers, they are going to be pretty similar when it comes to their fuel economy. However, the LT gets about 23 mpg while the RS is at 22 mpg, making the LT slightly better. This isn't a major difference, but it could add up over time.
If you are in a jam in either car, both cars also come with an emergency tool kit. You never know when that might come in handy!
The Mechanics
An alternator is an item that converts the car's chemical power into electric energy to charge the battery and run the car. Therefore, the higher the amps in the alternator, the better. The RS has a 155 amp alternator and has the option to put in a 170 amp alternator while the LT only offers 150 amps.
The RS also has a better engine with a 3.6-liter engine, while the LT has a 2.5-liter engine. However, both have 9-speed automatic transmissions.
Both of these cars also have an automatic stop and start that will turn off the engine when stopped for too long and will turn back on once you take your foot off the brake and put it on the gas. Both cars also have an electronic parking brake.
They are front-wheel-drive cars and have a great ride and handling suspension. To make things safer on bumpy roads, both cars also have anti-lock disc brakes to help the driver maintain steering control.
Beauty Inside and Out
Both of these cars come with a variety of options for wheel sizes and types. The LT specifically comes in 18 and 20-inch wheels that can be silver, chrome, or black. On the other hand, the RS has 18, 20, and 21-inch wheels in black and aluminum.
They both come with an 18-inch spare tire, but the LT's is made with steel rims. The LT has the option to have most of its exterior parts (such as the grille or lug nuts) painted black to give it a sleek appearance. They also both have tinted windows to preserve your privacy and keep the car looking beautiful.
The RS does have a couple of add-ons that make it a little better than the LT. The first is the hands-free liftgate, so you can easily open the back of your car when your hands are occupied with carrying a lot of stuff.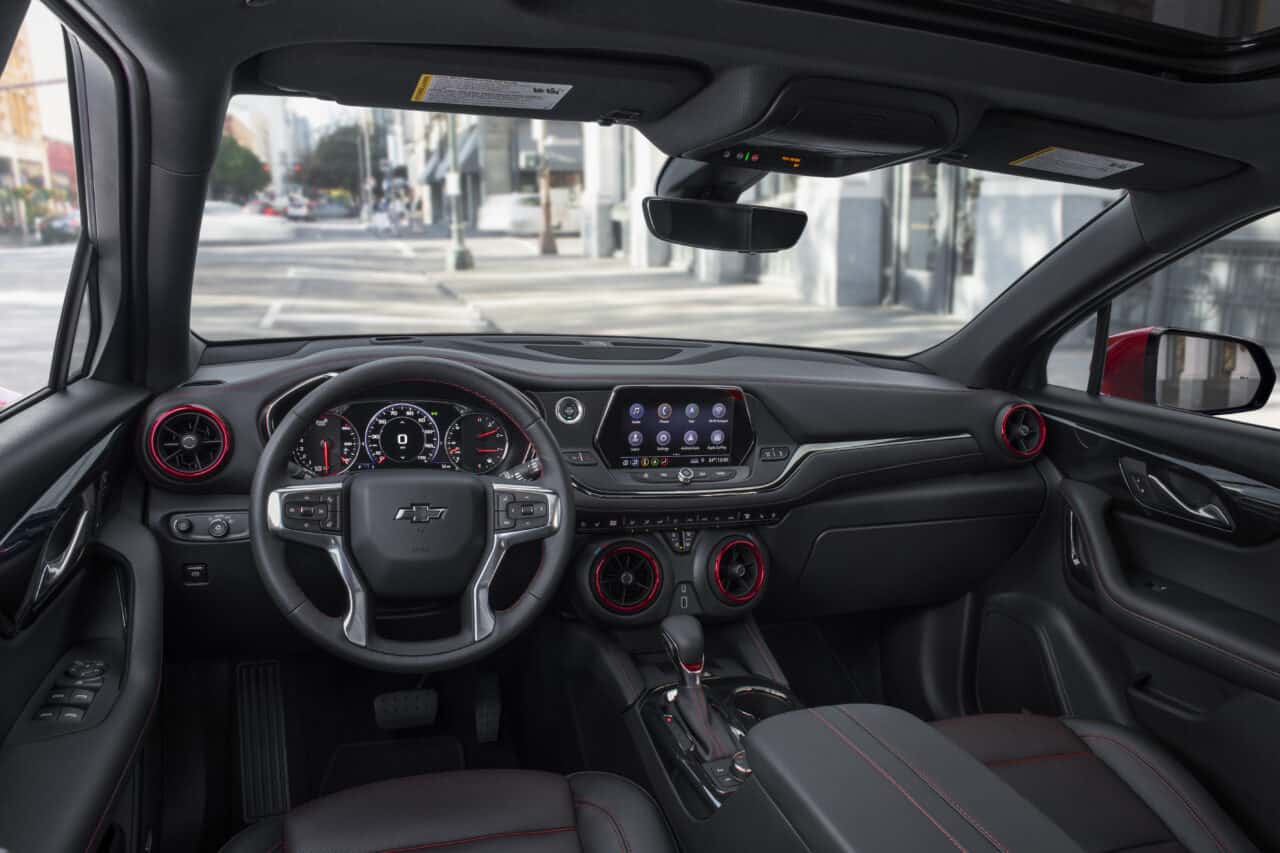 Another great amenity is the heated mirrors that can melt off snow and rain so your view is always clear. The steering wheel in the RS is also heated, which is perfect for those cold, wintery days.
Inside the car, the LT has a great digital driver information center to give you specifics about your car and any problems it may be experiencing. The RS has a digital touchscreen at the infotainment center that includes navigation.
This is in contrast to the LT, which does not include navigation. Both cars give you the ability to adjust the chairs to your comfort level, but the RS is powered so you can make minor adjustments with ease.
Both cars come with a hotspot and a six-speaker audio system, but the car is designed to cancel outside noise. They also have five passenger seating and an air filtration system to keep you and your passengers healthy. If you frequently travel with children or pets in the back, they will appreciate this feature.
Safety
The RS takes the cake when it comes to safety. It has automatic emergency braking, following distance indicator, collision alerts in the front, pedestrian braking, lane change alerts for your blind spots, lane-keeping assist, rear cross-traffic alerts, and rear parking assists.
These features are meant to help avoid any sort of collisions and honestly make the RS the better choice. The LT doesn't offer any additional safety features that would set it apart.
They both have other safety features that are great for avoiding collisions and creating a better experience for the driver. Both cars have 7 airbags to prevent anyone from getting hurt. Both cars come with automatic headlamps, but only the back ones are LED. The LT's headlamps are strong and brighter all around. They also have a rearview camera to help drivers when they're backing up.
Some more notable safety features include child locks, tire fill alert, tire pressure monitoring systems, and good traction control for slippery or wet roads.
One of my favorite safety features is the Teen driver system. This allows you to limit or change certain vehicle features that may help with safe driving. It will guarantee all safety features are on, (you have the option to turn off features such as lane assist if it is messing with your driving ability).
When activated it will start grading the driving and give you feedback on what you did well or need to work on. This can be a super helpful learning tool for those learning to drive!