What Small Truck Can Tow the Most? (Towing capacity comparison)
If you are into any luxury outdoor activities, such as sailing, wakeboarding, or camping, you will likely need to bring these hobbies with you on the road in the form of a trailer or attachment to your vehicle. The average wake boat can weigh up to 5,000 pounds—there is no waterskiing if you can't bring the boat with you—and if you carry livestock, you'll need a livestock trailer, which can weigh over 7,000 lbs! Finding a truck that can tow this amount of weight can be tricky.
While there are many small trucks on the market, most of them cannot tow over 4,000 lbs. The 2021 GMC Canyon and 2021 Chevrolet Colorado models can both tow between 3,500 and 7,000 lbs, with the GMC Canyon up to 7,700 lbs, making them the best small trucks available for towing heftier loads.
In this article, we will go through a list of the small towing trucks to help you decide which truck best fits your needs. We'll also discuss the individual GMC Canyon and Chevrolet Colorado, the small trucks that can pull the most, and include some of the top-performing larger vehicles that can pull up to 20,000 pounds. We'll also get into the nuts and bolts involved in creating a car that can haul a massive load.
Top Small Trucks and Their Towing Capacities
These small pickup trucks are all 2020-2021 models. Listed below are the truck model, towing capacity, price, and a link to the website for more information on each model.
MSRP stands for Manufacturer's Suggested Retail Price. Based on price and towing capacity, the 2021 Chevrolet Colorado is most worth buying, while the 2021 GMC Canyon undoubtedly has the highest towing capacity of the smaller models presented.
| Truck | MSRP | Towing Capacity | Link |
| --- | --- | --- | --- |
| 2021 GMC Canyon | $26,800 | 3,500 to 7,700 lbs | See here |
| 2021 Chevrolet Colorado | $25,200 | 3,500 to 7,000 lbs | See here |
| 2021 Jeep Gladiator | $34,960 | 4,000 to 4,500 lbs | See here |
| 2021 Toyota Tacoma | $26,400 | 3,500 to 6,800 lbs | See here |
| 2021 Honda Ridgeline | $36,490 | 5,000 lbs | See here |
| 2021 Ford Escape | $25,555 | 1,500 to 3,500 lbs | See here |
| 2020 Jeep Gladiator | $33,545 | 4,000 to 4,500 lbs | See here |
| 2021 Jeep Cherokee | $27,890 | 2,000 lbs | See here |
The 2021 GMC Canyon
The 2021 GMC Canyon has the highest pull-load capacity, likely due to the fact that it has 369 lb.-ft. of torque, a component crucial to the function of the engine and the vehicle's towing capacity.
The car also has the option of off-road suspension, uphill and downhill descent control, making it the perfect truck to buy if you're planning on pulling a camper or horse trailer into the backcountry.
This is just overall a really great vehicle, with an impressive 308 HP 3.6L V6 engine and multiple trim choices that allow towing of 7,550 to 7,700 lbs, the Canyon Elevation Standard and Elevation models being the highest.
As a reference guide, a large livestock trailer typically weighs about 7,300 lbs, a large travel trailer about 6,300 lbs, and a large flatbed trailed 3,000 lbs. So the GMC has you covered for these kinds of heavy-duty hauling. For a small fishing boat or jet ski trailer, this is also a great option.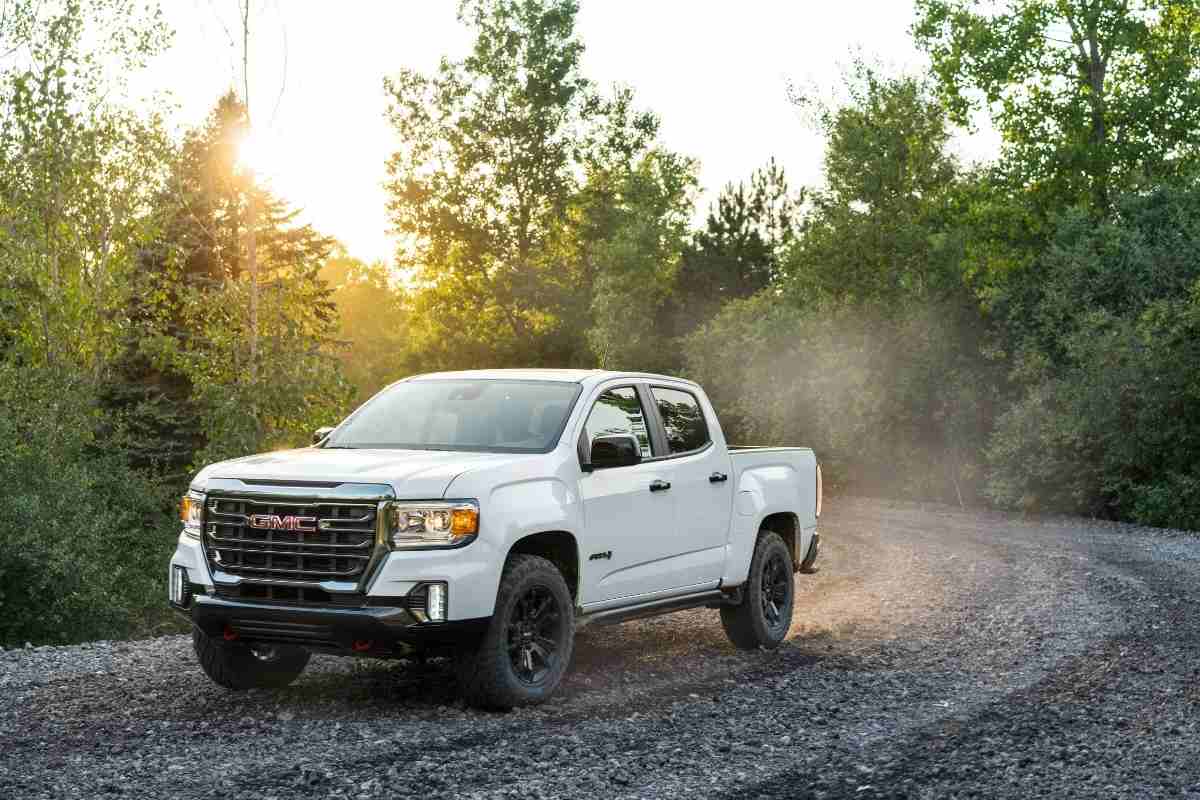 The 2021 Chevrolet Colorado
Chevy's motto for their 2021 Chevrolet Colorado is "take on the world," and with this little truck, you can certainly do that. At $25,200, the Chevy Colorado is the cheapest small truck on our list, but it can amazingly still pull loads up to 7,000 lbs.
Similar to the GMC Canyon, this truck is also available with a 3.6L V6 engine, powerful enough to pull a boat up a hill. Its 275 lb.-ft. of torque do account for the slightly lower towing capacity, however.
If you are thinking of purchasing a 2021 Chevrolet Colorado for towing needs over 4000 lbs, be sure to notify your dealership and opt for the 3.6L V6 engine.
While this engine has a slightly lower gas mileage at 18 miles per gallon as opposed to the 19 miles per gallon of the standard engine, the 3.6L V6 engine is what you'll need to equip the Chevy Colorado to pull ultra hefty loads, such as mid-size campers, large boats, and livestock trailers.
Talk with your dealership to figure out what's right for you.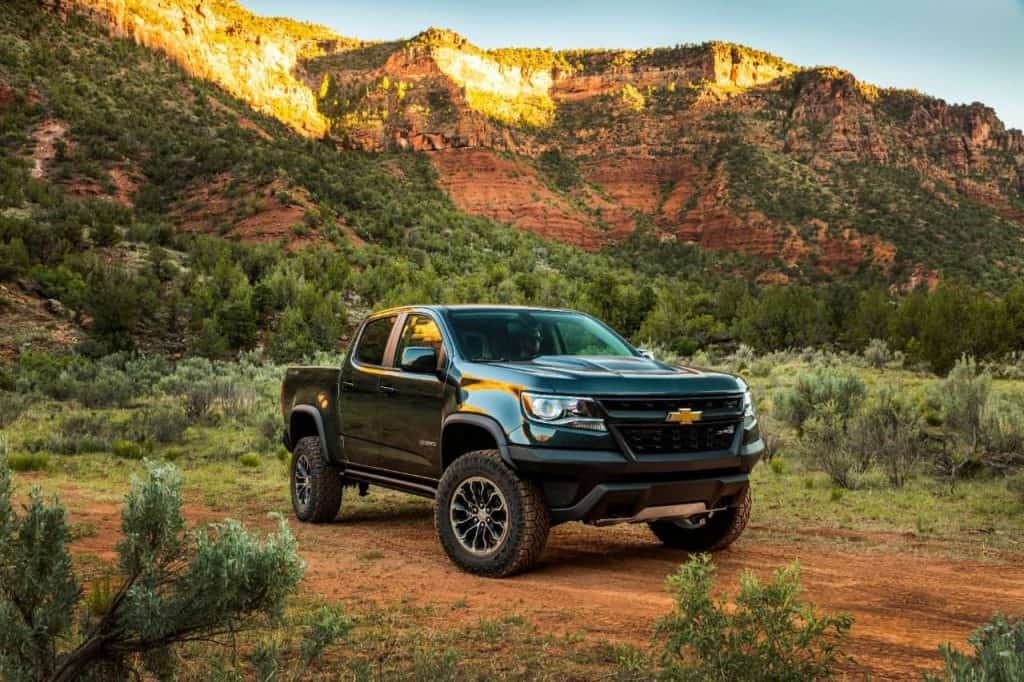 Small Trucks vs Large Trucks
The small trucks we've listed are perfect for hauling most standard-size loads, from sailboats to campers to horse trailers. They are cheaper, most averaging below $30,000, and in many cases, they are easier to drive than their larger counterparts.
Large trucks, such as the Nissan Titan and the Chevrolet Silverado 2500HD and 3500HD, are heavier, bulkier models. They are also more expensive, with the Nissan Titan sitting at a base price of $37,785 and the Nissan Titan XD costing $46,175 at its base price. The heavy-lifting Chevrolet Silverado 2500HD and 3500HD sit at around $50,185, almost double the price of a smaller truck.
The benefit of these larger trucks is mainly in their pulling capacity. The Nissan Titan can pull 9,370 lbs of conventional towing, and the XD gets 11,070 lbs. The Chevrolet Silverado 2500HD and 3500HD are the beasts of the towing world and are able to haul up to 20,000 lbs. These vehicles are equipped with a turbocharged V-8 engine, which really makes the difference in the price and in the towing capacity.
Torque: The Towing Difference
A note about torque. You've probably heard of it before because the towing capacity of your truck's engine absolutely depends on it. Torque refers to the rotating force produced in your car's engine and is expressed in pounds per foot (lb.-ft.).
Higher torque means more energy efficiency, which means that you can tow heavier loads. Most heavy-lifting vehicles have a diesel engine or the option for one. The reason for this is that a diesel engine generates more torque. So if you are looking to pull ultra-heavy loads, always opt for a diesel engine over a gas engine.