What SUV has the Least Problems? (Explained!)
This post may contain affiliate links. As an Amazon affiliate, I earn from qualifying purchases.
When you have a big family or just need to transition to a bigger vehicle, it can be difficult to find a low-maintenance SUV that doesn't have any problems. Every SUV is different from the others and they are not all reliable. Some SUVs have frequent small problems and others have rare but serious issues.
The 2018 Chevrolet Tahoe has the least amount of problems with a reliability rating of 4.5 out of 5. In 2021, this SUV won the JD Power Large SUV Dependability award. The 2018 Tahoe is an extremely reliable vehicle with very few issues, and owners of this vehicle have few reliability complaints.
The Chevy Tahoe from 2018 is one of the most reliable SUVs out there, but what makes it so dependable? Keep reading to learn about the ratings, specs, and reviews on this vehicle.
Chevy Tahoe Ratings
When getting an idea of how a new vehicle might perform and how much you might like it, looking at the official ratings can help you understand. The 2018 Chevrolet Tahoe has impressive ratings in all categories with none of them below a 7.8 out of 10. These are the ratings that this SUV received in each available category.
The Chevy Tahoe from 2018 received an 8.4 out of 10, which is very high for an overall average. The critics' rating was a whopping 8.9! A rating that high in the critics' rating is very promising to owners of this vehicle. For performance, this SUV received an 8.
This is not bad and considering the weight of a vehicle like this, it is quite impressive. The interior rating was the same as the performance rating at an 8 out of 10.
The lowest rating that the 2018 Chevrolet Tahoe received was 7.8 in the total cost of ownership category. With prices from $38,000 to $60,000, it is not the cheapest SUV out there. The high cost of ownership comes from the amount of fuel that you will buy over time because of the poor fuel economy.
The final rating, reliability, comes out to a 4.5 out of 5. This is very impressive and it helps make sense of why this SUV is regarded as reliable as it is.
The high ratings of this vehicle might make you wonder what the specs for this SUV are to get such high ratings. What did they construct the vehicle with and what features and details do they include to warrant these impressive ratings? We will talk about the important details of this SUV's construction that got it those ratings.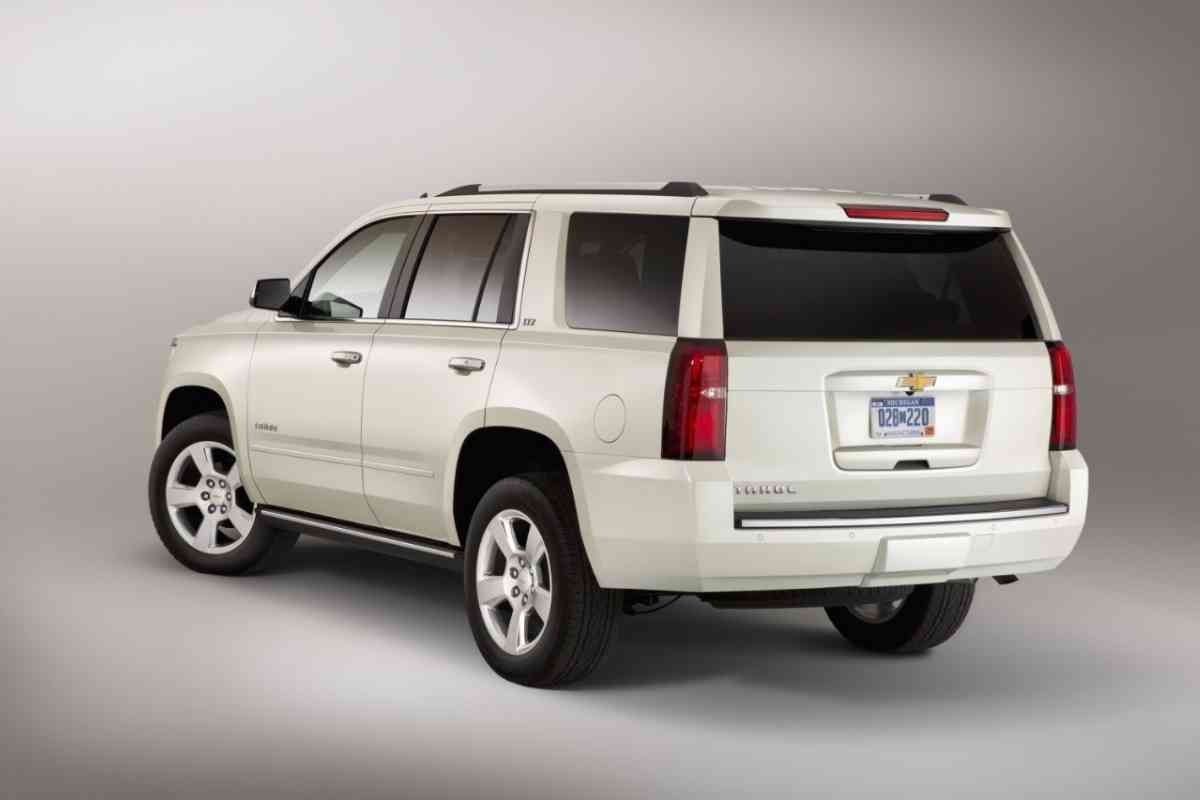 Chevy Tahoe Specs
Now that you know about the ratings that this SUV received, you have a better understanding of what aspects are great and which ones are not so great. Looking at some specific specs of this vehicle will help you understand why it has the ratings that it does and why it is so reliable. We will look at the mileage that it gets, the engine, and some details on capacity.
Mileage
When it comes to the fuel economy of the 2018 Chevrolet Tahoe, it is not the most fuel-efficient. This drives up the price of owning the vehicle. Over time, that can have a big effect on your wallet. This SUV gets 16 miles per gallon on city streets and 22 miles per gallon on highways.
One upside to using so much fuel is that the engine is flex-fuel, which means it can run off of the cheaper ethanol and gasoline mix offered at many gas stations. This can save that extra fuel money that you are spending.
Engine
The engine is one of the most important parts of any vehicle. The engine on the 2018 Chevy Tahoe is a 5.3 Liter, V8, flex-fuel engine. That is a huge engine! This powerhouse has 355 horsepower at 5,600 rpm and 383 pounds per foot of torque at 4,100 rpm.
An engine this powerful requires a lot of fuel and that is why the mileage is so low. However, such a powerful engine is much more reliable as it is built to handle a lot.
Capacity
There are a few capacities to be aware of with this SUV: towing capacity, payload capacity, and fuel tank capacity. Knowing these capacities will help you preserve your Tahoe so that it stays reliable and functions well.
Because of the incredibly strong engine, the towing capacity for the Chevrolet Tahoe is 8,400 pounds! That is a lot of extra weight to pull! The maximum payload capacity or cargo weight is 1,670 pounds. Finally, the fuel tank capacity is 26 gallons, which means that on one tank of gas, this SUV can take you up to 572 miles!
Chevy Tahoe Reviews
When it comes to consumer reviews, the 2018 Chevrolet Tahoe is widely praised for all sorts of different attributes. Before we get into those, it is important to note that this SUV received the most reliable large SUV award from JD Power in 2021, so even 3 years after being released, it is more reliable than every other, newer SUV.
Overall, the consumer reports from JD Power give the Chevrolet Tahoe an 81 out of 100 based on quality, reliability, driving experience, resale, and dealership experience. All of the ratings are 79 or higher, which is very impressive. When it comes to individual customer reviews, they are generally good.
The individual customer reviews vary from extremely satisfied to disappointed in the vehicle. However, even if a customer had a poor experience with their Chevrolet Tahoe, it is always a rare issue, and never is it a complaint about the reliability of the vehicle.
Most poor reviews come from customers who have not owned the vehicle for very long and there was a small, specific issue that they had with the vehicle or a detail that was not to their liking.
The 2018 Chevrolet Tahoe is a vehicle to keep your eye on when looking for a reliable SUV as it will deliver in that aspect!