What Toyota Trucks Can Be Flat-Towed? The Ultimate Guide!
This post may contain affiliate links. As an Amazon affiliate, I earn from qualifying purchases.
Are you planning to flat-tow your Toyota truck? Hold on just a minute. Before doing so, you need to know what Toyota trucks can be flat towed.
There are a lot of great cars and small SUVs that can be flat-towed, but what about Toyota trucks?
Usually, four-wheel and rear-wheel drive trucks with manual transmission are easy to flat-tow in neutral using a camper. The most frequently flat-towed trucks include Rams, Fords, and Jeeps. Some specific flat-towable truck models include the RAM 1500, Ford F-150, Wrangler Rubicon, and Chevrolet Colorado.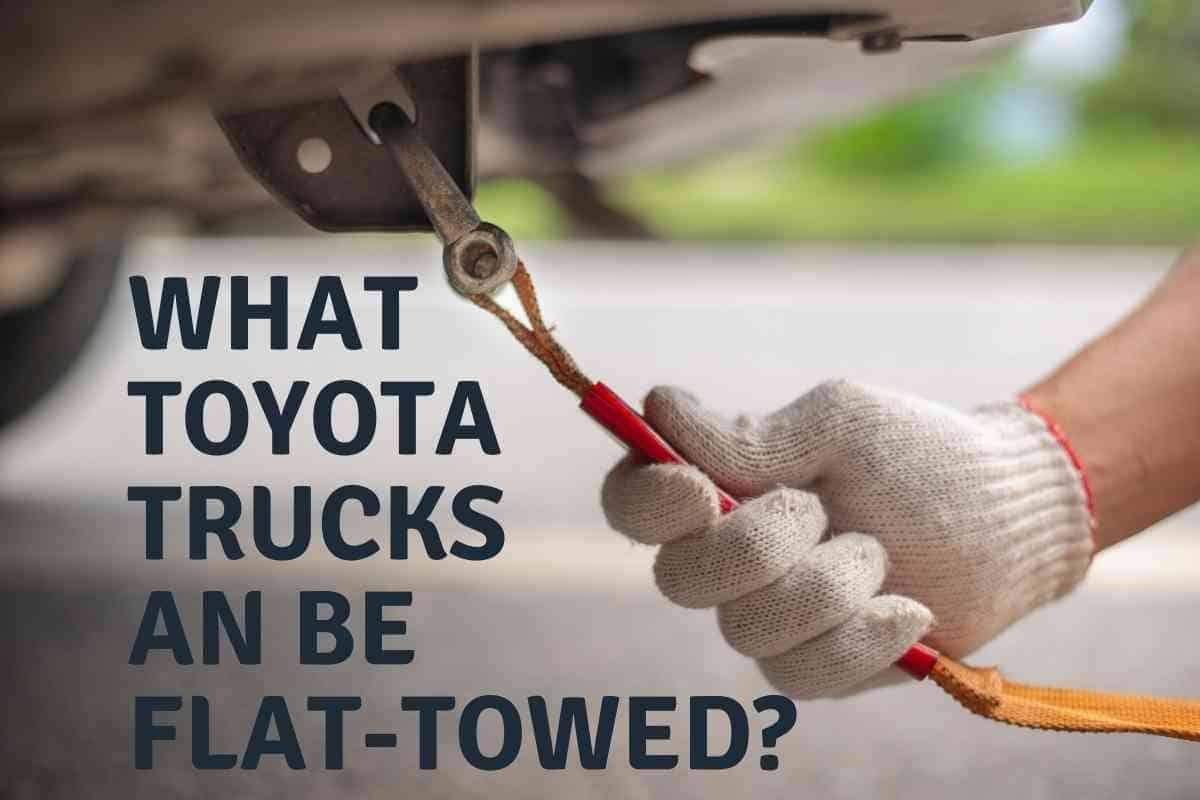 Table of Contents
What Toyota Trucks Can Be Flat-Towed? 
Toyota produces some of the best off-roading vehicles, but most of their trucks cannot be flat-towed. This happens primarily due to their transmission. However, Toyota Tundras, 4Runners, and Tacomas with manual transmissions can be flat-towed, but it's still not advised.
The real problem arises from the lubrication of the vehicle itself. For example, inside the transmission system, Toyota uses a pump that continues to lubricate the parts during the operation.
If you flat-tow a vehicle, the output shaft fails to receive the right amount of lubrication unless the engine is working.
Having driven different Toyota trucks, we're in a good position to tell you all about whether you can flat tow a Toyota truck.
Which Toyota Trucks Can Be Flat-Towed?
By now, you must have realized that flat-towing a Toyota truck isn't a good idea, and that's primarily due to transmission and lubrication. In the following paragraphs, we will discuss three Toyota models; the 4Runner, the Toyota Tundra, and the Toyota Tacoma. Some models of the FJ Cruiser can also be flat towed, but it's not a truck.
We will also discuss why they can't be flat-towed and how to tow them if the need arises.
Flat-Towing a Toyota Tundra
There is always a debate over whether or not a Toyota Tundra should be flat-towed using a motorhome. For your information, Toyota prohibits the flat-towing of the Tundra behind a Motorhome, especially the models that came between the years 2000 and 2002.
The main reason is that these vehicles are equipped with an automatic transmission that needs a running engine for ample lubrication of the components.
As discussed above, when flat-towing or dinghy towing, the engine is shut off, so the oil-supplying pump won't be able to perform the way it is supposed to perform. Moreover, when you flat-tow, the wheels continue to rotate, thus requiring regular lubrication.
If there isn't a sufficient supply of lubrication, the transmission can suffer.
On the flip side, trucks and SUVs with a manual transmission can easily be flat-towed, and you won't even have to worry about the lubrication.
Interestingly, most cans with a manual transmission can easily be flat-towed without specific modifications. You can even flat-tow an automatic transmission truck if the output shaft provides ample lubrication.
However, if it is the input shaft, you will need a lube pump to distribute the lubrication if the engine isn't running while the towing is in progress. You must remember that four-down towing isn't too bad for your transmission system, as long as you incorporate some modifications to the system.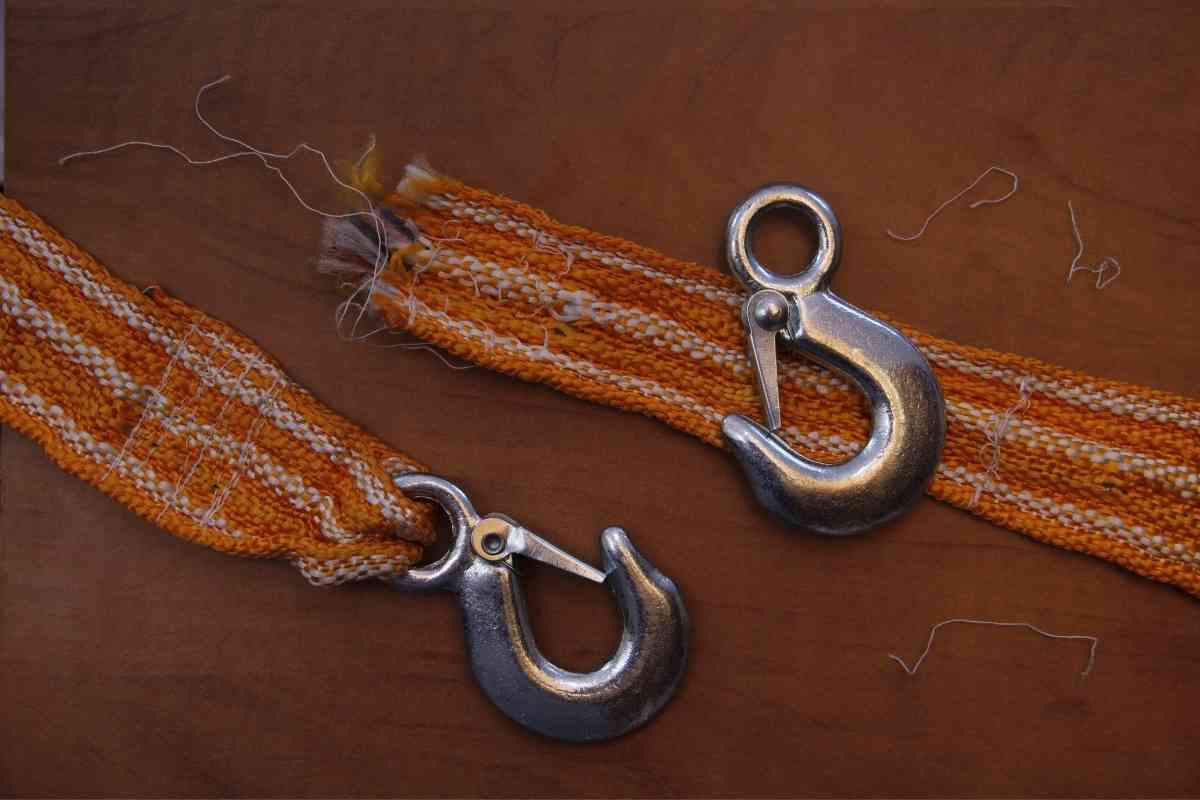 What about Pickup Trucks?
Unlike the Tundras, pickup trucks are great when towed by a motorhome. Moreover, they are easy to set up and very convenient to tow as well.
They are also very versatile. They can make you feel very comfortable, no matter where you go.
Moreover, their interiors are very comfortable, and with a pickup truck, you won't even need your coach. These trucks are very rugged, and therefore they can allow you to make a truck bed which carries your camping stuff with you.
Towing a pickup truck is good for two reasons. First of all, it shows whether or not it can be flat-towed or if the motorhome is up to par.
Flat-Towing a Toyota 4Runner
Before we move on, it is important to know that a Toyota 4Runner isn't suitable for flat-towing. The reason is that flat-towing a Toyota 4Runner can affect the transmission, the drivetrain as well as other mechanical components of the truck.
However, just because it cannot be flat-towed doesn't mean it cannot be towed at all. Here are some easy ways to tow a Toyota 4Runner.
Flatbed Towing
Irrespective of the drivetrain of your 4Runner, it can easily be towed with a flatbed car trailer. This is also a safe option, as it keeps all of the wheels on the ground. Whether you are doing the towing solo or you are working with a towing company, this towing method should be your go-to.
Wheel Lift Towing
You can tow a 4Runner truck with a wheel lift truck and even a tow dolly. If your 4Runner is a 4-wheel drive, make sure the wheels don't come into contact with the ground. This can be done with a separate dolly.
If you have a 2-wheel drive, you will need a separate dolly, but it depends on which direction your 4Runner truck is facing.
Let's suppose your 4Runner is facing forward. If your front wheels are in the air behind the tow vehicle, you might think the job is done.
However, it really isn't. You will also need to invest in a separate dolly for the purpose of keeping the rear wheels off the ground.
On the flip side, if your 4Runner is facing backward and the rear wheels are lifted, you can leave the front wheels on the ground.
The reason is that in a 2WD 4Runner, the front wheels can continue to spin, without having much of an impact on the mechanical components of the truck, thus protecting your investment.
However, it is very important to remember that if you are towing a two-wheel-drive 4Runner in this fashion, you need to make sure you haven't locked the steering
Some 4Runners come with a smart key system. If such is the case with your truck, you must move to the ACC position.
Moreover, if the rear wheels are lifted while the front wheels are in contact with the ground, it is very important to note the ground clearance.
If there isn't sufficient ground clearance, the front bumper can get damaged.
Sling Towing
Sling towing is also an alternative to flat-towing, but Toyota doesn't recommend this form of towing as it can damage your vehicle's body.
Flat-Towing a Toyota Tacoma
It is stated in the user's manual of the Tacoma loud and clear that flat-towing isn't suitable for this vehicle as it can harm the transmission. If you're still wondering if you can flat tow a Tacoma, here are some other reasons why flat-towing the Toyota Tacoma isn't the best idea.
Design Issues
While the engine isn't in a running state, the transaxle and the center differential cannot spin freely. This feature does a great job of protecting the drivetrain, as well as the transmission. For the fluid to circulate, the engine should be in a running state.
Otherwise, the transfer case is likely to overheat.
Other Components
The speedometer on the Tacoma can be damaged during the flat-towing process. It can also damage other gauges during the flat-towing process. Flat-towing can also lead to a false mileage on the odometer.
Driving a Toyota truck is a great pleasure in itself, and these trucks don't come cheap either. While these trucks are strong enough to handle tough and unusual terrains while carrying heavy loads, these vehicles aren't built to be flat-towed.
Even if you must flat-tow them, they need some extensive mods, which can be costly and time-consuming.
The primary reason why flat towing isn't the best idea for Toyota trucks is the build of their transmissions.
Most new Toyota trucks contain an automatic transmission which needs continuous lubrication.
On the flip side, towing vehicles with manual transmissions isn't much of a hassle. It is better to avoid the flat-towing of these trucks, but if you must, it is better to follow the prescribed method.