What Trucks Can Be Flat Towed Behind a Motorhome?
This post may contain affiliate links. As an Amazon affiliate, I earn from qualifying purchases.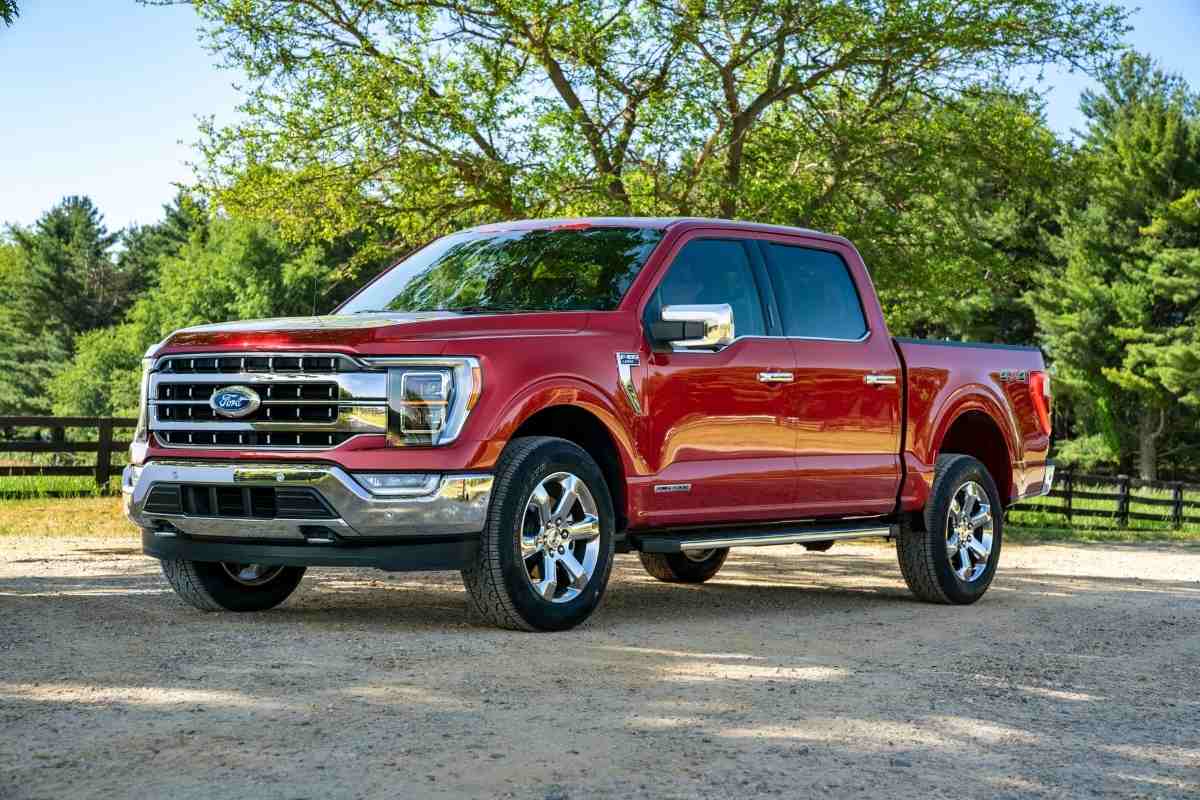 Motorhomes are great when you want to leave the city behind and go camping. If you have a large camper, it allows you to bring the luxuries from your home on the trip, especially if you go camping in a rural location. However, these campers are large and do not park in small spaces in shopping malls and sightseeing locations.
As such, if you want to explore nearby locations, you need to tow another smaller vehicle. This means you can leave the camper in the campsite and drive to town for groceries or for sightseeing. Which trucks are the best for flat towing behind an RV?
What Trucks Can Be Flat Towed Behind A Motorhome (RV)?
Rear-wheel drive and four-wheel drive trucks with a manual transmission are the easiest to flat-tow behind a camper. The most popular trucks people flat tow are Ford, Jeep, and Ram. Some of the trucks you can flat tow include the Jeep Wrangler Rubicon, Ford F-150, RAM 1500, and Chevrolet Colorado among others.
When deciding the best truck to flat tow, you need to check your truck's manual to understand its mode of transmission and the nature of the transfer case. Depending on where the transfer case is, there are trucks you can flat tow and others that you cannot. Again, some states limit the length and weight of the vehicle that you can flat tow.
If you have never flat-towed a vehicle behind your RV, you need to check the manual of the camper to understand its towing capacity. Compare that capacity with the curb weight of your truck. From there, check the rules of the roads you will use and the states you will visit.
If you cannot tow your vehicle behind your RV, you can install aftermarket parts to make the vehicle ideal for flat towing.
Which Truck Models Can Be Flat-Towed Behind a Motrorhome?
RAM 1500
The RAM 1500 is a popular option for those who need a truck to flat tow. It also ranks at the top of all 1500 trucks, thanks to its great driving dynamics, comfort, fuel-efficiency, and good handling. The truck sports a turbo diesel engine, spacious cabin, and offers a comfortable ride.
The manual transmission means the truck is flat-towable. However, only the 4WD models are flat-towable. The truck has no speed and distance limitations, so you can tow it on different adventures.
Every RAM 1500 has unique rear coil springs that ensure they have a smooth ride even when the terrain is rugged. If you need a truck for daily driving, the RAM 1500 from model 2010 to model 2018 are the best for flat towing.
Chevrolet Silverado and GMC Sierra HD
If you need heavy-duty trucks for your trip, you can go with the GMC Sierra or the Chevrolet Silverado. The most popular trucks are models between 2015 and 2018. They are ideal when you need to haul gear or tow a trailer.
The only challenge with these trucks is their heavy curb weight, which is about 6,000 to 7,000 pounds. Granted, you can only flat-tow these vehicles behind large class A campers.
Both trucks feature powerful V6 or V8 engines that make any trip feel easy, especially when you need to sightsee in an area with rugged terrain. They also have above-average towing and payload capacities. They are also more affordable than other heavy-duty trucks.
The trucks have no speed or distance limitation. The only trucks you can flat tow are the 4WD models with 4WD low setting. Your truck also needs a neutral position in its two-speed transfer case.
Ford F-150 and Ford Ranger
The F-150 models from 2009 to 2018 are do-it-all trucks. It is a work truck engineered to haul and tow bikes, boats, and gear among other cargo. You can also drive your truck on different terrain.
Although the truck is powerful, it is smaller than most other trucks in its category, making it easier to tow. It is also an ideal every-day use car for someone who goes camping.
Like all other trucks, you can only tow 4WD models behind a camper. If you have an F-150 model 2012 or earlier, it should have a manual shift transfer case. You cannot tow a truck that has an electronic shift transfer case.
Like all other trucks you can tow, the F-150 has no speed and distance limitations.
The Ford Ranger is also a work truck. You can flat tow the 4WD model when the transmission is in neutral mode.
Flat Tow With The Ford F-150 or Ford Raptor Truck
Chevrolet Colorado
If you need to bring a smaller truck, the Chevrolet Colorado and the GMC Canyon are great options to have. These are mid-sized trucks that work great as family cars. You can tow them behind class A and C campers with great ease.
The stable handling, comfortable cabin, and fuel-efficient engines make the Colorado a great option for daily commuting. It is a pickup that offers impressive towing capabilities and allows you to maneuver in busy towns.
The best models are between 2015 and 2018. You can only flat-tow the 4WD models with a two-speed transfer case in neutral position, or you can go for a 4WD with a low setting. No speed or distance restrictions exist, so you can bring the Colorado on a long trip.
Jeep Gladiator
The Jeep Gladiator was reborn in 2020 after production ended many years ago. It offers all the features you'd expect from a Jeep. These features include third-generation Dana 44 axles, Trac-Lock limited slip differential, and 33-inch off-road tires among others.
The truck is engineered to drive off the road and haul and tow cargo. Like the Wrangler this truck is based on, you can flat tow the Gladiator when it has an automatic or a manual transmission. When out there, the truck can tow up to 7,650 pounds and has a payload capacity of the 1,600 pounds.
The truck is available in the standard 3.5L Pentastar V-6 engine, which generates 285 horses, or the 3.0L EcoDiesel engine, which generates 260 horses. The car doesn't have any speed and distance restrictions, so you can bring it on your longest trips. Further, Jeep also included some fun features such as the fold-down windshield.
Why is Flat Towing the Most Ideal Towing Style for Trucks on a Motorhome?
There are two ways to tow a vehicle. You can use a two-wheeled dolly or a four-wheel dolly. In both towing cases, you need to ensure that the truck's curb weight and the connecting hardware do not exceed the towing capacity of the camper.
These two methods are not popular as they need large and expensive hardware to connect. The hardware adds to the weight of the entire setup, making it even more challenging to tow heavy duty trucks. Maintaining the tow dolly or trailer is also not affordable for most camper owners.
A lot of work goes into connecting and disconnecting your truck at home and at the campsite. After disconnecting the truck, you need enough space to store the tow hardware. Although these two methods of towing can accommodate any truck, they are not efficient when you need an easy method.
The alternative to these two methods is flat towing. Also known as dinghy towing or four-down towing, this method doesn't accommodate all trucks. The method requires you to attach a tow bar to the truck and allowing it to follow the camper on its four wheels. The name dinghy towing implies that the towed truck looks like a dinghy pulled by a large yacht.
With flat towing, a dolly is not needed as the towed vehicle has all its four wheels on the asphalt. The simplicity of this method makes it ideal when you need to drive your camper for long distances.
Years ago, there were several trucks that you could flat tow. Most of the older truck models with a manual transfer case and a 4WD drivetrains and rear-wheel drive trucks with a manual transmission can be flat towed.
Today, most trucks come with an electronic transmission, four-wheel drive systems that are either part-time or full-time, and the front-wheel drive trucks make it challenging to flat-tow newer trucks. As such, you need to research before choosing a truck you can flat-tow.
Most trucks with a manual transmission can be flat-towed. If your truck has an automatic transmission, flat towing is not always possible unless you have aftermarket flat-towing hardware. You can check your truck's transmission and drivetrain from its user manual.
Therefore, the two types of vehicles you can tow are rear-wheel drive trucks with manual transmission or 4WD trucks with a manual transfer case. This is the case with the RMA 1500 and the Ford F-150 trucks listed above.
Even for the models listed above, some model years are not flat-towable. Automakers redesign their trucks to make them better, but in turn modify features that made the truck flat-towable.
The redesign of the Ford trucks to include an electronic shift transfer case made some models years not towable even when they were previously popular for that.
Why Can't I Tow Some Trucks?
The problem with most trucks is in the transmission system. You may have a great 4WD truck that can go off the road, but its transmission limits towing. The number of manual transmission vehicles dwindles every year. Most of the vehicles now feature continuously variable transmissions, CVTs. These trucks cannot be towed with all four wheels on the asphalt, which will damage their transmission system.
Toyota produces impressive off-road vehicles. However, it is not possible to flat-tow most of the vehicles from Toyota, thanks to the transmission system. Most of the trucks have the features to handle rugged terrain on their own, but they do not make them cut when it comes to flat towing. All the automatic transmission vehicles from Lexus, Toyota, and Scion are not ideal when you need a flat-towable truck.
Without enough lubrication, the truck can damage parts in its transmission system. As such, you cannot tow the truck with the driven wheels rolling, or the half shafts, or the driveshaft turning.
Automakers indicate whether you can tow a vehicle on all four. Check the towing section and see the options you have. The Camper Magazine also publishes a list of all trucks and other vehicles that you can flat tow.
The list has vehicles from 1990, which can help you figure out if your truck can be flat-towed. Even if your truck meets the criteria for flat towing and appears on the magazine, you still have to check the manual and see if you can flat tow it.
How Can I Make My Truck Ready for Flat Towing If It Is Not 4WD and Has No Manual Transmission?
If your truck has an automatic transmission or other features that make it impossible for you to tow it flat, you can add some devices to make it towable. Some of these devices include:
• Transmission lubrication pumps
• Driveshaft decouplers
These two systems allow some automatic transmission trucks to handle the flat towing. These devices will cost you more money than you need to buy a tow dolly. They are also complex to install, and you need a mechanic.
If you do not install these systems correctly, you might end up damaging the drivetrain components and your truck's engine. Further, when you install these systems, you will have warranty issues as most automakers do not cover a car with aftermarket parts.
Most camper dealerships and repair centers will install devices that make your truck ready for flat towing. However, it is always better if you could pick a truck that is flat-towing ready.
Flat Towing Tips for Adventure Lovers
While flat towing makes it easier for you to explore once you get to the campsite, but you need to do a lot before and after the journey. For starters, you need to have the necessary hardware such as the tow bar to make the towing easier. You also need the skills to connect the needed hardware.
While some cars and trucks are flat-towable, they may need you to make special stops and run the engine sometime during the journey. This ensures the system lubricates your engine so that you do not damage any parts. For other models, you must remove a few fuses before starting the journey.
Some trucks have an automatic system, but you can tow them with all four down. However, these will require you to place the transmission system in the park position and the transfer case in neutral position. This way, you will not damage any parts.
If your truck's steering relies on an ignition switch to unlock it, it cannot be flat towed with the front wheel not turning. You need to leave the key in the ignition and switch the ignition to the accessory position to keep the steering wheel unlocked.
The fact that previous models of a truck were flat-towable doesn't mean that the new models are towable too. Automakers can redesign their trucks to make them challenging to tow. Always check the manual if you are in doubt.
Note that, most states will require that your towed vehicle has an auxiliary brake system. These brakes should work in connection to the brakes of the camper. In most cases, trucks will exceed the towing requirements of most states.
Even if your state doesn't require that you fit auxiliary brake systems, these systems are ideal when you need to stay safe on the road. Your truck manual has detailed information on towing.
It shows which fuses you need to remove, the switches you need to leave on and which one to switch off and the position of the shift lever for the transmission.
The manual will also tell you whether you need to run the engine during the trip and for how long. This is why the manual is the best place to check on the flat-towability of a truck.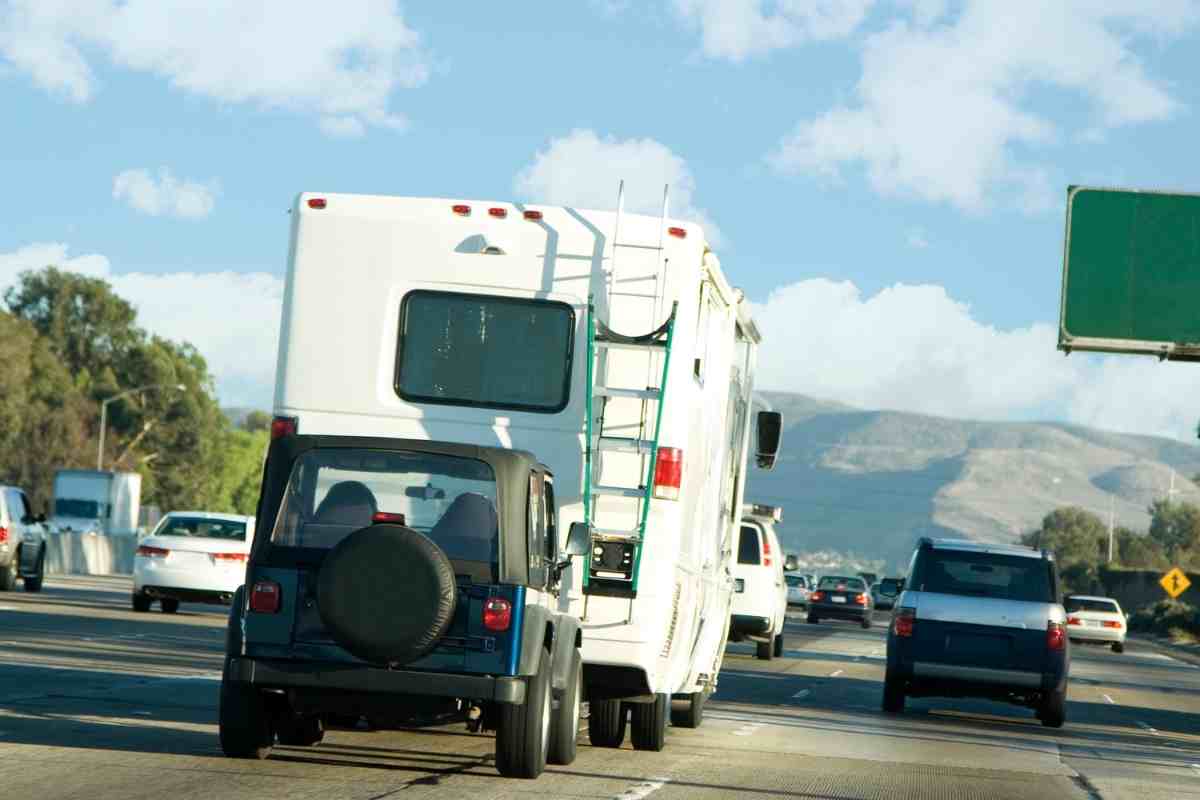 Closing Thought
A motorhome drives great on open road. You will not find any challenges driving and having fun on the highway. However, once you get to the campsite, you no longer need to drive the camper everywhere you go.
This is where you need a second vehicle. If you do not have a truck yet, go for one that is configured to flat tow without aftermarket parts. If you already have a truck, check the manual to understand how to tow and whether it allows flat towing.
Check how to install aftermarket parts if your truck doesn't accommodate flat towing. Flat towing a truck not configured to do so can lead to very costly damages on the transmission system.