Which Vehicles Can Be Flat Towed? (2020 Model Year)
This post may contain affiliate links. As an Amazon affiliate, I earn from qualifying purchases.
When it comes to road trips, is there anything better than traveling on a large trailer? You have your friends or family (or both since the more the merrier) in the back, while you are driving into the sunset. Trailers are especially popular for longer road trips and camping. However, what trailers are not so great for is when you want to take a simple ride to the grocery store because you are low on water. Or maybe one of your friends accidentally fell into some poison ivy and you need to take him or her to the hospital. That is when having a smaller vehicle towed to your large trailer would come in handy. So that poses the question: which 2020 vehicles can be flat towed?
Although most people might think you can flat tow any car, they are well…wrong. Flat towing if done wrong, can be extremely damaging to your car. Also, most people know what flat towing is but they do not know the specifics of it so we will cover that in this article as well. If you have been itching to get back on the road and have been wondering which 2020 vehicles can be flat towed then we have got you covered.
Let's get started!
What Does Flat Towing mean?
Before we dive into what 2020 vehicles can be flat towed, let's dive into what flat towing actually means. Most people see a car being pulled by a trailer and they think "that is flat towing" and they are not wrong. However, if you want a more in-depth answer then we have got you covered.
Flat towing is a method of towing where you pull along your vehicle so that all four of its wheels are on the ground and there you have it…you are flat towing. When you flat tow you do not have to worry about wearing your tires out or wearing your drivetrain out. Also, those who are very conscious of their mileage…good news, there are no mileage concerns!
Flat towing is also quite versatile since you can tow almost any type of vehicle with flat towing.
Flat towing is also super easy to maneuver and even back up. If you have ever seen a trailer flat tow two vehicles and think that the driver must be crazy…well not really.
You can definitely tow more than one vehicle behind your RV! All you have to do is make sure the model that you end up going with is large enough and is able to support the weight capacity.
Please keep in mind that although this can be done, it is also quite dangerous if done incorrectly. Make sure you fully understand how to install both vehicles and that both vehicles are secure.
If this is your first time flat towing more than one vehicle or if you are a bit iffy on the process, do not hesitate to look up articles or videos online. There are plenty of free how-to videos and tutorials where veteran flat towers go into detail about the overall process and they also offer great tips and tricks.
If you do choose to flat tow please keep in mind that this method will take longer and it will also require more work to load up. Flat trailers overall are also more cumbersome than dollies and they will also require significant towing capacity.
If you are planning to take your trailer and vehicle (or vehicles) camping, then you will need to find an area to store your flat trailer which sometimes can be difficult and some drivers find it bothersome.
If all of that sounds fine to you then flat towing is the method for you. However, if you are wondering what else you can do, then we would recommend looking into dolly towing. What is dolly towing you ask?
Well, let's find out!
Is Flat towing the Same as Dolly Towing?
Some people confuse flat towing with dolly towing but the two are not one and the same. Unlike flat towing, when you use the dolly towing method, your car's front wheels are elevated off the ground while the rest of the car rests on top of the trailer.
What is great about dolly towing is it is made for modern cars. This is because mostly all modern cars feature front-wheel drive specifications. What this means is that you do not have to worry about altering the drive shaft.
If you are worried about wearing down your drive train, then you can rest assured that that will not be a problem with dolly towing. If you are someone that loves to road trip or if your family vacations are often accommodated with long drives then you will be happy to know that dolly towing will not ramp up your car's miles.
Despite all of the pros of dolly towing, we have to mention one con: you will not be able to pull a rear-wheel-drive vehicle with a dolly. It simply cannot be done.
Another con is the cost. Dolly trailers are more expensive than flat towing.
Similar to flat towing, dolly towing is a bit challenging at first. It will take some trial and error to get this method down but it can certainly be done. Once you have mastered dolly towing, then you will be able to get going faster and with more ease.
Similar to flat towing, we highly suggest double-checking your trailer and vehicle before hitting the road to ensure that everything is properly installed.
What 2020 Vehicles can be Flat Towed?
Now that we have gotten the differences between flat towing and dolly towing out of the way, we can get into what 2020 vehicles can be flat towed.
All of these cars are ideal for flat towing because they compact and subcompact. This not only ensures that they are within the RV towing capacity but it also ensures that they are safe to tow.
4 x 4 are great for flat towing and if you are wondering what is the best 2020 vehicle for flat towing then we would recommend the 2020 Jeep Wrangler.
The 2020 Jeep Wrangler is not just a popular recommendation for flat towing but for towing overall. It is preferred for its ability to take on off-road troubles, making it quite useful for RVs that will be taken through tougher terrains.
As for the Jeep Wrangler, flat towing options are available for these models:
Now just because smaller and more compact vehicles are ideal for flat towing, it does not mean that you should write off trucks just yet. If you have a truck and wonder if it is suitable for flat towing, the answer is yes. However, to make sure if it is suitable for flat towing do check with your driver's manual just in case.
One of the best trucks for flat towing would have to be none other than the 2020 Ford F-150. Not only is the 2020 Ford F-150 a great truck for flat towing but it is also ranked as one of the most popular pickup trucks…period. This makes it ideal for flat towing in our book and if you own one, you can be sure that it will not give you any trouble.
Another great bonus about the 2020 Ford F-150 is the fact that it offers a lot of room in the cargo with its truck bed. Not only that, but the 2020 Ford F-150 can be taken off-road for some real, off the grid fun. However, the 2020 Ford F-150 is also great if you just want to take a simple drive into town or take it on a short road trip.
Common Frequently Asked Questions about Flat towing
Is flat towing difficult?

Flat towing is difficult in the beginning and it may take more than a few tries to get it right. However, there are many useful articles and video tutorials online that will guide you step by step through the entire process.

As with most things in life, practice makes perfect.
Is it true that only smaller vehicles can be flat towed?

No, that is not true. While smaller and more compact vehicles are ideal for flat towing, it does not mean that you cannot flat tow your pickup truck as well. We would recommend checking out your driver's manual to see if your pickup truck is suitable for flat towing. If it is then we see no reason why it cannot be flat towed.

However since pickup trucks tend to be on the bigger side, we do recommend being extra cautious on the road, especially on the highway when you are merging. Or if you are parking and the road you are traveling on is narrow because that would make it especially difficult if you are towing a bigger vehicle. However, just because it is more difficult does not mean that it cannot be done.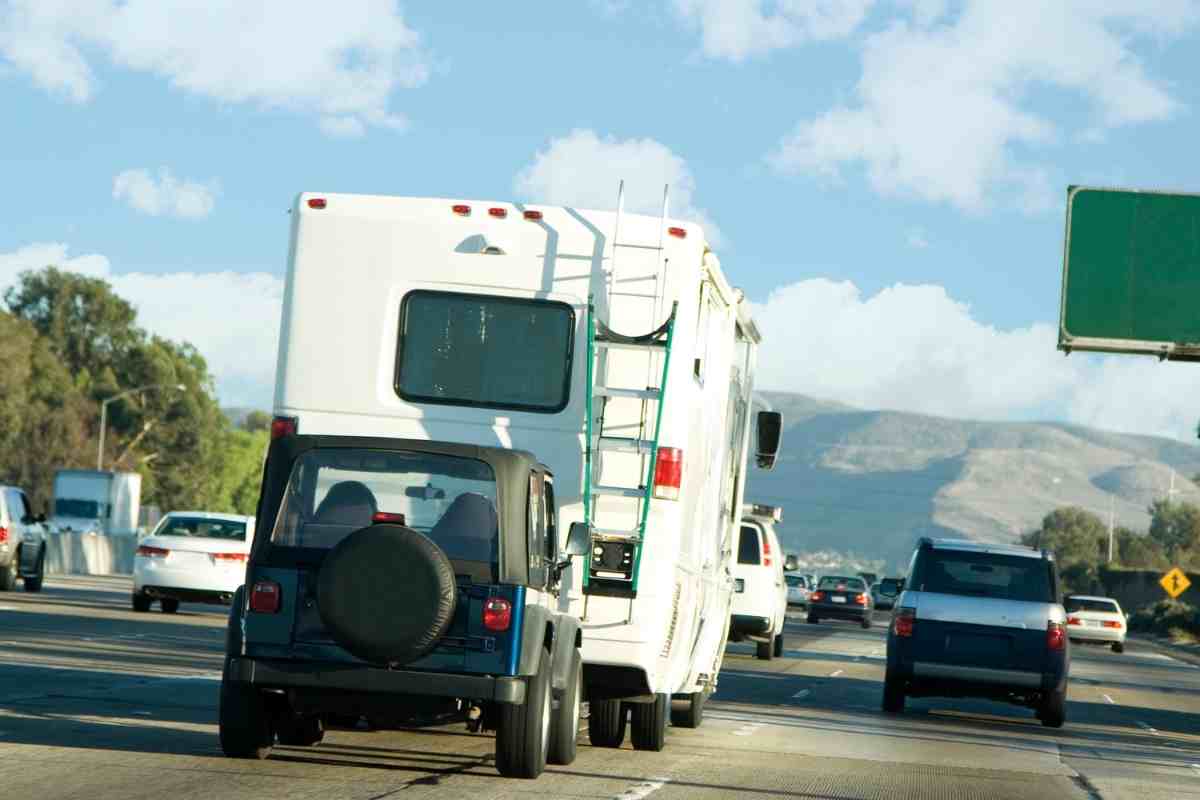 In Conclusion
We hope you found this article informative and hopefully your vehicle or the vehicle that you are thinking of purchasing has made it onto this list. As a reminder, this list only showcases the 2020 models. If your vehicle is a bit older, be sure to check if your vehicle can be flat towed and if not, check if it can be dolly towed instead.
No matter what method of towing you choose to go forth, we recommend purchasing insurance coverage for your trailer before hitting the road. It is definitely better to be safe than sorry, especially when you are driving a large trailer with a car attached to it.