Which Jeep Wrangler Comes With Leather Seats?
This post may contain affiliate links. As an Amazon affiliate, I earn from qualifying purchases.
The Jeep Wrangler is the perfect vehicle for someone who wants an SUV that can go anywhere. The Wrangler is good for more than simply climbing over rocks though.
Many people are able to use their Wrangler as a "crossover" SUV meaning that they use it for their daily life as well. (But it does not classify as a crossover)
Many of the problems that owners face out on the trail can be much different when they start to use their vehicles on other assorted trips or even for their day to day life.
Today, we're looking at the comfort provided by the Jeep Wrangler that is of the utmost importance – leather seats. These leather seats can add a distinct style and feel to a Jeep Wrangler.
Even though the car may be out getting dirty, you and your passengers can still have a distinct level of comfort thanks to these seats. The material itself is quite expensive so it's desirable in cars.
It's easier to clean which is a nice added perk and it resists certain smells a lot better if some kind of stain or spill were to happen as well.
If you are looking for a Jeep Wrangler that has these awesome leather seats, you'll need to pick an appropriate trim package that includes them.
The Jeep Wrangler has 9 various trim packages or sub-levels:
Sport
Sport S
Sahara
Rubicon
Willys
Black And Tan
Freedom
Sport Altitude
Sahara Altitude
Rubicon Recon
Leather seats are great but you also want to get a vehicle that matches all of your needs. This is the breakdown of these trim packages along with whether they have leather seats or not.
Sport
The Sport trim package is the most basic Jeep Wrangler package but that doesn't mean it comes without unique features.
It does have a push button start system which is unique for most "starter" level trim packages. You also have fully removable metal doors, of course and some nice electronic features on the inside like Bluetooth connectivity and a 5-inch touchscreen.
Jeep has made improvements recently to try and keep their electronics up to date and competitive with the marketplace.
Unfortunately, the Sport is only available with either Cloth Black or Cloth Black and Heritage Tan seating.
Sport S
Obviously, the Sport S is based off of the Sport model but starts to add some amenities that were missing from the basic Sport trim.
Here, you get air conditioning, remote lock & unlock capabilities, along with a leather-wrapped steering wheel.
As we've discussed, the leather on the wheel gives it a whole new feel and you can imagine yourself on long trips a bit easier with that steering wheel.
Unfortunately, your seating options remain the same with the Cloth Black or Cloth Black and Heritage Tan seats, this model does not have leather seating.
Sahara
The Sahara is a 4-door option for the Jeep Wrangler. It's got a ton of features that are very helpful when driving including a full-time four wheel drive system that really impresses even when compared to other vehicles in this price range.
Most people opt for a vehicle from the Jeep family because they trust the handling and how the car will perform in poor environments, and any Wrangler really is good for that reason, however having a Jeep that has four wheel drive improves that situation.
The Sahara's seats are available in both cloth and leather including Leather Trim Black and Leather Trim Black and Dark Saddle.
Rubicon
The Rubicon is the Jeep Wrangler model that most people will select if they have a love for the off-road.
While all Jeeps are typically able to go off-road in some capacity, the Rubicon is specifically built for this task. This vehicle has heavy duty axles as well as special tires to make sure that whatever trail you're on, you keep moving.
While the Rubicon is known for being a beast, it doesn't have to be an uncomfortable journey when you actually take it on the road.
Your seating options here do include a Premium Cloth or Leather Trim Black or Leather Trim Black and Dark Saddle.
Willys
The Willys version of a Jeep Wrangler adds some off-road equipment to the basic Sports S package.
This makes for a bit of a compromise if you are trying to save on price but still want to have a capable vehicle that can tackle some trails.
The 32-inch all-terrain tires are really something to see. Unfortunately, the Willys only offers Cloth Black or Cloth Black and Heritage Tan.
Black And Tan
Black And Tan is another model that improves upon the Sports S. The main areas of improvement are with the electronics inside the car that will help you use your smartphone easily and with some all-terrain tires and side rails.
The Black and Tan seating is only available in Cloth Black and Heritage Tan.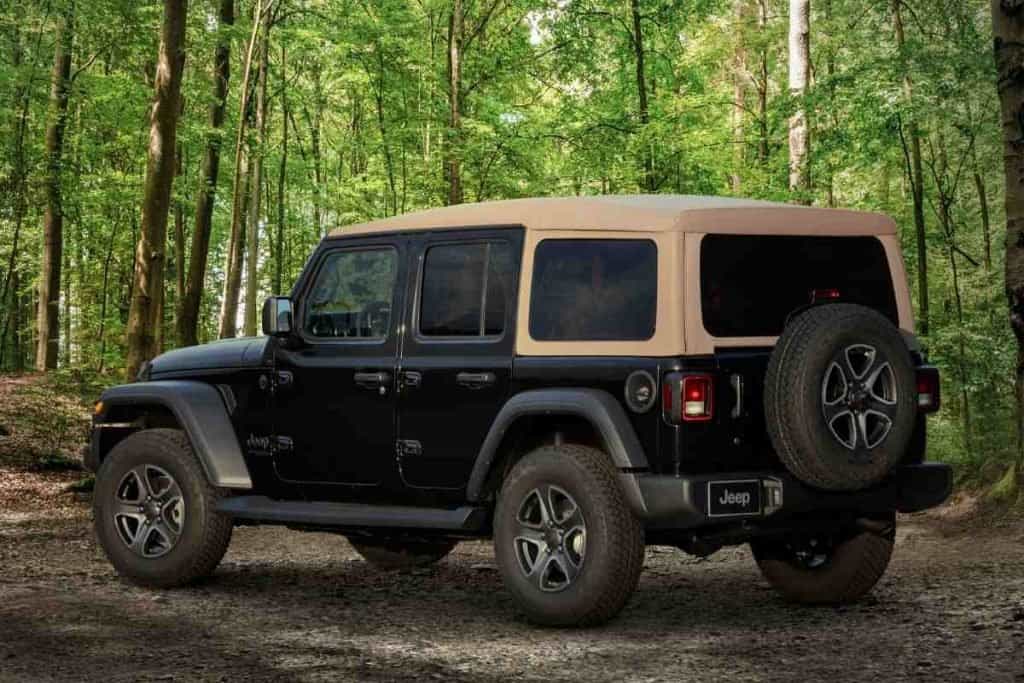 Freedom
The Freedom is the 3rd add-on to the Sports S series and is all about the military.
If you want to show love and support your military troops, the Freedom is a great way to do that. Along with tinted windows, the Freedom package does offer Leather Trim Black seating.
Sport Altitude
Another version of the basic Sport package, the Sport Altitude is a nice way to use your budget wisely while adding a heavy-duty suspension package, among some other upgrades. The Sport Altitude has Cloth Black seating.
Sahara Altitude
The Altitude version of the 4-door Sahara actually adds a leather wrapped shifter to the Sahara model that already had Leather Trim Black seating; so of course the Altitude's version does as well.
Rubicon Recon
This beautiful beast is great for some serious off-roading. The interior has a beautiful design – it is a Leather Trim Black with Red Stitching.
The red addition isn't something you usually see in a car and is sure to stand out to any passengers that you are taking on your various trips with this Wrangler.
Jeep Wrangler Leather Seat Covers
Last update on 2023-09-15 / If you click this affiliate link and make a purchase, we earn a commission at no additional cost to you.