5 Must-Have Jeep Wrangler Accessories For Under $25 In 2022
Want better performance and aesthetics for your Jeep Wrangler? You will be happy to know that there are a wide variety of Jeep Wrangler accessories available to turn your Jeep into your perfect machine. For best results when accessorizing your Wrangler, the most important places to focus on are typically the lights, roof, bumpers, bar and fenders. But how much accessorizing you can do will depend on your budget.
If you are limited to a $25 budget, there isn't much you can do concerning the bumpers, bar and fenders, except maybe put some stickers on them. But don't worry about it because you are about to find out the five under $25 Jeep Wrangler accessories you should definitely get. Here we go!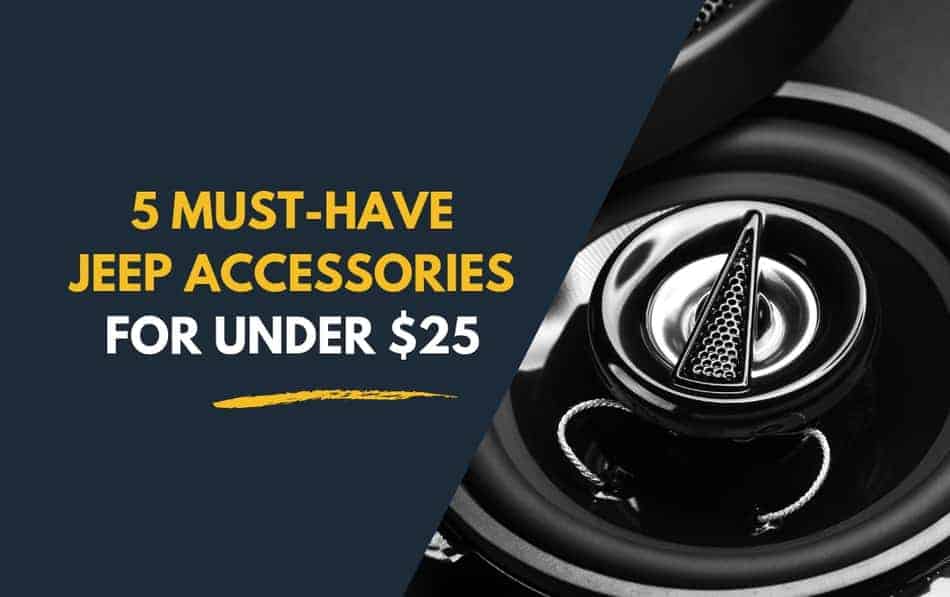 Philips 9007 VisionPlus Upgrade Headlight Bulb
Like we said before, the lights of your Wrangler are definitely something to accessorize. And with just $22.66, you can give your Jeep bigger, better and brighter headlights. This is a great idea for optimizing your Wrangler if you do a lot of night and/or off-road driving.
It's also great if bad weather is common at your location. The Philips 9007 VisionPlus are advertised to improve your view of the road by up to an astounding 60%. With the Philips VisionPlus Fog Light's capabilities, you get a stronger and longer light beam that's far beyond what standard halogen headlight bulbs can deliver.
No more squinting when you drive at night and your headlights will be more effective at cutting through rain and snow to reveal what's ahead. These bulbs will also make sure that approaching drivers can see you from far away and know to stay out of your way. It's the perfect accessory to make your Wrangler not only safer in the dark but also more intimidating.
Check out the Philips 9007 VisionPlus on Amazon.
Daystar Jeep Wrangler Hood Latch Upgrade
This little gadget is designed to stop the hood of your Wrangler from making rattling noises. It's an important accessory for every Wrangler owner who has ever experienced the annoying rattle of their hood when speeding.  
As your Wrangler gets older, the rubber in the hood latch that came with the vehicle will begin to weaken. When this happens, the hood will no longer be able to firmly close.
Instead of having to tolerate the irritating and embarrassing noise of a rattling hood, this under $25 Jeep accessory can be bought and installed to keep your hood firmly shut. And even better, it makes your hood look cool.  
This particular model comes in black and works perfectly with Wranglers made between 2007 and 2017. It's also made in the USA and comes with a limited lifetime warranty.
With a utility knife and small bolt cutters, you can have this extremely useful accessory installed yourself in ten minutes or less. Don't let Jeep's shoddy hood design get you down. Upgrade your hood with the hood Wrangler.
Check out the Daystar Wrangler Hood Latch Upgrade on Amazon.
AntennaX Off-Road (13-inch) Antenna for 2007 to 2019 Jeep Wrangler JK JL

Tired of crappy reception on your Wrangler's radio? Then it's time for an upgrade! For the price of a large pizza, you can get this amazing 13-inch antenna from AntennaX. This accessory will turn your Jeep's radio from a frustrating device into something you look forward to listening to every day.
Aside from improving your radio reception, it also makes for a perfect replacement for the ugly factory installed antenna that came with your Jeep. The flexible rubber that makes up the antenna's body also means you don't have to ever worry about it snapping off.
Installation is super easy thanks to the AntennaX's PLUG-N-PLAY design. Just screw it into the existing antenna mount and you are good to go. It takes less than a minute. No wiring, tools or engineering degree needed.
The antenna is advertised to guarantee 99.9% reception that only gets better. Also, the antenna is designed to not interfere with the performance of your GPS Navigation, On-Star, Bluetooth, or Sirius XM radio, all of which are devices that require a satellite connection that's provided by a different antenna on your Wrangler.
Check out the AntennaX Off-Road Antenna on Amazon!
Daystar, Jeep JK Wrangler Upper Dash Panel
Tired of having to look for your phone while driving? This made in America product is designed to hold your iPhone, iPhone Plus, Mini Pad or other smart devices where you can easily view and reach it while driving. It fits perfectly into Wranglers that came out between 2011 and 2019.
Available at the comfortable price of $22.73, this large phone holder also comes with an upper dash panel and phone or GPS cradle holder.  
It's the perfect alternative to windshield mounts which block your view. Also, installing it is probably the easiest thing you'll ever do in your life. And because there's no drilling involved, you don't have to worry about damaging your beautiful dashboard.
Check out the Daystar Jeep JK Wrangler Upper Dash Panel on Amazon!
BOSS Audio CH6530 Car Speakers

The BOSS Audio CH6530 Car Speakers are designed to optimize the audio capabilities of your Wrangler. With 150 Watts of power per speaker, you can expect nothing less than clear sound and thumping bass.  
These speakers are sold in pairs for $20.99. That sounds like a steal! Installation is easy and can be done yourself thanks to the speakers' easy mounting design.
The cone of each speaker is made from polyurethane to deliver resilience and durability no matter how loud you turn the volume up.
The speakers' voice coil is also designed to maintain their strength in the face of high temperatures. This means you can park your Wrangler out in the sun and these speakers will stay fine.
Are you convinced that these speakers will make for a nice accessory to upgrade your Wrangler? If yes, you'll be happy to know that they also come with a 3 year Platinum Online Dealer Warranty for those who buy them on Amazon
Check out the BOSS Audio CH6530 Car Speakers on Amazon!
Conclusion
The best Wrangler accessories are those that not only look good but also improve your Wrangler experience. With any of these 5 must-have Jeep Wrangler accessories for under $25, you can definitely expect every ride in your upgraded Jeep Wrangler to be more exciting and enjoyable.