Will the Jeep Gladiator Hold Its Value? (Analysis)
This post may contain affiliate links. As an Amazon affiliate, I earn from qualifying purchases.
I still remember when Jeep made the announcement back in 2016, social media was abuzz with the return of the Jeep Gladiator and the rumors and speculation about its features. It was an exciting time. Soon, at the end of 2017, Jeep fans would get their Wrangler and Gladiator back.Fast forward to 2019, and the delayed Jeep finally released the Gladiator. 
But did it live up to the social media hype? Will it hold its value? I intend to open the hood, bust out the mag light and find out what value Gladiator can carry into the future.
Do Jeep Gladiators Hold Their Value?
Jeep Gladiators will hold their value for newcomers, long-time fans, collectors, and truck enthusiasts alike. Jeep cannot produce them fast enough to meet the demand two years after launch, and depending on where you are, it can be one of the most common mid-sized trucks on the road today.
Join me as I take you through the story of the Jeep Gladiator to understand why everyone is so excited about it and why people looking to invest have a good reason to look at a Gladiator.
Even if you don't find the Gladiator interesting at first, the phenomenon behind the hype is interesting enough on its own.
Cutting Edge and Brand Defining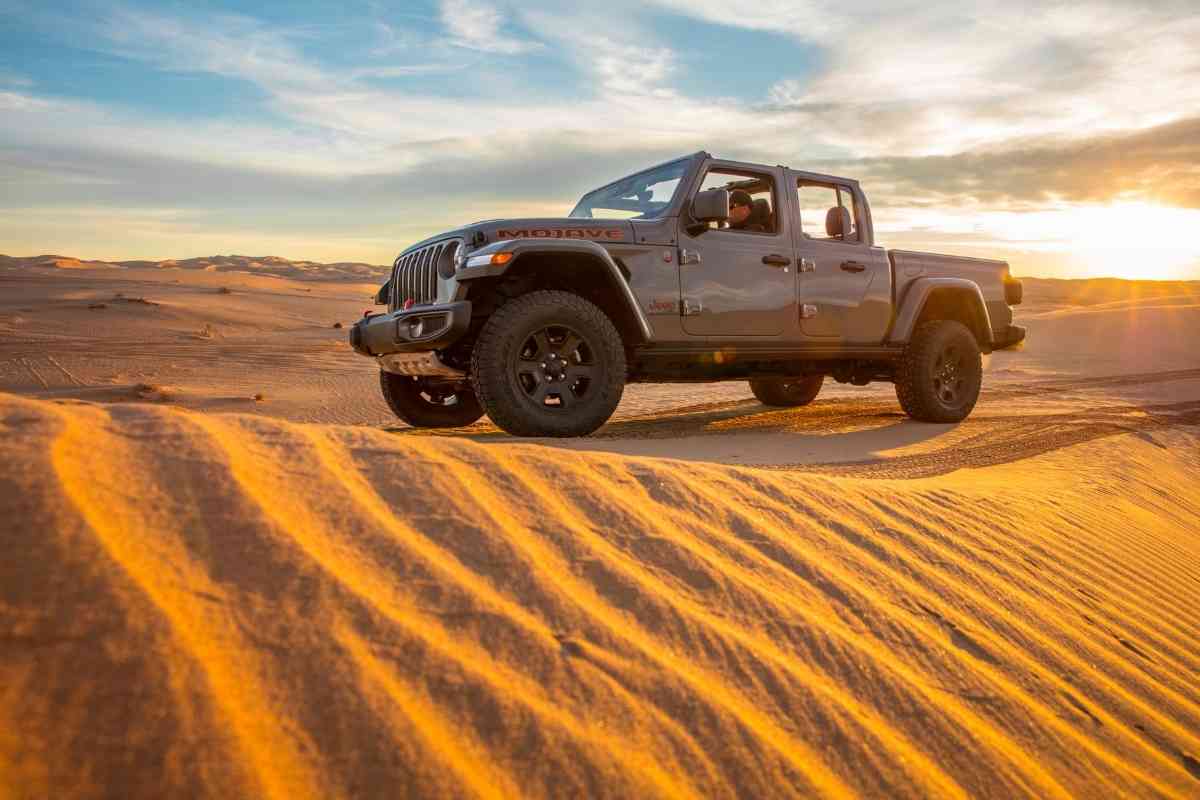 When someone thinks of a Jeep brand truck, the first thing they think of is an image of a Gladiator or J-series truck, even if they don't know the name.
The Gladiator was a brand-defining truck that became the prototype many modern models and designs draw their inspiration from.
History of the Jeep Gladiator
The Jeep Gladiator was released in 1962 with a coincidentally similar fever around its release as it does today.
The full-sized pickup was revolutionary for its time. It featured a four-wheel drive, and later in 1963, it added automatic transmission.
The Gladiator was sought after by Engineers and later homemakers alike because many of the competitors did not offer the unique combination of heavy-duty 4×4 and automatic transmission at the time.
The Jeep community has a lively presence online for discussing these classic trucks to this day.
This forum still has active users posting on it to this day.
Jeep Gladiator Discontinued After a Long Run
The Gladiator name was forcibly retired in 1970 when the now-defunct but then legendary American Motors Corporation (AMC) bought the Kaiser Jeep Company.
Technically the same model was still being produced under AMC, but AMC changed the name to the more generic Jeep pickup and started offering other versions than the classic model.
Unfortunately, after AMC went under in 1988, Chrysler picked up the brand and decided that the full-sized, formerly named gladiator truck represented too much competition to their Dodge line of pickup trucks.
Modern Day Return
"It's really, finally happening."
This sentence described the mood people were building around the announcement in 2016 for a 2017 Jeep revival.
People would no longer have to scour the second-hand market to rebuild a classic Jeep for personal use, and they would be able to purchase a modern version right from Jeep.
"You are looking at a guaranteed hot seller. This will be one of those wildly profitable moves that Jeep will wish they had made sooner?" -User Bait 83
This prediction to the announcement turned out to be correct, as people scrambled to buy them upon release.
Unfortunately, Jeep announced a delay on the Gladiator, so fans had to wait until 2019 to get their hands on one.
High Demand and a Rising Sticker Price
Gladiator still is selling out and breaking records two years after that 2019 release.
Jeep Gladiator had its best-ever fourth-quarter sales in 2020 with a 23% increase over the previous year, and Gladiator had its best month of retail in March 2021 since the Gladiator launch date.
This Gladiator fever was happening despite rising gas prices and supply chain issues creeping up the cost of the Gladiator since launch.
The initial reports saw the launch sales of the Gladiator as initially disappointing, but very quickly, people realized that the demand was just beginning to come.
It wasn't long until people saw dealers with half-empty lots and more trucks on the road.
To post such strong sales years after launch has surprised many people.
A few articles I saw declared the sentiment that the 2021 Jeep Gladiator "has no business being so expensive."
The Jeep Gladiator is one of the more expensive members of its class, coming in at nearly a total of $9,000 over its competitor, the Toyota Tacoma.
Still, the value for the Jeep Gladiator is more than skin deep.
The Jeep Gladiator Has Great Value
The Gladiator design is classic and unique, and the high demand means that the Jeep Gladiator will hold its value for a long while.
While pricey for a midsized truck, the numbers speak for themselves. It gives you a classic Wrangler Jeep and a pickup truck all in one.
Immense Power
3.0-liter turbocharged V6. 260 horsepower. 442 lb-ft of torque.
Those stats are enough alone to put the rest in its class to shame. It has the power, towing capacity, and gas efficiency to earn its gladiator name.
It is versatile enough for off-roaders to find comfort in and speed enthusiasts to take quick turns.
Diverse Trim Packages
It has many trim selections depending on the year, including:
Mohave Package
Sport Package
Sport S Package
Rubicon Package
Willy's Package
Willy's Sport Package
80th Anniversary Package
The Overland Package
The High Altitude Package
These trim selections add value and features to let you choose what you need if there is a favorite feature you cannot live without getting.
Great Aesthetics
Although Gladiators have been criticized for inflating their price, aesthetics are part of the value at the end of the day.
Suppose people don't want to be seen in your vehicle. It will drive the value down. Pleasing aesthetics are crucial over the lifetime of a car to enshrine its value.
Jeep Gladiators are very visually distinct and striking; their square jaw-like shapes seem to cut through the air.
They can often be the target of passersby snapping pics with or of. People who are old enough to remember the classic Jeeps especially get a kick out of seeing them.
Price Trends
When investing in a vehicle, an excellent way to determine if something can hold value is by checking how it's doing on the second-hand market.
Since Jeep controls sticker prices to a certain extent, the resale market gives you a preview of what the value curve for the Gladiator will be going forward.
Looking at CarGurus price trends, the Jeep Gladiator has seen a 36% increase in price year over year and an increase of 42% since launch.
Any investor would love to see a 42% return on their investment in only a few years.
It makes me wonder how much of the increased demand for Jeep Gladiators have come from market speculators buying them up after seeing their investment returns.
If professional market speculators are in on the action, it only seems the price and value of Jeep Gladiators will continue to rise.