6 Tips For Winter Offroading In The Snow
If you own a vehicle built for the outdoors, such as a Jeep Wrangler, you likely will want to go offroading all year long. However, there are extra precautions that you need to take when going offroading in the snow that aren't considerations you would need to make for the summertime.
When you are gearing up to go offroading in the snow, you need to be sure you choose the proper vehicle and gear. You also need to make sure that you are getting a good sense of the terrain beforehand
While most off-roading takes place and is primarily a summertime occasion, off-roading in the winter months can provide a snowy fun alternative with the proper steps and precautions.
Safety and preparation are the top priorities when heading out into the winter wastes. The following is a comprehensive easy to follow guide on how to properly gear up and head out on your next wintertime excursion.
1. Vehicle Selection
Understandably, most people reading this list will already (most likely) have a vehicle in mind or already own one perfect for offroading specifically.
However, if you're new to the game or are thinking of purchasing or renting a vehicle solely for offroading here are a few things to look for to make sure your choice can stand up against the winter elements/terrain:
Ground Clearance
Ground clearance is very important for winter driving if you are planning on off-roading.
Snow is a bit like water in that you really can't tell how deep it is visually. Having a vehicle with a lot of ground clearance will allow you to get through deep snowbanks with ease.
Offroading Snow Tires
This one can be a bit tricky as not every outlanding vehicle even has offroading snow tires available for a decent price. A good rule of thumb here is that the more popular the vehicle, the more diverse of a tire selection it is going to have.
Make sure the vehicle you purchase has the correct tires available commercially for the activity you are wanting to do.
Four-Wheel Drive
This one may seem like a no-brainer, but it is worth mentioning. You are going to have a really tough time offroading in the snow if you do not have a four-wheel drive.
Frankly, it is going to be near impossible for you to accomplish.
Selectable Locking Differentials
While automatic locking differentials could get you in a ton of trouble trying to traverse winding icy mountain passes as you get to your offroading winter wonderland, selectable locking differentials are going to give you unparalleled traction while you are plowing through snowbanks and having the time of your life.
While not many vehicles and trims come with the option of selectable locking differentials, there are a few that do, the most popular being the Jeep Wrangler Rubicon.
If the vehicle you have your eye on is missing this one key component, you may also consider having selectable locking differentials installed on your vehicle after-market.
Great Suspension
You are going to want a suspension that is suitable for maneuvering around larger obstacles if you plan on going offroading in the snow. Snow is going to actively reduce your visibility, so you may need to make some quick decisions as you are offroading. It is important that your suspension is up to the task.
If you find a vehicle that has adequate ground clearance and suspension, the option for great offroading snow tires and a selectable locking differential, as well as a four-wheel drive, you will be set to go offroading in the snow.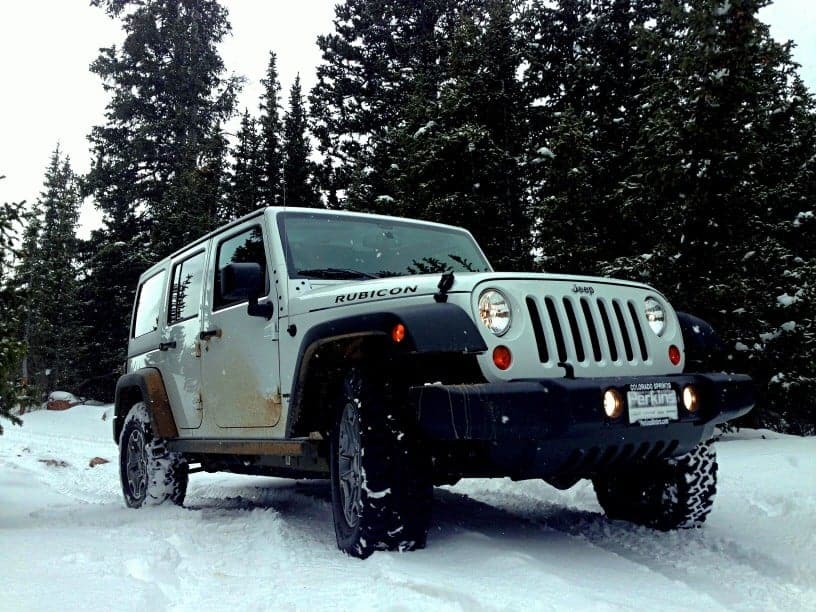 2. Getting Properly Geared Up
Proper tools for the job are an absolute must when offroading and are for the most part the same in the winter and snow like any other time or terrain.
Without the appropriate tools, winter offroading can be outright dangerous. If you make sure you have the gear on this list, you will be set to have a safe wintertime offroading experience:
Tow straps
Winch Kit
Hi-lift Jack
Medical / First-Aid Kit
Shovel
Snow Chains
Spare Snow Tire
Spare Key
Three Days of Food and Water Provisions
Hand Warmers/ Blankets/ Extra Winter Clothing
If you have this list of items in your kit, you will be set to have a safe offroading experience. Remember, some of the best offroading is in remote locations.
If the worst happens and there is an event such as a blizzard or avalanche, and you get stuck or have an accident, it may be very difficult for medical personnel to get to you in time.
While you should always have the tools to get your vehicle out of a sticky situation when you are offroading, it is important that you also prepare yourself to sit in place for a while in case the worse happens and you are in a situation you simply cannot escape from.
Ensuring that you are fed, hydrated, and warm is just as important as having gear for your vehicle.
3. Sensing The Terrain
While you won't be able to visually differentiate between a foot of snow and three feet of snow most of the time, it is important to be able to detect different snow consistencies due to weather and positioning.
Wet, soft snow is most common in direct sunlight and is much easier to traverse whereas snow on northern facing slopes or in shadows (trees, boulders,e.tc.) can be harder to traverse and generally a bit more problematic.
Be sure to also take note of the time as you travel across different consistencies as the path you took earlier in the day may have changed as the day went on. If there is active snowfall, this is going to be even more different as the day continues.
You should also be honest with yourself in this regard. If a certain area looks dicey for your vehicle and set up, go test it, or avoid it! It is okay to practice safety first, you don't need to tackle every snowbank with gusto.
Getting your vehicle stuck and having to call the emergency team in (who will no doubt make fun of you) is going to be a lot worse than when your buddy chides you about that one time you were afraid of a snowbank.
4. Dont Panic!
Most people panic when their vehicle starts to resist and their first instinct is to lay on the throttle to the point of tire spin. This is not a good thing to do. Should you find your vehicle resisting as you come over an obstacle powering through might not be your best bet.
To avoid potentially getting stuck or worse, instead of laying on the throttle, back off of the throttle and try heading around the tracks your tires left in the snow. Powering through when met with resistance can potentially cause the snow to melt and refreeze, halting your session flat.
A foot on either side of your original tracks is your best bet. If you do get stuck due to a freeze, you will have to use one of the methods for getting un-stuck, such as rocking, shoveling, using salt, etc.
This is going to be a lot more difficult than simply staying calm and thinking through the situation.
5. Have an Air Source Available
When you air-down your tires to go off-roading in the winter, it is going to be important that you have a way to air them back up before you head back out on icy roads.
Winter offroaders will air down their tires to drive through the snow more than they will on any other type of terrain, so having a way to reinflate your tires is more important than ever in this scenario.
There are a few different options for airing your tires back up on the go. These options are:
Electric
Electric pumps are inexpensive and portable, making them a great option for most people, no matter what their financial situation may be.
However, these are not always strong enough for what you may need, especially if you need to reseat a tire.
Belt-Driven
These compressors give you a lot of airflow, and they come with an auxiliary tank. This will give you plenty of power to get your tire reseated.
Co2
These guys are the best of both worlds, as they are light, portable, and give you plenty of airpower in order to reseat a tire if need be.
The one potential issue for using Co2 in a winter environment is that it does not perform well in subzero temperatures. If your winter weather is going to be exceptionally cold, it would be better to use a belt-driven compressor.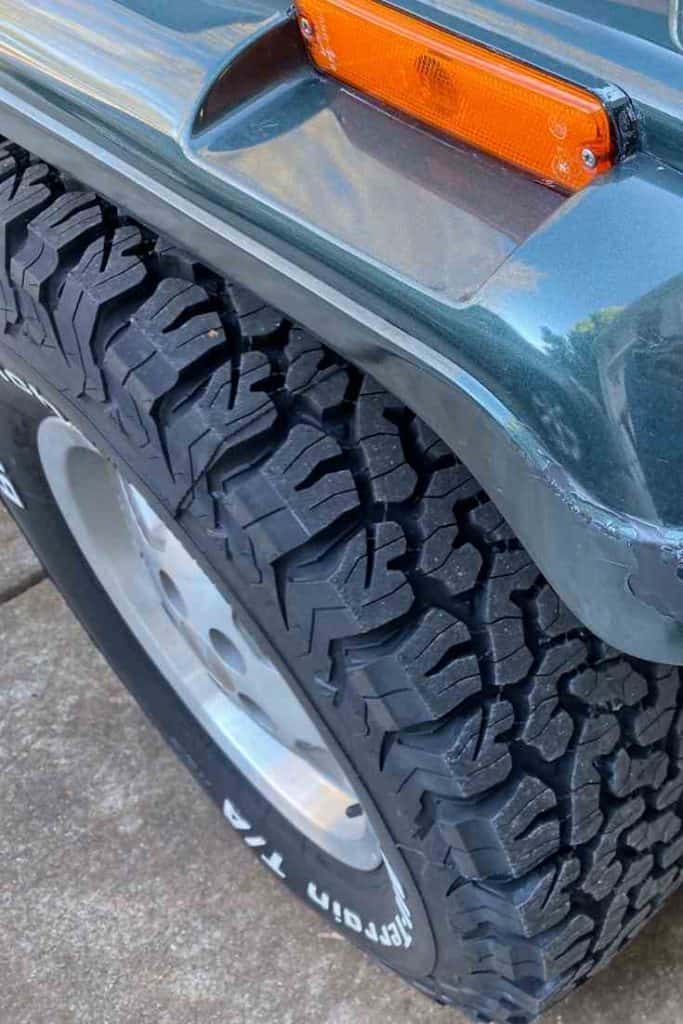 6. Buy The Right Tires
Wide tires with low contact pressure, mild tread, and flexible carcass are best. You are going to want a wide, flexible tire with a mild tread pattern for the best winter offroading experience. A couple of the tires we recommend are:
The Cooper AW/T
The Cooper AW/T is fitted with a winter rubber compound and is the only tire on the market to do so. The Cooper AW/T has deeper wider voids more siping and a jagged edge to help better retain loose snow.
BFGoodrich All-Terrain
The BF Goodrich All-Terrain's Serrated shoulder design provides increased mud, rock, and snow traction, particularly in aired-down situations.
6 Tips For Winter Offroading In The Snow