These Are The Best Tires For A Jeep Grand Cherokee
A Jeep Grand Cherokee is an SUV of many talents, from going off-road to being a commuting vehicle, so it makes sense that you want the perfect tires that can last and provide excellent driving capabilities. Whether it's all season, winter, or off-roading you want to target, many good tires can offer a focused drive or an all-inclusive use.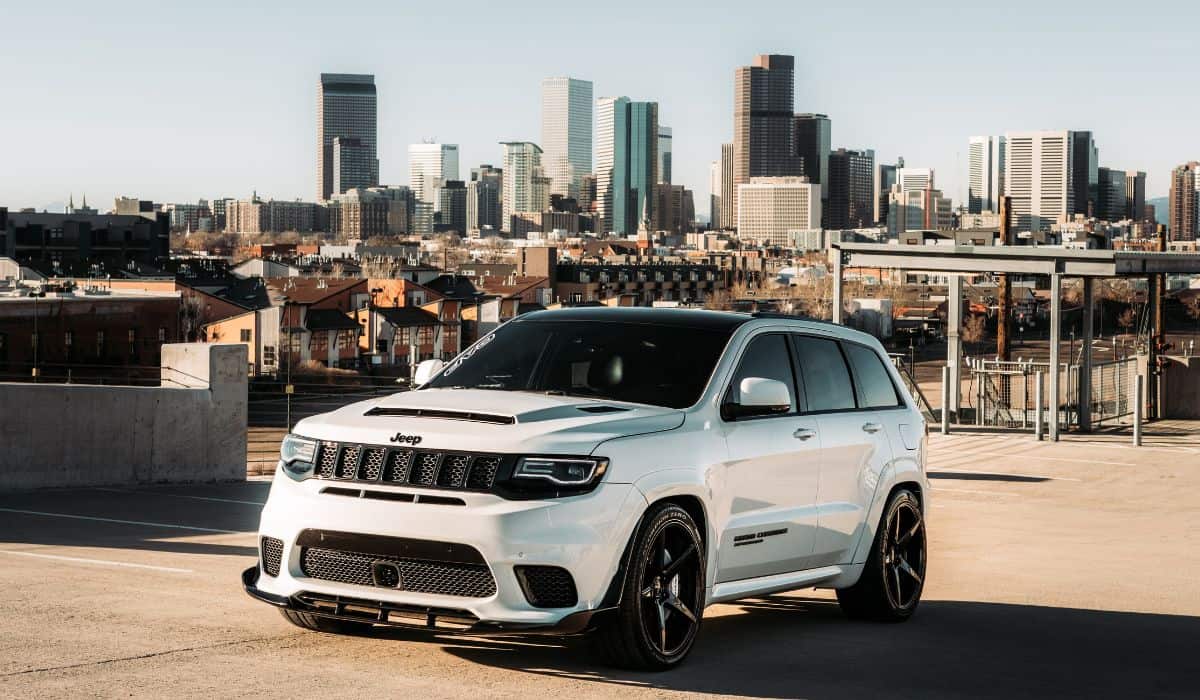 The best Jeep Grand Cherokee tires come from Goodyear ($), Michelin ($), Bridgestone ($$), and Pirelli ($$$). Rotate your tires every 5,000 miles and maintain the appropriate air pressure (printed on the side of the tire and/or inside your driver side door) to extend their life.
Quality tires are essential for your vehicle's stability in all conditions, from wet, snowy, or muddy surfaces, to off-roading on gravel and dirt. You need to be confident in your tire's capability. Thankfully, good quality tires can be purchased in all categories and budgets, leaving no one without options.
What are the Best Tires for a Jeep Grand Cherokee?
To be clear, the Jeep Grand Cherokee is going to be fine with most name brand and, indeed, non-name brand tires. That said, the options below are a combination of what's most popular and most dependable.
Any of these options will work for you, but they have some finer details to consider, if that's something you want to get into!
Continental CrossContact LX25
The Continental CrossContact LX25 is the most capable crossover or SUV touring all-season tire you can buy now. In addition, it shows fantastic German engineering that would only elevate your Grand Cherokee ride.
Great in rainy conditions, the CrossContact LX25 has the shortest braking distance and best acceleration speeds while exhibiting balanced handling. It's easy to drive on wet surfaces and has excellent resistance to hydroplaning.
With all that ability to drive during wet conditions, the Continental didn't even sacrifice its capability with dry traction. It has a strong lateral grip and braking and is pretty responsive for a touring tire with excellent highway stability.
One of the best all-season tires, it also boasts a quiet tread growl that blends in with other road noises and offers a smooth ride over most surfaces.
The only downfall of the CrossContact LX25 is the lack of refinement when driving on broken surfaces or repetitive bumps. Continental tires are also costly, making them a luxury product and one that breaks most budgets.
Bridgestone Alenza A/S Ultra
The Bridgestone Alenza A/S Ultra is a close competitor to the CrossContact LX25 with Japanese engineers. It boasts balanced handling on dry pavement and excellent lateral grip. However, unlike the CrossContact LX25, the Alenza does have a longer stopping distance.
The tires are very responsive and have a natural feel to the steering. It drives well in rainy conditions with excellent resistance to hydroplaning.
In winter conditions, the light snow traction provides an excellent option for all-season tires.
In the realm of comfort, the tire produces a distinct tone, but it is not intrusive inside the Grand Cherokee, thanks to the Jeep's sound insulation. The ride is comfortable over both smooth and broken roads, while the tread life lasts a whopping 80,000-mile treadwear warranty.
Cooper Endeavor Plus
The Cooper Endeavour Plus is more budget-friendly than the two previous tire models, but that doesn't mean they skimp on performance. On the contrary, they exhibit good traction across the board, especially in rainy conditions that often rival more premium tires.
The braking distance is among the shortest compared to other similarly priced tires, and they offer good handling. Combining excellent wet and dry traction and light snow traction, you can't beat going with the Cooper Endeavour Plus tires.
On top of its traction ability, the Endeavour Plus drives smoothly over nearly every surface. Even going over a bumpy surface doesn't give uncomfortable vibrations through the cabin of the Grand Cherokee.
Keep in mind, the Cooper Endeavor Plus tires can be rather noisy at lower speeds and on rough roads, though if you are highway driving for the majority of the time, you will notice a significant difference as they tend to settle down at higher speeds.
Continental TerrainContact H/T
The TerrainContact H/T are great tires for highway all-season driving. They provide the best in class braking during wet conditions and offer an excellent lateral grip. You can drive at the limit with balanced handling, and with their natural resistance to hydroplaning, they make a great option.
Their dry traction is the best in their category and offers superb braking and acceleration while providing a surefooted ride through corners. Excellent at towing, their hardy stability with a full load is perfect for the driver that needs to tow a lot.
Given they are an all-season tire, snow is not an issue for the TerrainContact H/T. However, the braking still offers the best in its category, and they drive efficiently in light snow conditions, even on ice.
Their comfort is a little stiff, though that doesn't make the ride unenjoyable, and they can handle repetitive bumps very well. In addition, the tread growl is minimal, even on rough pavement and at top highway speeds.
Firestone Destination LE3
The Firestone Destination LE3 is the next step down, in terms of budget, from the TerrainContact H/T. It provides good overall performance for its cost but won't upset the Continental as the leader in this category.
The Destination LE3 does well in the rain, with longitudinal traction almost on par with the premium competition. It also offers a short stopping distance and has an excellent lateral grip with balanced handling.
Very impressive in dry conditions, it's highly responsive and has linear steering, making the driving comfort outstanding. But unfortunately, the light snow traction is only average for its category, and the braking distances tend to become much longer.
That said, it is still easy to drive on snow-covered roads, even at the limit. The drive is very soft, which does well on most surfaces. However, due to its softness, the tires are not very good on repetitive bumps.
Yokohama Geolandar A/T G015
The Yokohama Geolander A/T G015s are best at off-road traction, though they don't sacrifice any on-road abilities either. They work great on dirt and gravel and can even provide solid traction in shallow mud, making them excellent off-roaders.
In comparison, for dry on-road driving, they are good at handling and braking, making them useful for both types of surfaces.
Excellent in wet conditions, they turn and brake without issues. Snow traction is also pretty good in light and deep snow, making them useful in all seasons and winter off-roading. The tire won't work on ice, but that is extremely common for this tire category.
The comfort of the drive is unrefined on repetitive bumps, but the noise level is minimal.
BFGoodrich All-Terrain T/A KO2
The BFGoodrich All-Terrain T/A KO2 is one of the most popular all-terrain tires for its category. It works well on unpaved surfaces like gravel and dirt and has solid traction in sand and mud. With a focus on off-roading, it does still offer solid on-road capabilities.
It's responsive and grippy, handling it well in wet conditions and snow.
The ride is a bit stiffer, but that is to be expected with its intended design of off-roading. The main issue with these tires is the noise since it doesn't have the same quiet drive as many other tires in their category.
Bridgestone Blizzak DM-V2
The Bridgestone Blizzak DM-V2 might not be a new tire, but it remains one of the best winter tires for SUVs. It performs remarkably on snow and ice, offering exceptional traction, balanced handling, and good grip. As a result, it is perfect for an amateur driver in snowy conditions.
With excellent longitudinal and lateral traction on wet roads, good acceleration and braking on ice, and easy control in snow, the Blizzak is perfect for wintery conditions. However, that all comes with some added noise on the highway, making the tread growl rather loud in dry conditions.
Pirelli Scorpion ATR
The Pirelli Scorpion ATRs are the best tires in its category regarding both on-road and off-road capabilities. It boasts a curved central groove design that dissipates water, slush, and mud from the face of the tread, making it very capable of driving during non-ideal conditions.
Nitto Dura Grappler
The Nitto Dura Grappler is an all-season highway terrain tire that can also be used for mild off-roading. It is engineered for superior comfort and longevity during highway driving and is equipped with a multi-rib tread pattern that reduces the tread flex, making it a tranquil ride.
With an incredible grip on wet and snowy surfaces, the Nitto Dura Grappler is an excellent, budget-friendly, all-season tire.
Mastercraft Courser HTR
The Mastercraft Courser HTR is the best choice for any newer Jeep Grand Cherokee model that has 18-inch to 20-inch wheels. They come with wider grooves and lateral traction sipes, making them great for all-season driving.
The optimized pitch sequence will eliminate road noise over paved highways and can handle mud and snow quite well.
As a bonus feature, the Courser is also equipped with a rubber rim protector that extends beyond the rim flange to protect your tires from curb damage.
How Often Should You Rotate Your Tires?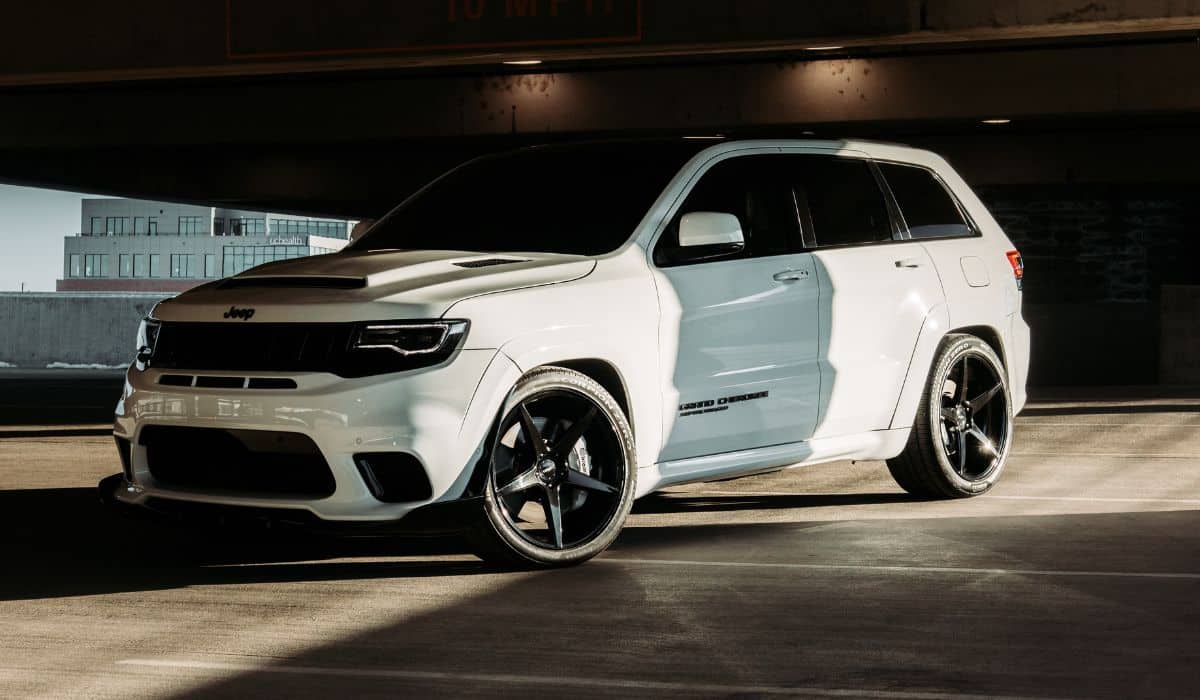 Your Jeep Grand Cherokee tires should be rotated every 5,000 to 8,000 miles. However, you should be aware that your SUV will become much noisier and more uncomfortable on the road as the miles rack up and the need to rotate them becomes more prevalent.
If you aren't regularly rotating your tires, the drive will become less safe, as the traction on dry and wet surfaces will be steadily lower than the advertised amount.
What is the Best Tire Pressure for a Jeep Grand Cherokee?
The Jeep Grand Cherokee should have a tire pressure of 33 psi for both the front and rear tires. However, you should always check the correct pressure on the white and yellow stickers near the driver's door on the inner frame. This information can also be found in the owner's manual.
Note: Tire pressure changes with varying temperatures and load-bearing weight, so check your tires regularly.
What Brand of Tires Come with a Jeep Grand Cherokee?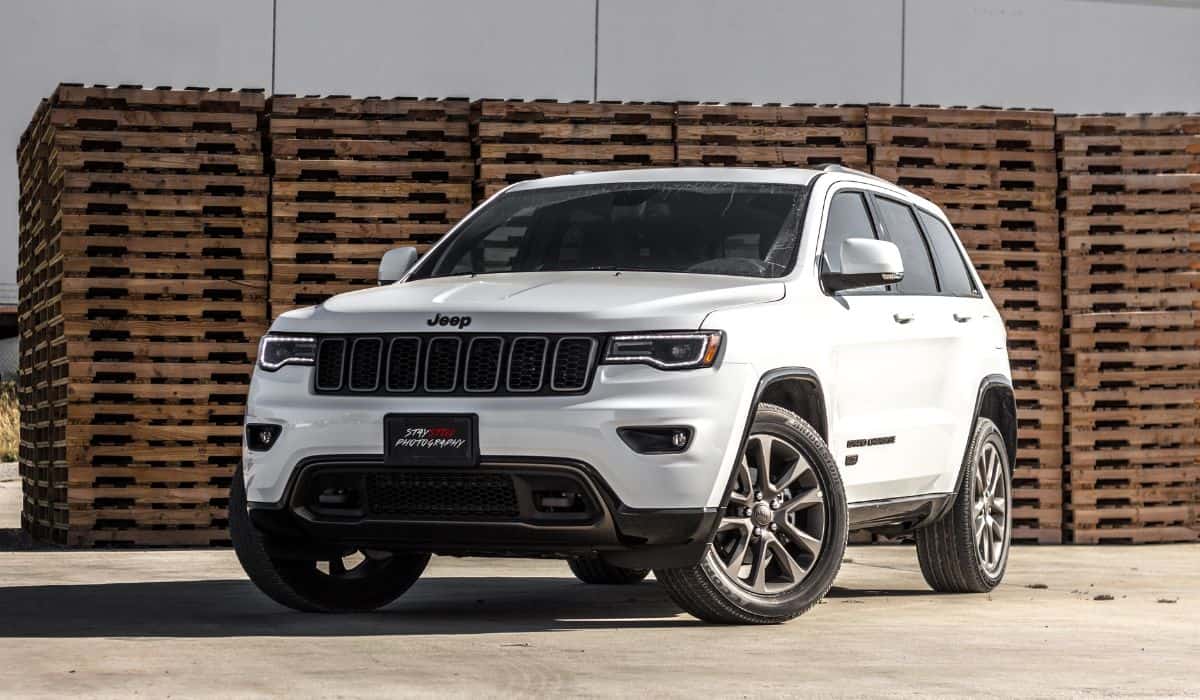 The brand of tires that come with your Jeep Grand Cherokee depends on your selected trim choice and the vehicle model.
Laredo and Limited models have 17-inch wheels bearing 245/70R17, 18-inch or 20-inch wheels with 265/60R18, and 265/50R20 sized tires. The 17-inch wheels are Goodyear Fortera HL edition, while the 18-inch and 20-inch come with Michelin Premier LTX tires.
The Trailhawk model comes with standard 18-inch wheels, consisting of Goodyear Wrangler All-Terrain Adventure with Kevlar in 265/60R18 110T configuration.
Overland and Summit models only come with 20-inch wheels consisting of Bridgestone Ecopia H/L 422 Plus, size 265/50R20 107T.
The SRT and Trackhawk performance models have 20-inch wheels and come with Pirelli P Zero Run Flat Max Performance Summer tires in 295/45ZR20 110Y.