Difference Between Chevy HD and LT
This post may contain affiliate links. As an Amazon affiliate, I earn from qualifying purchases.
The Chevy Silverado HD and the Chevy Colorado LT vehicles are trucks with some similarities and differences. The trucks are differentiated by the classification of HD (Heavy Duty) and LT (Light Truck).
The difference between the Chevy Silverado HD and the Chevy Colorado LT is the build. The HD stands for Heavy Duty, so this truck will have different upgrades and features compared to the LT which is the lighter model truck. The LT costs about $25,000 and the HD costs $35,000 – $70,000.
There are comparable features between these two models. The biggest difference between the cars is their purpose and their price. These cars are built for different purposes and they are built to carry different loads.
Mechanical Differences
The mechanical differences between these trucks are huge. These trucks are built for carrying different weights so their engines are constructed differently.
The 2021 Chevy Silverado HD has a maximum trailering capacity of 36,000 lbs. It also has a max payload of 7,442 lbs. and a max cargo volume of 83.5 cubic feet.
The max available torque is 910 lbs.-ft. This truck has a tow/haul mode, a digital variable steering assist, and auto-grade braking. These features are built in the truck as advanced tailoring features.
The Chevy HD has 445 house power and 10-speed automatic transmission. These features make a powerful truck that is great for towing and hauling large items. You can haul a boat, trailer, 4-wheelers, and more. It can carry and transport a lot of weight.
The 2021 Chevy Colorado LT has a trailering capacity of 7,000 lbs, a max payload of 1,550 lbs, and a max cargo of 49.9 cu. ft.
This truck is capable of hauling a lot less weight than the Silverado, and that is because it was not designed for heavy-duty jobs. This truck is designed for everyday jobs and for hauling smaller loads than the Chevy Silverado HD.
Interior Features
The interior is important in cars and trucks because that is where you and others will sit during long and short car rides. The interior should be comfortable and spacious, and it should have all of the features you want.
Things like the entertainment center, cup holders, and extra storage are what you will use daily in your truck, so it is important that you like them.
On the 2021 Chevy Silverado HD, you have the option of a black interior or a grey and brown interior. This will be the color of the seats and dash in the car.
Some cool features on this include a rear in-seat storage compartment, a 24-liter storage compartment under the rear seat, and it has incredible leg and headroom.
The 2021 Chevy Colorado LT has a black interior, and it has great space for driver and passengers seats. The truck as a whole is smaller than the Silverado HD, but it is great for loading the bed of the truck for any trip and it is comfortable for every passenger during long drives.
Exterior Features
The exterior of these two types of trucks is similar because they are built by the same brand. These similarities include the shape of the headlights, the doors, and the handles. On the Chevy Silverado HD, there are running boards on the sides of the truck since it is bigger and taller.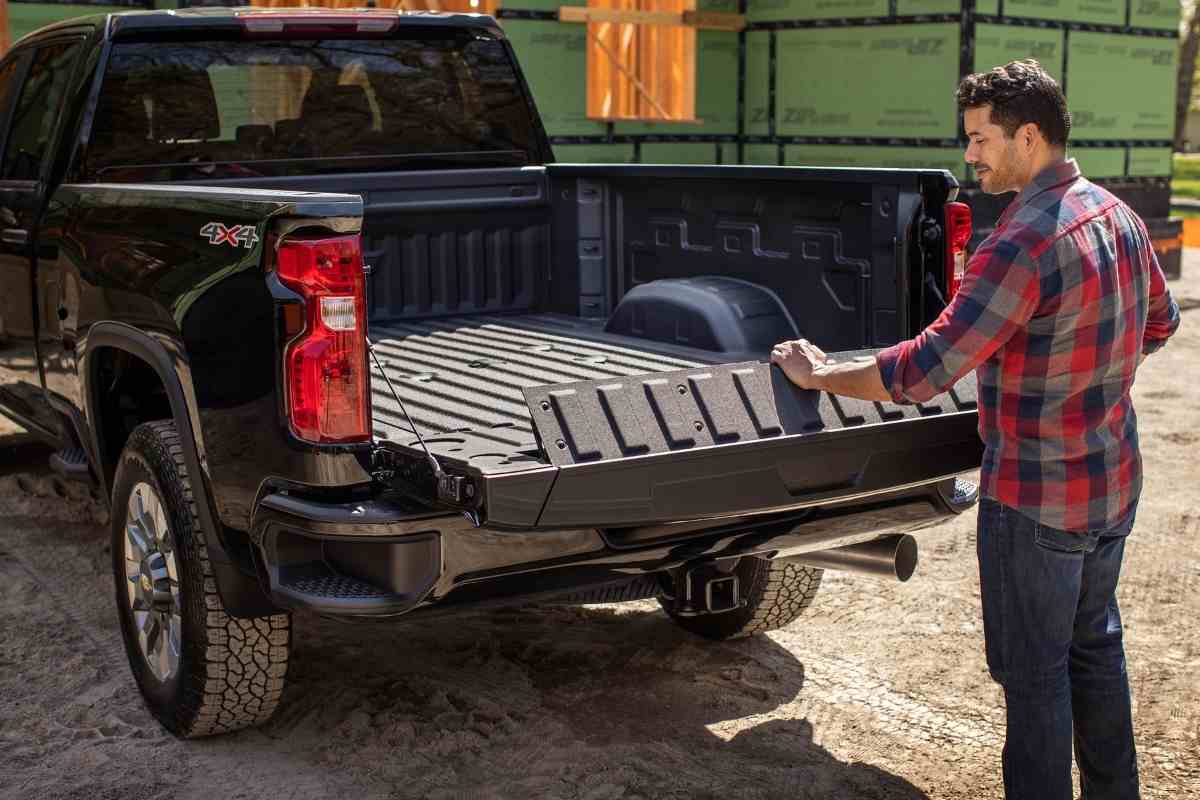 The Chevy Colorado LT does not have running boards because it is smaller and lower to the ground than the Silverado HD.
Safety Features
The safety features of the new cars in 2021 are very advanced. The 2021 Chevy Silverado HD has more advanced features than the 2021 Chevy Colorado LT. This is because the HD truck is bigger and needs more features to help drivers have a better view of the road for their safety and the safety of those around them.
The Chevy Silverado HD has front and rear park assist, lane change and blind zone alert, rear cross-traffic alert, forward collision alert, lane departure warning, an automatic emergency brake, and a safety alert seat.
The seat can vibrate in the direction of another car when a crash is about to occur. It helps you identify where danger is coming from so that you can avoid it to the best of your ability.
The 2021 Chevy Colorado LT has a standard rear vision camera, forward collision alert, lane departure warning, and rear park assist. All of these features are nice for keeping yourself and your passengers safe while driving.
The more safety features are introduced and refined, the more safety features will become standard in newer cars. So with new cars like these trucks, not all of the features listed are integrated into the car but they may be available to add on.
Technology Features
The technology in these cars is amazing. Cars can all have Bluetooth now, but having other advanced features for technology is great because everyone who is buying a new car has a smartphone, and the best car to pair with a smartphone is a "smart" car.
Having ports to plug in your phone and being able to connect your phone to your car to make calls and answer texts through voice commands are all features people want in cars.
On the Chevy Silverado HD, you can have a heads-up display that is on your windshield and it shows you your speed and navigation so that you don't have to take your eyes off of the road. You can also get an app that helps you with your towing and hauling.
You have up to 15 camera views so that you can see every part of your truck from the inside so that you can safely see if there are cars around you.
The Chevy Colorado LT has Amazon Alexa in the car, Apple CarPlay, Android Auto, and more. You can use any device in your car and connect it for maps, music, calling and texting with voice commands, and more.
These cars are very different because of their purposes. They are made for hauling different levels of weight and they have different amounts of power to help them perform their jobs.