Which Is Better: The GMC Sierra Or The Chevy Silverado?
If you're debating whether to buy a Chevy Silverado or a GMC Sierra, you might wonder whether they're actually one and the same. Considering they both fall under the General Motors umbrella and the similar overall appearance and drivetrain, it can be pretty confusing. So, which is better — the GMC Sierra or the Chevy Silverado?
The Chevy Silverado and GMC Sierra are very similar vehicles that both pack a great range of powerful engine options, drivetrains, and safety features. The Sierra is, however, pricier and more luxurious, while the Silverado has the more impressive towing capacity, at 13,300 pounds.
Before they became standalone trucks, the Chevy Silverado and GMC Sierra were actually trim levels of Chevrolet's C/K line of trucks. They've kept an unwavering reputation over the years, competing with the Ford F-150 and receiving many awards for reliability and resale value. Let's get started so you know which one is best suited to your needs.
GMC Sierra vs. Chevy Silverado: Which Is Better?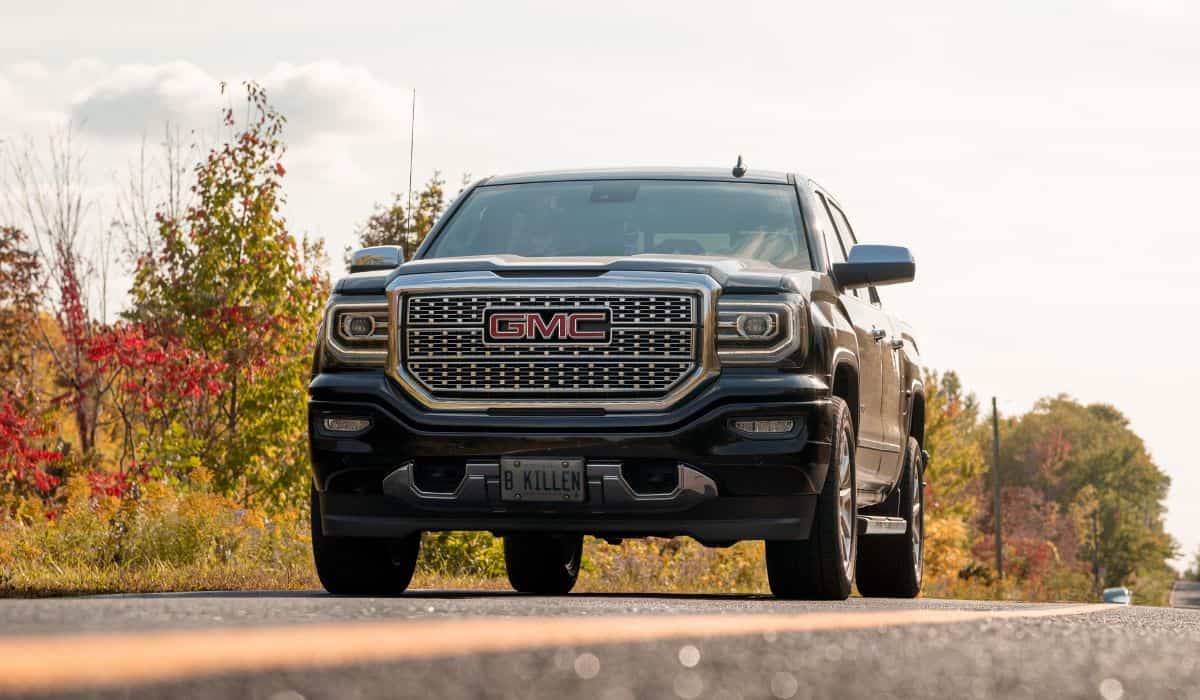 Choosing between any two vehicles can be tough, especially if they present you with nearly identical key features, like these two cousins from GM.
A side-by-side comparison between the Chevy Silverado and GMC Sierra reveals that the two trucks are capable and reliable, both on and off the track. The new, sleek interior design is also a huge plus, considering these trucks haven't seen lots of tweaks over the years.
But if you want better standard features, fancy options, and extra amenities for your budget, look no further than the new GMC Sierra 1500. This truck arguably leads the pack of full-sized, light-duty trucks when it comes to safety, dependability, and luxury.
Generally, GMC trucks and SUVs are exclusively priced compared to their Chevy counterparts, and it's because they offer better quality materials and premium features. In fact, GMC enjoys more truck sales from the high-end Denali trim and the luxurious, off-road AT4s.
Comparing Key Features
Whether you're shopping for a truck or SUV, proven performance and undebatable reliability should be your top priorities. The Chevy Silverado and GMC Sierra are both sturdy workhorses, with similar powertrain options and impressive performance capabilities.
You can go with the Turbo-Diesel engine option capable of delivering 460 lb-ft of torque, with a 10-speed automatic transmission and AWD drivetrain. But if towing is your top priority, you can't go wrong with the Chevy Silverado, whose towing capacity is a whopping 13,300 pounds.
Let's compare more key features so you can make an informed decision about which truck to go for:
Appearance
In terms of exterior appearance, the Silverado and Sierra look pretty much identical. However, the front-end design is different.
While the Silverado comes with that unmistakable Chevy-style bowtie insignia on its grille, the Sierra has a distinct GMC emblem. The latter has a bold grille design, with a cutout right above it in the center.
Notably, the grilles can also vary for specific editions, depending on your preferred model of either truck. For example, the Centennial Edition Silverado came with exclusive front and rear Heritage bowties.
It also debuted with 100-year door badges on the LTZ Z71 crew cab trim to commemorate a century of rich Chevrolet history.
And to add to the disparities in the grille designs, the bumpers, fog lights, and headlights greatly set the two trucks apart. The GMC Sierra in particular features C-shaped headlights, a clear distinction from its closely related Silverado counterpart.
While the Silverado has a sleeker profile, the Sierra has a more boxy outlook. The latter's wheel openings also have accent moldings that give the truck some sort of aggressive stance. The Silverado may not have an aggressive square outlook, but it still has a somewhat masculine look.
The CornerStep bumpers on these trucks allow you to load and offload cargo from the truck bed without a hassle.
Horsepower and Towing Capabilities
The Chevy Silverado and GMC Sierra both have appreciable horsepower and great performance specs, thanks to their sturdy powertrains. Their powerful AWD drivetrains take their capabilities a notch higher, making them fit both on and off the road.
However, the Silverado has a higher towing capacity, which peaks at 13,300 lbs. As for the handling and ride quality, both trucks show remarkable performance, so there's nothing to worry about.
You can choose from any of the three available engine options. The 4.3-liter V6 engine puts out 285 hp and 305 pound-feet of torque, with an impressive towing capacity of 7,600 lbs.
But if you're looking for a stronger engine that won't strain with heavy loads in tow, consider the 5.3-liter V8. It's capable of putting out 355 hp and 383 pound-feet of torque. It can also tow 11,100 lbs.
If all that falls subpar to your work needs, you can opt for the infallible 6.2-liter V8 engine. It produces a whopping 420 hp, with a best-in-class torque of 460 pound-feet and a towing capacity of 12,500 lbs.
What About Hybrid Engines?
Some folks also prefer the 5.3-liter EcoTec3 V8 engine because it offers eAssist Powertrain technology in select models. The eAssist Powertrain isn't just some fancy buzzword — it uses mild hybrid technology to boost fuel efficiency by up to 12%.
To achieve such a feat, it utilizes the latest start/stop technology, active aero shutters, and regenerative braking technology.
Other Details
If for some reason you prefer the Silverado High Country or GMC Sierra Denali trims, you'll find the standard specs are pretty much the same. On top of that, both trims feature the venerated Magnetic Ride Control suspension, which improves the trucks' responsiveness in changing road conditions.
The shock absorbers boast cutting-edge technology and are electronically controlled. As such, they have magnetized fluid whose response time is incredibly fast to adapt to various road conditions.
Safety
The GMC Sierra and Chevy Silverado both come with advanced safety features to protect your passengers and cargo.
The anti-lock brakes automatically detect when a tire has stopped rotating and will adjust the brake pressure to increase the truck's ability to turn while braking. There's also stability control, which senses when the vehicle's handling limits have been exceeded and restores it to normal.
But that's just a scratch of the surface. The new GMC Sierra and Chevy Silverado have overhead, front, and side-impact airbags to protect the driver and passengers in case of a deadly crash.
Other safety features include pretensioners to automatically tighten the seatbelts to place the driver and passengers in an optimal seating position should there be a collision.
Interior Features and Comfort
Just as the GMC Sierra and Chevy Silverado resemble each other closely from the outside, their interior is likewise almost identical.
You can maintain a comfortable temperature throughout both trucks, thanks to the dual-zone automatic climate control. They also have a leather-wrapped steering wheel to give you an easy time with handling.
Here's a highlight of the interior accommodations you stand to enjoy:
Keyless open and start

Heated front seats and steering wheel

Carpeted floor covering

Ten-way electrically adjustable driver's seat

Four-way adjustable front passenger's seat
Audiophiles also get to enjoy the modern features that come standard with the two trucks. They come with an 8-inch infotainment display equipped with Bluetooth, Android Auto, and Apple CarPlay.
You can therefore connect your devices in no time and stream music from your favorite apps. Other features include a six-speaker audio system and 4G LTE WiFi hotspot capabilities.
However, most users will agree the GMC Sierra is a more luxurious truck, while the Silverado is almost a dinosaur, with very few luxury upgrades. On the upside, the lack of fancy features and premium materials makes the Silverado a more affordable work truck.
In terms of cargo volume and seating capacity, the two trucks share specs. Whether you choose a crew or double cab configuration, both the Chevy Silverado and GMC Sierra can seat up to six passengers. You get 71.7 cubic feet of cargo capacity for the standard box option and 62.9 cubic feet for the short box version.
How to Determine Which Option Is Right for You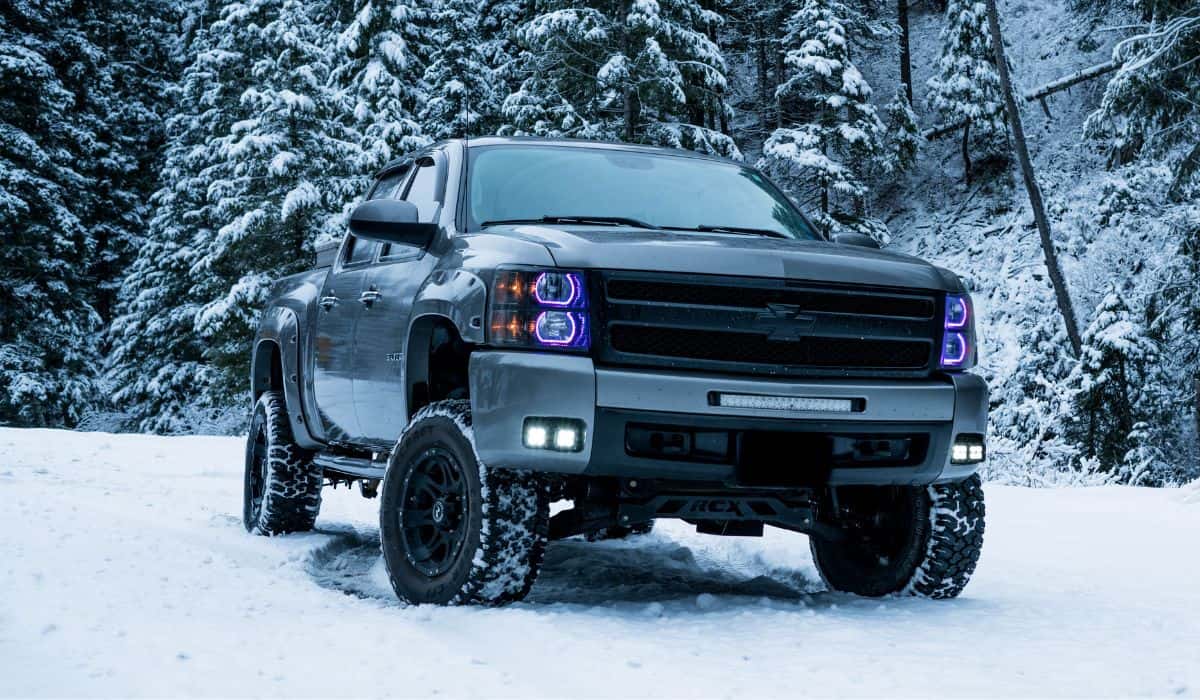 The Chevy Silverado and GMC Sierra are almost identical and have very similar package options. They prove to be reliable work trucks and boast impressive performance both on and off the road.
So when it comes to choosing one truck over the other, it all boils down to your preference. If you're a diehard GMC enthusiast, then the Sierra is right up your alley.
It's a bit pricier due to its luxury materials, but it offers a more comfortable and relaxing interior, especially with the Denali trim.
But you can stick with the Silverado if you're a Chevy loyalist and your top priority is a dependable work truck with just the necessary features. It will handle your work needs better, and its 13,300 lbs monster towing capacity makes it your ideal option for hauling heavy loads.