How Heavy Is a 200 Series LandCruiser?
This post may contain affiliate links. As an Amazon affiliate, I earn from qualifying purchases.
What Does the 200 Series LandCruiser Weigh?
The Toyota LandCruiser is one of the most popular off-roading vehicles over the past decade due to Toyota's commitment to reliability and performance, not to mention the fact that they have a pretty tough vehicle on their hands as well.
The 200 Series has been a fan favorite over the past years for many different reasons of course. Today, we're looking at everything the LandCruiser offers, including how much it weighs.
So to start off with,
How Heavy Is a 200 Series LandCruiser?
So, how heavy is the 200 series LandCruiser? The 200 Series LandCruiser's gross vehicle weight is 7,385 pounds or 3350 kg. This is important for business owners and tax calculations related to their vehicles. The 200 Series LandCruiser does weigh over the all important 6,000 lbs. The curb weight is 5,996 pounds or 2720 kg but is not important for tax purposes.
This can be a bit big if you are driving in the city, however its weight helps to give it some of the performance that is so valued in the LandCruiser, so the trade-offs are generally considered to be well worth it.
We're going to dive in to all of the other aspects of the LandCruiser that will help you decide if this vehicle is for you if you are better off headed in a different direction.
The Toyota 200 Series LandCruiser is a fairly expensive vehicle, even in the large SUV category of cars. However, you do get a pretty good amount of bang for your buck when you consider the features that are found inside the cabin.
The LandCruiser has some of the best touch-screen performance leading for an intuitive system that will help the driver keep his or her eyes on the road.
You also have Bluetooth connectivity that works like a charm and some great interior design that really makes you feel like you are driving in luxury. The outside features like LED headlights also give the sense of luxury.
The 200 Series has got a powerful engine underneath the hood with a 4WD system that adds a ton of power and control to the vehicle.
If you are looking for a vehicle for someone who is a bit nervous about driving or needs to drive in adverse conditions, this is a great place to look. The engine has got a ton of "oomph" to it.
The four-wheel drive system is "full-time" meaning you are always getting great traction and should always be in control on the roadway. There's no doubt that this adds some of the weight to the car, however again this is considered to be well worth it for Toyota.
The design is a bit interesting. It's a large SUV that some critics would say is a bit blocky, however it really looks exactly like what you would expect, most people have gotten over this objection years ago.
The inside can honestly feel massive at times as you have three rows of seats on the way back to the rear cargo hold. The inside feels quite luxurious as mentioned, and really can make you feel comfortable on a long drive.
However, none of this sacrifices any "usable" space as the vehicle has a ton of cargo room as well for anything that you need to bring along with you on the road.
This is one of the biggest positives about the LandCruiser, it's got a ton of space and you are going to be able to bring a high number of passengers on long trips without anyone feeling cramped or uncomfortable.
There are places to put bottles or cups and other things as well – even the people sitting in the third row have a cupholder which is nice to see because they can usually feel quite uncomfortable all the way back in the back.
Should I Drive the 200 Series LandCruiser For a Daily Vehicle?
This is where the weight of the LandCruiser can start to "weigh it down", so to speak. The cabin is massive inside because it is a huge vehicle, and as mentioned it weighs a lot.
Coming in at 6,000 pounds, you have better have a product that is quite comfortable and as luxurious as the LandCruiser for anyone to look at it at all.
If you are driving in the city frequently, it may be hard to navigate with this car as you could with some competitors. It's got a lot of power, but sometimes that power just won't help you squeeze through a tight space.
One thing that is impressive for a vehicle this size is the way it handles. When you drive a large SUV like this one, you expect the handling to be somewhat loose, but the LandCruiser doesn't live up to that negative stereotype.
It's also a quieter ride than you might expect, although if you've got a lot of passengers with you – you may be dealing with more family noise than you'd like to admit.
Does The 200 Series LandCruiser Do Well Off-Roading?
This is a car that drives on gravel extremely well. If you are on some kind of uneven surface, your steering should remain sharp, probably due to the weight of the vehicle.
The suspension is also responsible for a lot of this comfortable as it is able to absorb the shocks and bumps that come along with any kind of rough terrain.
If you are off-roading, the vehicle feels especially great in 4WD. The vehicle mixes and matches the old-school mechanical advantages in with new technology features that leads to a great experience for drivers who may be skeptical about some of those new-school advantages.
The 200 Series has a ground clearance that is very acceptable for the size of the vehicle, especially when you compare it to some of the competitors out there.
If you are in low gear, you are going to be able to choose from different settings that should keep you moving no matter what. Some examples are "Mud & Sand" or "Rock & Dirt". Those settings help you to get the exact settings you need which leads to finding your traction much easier.
The cameras that are found on the LandCruiser can also give you an advantage in the driver's seat if you are off-roading. Being able to spot obstacles that you wouldn't see in different vehicles is huge and can really change the way you think about your approach to off-roading, in the best of ways.
The LandCruiser even offers features to let you reduce your turning circle by applying brakes automatically which is one of the cooler features out on the marketplace today.
The 200 LandCruiser can have some challenges climbing up hills that are really difficult, the weight of the vehicle not doing it any favors here, however that is a tough task for a lot of vehicles and some others in the marketplace would struggle given the same settings.
If you are looking to climb more moderate hills, you will probably have more success. The low-range gears are great for climbing hills in this fashion and all of the power found in this heavy vehicle help it to perform up to the best of expectations. You've also got some interesting controls on the dashboard to make this a bit easier.
For those who love this off-roading info, it should be mentioned that the 200 Series loses a bit of "adventure" points because of its third row of seating. That extra row can cost you some cargo space, which in turn is going to make it harder to pack everything you need to be on the trail all week.
However, all of that size and weight makes this vehicle a great car for towing some serious weight. There are a lot of trade-offs here so you should know what your specific tastes are leading you to before trying to figure out which model you may be interested in buying.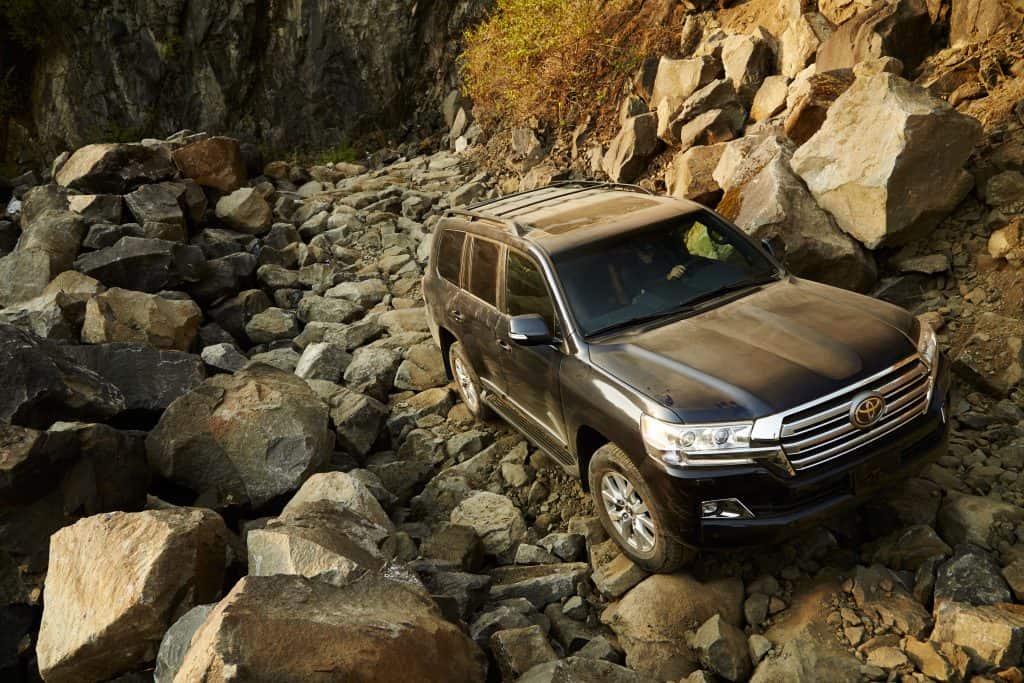 The fuel mileage listed with the LandCruiser is almost amazing listed at over 20 MPG. That is a combined number and you'll see worse numbers if you are a serious off-road enthusiast, however for a vehicle this size that's not a bad number at all.
The LandCruiser has a ton of safety features that include the important blind-spot monitoring. Today, so many accidents are caused by other drivers that enter into your lane of traffic, so you should utilize these safety features to the best of your ability so that you and your family stay as safe as possible.
Conclusion
The 200 Series LandCruiser is a fairly heavy vehicle that comes with a lot of luxurious positives and some negatives as well. It's important to know exactly what you are looking for because the LandCruiser can offer some amazing packages for those who are the ideal target market.
While it is heavy and it is expensive, people looking for an off-roading vehicle that can bring 7 passengers along for the ride are going to find something well worth their time here.
The extra price you pay can give you a lot more bang for your buck as well. This vehicle is one that will continue to be popular on the marketplace, simply due to its performance.
Toyota LandCruiser Accessories
Last update on 2023-09-15 / If you click this affiliate link and make a purchase, we earn a commission at no additional cost to you.