Is the Mazda CX-5 a Crossover or SUV? (Answered!)
As crossovers and SUVs gain popularity, it is becoming increasingly difficult to distinguish the two from each other. For people looking to buy a new car like the Mazda CX-5, it is easy to get confused about whether its a crossover or a SUV.
The 2021 Mazda CX-5 is a crossover SUV. This means it's built using unibody construction, the body and frame are one piece, not two separate pieces like an SUV. The 2021 Mazda CX-5 is sporty and reliable. Additionally, the 2021 Mazda CX-5 has received high safety ratings.
There are a few other distinctions between an SUV and a crossover, and a lot more information about the fantastic Mazda CX-5.
Difference between crossover and SUV?
It can be confusing to distinguish between these two terms because they have a lot of similarities. The terms are used interchangeably at times. However, there are differences between a crossover and a SUV. The biggest, most clear difference isn't just in looks or how they drive, it's actually a very basic structural difference.
The big difference between these two types of cars is their frame. An SUV is built with a two-part frame, the chassis is one part and the body is another.
On the other hand, the crossover's body and frame are built as one piece. This is called a unibody construction because it is one body or a united body. Since the Mazda CX-5 has a single-piece frame, it is considered a crossover.
As one might expect this structural difference often translates to a significant weight difference. In general, most crossovers are lighter than SUVs.
A prospective car buyer should also know that a crossover can also be called a crossover SUV, CUV (Crossover Utility Vehicle), or an SAV (Sport Activity Vehicle).
Some other differences include a crossover being front-wheel drive with available all-wheel drive options, which a typical SUV uses 4-wheel drive.
About the Mazda CX-5
Now that we've gone over the basic difference between a crossover and an SUV, let's look at the Mazda CX-5. Overall, this is a great car that's decently affordable. Also, it's a very sporty-looking car that still can do the job.
Let's look at some of the basic stats for the basic trim of the 2021 Mazda CX-5.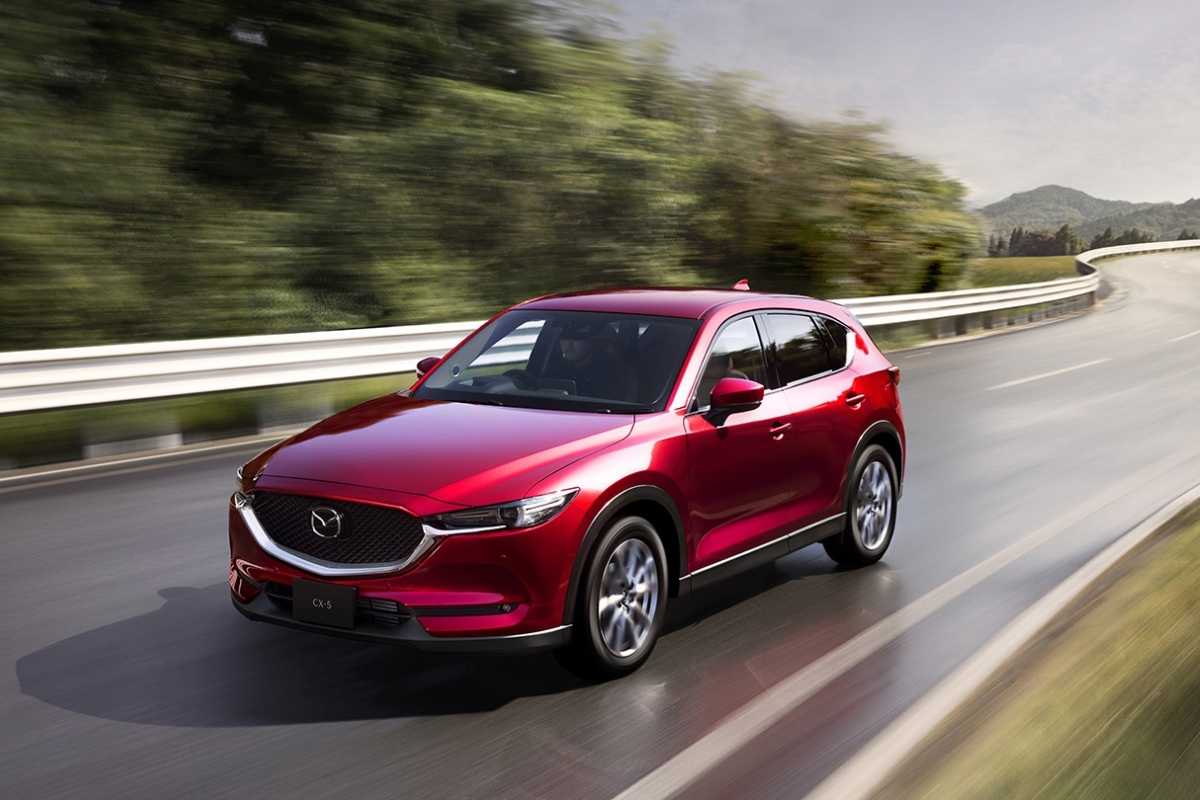 Starting price for a 2021 Mazda CX-5 is $25,370. While in FWD the CX-5 can get 25 mpg in the city and 31 mpg on the highway. Meanwhile, in AWD the CX-5 can get 24 mpg in the city and 30 mpg on the highway. FWD CX-5s have a fuel capacity of 14.8 gallons while AWD CX-5s have a fuel capacity of 15.3 gallons. Additional specs are listed below:
Length – 179.1 in

Width – 72.5 in
Height – 65.4
Curb weight – 3,552 lbs for FWD and 3,691 lbs for AWD
Towing capacity – 2,000 lbs
Speating capacity – 5 people
Fuel – regular unleaded
The only downside mentioned about this car is that the backseat and cargo spaces are smaller.
Mazda CX-5 performance
The next thing to do is to take a look at how a Mazda CX-5 performs.
Safety
This category is where this car shines. The Mazda CX-5 has been praised for being a safe car. You may be surprised to learn that this car is actually one of Insurance Institute for Highway Safety's 2021 top safety picks.
To evaluate the safety of the car, it's crash-tested. When the Mazda CX-5 was crash tested it performed remarkably well, which earned it a 5-star crash test rating from the National Highway Traffic Safety Administration. Safety is definitely one of the strengths of this car, which is something that should be admired.
The safety features available for this car include:
Rear Cross Traffic Alert
Smart Brake Support
i-Activsense
Radar cruise control
Adaptive lighting
Driver attention alert, and
Lane-keep assist
Reliability
Rest assured, the Mazda CX-5 is a reliable, good car. On Kelly Blue Book it has a 4.3 customer rating and a 4.6 expert rating. They praise this sporty car's steering, balance, and the availability of a turbo engine. One of the few downsides mentioned about this car was its smaller cargo space and backseat.
Available models and trims
The fun thing about cars like the Mazda CX-5 is the ability to customize it. There are different trims, packages, FWD or AWD configurations, and different colors you can choose from. Whether it's how the car looks to its estimated gas mileage, you have lots of available options.
The 2021 Mazda CX-5 has seven available trims. These different trims will vary in cost, with the highest being the Signature, which starts at $37,505. The Sport is the basic trim for the Mazda CX-5, which means it has all the standard features. It also costs the least, about $25,370.
This price difference might seem big, but once you consider the various upgrades, you see that the price difference is warranted.
Opting for other trims may also affect things like gas mileage, weight, tire size, available paint colors, and more. The more expensive the trim package, the more add-ons you're CX-5 will have.
The 7 different trims available for the 2021 Mazda CX-5 are the Sport, the Touring, the Carbon Edition, the Carbon Edition Turbo, the Grand Touring, the Grand Touring Reserve, and finally, the Signature.
Read more about the different CX-5 models here: [link to What are the different Mazda CX-5 models? (explained!)]
A big difference that might interest some consumers is that three of these trims include the turbo engine. The trims that include this are the Carbon Edition Turbo, the Grand Touring Reserve, and the Signature.
There are many other features that are included in the different trims. Some include adaptive lighting, leather interiors, different wheels or sound systems, and even a heated steering wheel.
One trim isn't better than another, which one you choose should be determined by what features you want in your Mazda CX-5. No matter what trim you choose or what add-ons you buy, the Mazda CX-5 is a great crossover. It is sporty, reliable, and safe. What more could you want?