These Are The Quietest Tires For A Lexus RX350
The Lexus RX350 is known for its smooth and comfortable drive, and nothing breaks that luxury feel more than having a loud tread growl vibrate the inside cabin. Of course, having quiet tires can make any vehicle feel enhanced, but with a luxury SUV like the Lexus RX350, it will only complete that smooth and reliable drive you are accustomed to.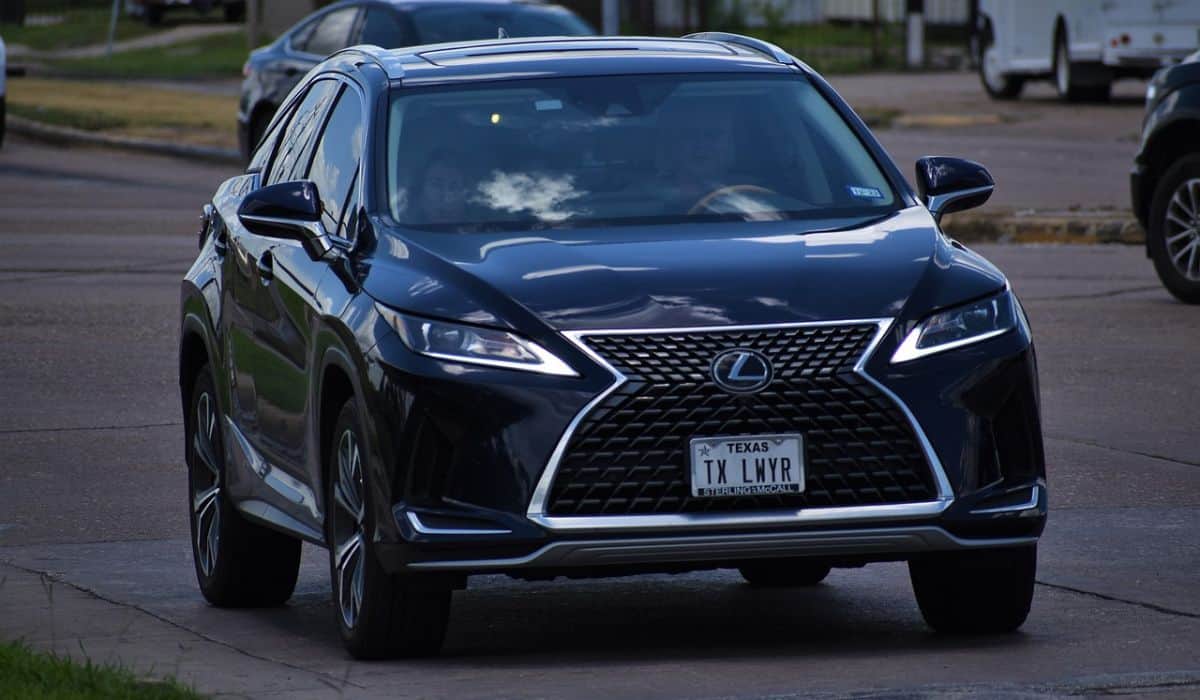 The Lexus RX350 is a midsize luxury SUV with Bridgestone Ecopia H/L 422 Plus or Michelin Premier LTX tires. They should be changed every 60,000 miles or every 5 years. The quietest replacement tires are from Michelin, such as the Primacy MXV4, or Continental, such as the PureContact LS.
Tires are essential for the safety of the passengers, the stability of the vehicle, and the way they handle non-ideal conditions such as rain and snow. However, how loud a tread growl is can affect your enjoyment of a drive, and with a Lexus RX350, you want to take advantage of that natural smooth, and comfortable ride.
What is a Lexus RX350?
The Lexus RX350 is a competitive midsize luxury SUV with five synthetic leather seats and heated front seats. The RX350 also offers the ability to upgrade to genuine leather and has ventilated front seats, heated and ventilated rear seats, and a heated steering wheel.
The Lexus RX350 has all the latest gadgets and upgrades you can get in a luxury SUV while maintaining a smooth, comfortable engine for a reliable drive.
What are the Quietest Tires for a Lexus RX350?
Everyone wants the quietest ride possible, but with a luxury SUV like the Lexus RX350, you want to ensure the background tread growl won't interfere with such a smooth and precise drive.
The Michelin Primacy MXV4 is the quietest tire model you can buy. It's trusted by many high-end car manufacturers to make OEM tires and delivers precise handling for the smooth and comfortable ride Lexus owners are used to.
The Helio compound makes it a great all-season tire that does well in various weather conditions. It maintains excellent traction on both icy and snowy surfaces, allowing it to be used even in harsher winter climates.
The Primacy MXV4 tires are also equipped with Primacy Comfort Control Technology that utilizes computer technology to enhance the tread, making it output the lowest noise and vibrations of its category.
Michelin Defender T+H
The Michelin Defender T+H is the quietest all-terrain radial tire you can buy for its category. It is the ideal choice when driving in multiple terrains, such as dirt, snow, gravel, and highway driving. It offers a smooth, quiet, stable, and durable drive many Lexus owners favor.
The asymmetrical spike tire model has exclusive IntelliSipe technology, making it one of the quietest all-terrain tires. That unique combination increases the stiffness of the spike block but doesn't sacrifice the quietness or corner stability.
The Defender T+H won't let you down on dry and wet terrain. The wide circumferential grooves and independent spike blocks ensure the tires won't lose grip or traction, even in the worst conditions.
However, if you live in an area that frequently gets severe winters with heavy snow, the Defender T+H might not live up to your standards.
Continental PureContact LS
The Continental PureContact LS is the quietest touring tire in its category. It competes with famous brands like Michelin, Goodyear, and Bridgestone while becoming an almost standard tire for touring vehicles.
The unique compound consisting of polymer and additive Sylane is responsible for enhancing grip, making it a fantastic option for a touring tire. In addition, its asymmetrical tread design offers an impressive horizontal grip on many different surfaces that can bring a stable drive even at high speeds.
With all its features, the PureContact offers a smooth and quiet drive at top speeds. However, it does not give the perfect experience Lexus owners are accustomed to if you were to drive off-road.
Michelin Energy Saver A/S
The Michelin Energy Saver A/S is stellar in its category for dry traction driving while maintaining a low tread growl. It has a unique silica compound that gives excellent traction while reducing rolling resistance and maximizing fuel efficiency.
The MaxTouch technology optimizes tire contact with any surface and helps elevate some wear to the tire, making it fantastic at braking quickly and providing stable corner turns.
The dry traction is where these tires shine, with their impressive drive on dry surfaces. However, they are disadvantaged in braking and grip when the roads get covered in snow and ice.
How Long Do Lexus RX350 Tires Last?
Two factors determine when RX350 tires should be replaced, not just on your Lexus but for any vehicle.
Most drivers tend to cover 12,000 to 15,000 miles a year, so many RX350 owners surpass their tire mileage rating well before the usable age. To determine the mileage associated with your tires, you can look at the UTQG or Uniform Tire Quality Grade rating with which tire manufacturers grade their treadwear, traction, and temperature.
For example, the Bridgestone Ecopia H/L 422 Plus tires with the Lexus RX350 have a UTQG rating of 600 AA. This means, unless damaged, they will last 60,000 miles before they are needed to be replaced.
The other factor, time, is easier to keep track of. Generally speaking, every five years is the age people need to start looking at replacing their tires. After that time, the rubber and steel or Kevlar belts begin to break down from UV rays, temperature changes, and other environmental wear.
What Brand of Tires Does Lexus Use?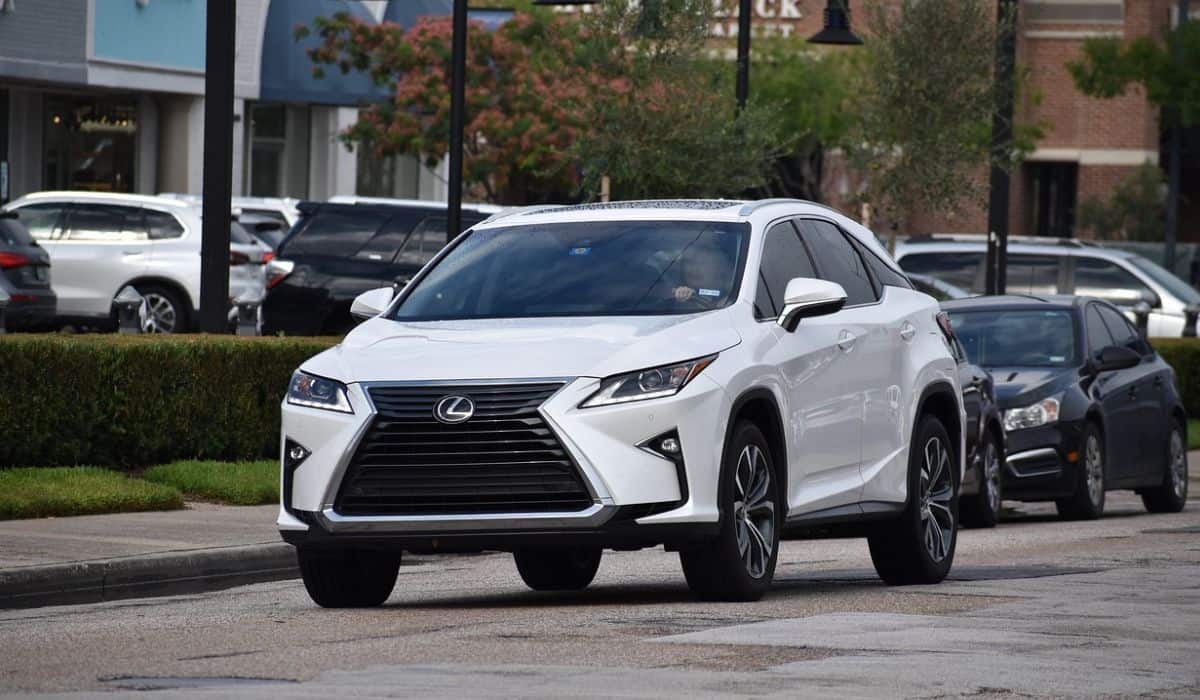 The current generation of Lexus RX350s comes in multiple trims with two different tire sizes. So depending on the model you purchased and the tire size, their brands might differ.
18-inch wheels come with 235/65R18 tires as either Bridgestone Ecopia H/L 422 Plus or Michelin Premier LTX
20-inch wheels come with 235/55R20 tires in Bridgestone Ecopia H/L 422 Plus or Michelin Premier LTX.