Replacement Chrysler Keys: Cost to Buy and Where to Get Them!
This post may contain affiliate links. As an Amazon affiliate, I earn from qualifying purchases.
Car keys and key fobs are easy to lose.
Setting them down at a restaurant, dropping them in the sand while at the beach, letting them fall in the water while you are out fishing, and leaving them behind at the airport are just a few of the myriad ways people and their keys become separated.
Chrysler vehicles, from Stellantis, formerly Fiat-Chrysler, include models such as the Pacifica minivan, the elegant 300, and the Pacifica plug-in hybrid.
Stellantis also includes familiar names from the Chrysler family such as Dodge, Ram, and Jeep.
Of course, they all need a key or key fob. But if you've lost your Chrysler keys, how do you go about getting new ones?
How much do new Chrysler keys cost and where can I get them?
If you can't find your Chrysler keys, an automotive locksmith or a Chrysler dealership can make you a replacement set for anywhere from $50 to $250, with additional features such as keyless entry costing an additional $300 or more.
Your best bet is to retrace your steps to locate your missing keys, but if you can't find them, rest assured that getting a replacement is relatively easy.
It just might set you back a couple hundred dollars.
For more details about replacing your Chrysler keys or fob, read on!
How Does a Chrysler Key Fob Work?
Chrysler key fobs work as transmitters, sending signals to your Chrysler Pacifica or 300 to start remotely, allowing for locking or unlocking, keyless entry, or the trunk release.
There's also an emergency alert/panic button that can be triggered with the key fob.
If the key fob is in the cabin, even in a pocket or purse, the driver can start the vehicle by pressing a button.
Chrysler key fobs also include an emergency key that can start the vehicle, which is handy if the key fob battery runs too low for the push-button ignition to work.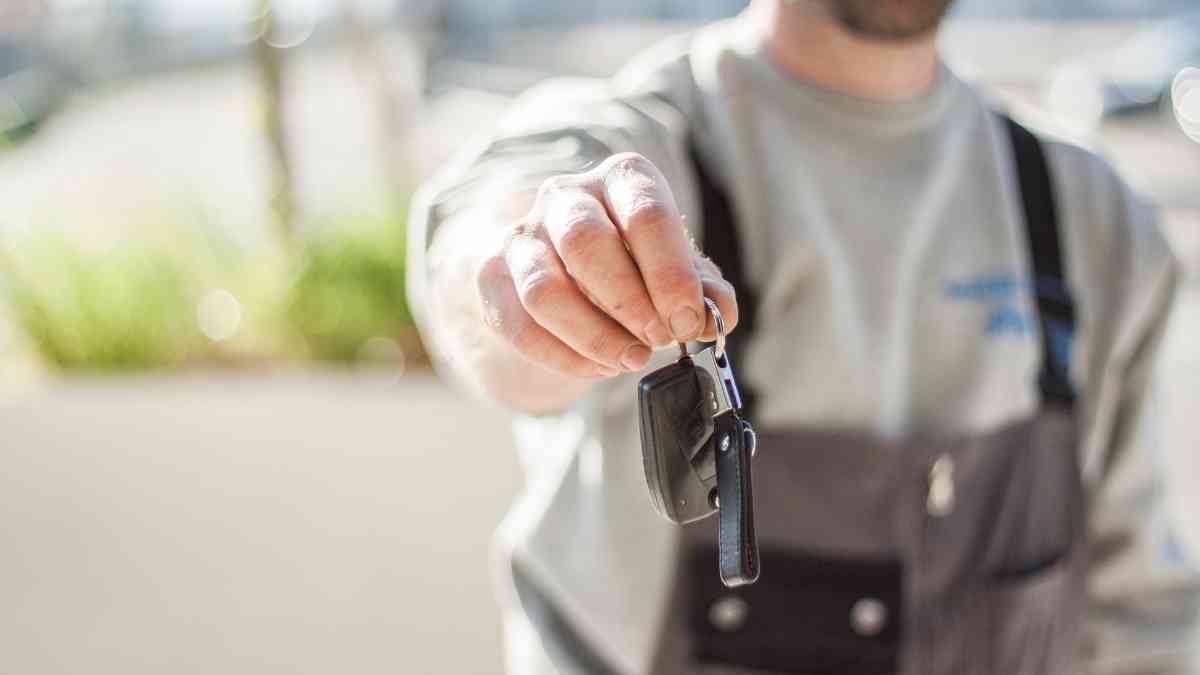 What to Do if Your Key Fob Doesn't Work
If you try to start your Chrysler 300 and nothing happens, your key isn't necessarily broken. It may just need a battery replacement.
Check your owner's manual for more details on battery replacement or visit your Chrysler dealer for a new key fob battery.
What to Do if You Can't Find Your Chrysler Keys
Losing the keys to your Chrysler can be a horrible feeling.
All the high-tech features of your Chrysler Pacifica or Chrysler 300, the comfy seating, and the smooth ride are all out of reach if those keys aren't in your hand, purse, or pocket.
If your Chrysler keys are nowhere to be found, take these steps.
Don't Panic
Becoming frantic won't help you find those missing Chrysler keys any faster.
Take a deep breath, and think logically about where they might be.
Retrace Your Steps
If you get to your Chrysler 300 and realize you can't open the car or crank it up because your keys are missing, calmly retrace your steps.
They might be at the restaurant you just left or in your office.
If you've made several stops on foot after leaving your car, call each place to have them keep an eye out for your Chrysler keys.
Call a Friend or a Ride-Share Company
Still can't find those keys? The next step is to get a ride home to get your spare Chrysler key and return to your vehicle.
It's always a good idea to have a spare key to your Chrysler and keep it hidden away for such an emergency.
A friend could give you a ride, which would cost you nothing.
A ride from Uber or Lyft is affordable, with the price depending on the distance.
Call an Automotive Locksmith
Looking for your keys is the best option as, if you find them, the only harm done is a delay in your day and a little inconvenience, or maybe even a slight expense
Your car and your Chrysler keys will be reunited.
These other options, the ones that occur when you can't recover your Chrysler keys, can be expensive.
If you can't find your Chrysler keys, an automotive locksmith can make you a replacement set for anywhere from $50 to $250, with additional features such as keyless entry costing an additional $300 or more.
Replacing your Chrysler keys may take a few hours or up to a few days, depending on the complexity of the replacement.
Visit Your Chrysler Dealer
Chrysler dealerships can also replace missing keys or make you a spare.
Their prices are similar to those of automotive locksmiths, running into the hundreds of dollars, which makes it economical to keep track of your Chrysler keys.
Frequently Asked Questions
You may still have questions about how to get replacement keys for your Chrysler vehicle.
These FAQs may give you the answers you need.
Can I Track My Chrysler Keys?
As technologically advanced as car keys are today, one might think a key fob would have GPS tracking capabilities.
Unfortunately, the Chrysler keys of today can't be tracked, so you can't find the spot where they fell from your pocket on a map.
However, if you add a key finder device to the keyring that holds your Chrysler keys, you can then track your keys through your computer or smartphone.
Can I Get a Chrysler Key Replaced without the Original?
Thankfully, the answer to this question is yes! Give your automotive locksmith or Chrysler dealer's service department the VIN (vehicle identification number), year, and model of your Chrysler vehicle.
Armed with that information, a locksmith can make a new key for your Chrysler vehicle.
I Drive an Older Chrysler and Lost My Keys. Can They Be Replaced?
If your Chrysler predates key fobs and push-button ignition, your Chrysler keys are easy to replace.
If you have a key and need to make a spare, visit a locksmith or hardware retailer.
If you don't have the original, call an automotive locksmith who may be able to make a replacement key for you on the spot.
If that's not possible, you might need to buy a new ignition lock cylinder from the dealer or a repair shop and have the car doors and trunk rekeyed.
Will I Need to Get My Chrysler Towed to a Locksmith?
Most of the time, the answer to this question is no.
Most locksmiths will come to you, saving you the cost of getting your Chrysler towed.
The Bottom Line on Chrysler Key Replacement
While it's possible to replace your Chrysler keys if they're lost, the best option is not to lose them in the first place.
Put them securely in the same spot at home and pocket or purse when you're out.
This will make it less likely that your keys will be misplaced.
You can also add a key finder device to your keyring, making it possible for you to track your car keys through GPS.
Your smartphone can lead you to the spot where you lost them.
Another option is to tuck away the spare keys to your Chrysler in a safe place.
Don't keep them on the same keyring as your other Chrysler key fob, and don't put them in the glove compartment of your Chrysler Pacifica or Chrysler 300.
If you keep your spare key at home, then you can get a ride there to retrieve the key.
If you do lose your Chrysler keys and don't have spare keys, retrace your steps and look for them carefully before calling a locksmith.
If you find your keys, you will save yourself hundreds of dollars.
When you can't find your Chrysler keys and don't have spare keys as a backup, you can call an automotive locksmith or your Chrysler dealer.
Either can make you a replacement key to your Chrysler vehicle and get you back on the road.